Case Study, Education, eLearning, eLearning As A Business
Startup Online Tutoring Company Debuts to Market with Custom-Built LMS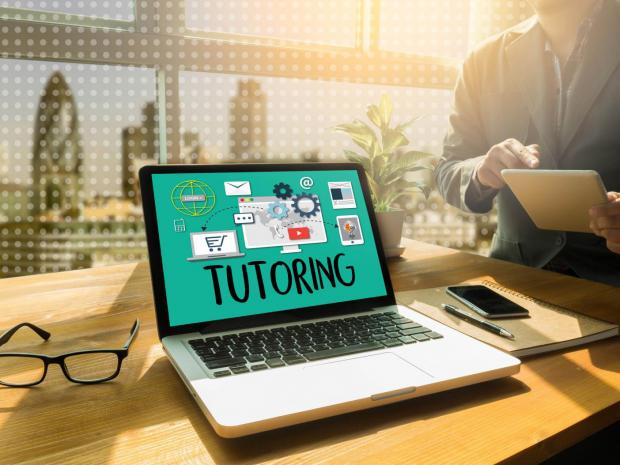 About The Client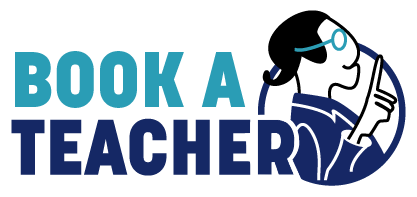 Based in Switzerland, bookateacher is a tutoring company that provides private, one-on-one online tutoring sessions for elementary, middle school and high school students. Academic subjects that are available for tutoring include math, German, French and English.
We spoke with the owner of bookateacher, Matthias Gschwend, to learn more about his business, the process of getting up and running and what happened when he could not find an out-of-the-box software solution to run his tutoring business.
About health insurance in Switzerland
While Switzerland does not have a state-run universal healthcare service, it does mandate that all Swiss residents carry basic health insurance (purchased through private insurance carriers), with the government providing income-based subsidies for those who cannot afford compulsory health insurance on their income alone.
Despite insurance companies being prohibited by law to profit from government mandated basic health insurance, Switzerland still has a robust supplemental "complementary" health insurance market which covers medical expenses not covered under basic insurance such as dental care, private hospitalization and other services. Unlike basic health insurance, supplemental insurance premiums are priced on a risk-based model with factors such as age, location and sex taken into account when underwriting a policy. Due to supplemental insurance policies' higher price point, Swiss insurance companies often provide additional, free services to policyholders to promote customer retention and encourage new policy sales.
The Challenge
bookateacher was born out of an idea that Matthias had with an old university friend who worked for a health insurance company. To promote customer retention, the company wanted to offer an incentivization program of complementary services to their customers, with one service being free online tutoring for policyholders' children.
While at first glance a free, online tutoring service seemed like a great idea, Matthias knew he faced a potential challenge for bookateacher to be successful in the Swiss market. With the average Swiss person being a bit conservative in their leanings, this likely contributed to online tutoring never having taken off in Switzerland due traditional, in-person tutoring being very accessible in a small country with few geographical constraints. With it being easy for tutors to come to a students home or students to travel in-person to tutoring centers, it is little wonder online tutoring failed to take hold in Switzerland.
Before finding an effective way to communicate the value of online tutoring to his target audience, Matthias first had to find the right software solution that would make his vision for bookateacher a reality. After doing research and shopping around at a number of different educational software vendors, Matthias eventually contacted Academy Of Mine to discuss bookateacher's specific needs.
The Solution
Upon first glance, Matthias initially thought bookateacher could utilize AOM's out-of-the-box eLearning platform solution. However, after some evaluation it was determined that the AOM platform as-is would not completely meet bookateacher's needs in order to offer one-on-one live, online tutoring. Like most eLearning platforms, the AOM platform is primarily geared toward previously developed courses with established curriculums intended to be sold to a large number of students. On the contrary, one-on-one student instruction generally requires specific features that most eLearning vendors do not support via their standard platform.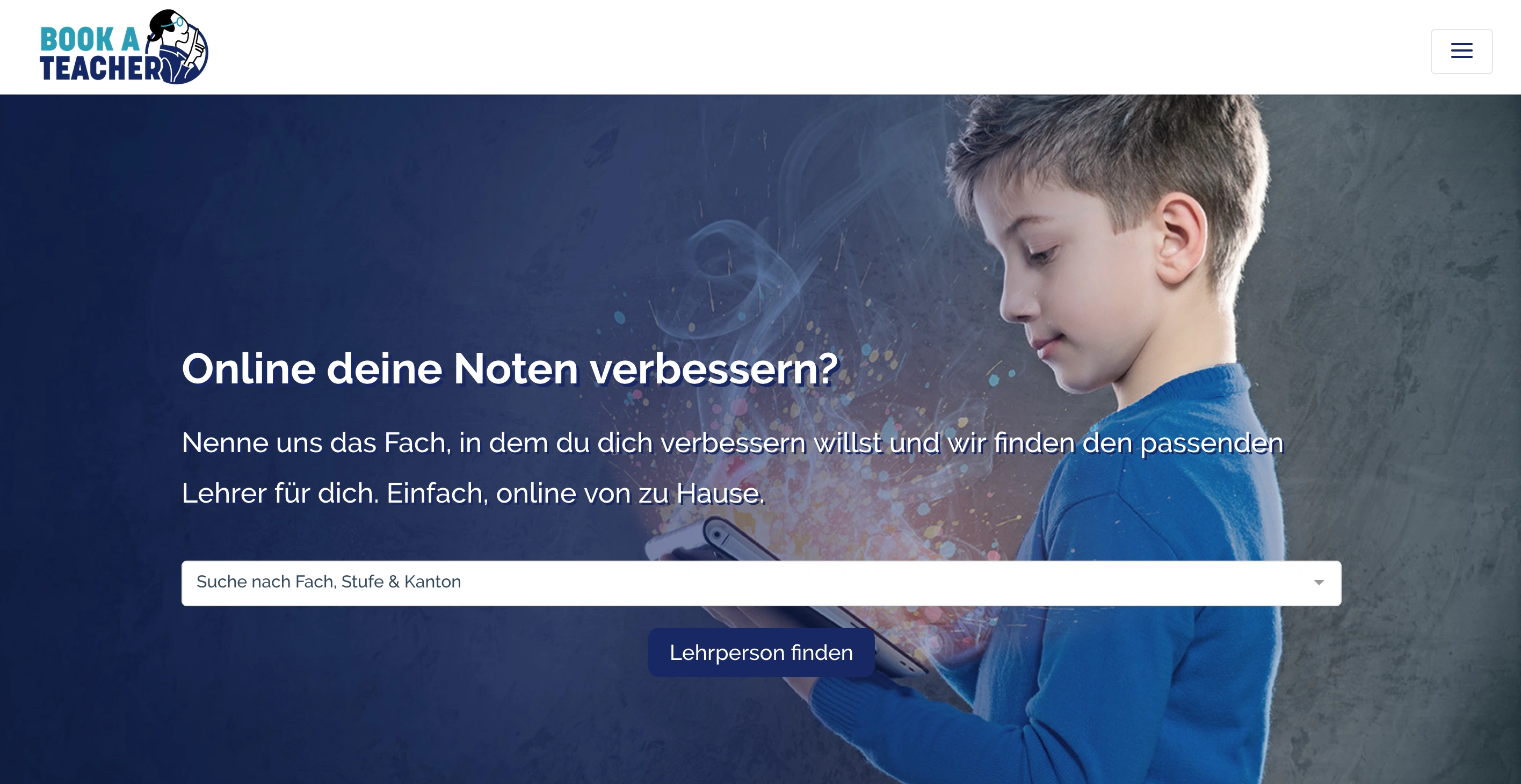 After working with AOM's product managers to drill down to the necessary features and functionalities, Matthias was able to identify bookateacher's exact requirements and evaluate if any ready-made software solutions could potentially meet those needs.
It was determined that bookateacher's platform solution needed to support the following features:
Allow students to book tutoring sessions via tutors' calendars that manage availability
Support multiple tutors teaching multiple subjects to multiple students
Provide live, high-quality video and audio conferencing between students and tutors while simultaneously supporting screen sharing of PDFs, Powerpoints and whiteboarding within the conferencing solution
Accept and process credit card payments
Track tutoring hours and pay commissions to tutors
After Matthias talked through all of these requirements with AOM's product managers, it was determined that bookateacher ideally needed its own custom developed software solution to ensure all the required functionalities were met.
Development of bookateacher's custom platform took place in several steps:
First, a full list of desired functionalities was compiled; it was then determined what features were a must have for Phase 1 and what features could be added at a later date in Phase 2 of development
Second, visual mockups were created (from both the tutor and student's login perspective) as a guide for how the platform's user interface should be designed
Lastly, within the visual mockup, details were outlined of the logic behind how different buttons, fields and components of the platform functionally worked and were interdependent upon each other
Once all of that was outlined, development of bookateacher's platform began in collaboration with Matthias' ongoing input. bookateacher's front-end website was designed on WordPress, while the custom-built, proprietary web application that the tutoring itself runs on was developed using Laravel.
The Results
The student front-end of bookateacher's custom platform is finished and up and running, while some further development on the backend will be needed in the future. In addition to the platform's custom-built features, bookateacher also integrates seamlessly with Simpla, a service used by health insurance companies to offer incentivization programs of complementary services to policyholders.
**Take a look at some of bookateacher's highlighted features below: **
The admin Backend Dashboard allows you to conveniently view graded lessons, tutor calendars, tutor profiles, enrolled students, subscriptions and instructor payments all in one place.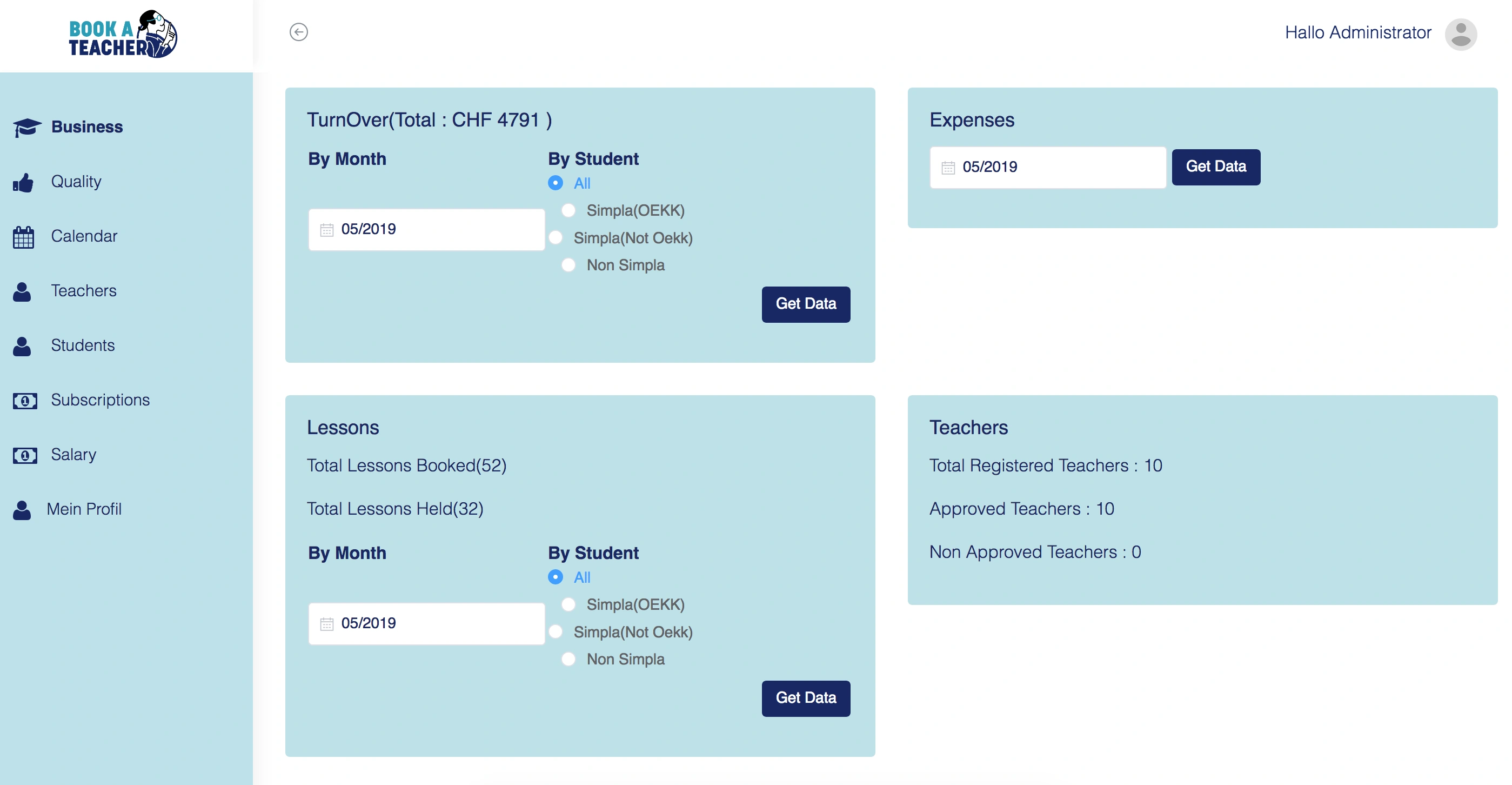 The Instructor Calendar lets students see an instructor's availability to book time for tutoring sessions.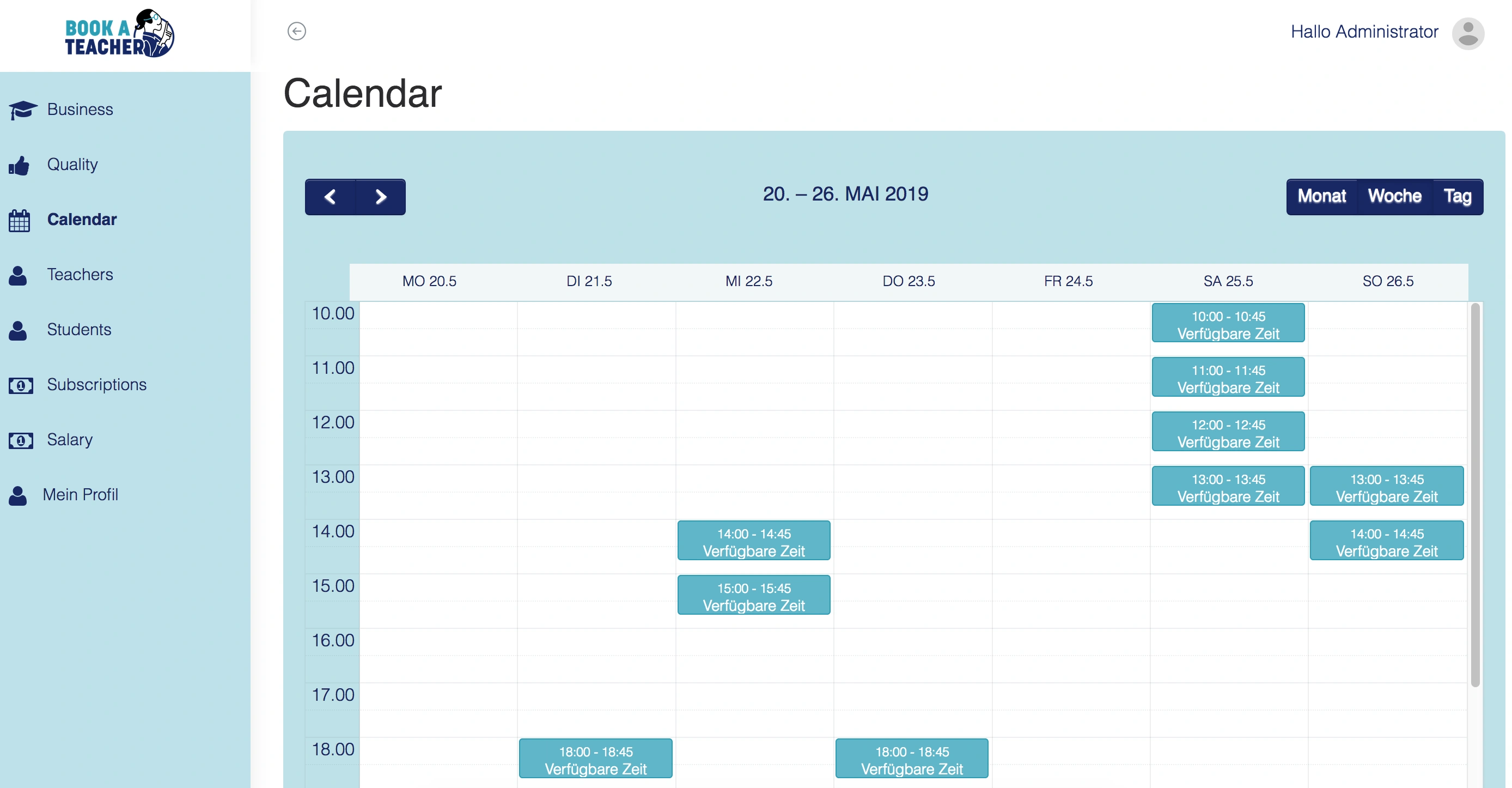 bookateacher's custom Live Lecture application lets students connect with tutors in real-time via video, audio, chat, and screen shared course materials.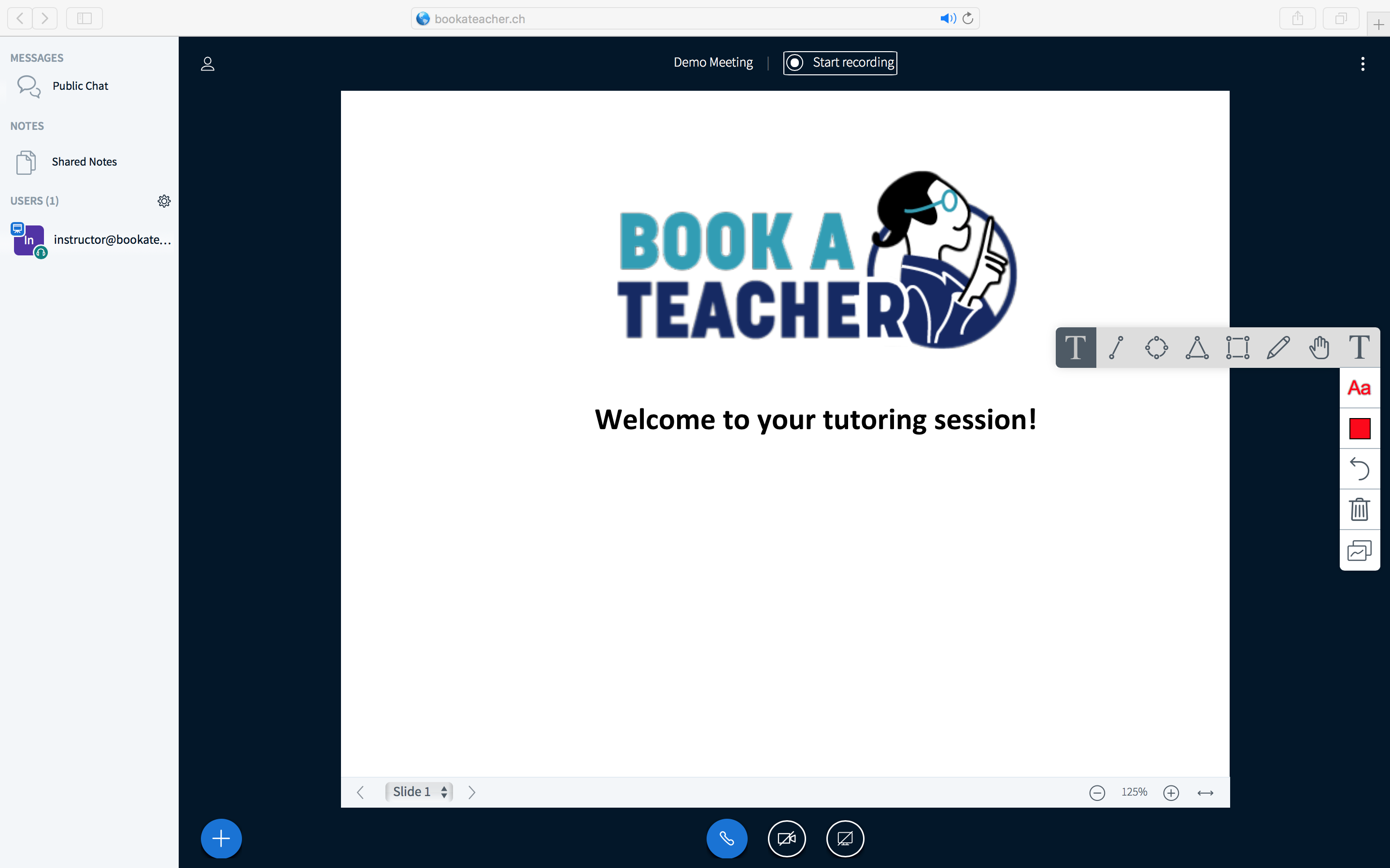 In the grand scheme of things, bookateacher is only one of a handful of tutoring providers in Switzerland that focus solely on online tutoring (all other tutoring companies focus on in-person tutoring, with minimal online tutoring being available), so they are positively positioned to succeed in a largely untapped market. And with online tutoring being rare in Switzerland, the strong branding and name recognition of their health insurance partner will also help to promote trust in bookateacher with potential new clients who may be inexperienced with online tutoring.
With education being such a large part of Swiss culture and something that parents are willing to invest financially in, bookateacher is positioned to perform well, due in part to having its own tutoring platform developed to its exact custom specifications.
We are very excited to see how Matthias and bookateacher fair!
Stay tuned for more updates!
Have more questions about customizing your own LMS platform? Please see our Contact Page or send us an email us at [email protected].