Transforming Training: How RTI Thrived with Academy of Mine's LMS
Restoration Technical Institute is a training center for businesses in restoration, cleaning, and industries related to the built environment. Before partnering with Academy of Mine, RTI was hosting all of their training classes at a physical training site, which they still do. But after Covid-19 they wanted to start selling a large portion of their training online, using a variety of different delivery methods: subscription, one-time payments for eLearning courses, and virtual instructor-led training.
The Challenges
Managing both online and in-person training with one platform.

Making training more accessible and user-friendly for clients.

Moving traditional on-site training online without spending too much budget.
The Outcomes
Created an online training library with 300+ available online courses.

Managed training subscriptions, eLearning courses, and all of their training classes with 1 robust platform.

Transformed training to become accessible, easy to purchase, and complete online.
"We are on the platform every day because we're selling courses. The course library is a big backbone to our success because that's where people are buying our stuff and launching into training courses."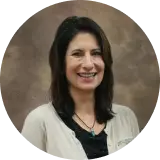 Below you can read through a conversation we had with Lisa Lavender, CEO and founder of Restoration Technical Institute (RTI).
Lisa Lavender is the CEO and owner of RTI — an IICRC school that provides world-class training to businesses involved in restoration, cleaning, and the built environment. Most of the training courses they offer are about professional restoration and cleaning of facilities, which is necessary after floods, fires, and other emergencies. Up until 2020, ironically right around when the world was forced into a remote-work environment because of Covid-19, RTI realized they wanted to move training online.
For this, they needed a Learning Management System.
One of the requirements Lisa had with their training system was that it could manage a variety of different types of training modalities. For example, RTI wanted to sell courses using a subscription method and one-time payments, they also wanted to offer 3 types of training: in-person classes, online classes, and eLearning courses (fully on-demand).
Why Choose Academy Of Mine?
RTI had been thinking about entering the eLearning market for a while, so the pandemic just forced their hand. Now, they needed a software platform to host training online, deliver courses, certify, and everything else involved in running a successful online training center.
With a clear vision in mind, RTI saw Academy Of Mine as the best learning management system (LMS) on the market for a few reasons:
We are a smaller company.
The software is flexible and customizable.
Option to build an online course library to sell training.
Courses can be sold via subscription payments.
Supports online and offline training in various formats.
Integrations with video-conference apps like Zoom.
Even though RTI was developing a large online training library, they didn't want to abandon their in-person training classes…they also wanted to be able to manage in-person training registrations on the same platform that their online courses would be. This is something that Academy of Mine is good for!
"One of the reasons we decided to go with Academy of Mine was because we could customize some of the functionality, and nobody else offered that. We needed a system that allows us to grow in a healthy way. And I'm looking long term because that's the point of purchase. This is where the ease of use and ability for our users to interface, impact our company." - Lisa L.
Transforming Training into a Self-Sufficient Online Machine
We mentioned Covid-19 being an influence on RTI moving training online, but they had been thinking about it for a while because they wanted to make courses more accessible and cost-effective.
"So before COVID, we were very physical and tact in our training, but now, yes, we have fully embraced eLearning and we're kind of paving the way on explaining to our industry that people can learn this way very well." - Lisa L.
Being one of only about a hundred IICRC-certified schools in the world, RTI offers a lot of Continuing Education for employees training for certification. Their training is very important because it applies to the restoration industry, which is all about restoring facilities and structures after natural disasters like hurricanes, fires, etc. All things considered, being able to deliver training to customers efficiently was a requirement for RTI. Partnering with Academy of Mine has helped RTI deliver high-quality training that is scalable and cost-effective, along with keeping their staff off of the phone.
RTI found that Academy of Mine was a good fit for many reasons:
Software interface makes training easy to purchase and complete.
Easy to integrate with an online store to sell courses.
Platform Features are customizable.
Reliable customer support.
Another reason RTI ended up choosing us as their LMS provider was because they trusted us and felt we supported them well.
Getting Started with a Learning Management System
Considering RTI already had an established training program before partnering with Academy of Mine, they had a lot of moving to do after onboarding. Some of these initial tasks included uploading courses, integrating their eCommerce site and payment gateway, and onboarding clients and staff. Creating online quizzes to include in courses was another initial responsibility RTI took on with our LMS.
Delivering and Managing Customer Training efficiently
Since RTI's business is based on providing different businesses around the world with proper training, their system needed to have the right features for training customers and partners. One very important feature they utilize is called Portals, which is used to onboard clients into their very own training instance, for engaging in training and administering certifications without distractions. Portals allow you to train various organizations simultaneously, using one LMS.
Another feature Academy of Mine topped other competitors for was eCommerce, and that's critical for RTI since they use the system to sell courses and manage finances.
Summary of administrative tasks RTI is using our software for:
Managing groups ( various businesses taking training from RTI).
Managing finances and reconciling reports.
Sending reports to appropriate partners overseeing continuing education in PA.
Issuing certificates to learners.
"So we're managing groups and things of that nature. We have to manage our finances and reconcile. We have to submit our reports on continuing education credits for some of the courses that are continuing ed, we issue certificates to learners. We're pretty much using everything that's in there." - Lisa L.
Highlighting RTI's Accomplishments with Academy Of Mine
Before using Academy of Mine, RTI was limited to offering training in person, which wasn't ideal for reaching large audiences. Now, they're able to manage a variety of online training and offline training with one sleek system. Another reason RTI has enjoyed working with Academy of Mine is because of our reliable and responsive team, which has helped them with customizing software to better fit brand and customer needs.
Listen to what Lisa said when we asked her what the number one thing RTI is able to accomplish with Academy of Mine, that they were able to do before!
"Well, I mean, mainly it's the selling of our subscription learning and our e-learning courses. And the ability, even for our live classes, we're giving them e-learning before and after their live training events, which is something we didn't do before we had an LMS." - Lisa L.
When it comes to online training, user experience is a big factor...making sure your customers can log in to online training and complete courses without being overwhelmed! Lisa Lavender knows this, and she told us that using Academy of Mine has helped them improve training experiences for their customers online.
"My biggest thing is that our users have a positive experience, period. That's why AOM helps our users have a positive experience and that helps us grow. Our goal is to train the world and we need AOM to do that." - Lisa L.
Cultivating Success: RTI's Streamlined Training Center
Restoration Technical Institute (RTI) joined forces with Academy of Mine to overcome challenges and revolutionize its training approach. Together, they accomplished three significant outcomes:
Expanded Training Options: RTI created an extensive online training library with over 300 courses.

Flexible Course Delivery: With Academy of Mine's help, RTI effortlessly delivered courses through subscriptions, one-time payments, and offered options for in-person and virtual instructor-led training.

Enhanced Accessibility and Selling: Our user-friendly interface enabled clients to easily purchase and complete courses from RTI.
Schedule a call to transform your training with Academy of Mine!