eLearning, Learning Management System, LMS Reports, Self Paced Learning
10 Must-Have LMS Reports For Managing Training
7 min read
|
Oct 13, 2022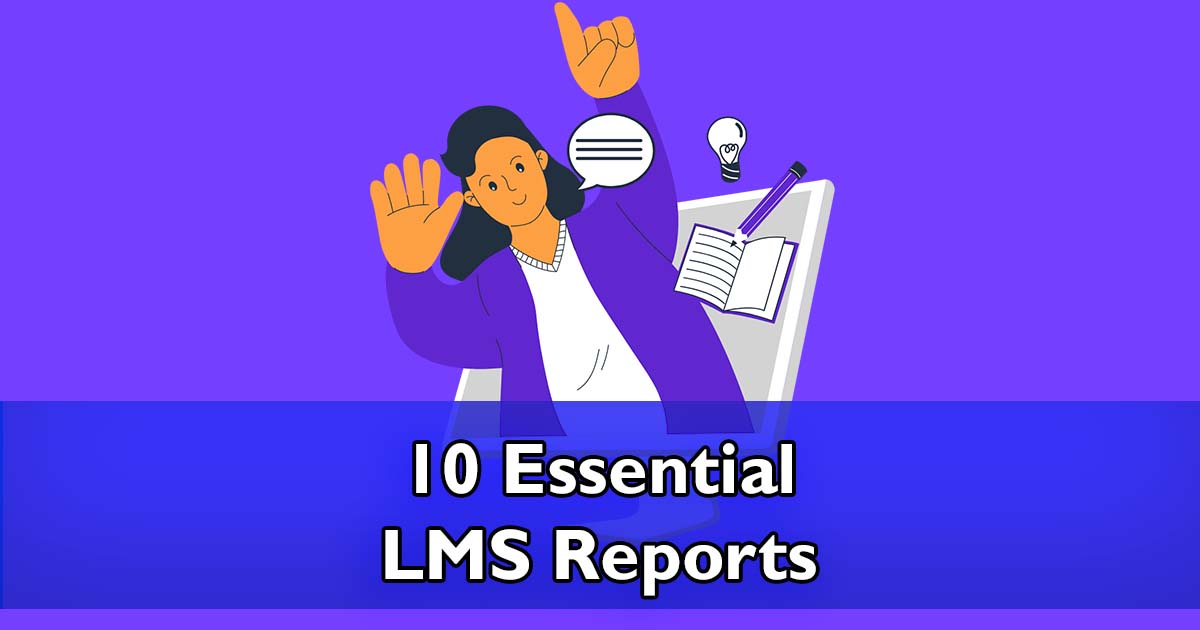 Would you invest $500,000 into the stock market only to cross your fingers that your investment makes money instead of reporting on your investment and making adjustments?
Just like with investing, reporting is extremely important when it comes to eLearning and training an audience using a learning management system (LMS). At Academy Of Mine, one of the most important features of our LMS is reporting. Our customers don't want to just give their teams courses to take—they also want to track the progress and performance learners are making in courses. That's why reporting is an essential feature of any LMS.
For that reason, we're going to tell you about 10 must-have LMS reports for managing training. That way, you can ensure that your choosing the best LMS.
What Are LMS Reports?
LMS reports are built-in reports that you can generate in your LMS to track the progress and performance of learners taking courses. From checking a learner's test results to monitoring how engaged a company or group of learners is in the LMS, and more—it's all possible with LMS reports. LMS reports are important so that you can manage training effectively without veering outside of the LMS.
What Can LMS Reports Be Used For?
Each LMS on the market has different features. and is designed with different use cases in mind. Generally speaking, LMS reports can be used for a wide variety of things – let's talk about some common LMS reports; every report we're talking about in this blog can be seen in the Academy Of Mine LMS.
Why Is Reporting Learner Progress Important?
As you know, reporting on learner progress is an essential part of administering training. That's why your LMS should not only make it easy for your company to create courses and enroll learners into courses, but it should also streamline reporting. Your alternative to reporting in the LMS is using 3rd party tools to measure results and analyze training performances—which is possible—-but the more reporting you can do in the LMS the better.
If you're not even using an LMS, then you probably have a good idea about how difficult reporting on eLearning progress and performance can be! Having to manually go through google documents, spreadsheets, and other assignments to grade learners is a headache.
Managing Employee Progress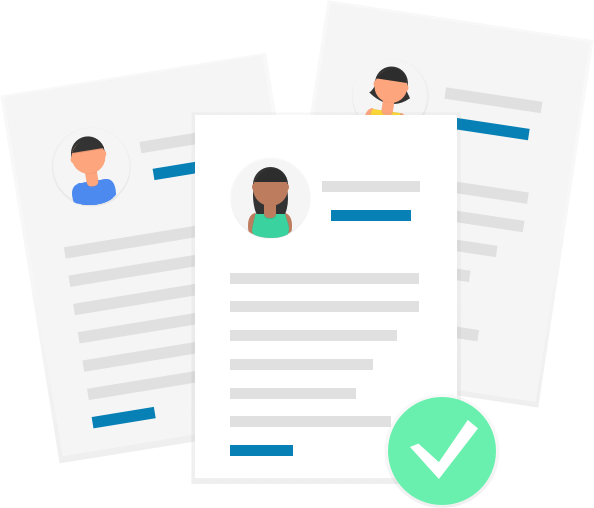 If you're in charge of managing internal training, then you need an easy way to see what type of progress employees are making in your courses. Your typical LMS helps managers check to see what percentage an employee has made in a course, what grades they're receiving on assessments, their list of activities and the last time they logged in, and more.
Analyzing Training Outputs
Just like when hiring for a role, experience and results hold more weight than a list of completed certificates. On that note, if you're looking to track training outputs to see the effect that taking a training course has on a learner, keep reading. Using the Academy Of Mine LMS, you can compare learners' performances on the job with LMS reports, along with survey answers, to gauge how effective training is.
Receiving Course Feedback
What good are LMS reports if you can't receive feedback from Learners about a course? It's important to take criticisms and suggestions from active users in a course, especially if you're getting similar critiques over and over again. Speaking of getting feedback from Learners, the most popular feature for that in the Academy Of Mine (AOM) LMS is Surveys. Using surveys, you can create 6 different types of feedback forms.
Examples of Survey questions in AOM:
Written response forms
0/5 star rating system
Multiple select question responses
Single select question response, and more.
Storing Records For Compliance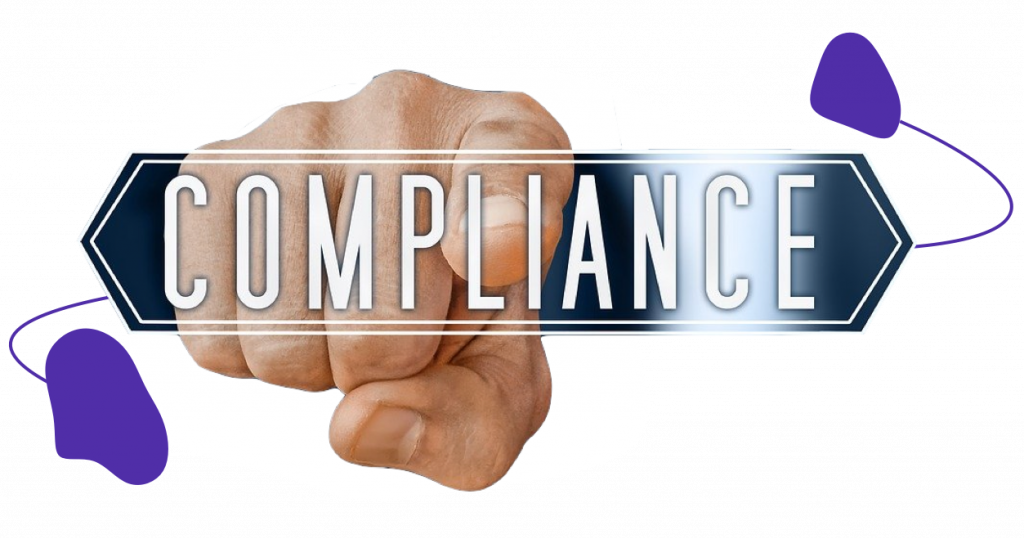 Let's say that an incident happens where an employee gets hurt in your organization or a partner's company. You can check back in the LMS to see if they were up to date on their safety and compliance training. LMSs keep records of training history which is important for compliance and safety issues.
Managing Certifications And Accreditations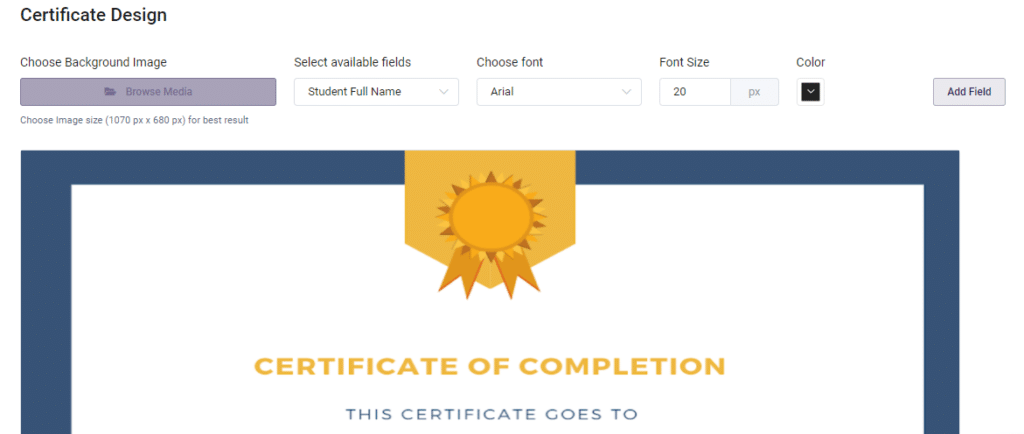 LMS reports make it easy for companies to keep track of certificates of completion and accreditations. Even if a training course is not accredited, you can check to see who's completed the training courses using reports. In Academy Of Mine, you can connect with CE Broker or Accredible to keep track of Learners' CE credits and certificates outside of the LMS.
Keeping Track Of Customer And Partner Progress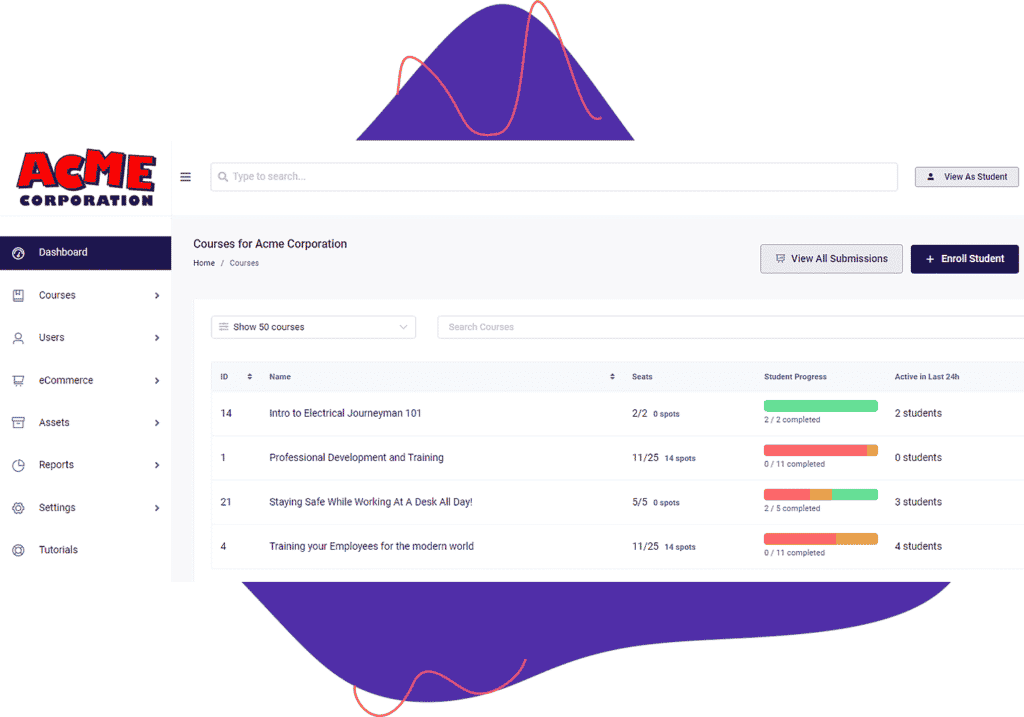 If you're training other organizations then it's important for your customers and partners enrolled in portals to be able to track the progress and performance of their Learners. At Academy Of Mine, portal managers (an individual from your customer's organization) can run extensive reporting on their Learners
10 Different LMS Reports For Managing Employee's Professional Development
1. LMS Overview Reports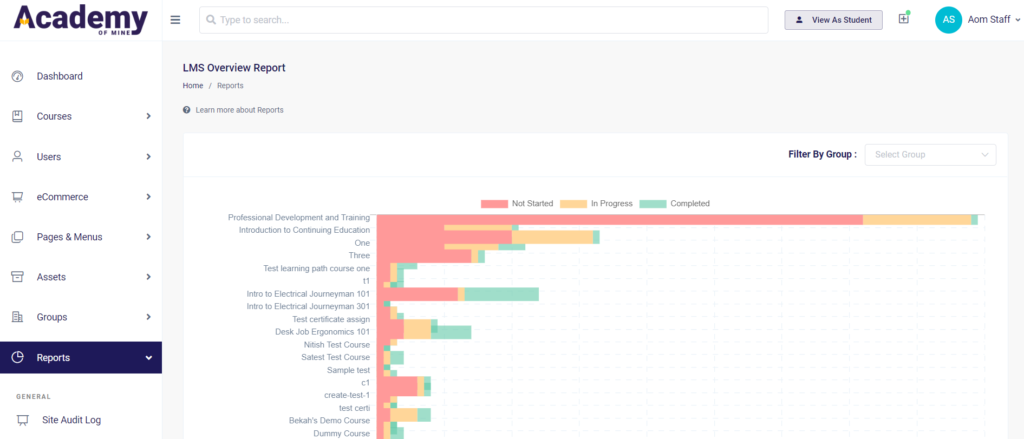 LMS overview reports in Academy Of Mine give you a general snapshot of what activity is happening in your LMS. For example, you can use them to check what self-paced or Instructor-led courses are being offered at the moment. You can also quickly see how many Learners are in progress in a course versus the number of learners that haven't even started yet or have already completed a course.
2. Internal Training Reports
If you're managing employee training then you'd want to monitor the progress employees are making in courses, ideally without having to do any manual work. You probably also want to keep track of how employees are scoring on tests and assignments. Additionally, if you're concerned about employees skipping videos or sections in a course, then you can easily add restrictions to courses in Academy Of Mine. All of this and more is easy for managers to do in the Academy Of Mine LMS. Here are a few employee training reports you could run in AOM:
Manage the percentage of a course that employees have completed
Run a survey report to learn how employees feel about a course
Compare when an employee registered for training with their progress
Track which certifications an employee has earned, and more.
Separate internal training by the department and run specific reports on each department.
3. eCommerce Revenue Reports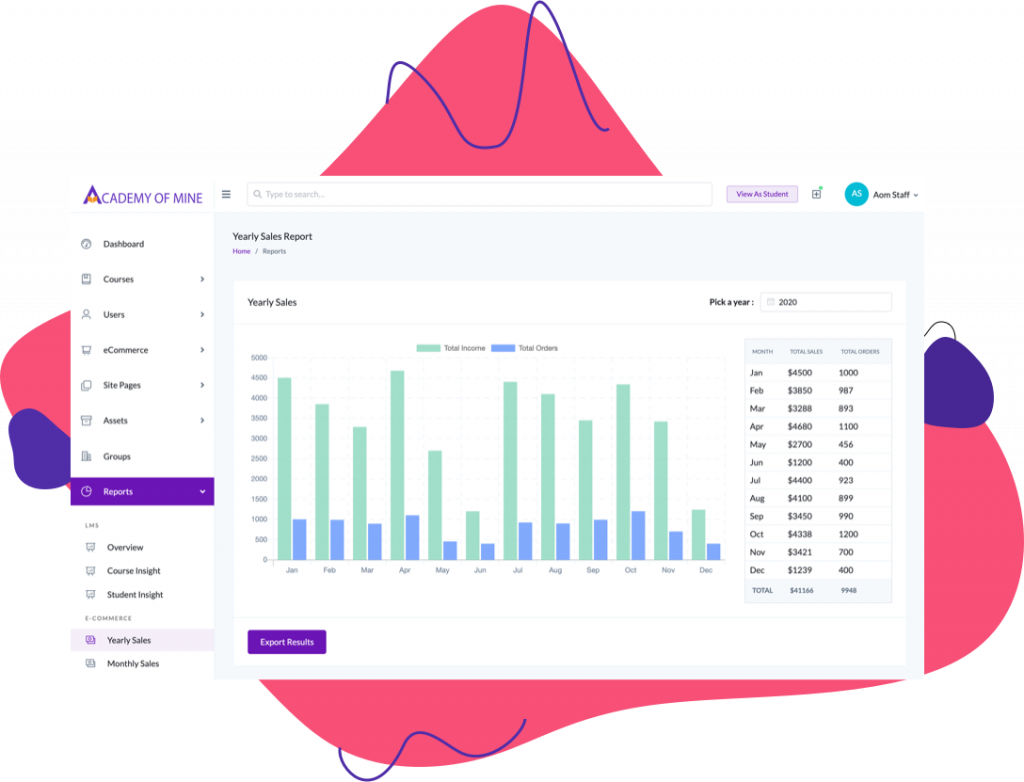 With the Academy Of Mine LMS, you can create landing pages to sell training courses without needing a Shopify or other eCommerce provider. Then, you can run reports on your eCommerce business to see revenue reports like monthly sales, product breakdowns, and more.
eCommerce report options in AOM:
See how many times a course is sold in a specific month
Track how much revenue a course is earning
Zoom out and look at the total revenue or number of sales in a month or a year
Export reports
4. Course Enrollment Reports
Run reports to see how many learners are enrolled in a course. You may be tasked with running course enrollment reports for compliance reasons; regardless of the reason, managing course enrollment dates is quick and easy with the Academy Of Mine LMS. In addition to counting how many learners are enrolled in a course, you can also see which exact learners are enrolled in a course, what courses they are enrolled in, as well as what date they enrolled.
5. Course Satisfaction Reporting With Surveys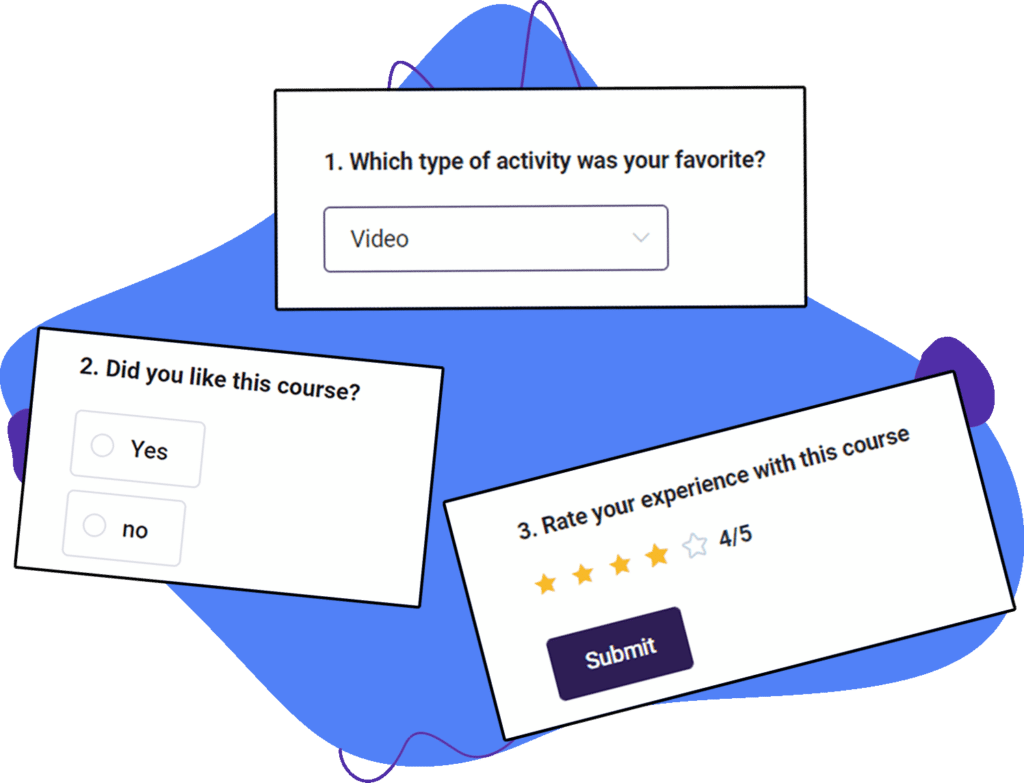 Create and attach surveys to a course to get feedback from your audience members enrolled in training courses. Surveys are applicable to all types of training—from internal to external teams—and it doesn't matter if your training is accredited or more leisurely. As we mentioned earlier, there are six types of LMS survey forms that you can create for learners to fill out.
Use surveys to find out information about a learner's experience in a course:
How did learners make out it in a course?
What are learners commonly saying about a training course?
Which courses are commonly being complained about?
How can a training course or ILT course be improved?
Running surveys is the easiest method for getting course feedback in the LMS.
6. Activity And Engagement Reporting

Use LMS reports to ensure that your learners are on track to be successful in a training course. Additionally, take a closer look at learners not making progress and performing poorly, to analyze how engaged they are in their self-paced courses and Instructor-led training.
Manage the percentage a learner has completed in a course
See when a learner last logged into the platform
Monitor a learner's assignment responses
Run activity reports to see exactly what learners are doing in a course
7. Customer Reporting In Groups
Most LMSs have a feature called groups, otherwise known as portals, or instances depending on the platform you're using. Groups are what Academy Of Mine refers to them as, and these allow you to onboard and train other organizations efficiently. A group is essentially a white-labeled training portal that each of your groups of customers or company's that you're training lives in. Groups are managed by a group admin (an individual assigned from your customer's organization) and group admins can run the same type of reports that say you could if you were just managing an internal training program using the LMS.
If you're training customers and partners online (B2B), your platform will require a feature like groups.
8. Course Attendance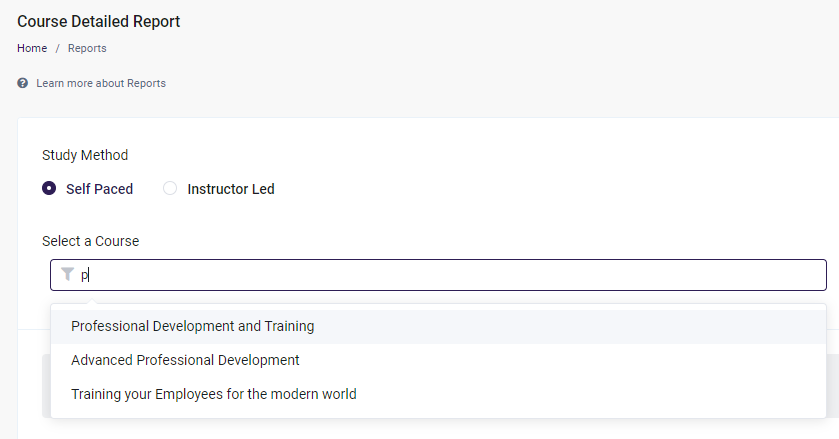 Check the attendance of individual learners enrolled in various courses or the attendance of all learners in a 'classroom'. Your customers and partners inside of groups can run the same type of attendance reports for their learners.
9. Performance Reporting (assessments and grades)
A big part of LMS reporting has to do with tracking the performance of learners enrolled in training. Using AOM, find out how learners score on quizzes and tests and read and respond to their written assignments. Assessments are automatically graded based on the correct answers you have set inside of the LMS, but written assignments and group assignments are manually graded. That said, you can re-read assignment submissions, and view what grades an instructor gave learners at any point in time.
10. Reporting On Certification And Accreditation Records
Easily keep track of certificates and accreditations that your learners are earning. Take a look into a classroom and see who's earned a certificate of completion. Zoom in on a particular student and a specific type of learner in the LMS to see what certifications they have earned. If you're training B2B, your customers and partners in groups can also run certification record reports.
If your company or your customers use Accredible, CE Broker, or another 3rd party accreditation/certificate storage platform, connect the LMS with it. Academy Of Mine works very well for continuing education, and if you're running accredited training programs you may be a perfect fit for us!
How Can I Use Reports In Academy Of Mine?
All 10 of the reports that we talked about in this article, along with the different common types of reports at the beginning of this blog, are included in the Academy Of Mine LMS. Additionally, we're currently designing a custom reports feature that would allow your company to create reports that pull data from the LMS specific to your company's training program. If you are considering a new LMS or your first LMS, we'd love to discuss how AOM can help over a call.