eLearning, Self Paced Learning
6 Tips for Creating Self-Paced Training Courses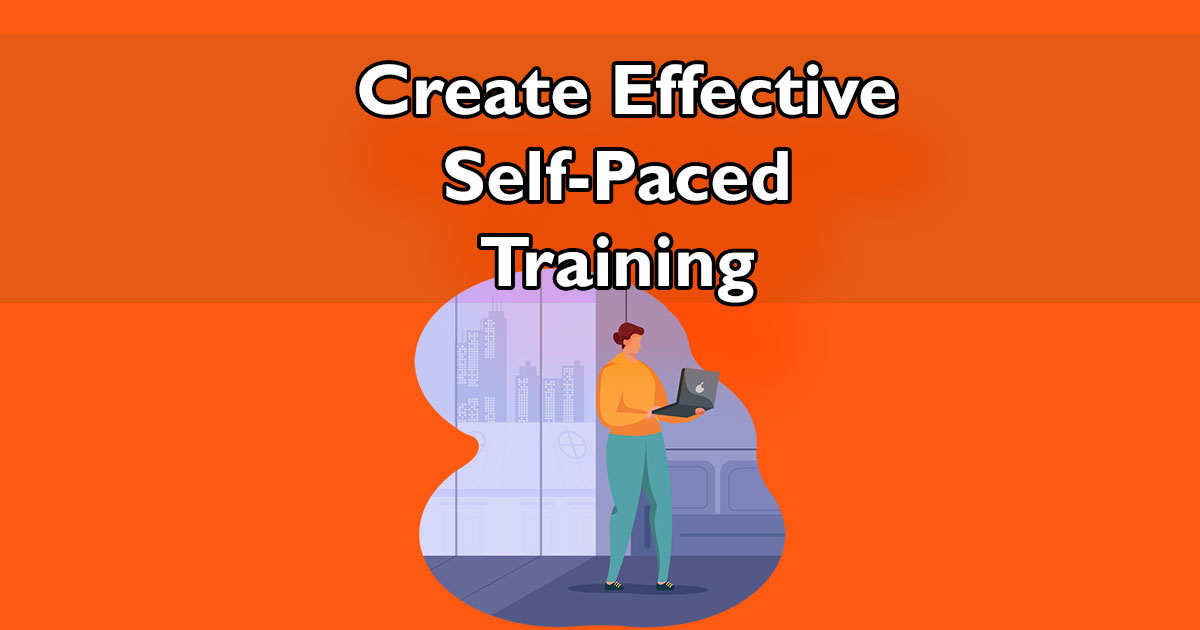 If you're not already conducting training online, or are struggling to do it effectively, then you've clicked on the right article. The eLearning market is expected to be worth $325 Billion by 2025, so you owe it to yourself to figure out how to effectively train online using courses and webinars!
This article will give you 6 game-changing tips for creating self-paced training courses.
What is a Self-Paced Course?
Any type of eLearning course that customers are able to complete in their own time is a self-paced course. As opposed to live-virtual training – another type of online learning that uses webinars – self-paced courses can be accessed on-demand by learners. Companies and universities all around the world offer self-paced courses. Sometimes, these organizations also offer hybrid courses that consist of both self-paced learning and in-person learning, or even live-virtual training as well.
HubSpot for example offers self-paced courses to marketers and salespeople to help them remotely excel in their careers for free. HubSpot courses consist of videos, quizzes, and other interactive activities that can be completed by learners in their own time. HubSpot – like many other companies providing self-paced training online – offers different training options depending on your business and training needs: free professional development courses, certifications courses, scalable partner programs, and more.
HubSpot is just one example of how self-paced courses can be used in your business. The point is that self-paced courses are essential in this digital era; whether you're offering free extra-curricular training to your employees or you're selling accredited training packages to other businesses, self-paced courses help you do this at scale!
Identify the end goal of a Self-Paced Course
Whether you're creating a new course or updating one, take a moment to work backward and define the course's purpose before constructing the content for it. By identifying the end goal of a self-paced course first, your team can eliminate wasting time experimenting with different content types that won't benefit users taking the course. In the business, we call this a course objective.
How do you define a course's objective?
Work with your team to discuss the main takeaway from a self-paced course. In other words, is the course going to fulfill some type of Continuing Education credits for employees? Or, is it just a recommended professional development course for employees that want to go above and beyond career requirements? When you define a course's objective before creating it, the type of content contained in your course, and the structure of your course can be created effectively.
If you have the resources to work with an eLearning team like instructional designers, and training managers, discuss why the purpose of a course with them. In addition to working with your team, we recommend using a Learning Management System to effectively create, deliver, and manage self-paced training courses. LMS companies such as Academy Of Mine have 8+ years of experience in helping companies with scalable training and development!
Here's a simple example of identifying the end goal of a self-paced course. If you're offering a safety training course to automobile mechanics, then your end goal might be reducing injuries to mechanics by 10%. In this case, it makes a lot of sense to include videos of mechanics working on cars in a course; even better, provide mechanics taking the safety training course with interactive assignments where they can work on cars virtually, by clicking on different car parts and answering questions about what to do in a scenario. On the contrary, since the average automobile mechanic is working under cars all day, then making a course that only consists of reading and writing doesn't make sense.
Another thing to consider while identifying the goal of your course, is what type are you offering?
If your courses award CE credits or provide a certification to users after completing it, you may have to follow strict guidelines and include specific activities in your course.
Make your Course's Curriculum easily-digestible
Instead of creating a mega-course with 160 modules, 17 quizzes, and 8 essays – break down your content into multiple smaller courses that are easily digestible. This way, you can give learners a sense of accomplishment from successfully completing shorter courses one at a time. Since self-paced courses are designed to be taken by learners without needing help from instructors or other students, it's critical that you don't overwhelm learners with too much information at once.
Let's say you have a self-paced course that takes learners 80 hours to complete, so at 2 hours a day, Mon-Fri, it takes learners 8 weeks to complete. Since humans have shorter attention spans than goldfish, 80 hours may be too long for learners to stay engaged throughout. Self-paced courses are most effective when they don't include fluff. If you didn't want to separate a long course into multiple shorter courses, you could also try transforming some of the courses into in-person learning or live webinar training. For example, making a self-paced course partially self-paced, partially asynchronous with webinar training, and partially in-person.
Review Learner progress and attendance
It's your responsibility as the instructor or admin to manage training and ensure your learners are staying engaged inside of a self-paced course. For example, if you notice a learner is falling short of deadlines and isn't very active in the course, you need to reengage them. By hosting self-paced courses on a platform like the Academy Of Mine LMS (Learning Management System), you can quickly see who's falling behind in a course, identify what courses a student is struggling with, and more.
LMSs keep track of all actions that occur inside of a self-paced course (e.g., when a learner logs into the platform or completes a question in a quiz.) Additionally, admins and instructors can message students logged into the LMS and create classroom discussions to talk with everyone enrolled in a course at once, whenever they want!
Use both Native and External Authoring Tools to create Self-Paced Learning
LMSs like Academy Of Mine have built-in authoring tools that allow you to create content for self-paced courses inside of the platform. For example, including a YouTube video seamlessly into a course and creating a fully functioning multiple-choice quiz, then being able to report on students' progress and completion rates from inside the LMS.
Even though using built-in authoring tools is convenient, external authoring tools can be helpful too. For example, Articulate Storyline 360 and Adobe Captivate may give your more flexibility depending on what eLearning content you want to create (there are pros & cons to each). Note, that some external authoring tools are more difficult to use than others and will require you to work with an instructional designer. If you already have SCORM courses built using external authoring tools, the Academy Of Mine platform is SCROM compatible and accepts SCORM reporting. So if you were in the market for an LMS and didn't want to recreate courses from scratch, you could easily transfer them over.
The reason for using both native and external authoring tools is to have more options when creating self-paced learning. For example, iSpring allows you to take PowerPoint content and convert it into eLearning courses. Although compared to uploading a PowerPoint directly into your course with Academy Of Mine, iSpring is much more difficult.
Design your Self-Paced Courses to be Engaging & Interactive
Especially for companies creating their first self-paced course, worrying about student engagement is normal. One easy way to combat low student engagement levels in a self-paced course is by investing in an LMS which supports you in creating interactive online training. Without an LMS, you're stuck managing courses using home-grown solutions that make it difficult to deliver engaging training. Think of using a combination of Google Drive and other software to offer self-paced training…The user experience for learners enrolled in courses using software other than a cloud-based LMS is very hit or miss!
Even training with LMSs you self-host like Moodle or LMS WordPress plugins like LearnDash are harder to provide effective self-paced learning on than with a SaaS LMS.
Here are a few ways you can make self-paced learning interactive:
Incentive learners to collaborate with others in a classroom for points using discussion boards.
Send out regular email newsletters, platform alerts, or other notifications to check on students and congrats them on their progress.
Include webinar training (instructor-led) within your self-paced courses, so students can see and talk with other students and their instructors face-to-face from time to time.
Place multiple choice questions or short answer assignments in a course after users perform passive learning activities like reading an article or watching a video.
Not to sound repetitive, but using a high-quality LMS to deliver self-paced learning allows you to easily create interactive self-paced learning; especially since reporting, authoring course content, editing courses, and onboarding plus enrolling students are features built into the LMS.
Create a Support Community for Learners
Self-paced learning allows learners to upskill, maintain current knowledge, and complete training online in their own time. Unfortunately, some companies that fail to create effective courses and provide support to their students assume that self-paced learning is ineffective. Wrong! Self-paced learning is effective when you, A) work with an LMS to create courses and don't rush the eLearning development, and B) provide learners with resources like a community to ask for help from others in their same shoes.
Sure, all learners enrolled in a course should have an instructor's email and a way to get in touch with administrators when they need help. However, creating a community for your learners to live in using apps like Facebook, Discord, or Slack is also extremely helpful. That way, when a learner needs help, they can ask a group of other students enrolled in the same course…Support communities also stimulate students and make them feel more welcomed and excited to complete a self-paced course.
Since you now know 6 great tips for creating effective self-paced courses, let's talk if you need help creating, hosting, and managing your courses online!