Customer Partner Training, Extended Enterprise Learning, Learning Management System, Professional Training
Features of a Learning Management System for Customer Training
6 min read
|
Feb 25, 2022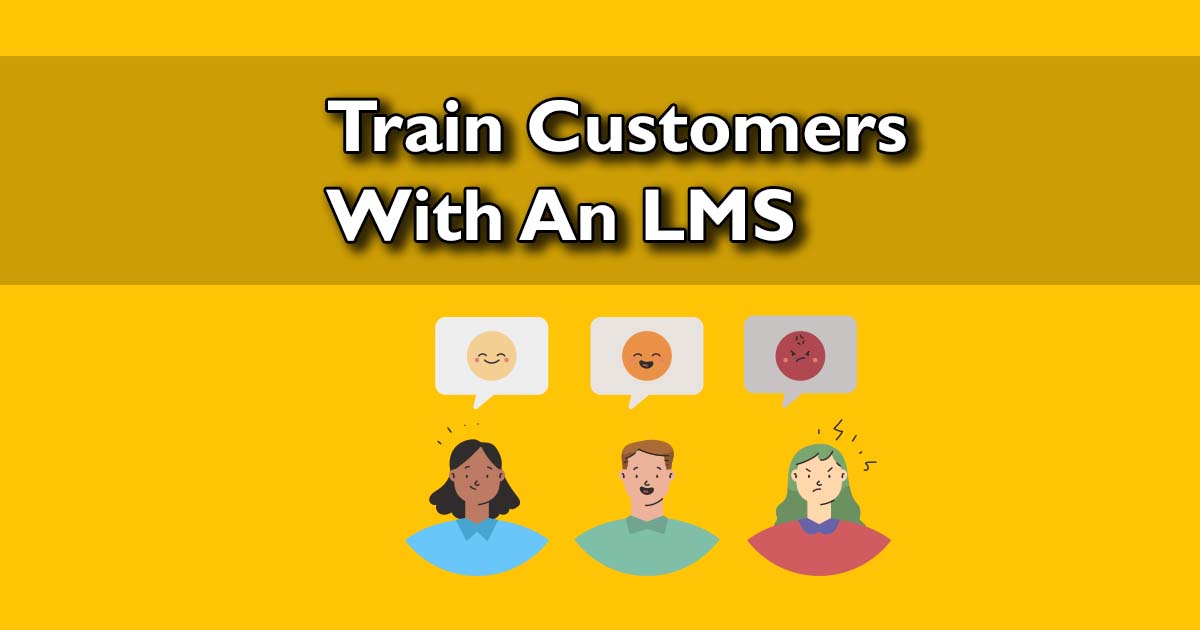 From 2021 to 2026, the global LMS market size is expected to grow from 15.8 billion to USD 37.9 billion. As promising as those numbers sound, how many of these companies investing in a Learning Management System for customer training are making good investments? It's hard to say.
The first step to investing in an LMS for customer training is understanding the problem you're trying to solve for your customers. In other words, what behavioral change or improvement in your customer's operation are you looking for as a result of your LMS? Two, are you looking for a platform to self-host, or do you want a platform that's cloud-based and maintained by the vendor (SaaS)? Three, what LMS features are required based on your customers' needs. Following this curriculum while looking for an LMS doesn't take much time but it will give your company a leg up while choosing the best LMS!
In this article, we're going to talk about five foundational features of an LMS for training customers.
What is a Customer Training Program?
A customer training program is a training program designed to train external stakeholders: customers, partners, resellers, and vendors that share a common interest with you but aren't your employees. Just like an internal training program, the goal of external training is to provide education about a product, service, or process, so that your customers can improve their business.
For example, TeamHealth is a leading physician practice in the U.S., they use our LMS to deliver accredited training courses to medical professionals, hospitals, and healthcare organizations around the world. Thanks to TeamHealth's training, medical professionals outside of their organization are able to maintain and improve their skills!
Benefits of a Customer Training Program
Long-term customers are usually your best customers, and it's much less expensive to keep customers than to acquire new ones. Implementing a customer training program in your business helps increase customer lifetime values.
Increase Customer Satisfaction
Customers like to know they're being cared for, that's exactly why Allstate's catchphrase is – "You're in good hands." One way you can improve customer satisfaction and show your customers they're important is by providing them with a comprehensive customer training program. Even if your product or service is simple and the average customer doesn't require your training, giving customers the option if they ever need it is a plus.
Increase Customer Engagement
Most people associate the word training with boredom, and that's fair. What if instead of boring customers with generic courses, you created a customer training program that made customers excited about working with you? For example, let's say your company sells a simple product to resellers.
In this case, your customer training program may want to focus less on basic product knowledge and more on advanced sales enablement stuff, like selling the product more efficiently, or overcoming objections while selling the product in bulk. Using an LMS – you could do this by creating a program that utilizes a wider variety of eLearning modules like tests, discussion boards, and interactive modules that keep customers engaged and better able to perform their job.
Decrease Customer Churn Rate
Long-term customers will write you great reviews, brag about your business in testimonials, and refer your business to others. More importantly, they will continue doing business with you and investing their money into your bottom line! Since so much of the world lives on the cloud now, customer training programs have become a standard approach to customer support. This is not to say that you should replace live-support and more costly methods of helping customers, but you should implement a customer training program alongside traditional support.
Increase Customers' Average Spending and Increase Profits
"The likelihood of selling to an existing customer is 60-70%, while the probability of selling to a new customer is 5%-20%." That's at least a 40% difference in sales, which means your bottom line is benefiting significantly from long-term customers. Equally important, when acquiring new customers, you have to factor in ad spend and marketing costs which are almost always more expensive than retaining current customers.
Improve Customer Experience
When the majority of your customer training programs are automated, your customers have an additional level of support they can rely on before reaching out to your company directly for help. One, this reduces your customer support expenses, and two, this makes customers happier and more confident about working with you.
LMS Features for Customer Training
Customer Portals
The first feature you need in an LMS for customer training is portals. Portals, or what we refer to as groups, allow you to onboard and train different organizations using one system. Each company or "group" enrolled in your platform has its own dedicated portal the customer manages, so you can train multiple organizations efficiently. For larger customer training programs, using Academy Of Mine LMS, you can enroll users in bulk into courses to begin training immediately after being onboarded.
Client portals should include your customer's logo so that training is branded.
Customer Reporting Tools
Being able to monitor users' activity and progress in a training program, and see where your learners can improve is always helpful. Regardless of your customer's industry or use-case for training, clients need the option to keep track of the grades and progress learners are making in their platform; Administrators may also use reporting to gain insights on the effectiveness of their training program.
A few simple metrics that your LMS should keep track of are assignment grades, course progress, the amount of time a user has spent inside of a course module or program, who's certified and completed a course, and more!
Some LMS vendors may require you to integrate with third-party tools to generate reports and track eLearning progress, but with Academy Of Mine – all the basics are baked into the system!
Interface Optimized for Customer Training
There are over 800 LMS vendors in the market right now, except not all of them are designed for training customers. Here are a few features that will determine if your LMSs interface is optimized for customer training:
Mobile Access
Are users able to access the platform and train using tablets and smartphones?
White-Label
Can customers attach their logo to the training portal? What about other brand customizations? With Academy Of Mine, customers can attach a logo and customize their login and registration page URL with their company name.
Bulk Upload and Enroll Users
Your LMS should increase efficiency while training customers. Make sure your platform can onboard organizations at scale and simultaneously enroll users into training courses.
Self-registration and Single-Sign on
If you're going to train customers, then why not make it easy for them – right? Your LMS should have Single-Sign on so that new users enrolling in the platform can log in without having to use credentials separate from their work email. Here's another way to make customer training programs convenient – self-registration: allowing organizations and "groups" to self-register for group training.
How does self-registration work?
With Academy Of Mine, if an organization wants to purchase training for their employees/in bulk, they can state at the checkout page they're purchasing training for a group, and the purchase automatically creates a portal for the organization.
eCommerce
eCommerce allows you to make training programs available for enrollment online. In doing so, organizations or "groups" can self-enroll into training from your website (whether courses are free or paid). eCommerce is all about self-service.
Most of the time – your organization will onboard customers into training programs manually, but giving customers the option to self-register is helpful sometimes. For example, let's say an SMB is interested in training their employees using one of your programs, and they already have all the information they need to confidently purchase training from you. Self-registration allows them to purchase and onboard themselves!
Using Academy Of Mine, customers can identify themselves as a group while purchasing training courses from you, and at the checkout page enter in how users will need access to a training program.
eCommerce not only gives your company the chance to sell courses to other companies online but also to offer free webinars or training programs to current customers. Your LMS should integrate with popular payment gateways such as Stripe or Paypal, and give you the option to create a website for offering courses online using the LMS or by connecting to a third-party eCommerce platform.
Why Choose Academy Of Mine for a Customer Training LMS
Academy Of Mine LMS offers all of these features and much more, plus we're constantly improving our platform to provide the best eLearning experience for customers possible. For example, we just added Accredible as an out-of-the-box integration so that customers offering accredited courses can transfer credits and store certifications.
If our LMS sounds like a good fit for you, Let's talk about improving your customer training programs today!