eLearning, Learning Management System
SaaS LMS vs Self-Hosted LMS: Why SaaS for eLearning is Best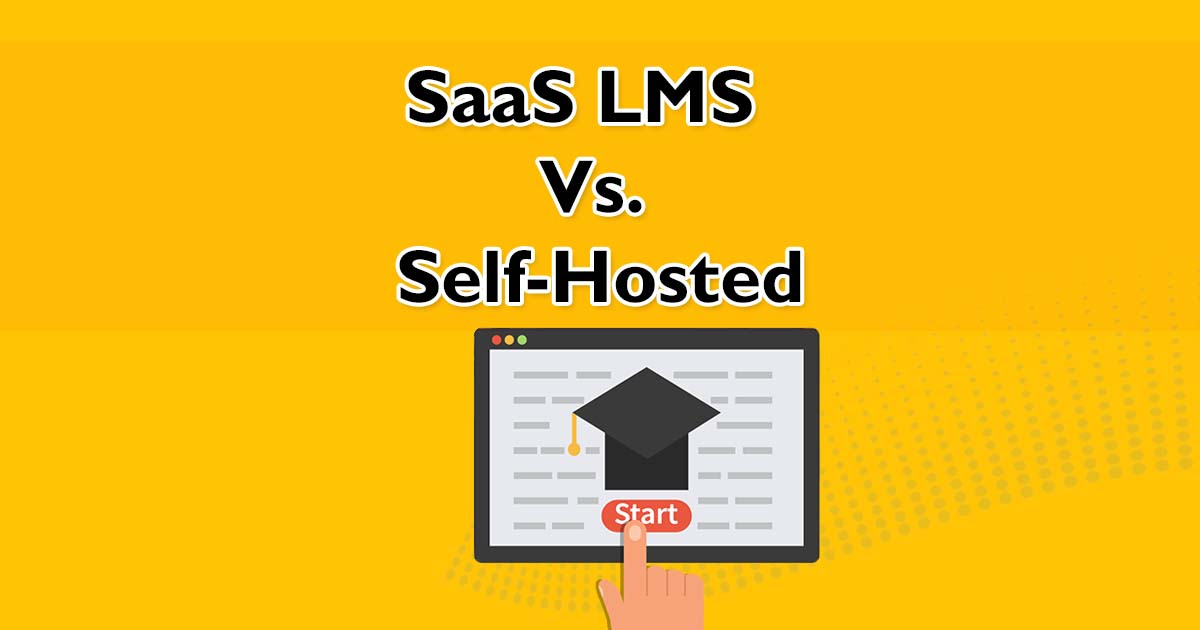 It seems like just yesterday laptops were still being made with cd rom drives, and flash drives were still the go-to solution for moving data from one device to the next. Sure, neither of these devices are completely extinct, but just like many once-great tech solutions that have become irrelevant over time, the majority of data is being stored and moved on the cloud now.
Experts estimate that at least 2.5 quintillion bytes of data are being produced every day on the cloud (that's 2.5 followed by an unbelievable 18 zeros!). What does this mean for professional training? Everything if you're using a SaaS LMS or considering one.
In the past, if you were training employees or other businesses and partners, then your options were pretty limited when it came to which platform to use. Most of the time this meant self-hosting a platform (sometimes even building it yourself). Times have changed since then and with the increased options and flexibility in different types of platforms available, there's also a lot of questions that should be asked before making any purchases.
So, whether you're currently self-hosting an LMS, using a SaaS LMS but considering a new provider, or are completely new when it comes to LMSs – keep scrolling and we're going to explain exactly why a SaaS LMS is the ultimate solution for professional development and training in business.
What is a SaaS LMS?
SaaS stands for software as a service, and a SaaS LMS is a cloud-based system. This means your customers can use the platform and access courses from anywhere in the world, as long as they have access to a computer or smart device and the internet. You're probably familiar with cloud software like Google Drive for creating documents and other business assets, and then being able to store and share files with others online.
SaaS systems are hosted by a third-party provider, so in the case of Google Drive – that's Google. With a SaaS LMS, your provider hosts the LMS and maintains the infrastructure, allowing you to focus on what's important like building courses, managing students and training, and marketing eLearning, and growing the business.
Call us biased because we are a SaaS LMS company, but whether you're focussed on extended enterprise, onboarding, employee and HR, or corporate training; SaaS systems are superior.
One of our clients, Pohs Institute, uses our platform to offer pre-licensing and continuing education insurance instruction to professionals around the world. Pohs Institute offers training in-person, through self-study courses online, and via webinars. They are a small company, yet they're one of the largest national providers of pre-licensing and CE insurance training!
What is a Self-Hosted LMS?
A self-hosted LMS is a software application that you install on your own server. Self-hosting means you are responsible for maintaining the system and taking care of any customizations or technical difficulties.
With a self-hosted platform, you along with anybody who uses the platform will be required to install software, maybe even hardware or both. Moreover, all updates and upkeep of the platform will have to be manually done by anyone who uses the platform.
I'm sure you can imagine the challenges this brings for most businesses with limited time and resources. Self-hosting is beneficial for maintaining complete control of learning data and content, but it's mostly unrealistic since it's significantly more expensive to get going than a cloud-based solution, and there's no guarantee the platform will work.
Every software has its issues, but when you self-host, those issues can negatively affect your revenue when things go wrong and your IT team can't come up with a solution quickly. Let's not forget, LMSs are complex systems that integrate with third-party applications, so there's a lot of moving parts to update and service on a regular basis.
Sure, you could have issues working with a SaaS LMS as well, but the likelihood is much lower since the platform has been heavily optimized and proven by many customers over time. Additionally, if something goes wrong with a SaaS platform – you have a team of expert developers that are trained to fix things.
Why is a SaaS LMS the superior platform?
– Reliable software that's been optimized
With SaaS – it's not only your expenses that are reduced but also your stress. If you're using an established cloud-based LMS, thousands of customers have already had success with the same platform that you're about to use. Your LMS is already optimized for delivering, managing, and reporting on learning and training programs at scale.
– Scalable
Since no hardware or software needs to be installed with SaaS LMSs, onboarding customers and growing your L&D business is efficient. Similarly, for customers signing up for eLearning, getting started on the platform is easy because there's already documentation and a proven roadmap for users to follow and succeed.
SaaS providers empower your company to grow as you go – so if you only have 100 users in your LMS the first year, you will be prepared when the platform scales to 1,000 or 10,000 users.
– Predictable and straight-forward pricing
Most cloud LMS providers price based on how many users will be on the platform, among other features depending on the provider. The point is, that you know what to expect with pricing using a SaaS LMS, so you can quickly and easily accommodate your budget. No more sacrificing integrations and certain features in an LMS because you can't afford them or are unsure of what they would cost; find the right SaaS provider and know what to expect with payments ahead of time.
– Quick to get started
Unlike building a platform or self-hosting, all boxes have already been checked, you just need to fill an already working platform with your content and invite customers, companies, and partners to the LMS.
– Flexibility and convenience
When your LMS is cloud-based, users can access the system, and course administrators can manage classrooms without having to download software or install hardware. Moreover, if your LMS provider is equipped with a phone app, people can train and grow their knowledge globally using not only laptops but also smartphones and tablets.
Self-hosting is very restrictive because students can only access their courses after downloading x,y, or z software. Additionally, this doesn't account for customers having different types of computers. For example, let's say your LMS software is having issues with the IOS operating system, then only your customers with Windows computers will be able to work in the LMS. Cloud-based LMSs completely avoid these issues.
– Maintenance under control
With a cloud LMS, you don't need to worry about any technical difficulties or troubleshooting errors that may arise. The majority of SaaS LMS providers have an IT support team dedicated to maintaining customers' servers and platforms – making sure your software is updated and issues are resolved quickly.
No more time wasted on maintenance, and more time for developing and training your employees, customers, and partners!
– Third-Party Integrations
Connect your CRM, Webinar Tool, or other third-party software application seamlessly with the platform in seconds. Reporting and managing your eLearning platform is always more convenient with integrations. The flexible APIs of SaaS-based LMSs allow you to connect with different systems easily. Also, unlike self-hosting, many of your integrations will be ready to use immediately after purchase – and without additional fees.
What's the LMS takeaway?
Look around – everything is in the cloud. Your LMS should be, too.
The SaaS vs. Self-Hosted LMS debate has been going on for many years, but cloud-based always dominates, no matter how you look at it! Both time and money are invaluable in business, and with the flexibility and reliability that SaaS LMSs offer, your business doesn't have to sacrifice either. If you're ready to improve your future learning programs using an LMS, then check some of the Features Our Platform Offers!