Learning Management-System, Employee Training
The Best Software for Tracking Employee Training
7 min read
|
Jun 28, 2023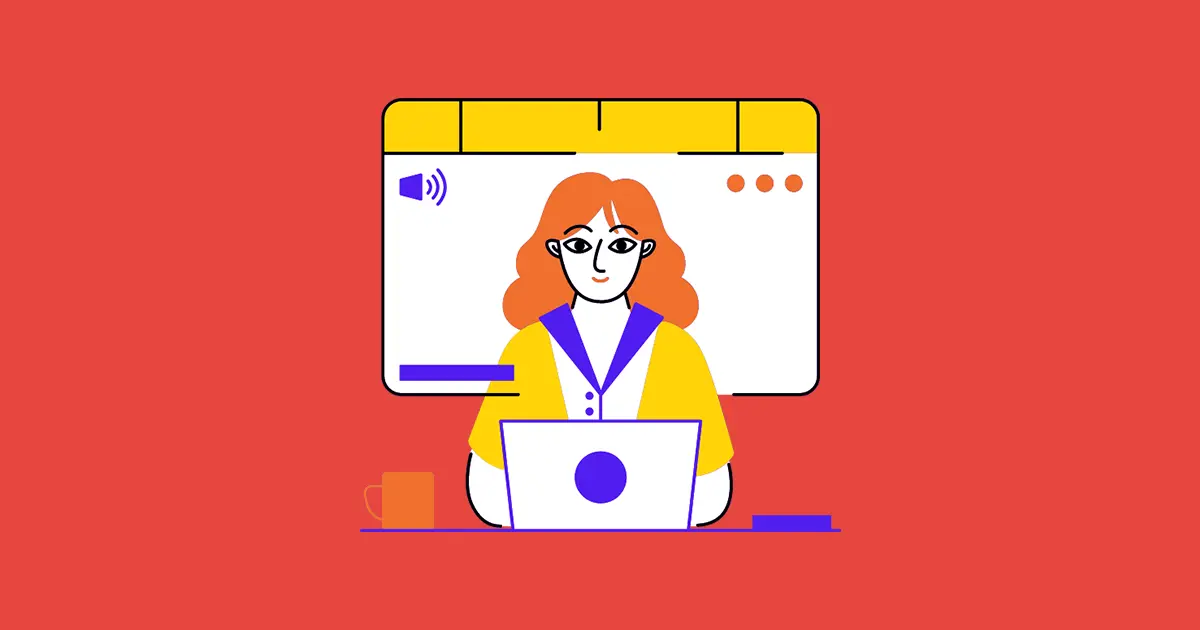 Employee training and education are a large part of any successful business. The workplace training industry has grown by more than 30% since 2009, and it's not showing signs of slowing down anytime soon.
Today, companies have access to many different employee training systems for tracking the effectiveness of online learning. However, not all of these platforms are as effective as they may seem. Don't worry though! In this Academy of Mine guide, we'll be talking about the five best platforms for employee training.
What is Employee Training Tracking Software?
Before we jump right in, let's talk about what employee training tracking software is.
As you've probably gathered from the name, employee training tracking software helps businesses track the progress of employees as they move through training programs, such as:
Onboarding programs
Continuing education courses
Accredited courses
Compliance training
Professional development, and more.
The specific features that make up these tools can vary. Some tools focus entirely on the tracking elements, with reports and analytics dashboards for completion rates, time spent, attendance, and more.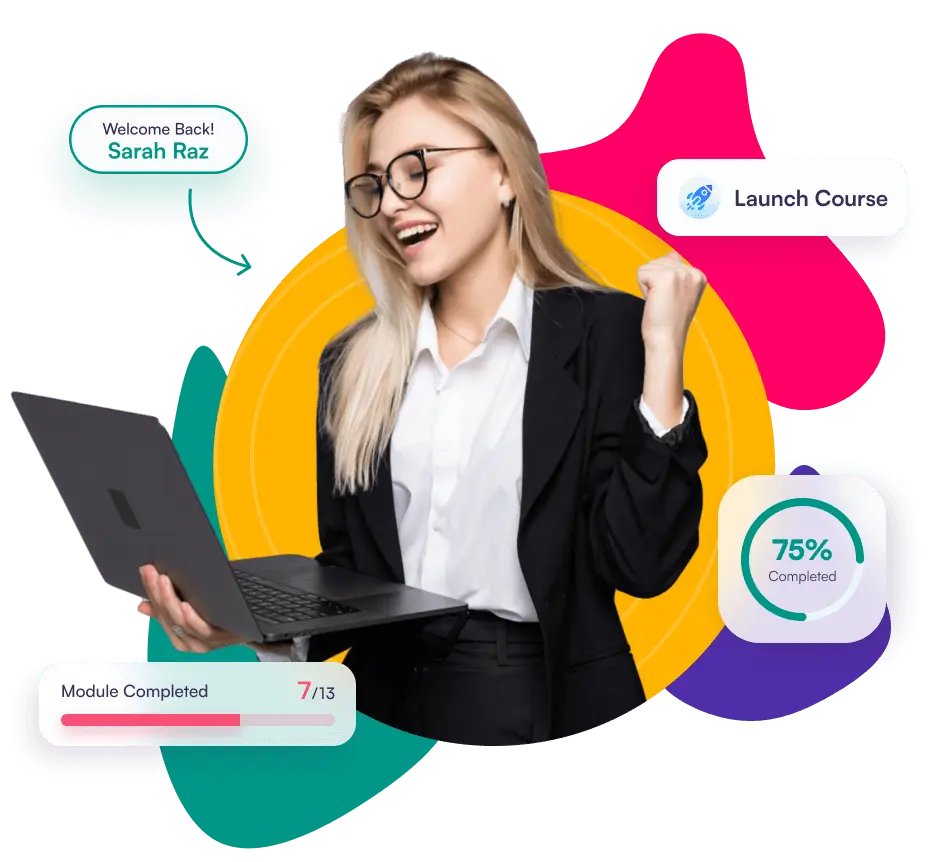 Tools like Academy of Mine combine these core tracking features with course creation and management features to deliver all-in-one solutions for creating, launching, tracking, and scaling employee training programs.
Why is Employee Training Tracking Software Important?
There are many benefits that we could cover here, but we'll stick to the highlights:
Easy Access to Training Records
Training programs inevitably create mountains of records and data. A good employee training tracking tool will tame the mess, transforming a lot of information into a source for insight, discovery, and employee improvement.
Personalized Training & Learning Programs
Personalization means giving your employees unique training experiences created around their specific needs. Employee training tracking software makes this possible by helping program administrators personalize content, assessments, and more based on results and feedback. This will help you identify any skill gaps amongst your employees and the topics that interest them most, allowing you to deliver a tailored training experience.
Effective personalization will help employees engage more with your training programs, especially as they can skip over learning modules that don't apply to them.
Increased Engagement & Motivation
Workplace training gives a major boost to employee engagement. Employee training tracking software increases this effect by giving employees a smoother training experience and a tangible record of their professional development.
What Should You Look for in Employee Training Tracking Software?
Choosing software is tough—there are always a million considerations and caveats. To make things a bit easier, we've put together a list of the five most important considerations when choosing an employee training tracking tool:
1. Learning & Development Needs
Not every tool will be a good match for your needs. To give a simple example, running an employee certifications program requires a very different set of tools than running extracurricular courses.
Pick a tool that either supports the use case you're looking for or a tool that can be adapted to any employee training use case, like Academy of Mine. One reason our platform is more adaptable than other LMS systems is that it can be customized to your audience, with help from our software developers.
2. Scalability
Whenever you pick a tool for your business, you need to be thinking about the future. After all, you don't want to deal with the hassle of data migration and onboarding a whole new system when your business grows.
Pick a tool that can scale as your organization grows and preferably one that provides additional features for larger operations.
3. Compliance & Security
This is a big consideration—especially for regulated certification and training programs. When it comes to security features, we've put together a list of the top ones to look for in your learning management system.
Pick a tool that provides the necessary security and privacy measures for your industry.
4. Features
Employee training tracking software is only as good as the features it offers you. If there are any must-have features on your list, you can use these to narrow down your options.
For example, you might be looking for a tool that supports self-paced learning and instructor-led training. That criteria alone will narrow down the employee training tracking software landscape considerably.
5. Flexible, Transparent Pricing
Finally, make sure the tool you pick fits within your budget—now and well into the future. Choose a platform that offers transparent pricing and flexible payment options so you can adjust as needed. Customers switch from other platforms to Academy of Mine all the time, after their old providers increased pricing, time and time again. So if a software provider's pricing is based on the number of active users, make sure you understand what you're signing up for.
This goes hand-in-hand with scalability. If you know that your training program is a growing one, pricing is even more important since you will have a lot of users enrolled in your platform (many LMSs charge more for this).
5 Best Platforms for Tracking Employee Training
Here's the TLDR version:
Academy of Mine: Best for Flexible, User-Centric Employee Training.
Trainual: Best for Storing Training Records & SOPs.
Connecteam: Best for Mobile Onboarding Support.
LearnUpon: Best for Employee Training Attribution.
AbsorbLMS: Best for Fine-Tuning Employee Training.
Now, onto the full list!
1) Academy of Mine
Best for Flexible, User-Centric Employee Training.
Academy of Mine is a learning management system (LMS) that gives businesses a powerful, highly customizable suite of tools for creating, managing, tracking, and improving employee and customer training.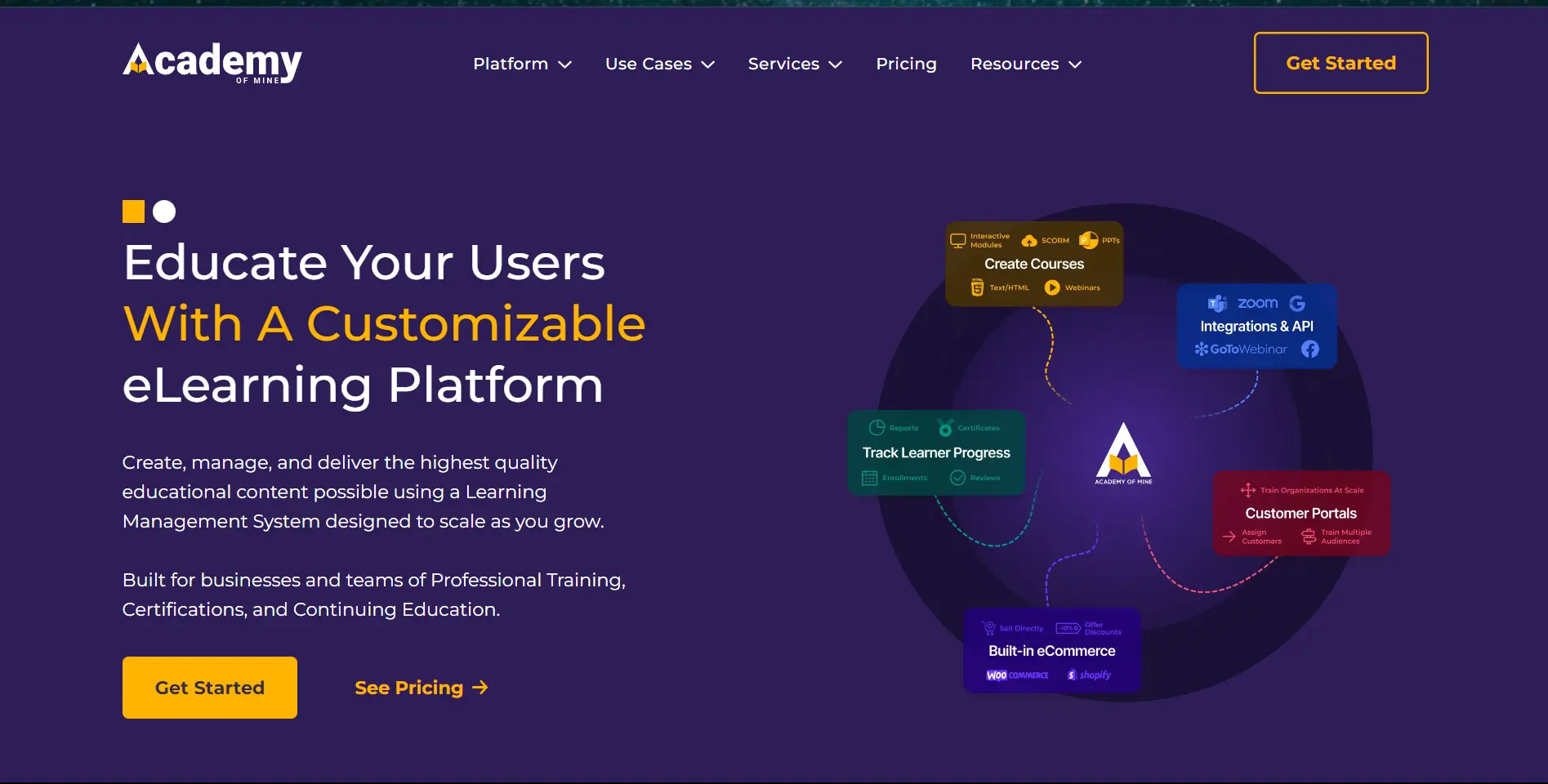 Businesses can use Academy of Mine to create self-paced and instructor-led courses using pre-built tools or work with a team of experts to customize the platform depending on a business's unique needs and use cases. All employee training data is accessible through learner & group reports that cover:
Completion rates
Certification status
Time spent (per assignment, module, or course)
Attendance (in instructor-led and virtual instructor-led courses)
Assessment scores
Assignment submissions, and more.
You can also use the platform to give grades and feedback, so employees have a clear path toward improvement. Additionally, each department's data is segmented, making it easy to track employee training progress across departments.
Key Features
Self-Paced Courses: Create, manage, and deliver self-paced, SCORM-compliant courses that include interactive assignments, videos, PPTs, PDFs, and more.

Instructor-Led Courses: Create, host, and manage webinars and instructor-led video classes directly inside of your platform.

Learner Reports: Generate comprehensive reports about individual learners or specific groups to zero in on opportunities for improvement.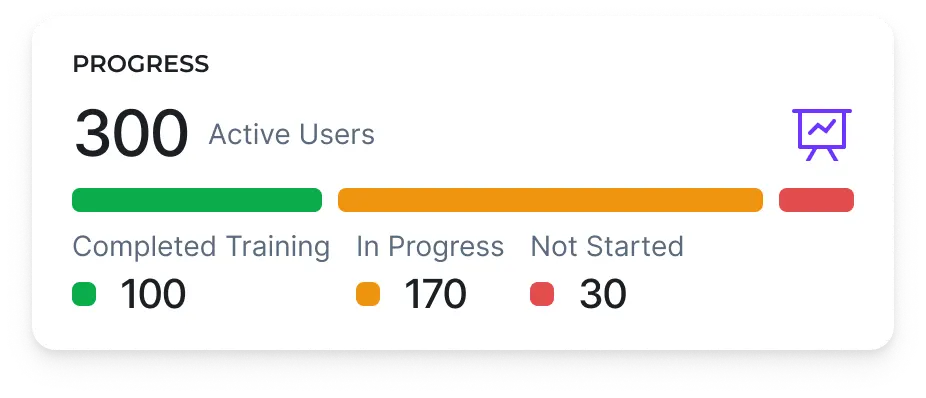 Integrations: Integrate AOM with a range of CRM, marketing, and analytics tools or build custom connections using Webhooks.
Portals: Keep training programs for different departments and employee-groups separate from each other, using Portals.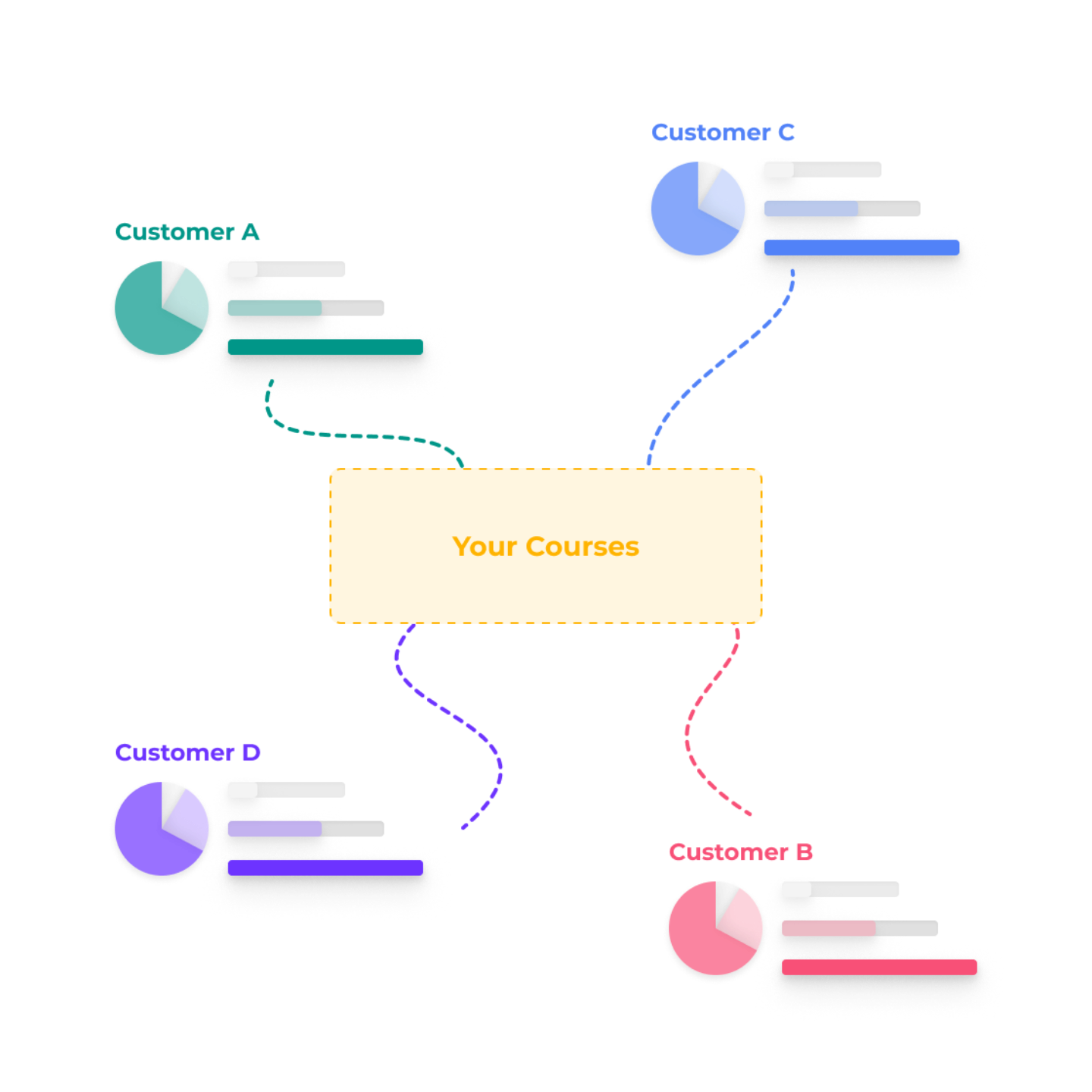 Customizable Platform: Work with AOM's in-house software development team or dive into the code yourself to customize the platform.
Pros
Highly customizable.
Supports self-paced and instructor-led learning.
Transparent pricing.
Feature-rich platform.
Comprehensive learner reports.
Cons
Custom development is a separate service.
2) Trainual
Best for Storing Training Records & SOPs.
Trainual gives businesses a centralized hub for storing training documents, compliance records, and standards of operation (SOP) information.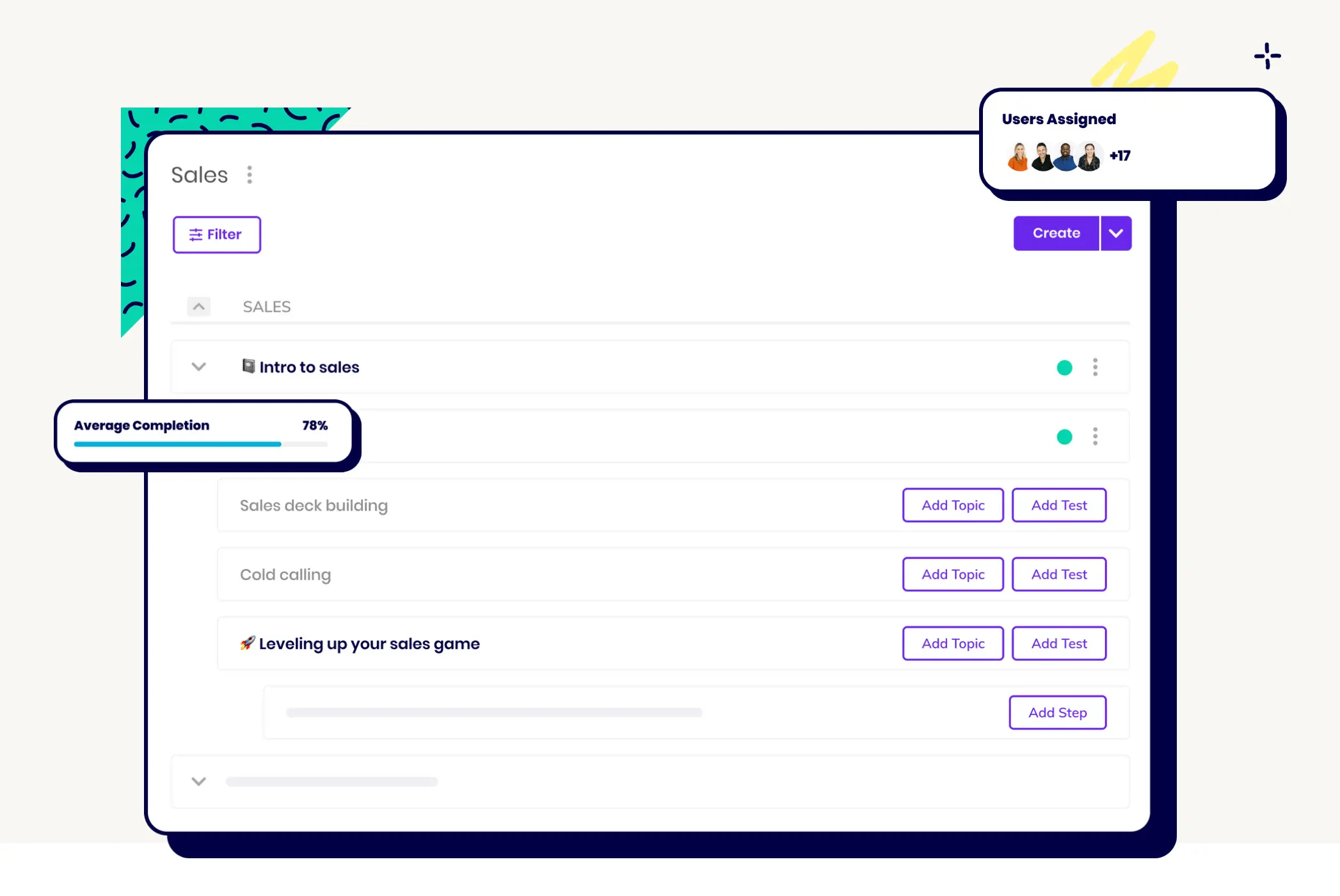 The tool combines drag-and-drop content creation tools, AI-powered content generation, and a simple LMS to make sure that employees are informed, trained, and in the loop. It's essentially a modern, data-driven employee handbook that helps businesses track and boost compliance.
Key Features
Onboarding: Build self-paced onboarding flows that get new hires up to speed quickly.
E-Signatures: Verify understanding and compliance by requiring e-signatures for key policies.
Employee Profiles: Track training progress, contact information, dependencies, and more with actionable profiles and org charts.
Pros
Very user-friendly.
Wide range of content options—quizzes, tests, and multimedia.
AI-powered features streamline content creation.
Cons
Pricing can be high for small businesses.
Users have complained about system performance.
Limited templates and designs.
3) Connecteam
Best for Mobile Onboarding Support.
Connecteam is an all-in-one workplace management tool with features and products spanning scheduling, time tracking, communications, and employee training.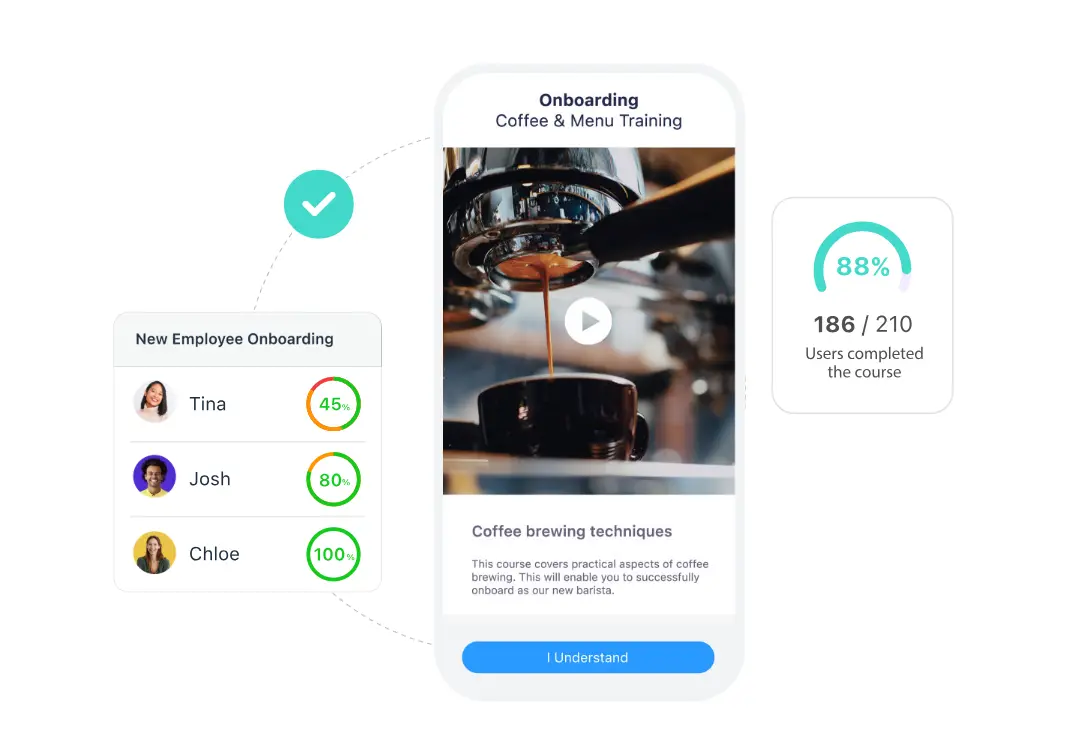 Connecteam's HR & Skills product allows businesses to create and deliver mobile-friendly onboarding and training content, complete with tracking and analytics. There are also tools for creating standalone quizzes and assessments.
Key Features
Training & Onboarding: Create and centralize mobile-friendly learning materials and track employee progress.
Quizzes: Gamify employee training with a range of quiz formats and offer rewards for progress.
Timelines: View a comprehensive timeline of each employee's training journey to offer personalized support.
Pros
Wide range of features—HR, workplace management, and training.
User-friendly and easy to navigate.
Affordable pricing plans.
Cons
Employee training is not a core feature.
Lack of customization options.
4) LearnUpon
Best for Employee Training Attribution.
LearnUpon is an LMS that makes it easy to draw connections between employee training and business outcomes.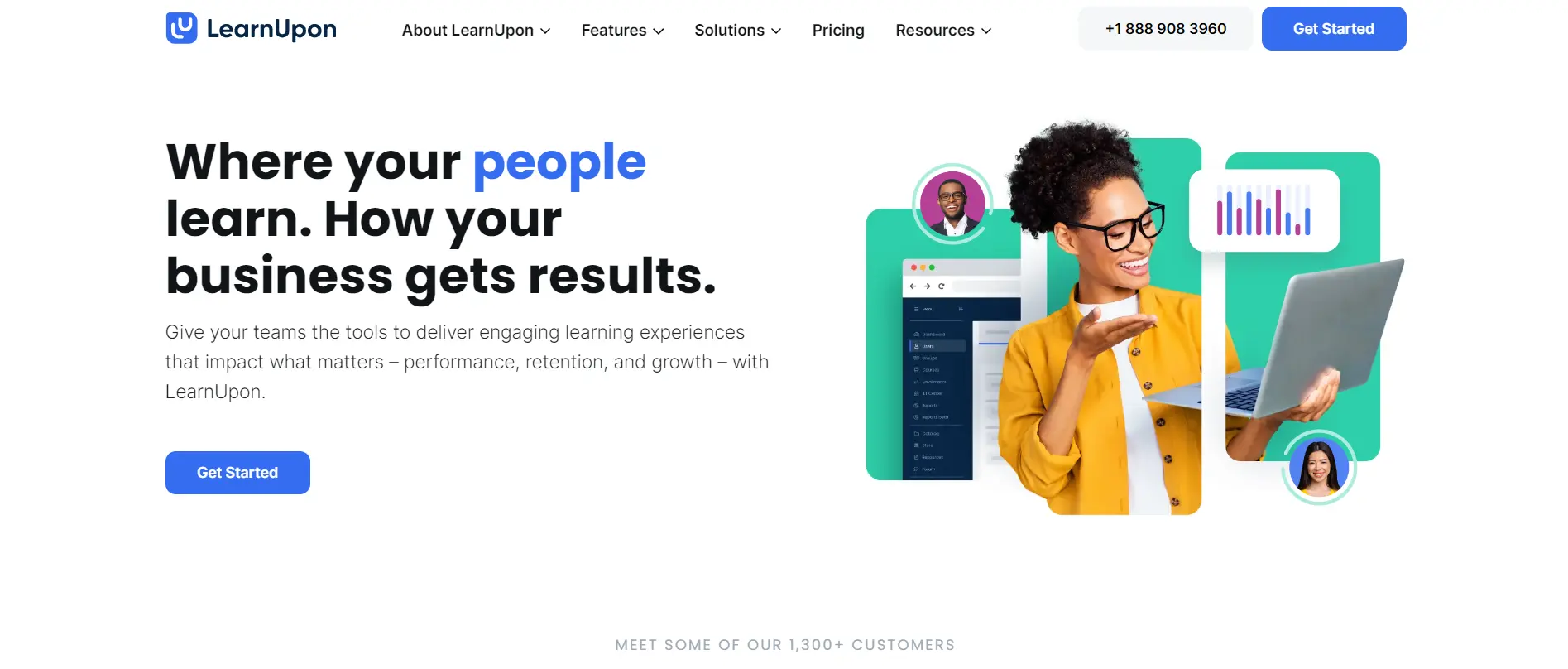 Users can take advantage of a comprehensive set of out-of-the-box reports, dashboards, and integrations to gain insight into employee training's impact on business KPIs like turnover rate, customer satisfaction, and more.
Key Features
Reports, Dashboards & Integrations: Enrich your employee training data with external business data for a more comprehensive picture.
User Management: Manage large-scale training programs with features like bulk upload, self-registration, and segmentation.
Learner Engagement: Boost engagement with gamified features like badges, leader boards, and levels.
Pros
Great training attribution features.
Highly customizable.
Wide selection of course creation tools.
Cons
Difficult to navigate and use.
The user interface is not very intuitive for students.
Limited pricing flexibility.
5) Absorb LMS
Best for Fine-Tuning Employee Training.
Absorb LMS is an LMS that offers a bunch of powerful tools for tracking and managing employee training.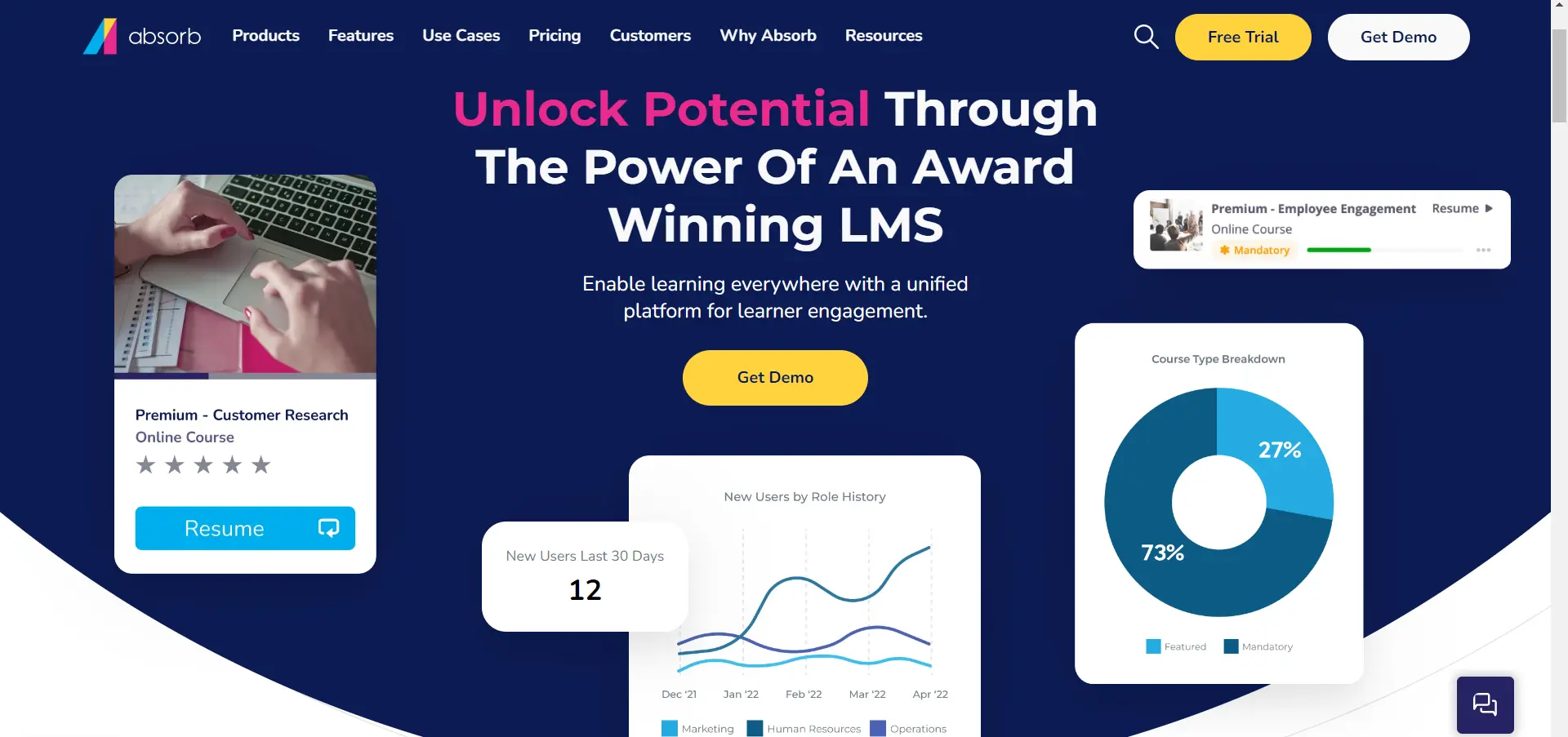 One of the standout features here is the Search Analytics Report™—a searchable dashboard that inputs employee training data and outputs lessons, activities, and courses that create bottlenecks for employees. By fine-tuning these areas, you can build an employee training program that works for a larger proportion of your employees.
Key Features
Search Analytics Report™: Searchable dashboard that allows users to quickly identify areas of improvement in employee training.
Advanced Reporting: Ability to build custom reports with a variety of data points, including completion rate, survey results, and more.
Intelligent Ranking: Use AI to generate custom search results based on a learner's history.
Pros
Powerful AI-assisted features.
Insightful reports and dashboards.
Comprehensive course creation tools.
Cons
Outdated, confusing UI.
Poor customer support.
Confusing pricing model.
Use Software to Track Employee Learning
Employee training tracking tools are a fantastic way to organize your training efforts and boost their impact.
At Academy of Mine, we know that mixing employee training and cookie-cutter solutions is a recipe for headaches. That's why we designed our platform to be customizable, flexible, and user-centric.
Want to see what a great employee training platform can do for your business? Book a demo call today!