Professional Training, Continuing Education, Learning Management-System
How to Develop Your Employee Performance Improvement Plan
7 min read
|
May 30, 2023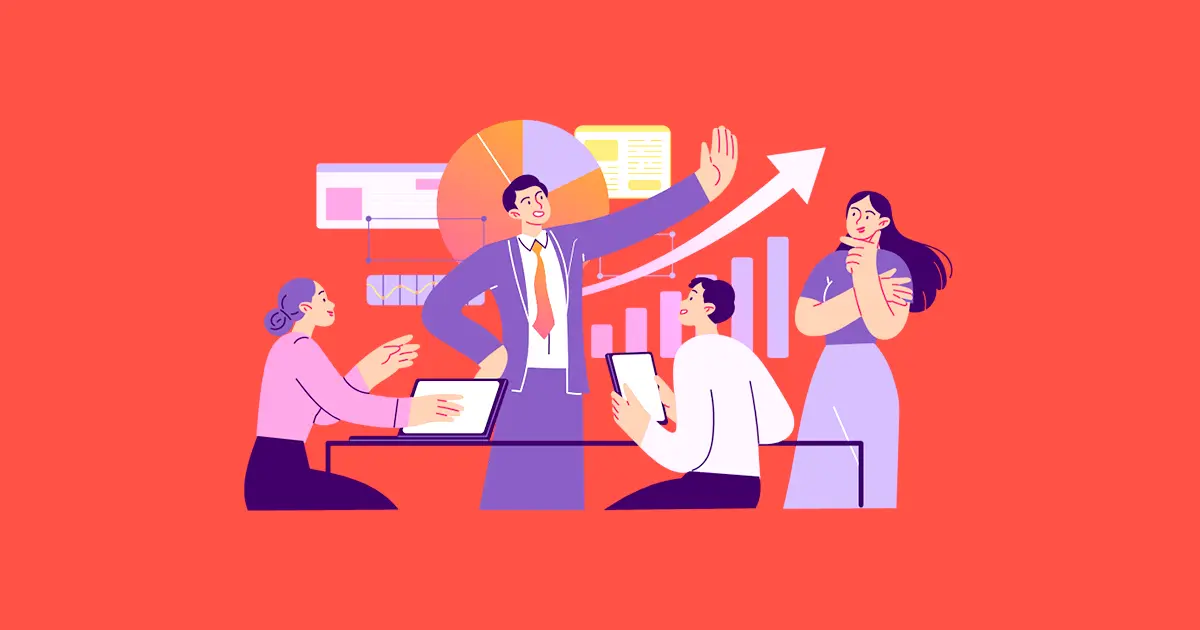 Like finding time to clean your household or office, finding skilled employees and retaining them can be difficult! According to Oxford Learning College, 66% of big businesses in the UK have trouble finding workers that have the right skills. The answer to this skill-gap conundrum is a performance improvement plan (PIP).
An employee performance improvement plan offers your employees effective training and educational resources. One easy way to support your PIP online, is with a learning management system — we'll talk about that later though.
What is a Performance Improvement Plan?
A performance improvement plan is a detailed plan that describes areas where your employees need improvement, and it also shows how they can improve. The areas highlighted in a PIP might include soft skills like leadership, problem-solving, or communication. They also might be more job-specific skills, such as IT, HR, or admin skills.
Every performance improvement plan includes training, which can be administered online or in person. When employees are enrolled in training courses, your company can rest easy, knowing professional development is taking place! Using a learning management system (LMS), your company can create online courses that include interactive assignments, quizzes, and other activities for employees to take at their own pace. The best part is, that learner activities and progress are all stored in the LMS for administrators to report on later!
Here's a snapshot of the Academy Of Mine dashboard, which is easy to use for professionals and students alike.

Importance of a Performance Improvement Plan
Is it worth investing money into training a poor-performing employee rather than giving them the boot? We think so! Posting job ads, interviewing, and finding new talent is an expensive and time-consuming game. In addition to retaining employees for longer, and keeping them skilled while on the job, here are some benefits of a performance improvement plan.
Improved Company Culture
Implementing an employee PIP can positively influence work culture by making employees accountable for their performance. By giving teams easy access to training, your employees will also feel supported and productive.
Provides Guidance
Preparing a PIP helps communicate to employees what your company expects from them. If we're talking about accredited training, formal employee improvement plans can help with certificate maintenance and continuing education.
Drives Conclusive Results
When you develop a PIP for an employee, you're giving them a clear path to improvement. They'll understand both the consequences of continuing to underperform and the rewards of turning things around. Then, employees have the ball in their court and they know what's necessary to thrive in a company.
Saves Time, Resources, and Money
Hiring new employees is costly. Indeed claims that new employees can cost a business between $4,000 and $20,000 per year. So the next time you're considering firing someone, factor in what expenses go into hiring…Advertising a job ad, interviewing candidates, etc.
How to Create A Performance Improvement Plan
Not every employee is going to be perfect. In business, some employees fall short on meeting company expectations. How you handle these employees is crucial, especially regarding your company culture. Implementing a performance improvement plan shows employees that you're serious about their development and future at your company.
Below, we'll walk you through how to implement a successful PIP program, the objectives you must set, and the expectations you need to provide employees.
1) Identify Performance Issues
Your first step in creating your PIP is to identify any issues that may be impacting employee performance. An example could be that your employees are not getting along, or they're collaborating but not getting work done efficiently. Your employees may be underperforming solely because they lack training.
If there are underlying issues, these need to be addressed. If the employees are struggling to get along with their colleagues, you can organize team-building activities or social events. You might also encourage them to discuss their issues one-on-one to find a resolution. In some cases, training employees may be more about maintaining compliance than improving performance. In this case, compliance training is probably the best solution!
2) Set Measurable Objectives
Your next step is to identify what you, as the employer, want to achieve with the PIP. The SMART framework is perfect for setting PIP objectives.
Specific: Be specific about your objectives. For example, you might want to boost your employees' sales skills. But in what way? Do they need to be more approachable? More knowledgeable about the products they're selling?
Measurable: When objectives are measurable, then the company and its employees can easily track progress. If you want to improve sales performance, state a date that you expect improvements to be made. You should also specify the improvement expectations. Here's a good example of making a goal measurable, "I want to improve monthly outbound sales revenue by $10,000 per team". Having specific and measurable goals help with analyzing performance later on.
Achievable: If your employee thinks the objective is unachievable, they might not even try (since it seems impossible). If you have an ambitious objective to reach, break it down into little lessons and goals. This is referred to as MicroLearning, which is very effective using online courses.
Relevant: For an objective to be effective, it needs to be relevant. If you were trying to reduce the number of sexual harassment complaints in a company, an effective solution would requiring employees to take sexual harassment prevention training. Relevant objectives directly address issues in employee performance, and they provide a solution.
Time-Bound: Time is a powerful motivator. To keep employees engaged in your performance improvement plan, you should place deadlines on training courses. You can also set weekly or daily progress checkpoints. Using a tool like an LMS, your company can easily monitor employee performance from afar, and step in to support employees who need help.
3) Talk to Your Employees
Next, explain to your employees what the problem is and how they can solve it with training. Remember, for training to be effective, it has to mention specific metrics that you expect employees to reach. One of the easiest ways to efficiently address objectives and set expectations for training is by using a learning management system — this is because your employee needs a frictionless and straightforward way to access their training and monitor their progress.
4) Provide Training and Support
If your employees lack skills, it's on the employer to provide them with training. The reality is that employees of yours might have been struggling for a while, but you just didn't know before. Part of a PIP is understanding why they're struggling (and helping them overcome their struggles). Once you understand the skills gaps employees have, and why they exist, it's time to solve them.
Online training is extremely convenient since it doesn't require physical commutes, just a stable internet connection. With online learning, your employees can work on training courses at their own pace and refer back to the materials if they ever get stuck or need to refresh their knowledge. Academy of Mine lets you create courses directly on the platform, and it's also SCORM compliant so if you have existing SCORM courses then you can upload those.
5) Review Progress Regularly
For your employee performance improvement plan to work, you need to regularly check everyone's progress. Using software like a learning management system (LMS), you can easily monitor user progress, and support everyone in their training courses. If you're training employees online, one way to review progress is by giving out graded tests and quizzes. You can also attach regular graded activities and assignments in an online course, to ensure employees are staying engaged during the length of their training. If you wanted to keep things online but make tests more interactive, you could always host live-video calls to test employees on the spot.

If you're conducting your PIP through an LMS, you'll have access to progress reports and performance analytics. These tell you how much progress employees are making in a course, and they share employees' assignment scores.
Even if you automate your employee performance improvement plan with software, it's still important to get your employee's perspective on the situation. With Academy of Mine, you can create surveys to get feedback on courses and help you improve your training.
What Should You Include in Your PIP?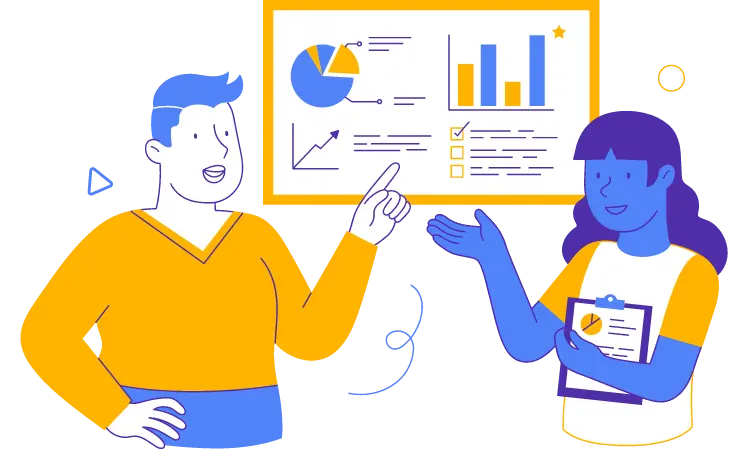 Your PIP should clearly state your company's expectations and show your employees what they need to do to achieve results. Think of this plan as a learning path for your organization to gain the necessary skills and knowledge to grow.
For clarity, include the following in your PIP:
Areas for Improvement
When defining areas for improvement, these need to be based on facts, not opinions. For example, if your sales team isn't meeting quota or it's taking an HR team too long to train new hires, crunch the numbers and see exactly how your teams can improve. Then, we recommend talking directly with employees about the issue. From there, you have plenty of information to create your performance improvement plan.
Plan of Action
To develop your plan of action, use the SMART goals that you created earlier. You should also refer back to these goals when following up on employee progress after folks have completed initial milestones. In your plan of action, you should also explain the consequences of not meeting the progress points or milestones, such as additional training. Using an online training platform such as an LMS, you can award certificates and gamify learning to make training programs more enjoyable!
Reporting on Performance Improvements
There's little point in having a PIP if you're not measuring its impact on your employees and the business. After you start rolling out the plan, set regular meetings with your employees to discuss their progress. For instance, if you had a poorly performing sales team, a successful PIP should result in higher sales and close-rates. After employees complete training specified in the plan, set checkpoints to analyze how they're performing in the company — to better understand if your training has been successful.
Additionally, you need to ask your employees for feedback on your performance improvement plan. With their insight, you can streamline the process further and enhance the experience for other employees. Using eLearning platforms, you can ask employees for training feedback after they complete a course.
Transform Your Compny with a PIP!
Performance improvement plans can be challenging to create and implement, but when done right, they can revolutionize your company culture and employee retention rates. With a PIP, you can show employees that you value them and want them to grow. The result is happier employees and more profitable and collaborative teams!
Learning management platforms like Academy Of Mine can help you implement PIPs effectively without breaking the bank. See how our platform works.