Case Study
CE Provider Saves Time & Money Ditching Fragmented Software Network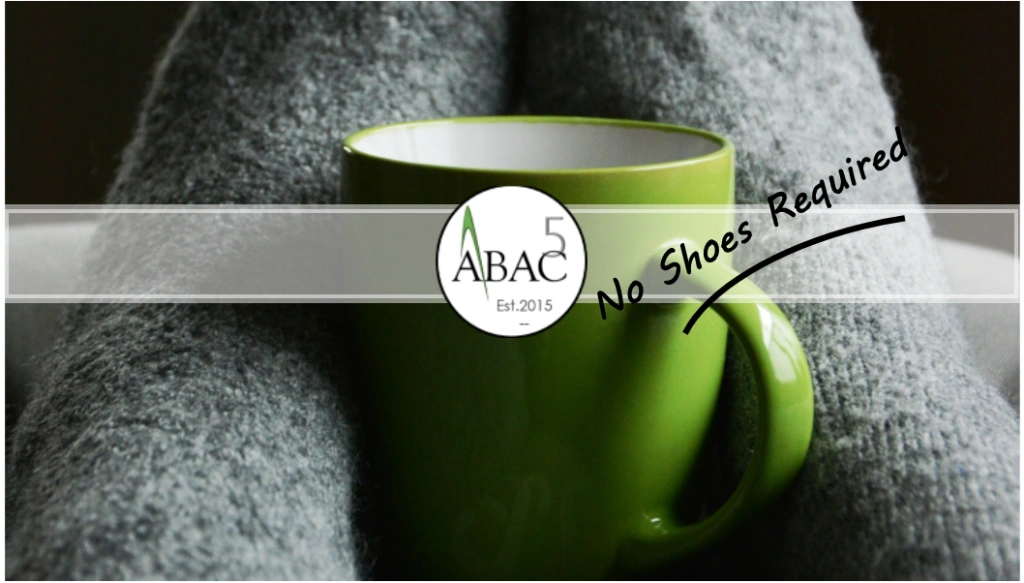 About the Client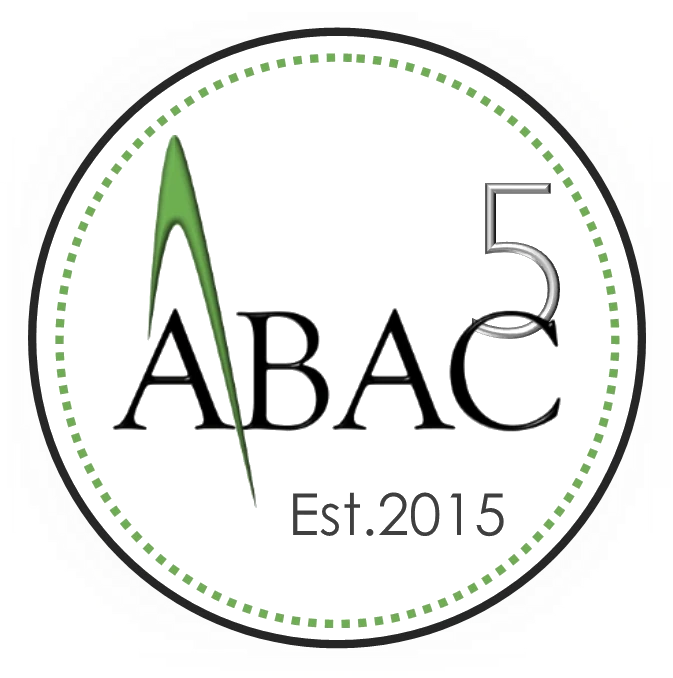 ABAC is a continuing education and professional development educator who provides live-webinar classes to professionals in a wide variety of disciplines including behavior analysts, social workers, psychologists, counselors, occupational therapists, speech and language pathologists, teachers, nurses and parents. ABAC's core student audience are professionals who primarily work with at-risk, vulnerable and under-served individuals, those both with and without disabilities. In addition, ABAC provides instruction in ethical practice, business ownership and online behavior, as well as provides supplemental university class material.
Founded in 2015 by Adrienne Fitzer, ABAC strives to provide clinically relevant, up-to-date and unique topics tailored to the needs of practitioners who desire more advanced instruction; all courses are presented by instructors who live, breathe, research and practice what they teach. ABAC also aims to connect students who seek a more in-depth study experience with professional mentors.
We had the opportunity to speak with Adrienne about ABAC's role as a continuing education and professional development course provider, as well as learn about the company's journey of transitioning its business operations from largely manual processes to a custom-built eLearning platform that streamlined and automated operational systems for increased efficiencies and an improved student (and instructor!) experience.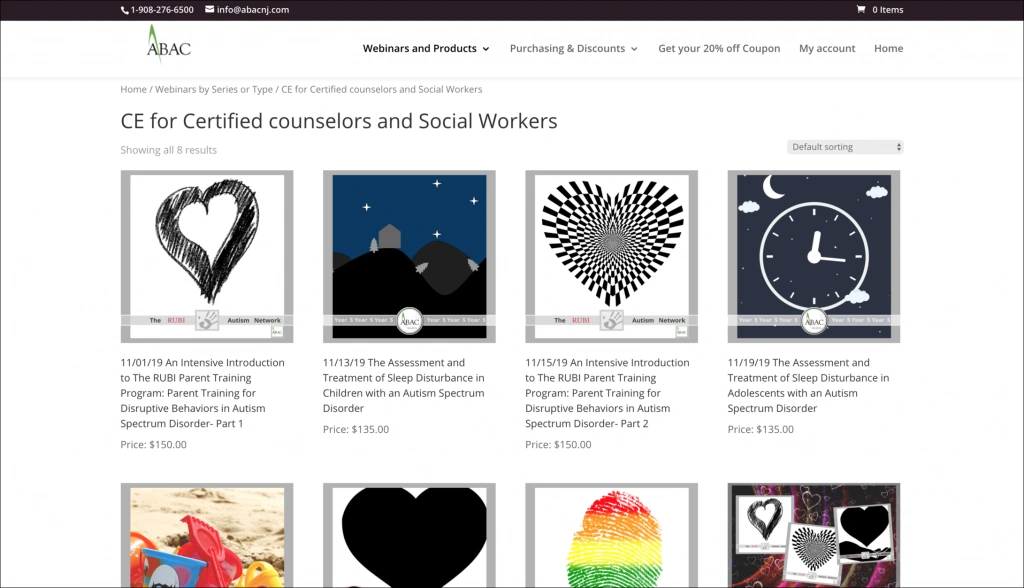 ABAC delivers live continuing education webinar series to working professionals.
The Challenge
From its inception, ABAC has served a diverse population of professionals with its educational live webinars. While the webinar content itself was informative and engaging, the experience of signing up for webinars, accessing the live webinar and then obtaining the course's certificate of completion was not as straightforward. Instead, ABAC was operating its eLearning business on a fragmented network of software programs, resulting in a user experience that left room for improvement. Lacking time-saving automation between interfaced software programs that directly impacted the business's operational efficiencies, ABAC compensated for this lack of integration with necessary business processes being performed with manual workarounds by ABAC staff which in turn consumed valuable company time.
"The team of people working behind the scenes and with me directly are responsive, knowledgeable, and easy to work with." – Adrienne F.
Prior to the Spring of 2019, ABAC did not host its live webinars on a true learning management system. In order to deliver course series to students, webinars themselves and all necessary behind-the-scenes administrative tasks were run via combining a hodgepodge network of software programs (that did not interface easily with each other or connect at all) and other creative manual workarounds completed by ABAC staff:
Purchasing a course did not automatically give students access to it. ABAC's eCommerce solution was independent from users' course access to classes that had already been paid for. Instead, after purchasing webinar(s) users had to locate their emailed receipt and then find the downloadable PDF with instructions on how to embed their access link in a 3rd-party webinar platform in order to access their course (and then be sure their link was saved somewhere on their device for later use).
Detracting from branding, live webinars were conducted via Webex separate from ABAC's company website. To attend a live webinar, students had to leave ABAC's website and access webinars on a third-party webinar platform, Webex. From visiting multiple websites to maintaining multiple login accounts this process was overly complicated for first-time users and contributed to a confusing user experience. Adding further complexity to this process, if course materials were referenced during a webinar students had to leave the Webex site and return to ABAC's company site to view the materials.
Another major drawback was that Webex's webinar solution did not provide an option for ABAC to present its branding to students in the application's interface during webinars. Considering that the majority of time students spend interacting with ABAC is during webinars, this was a lost opportunity to build company branding while reinforcing the value of ABAC.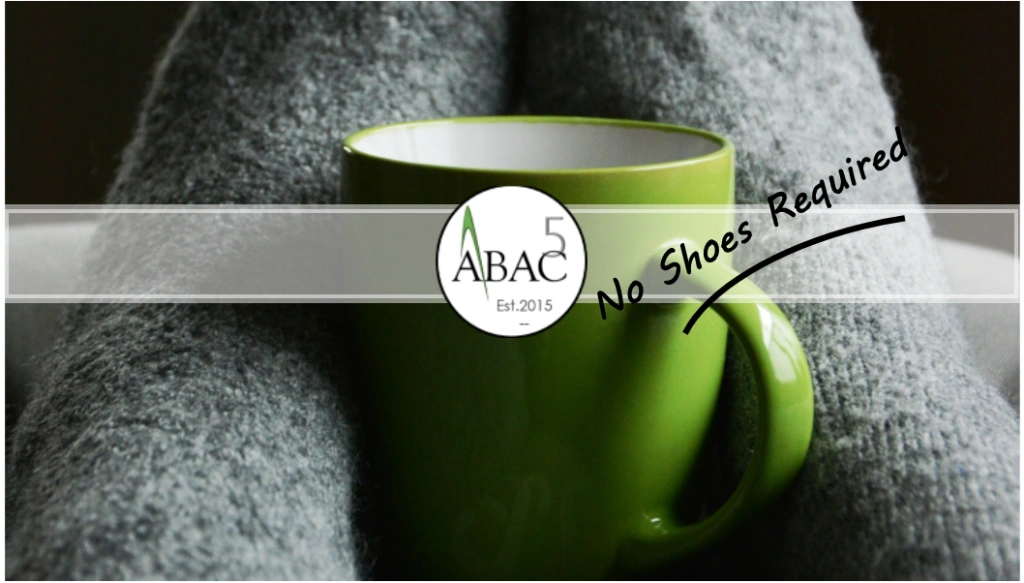 Delaying student access to previously held webinars, ABAC's live webinar recordings took up to +48 hours to be delivered from Webex. In addition to offering live webinar courses for students, ABAC also strived to provide flexibility to students unable to attend a live webinar by giving them the option to view the recorded webinar on the ABAC website at a later time. Unfortunately, user access to recorded webinars was often held up by Webex's increasingly slow turnaround time. In addition to this, at times webinar recordings were delivered as poor quality files, which left students waiting for up to a week for the corrected recordings to made available. In addition to this, the corrected webinar recordings were often not up to the standard users expected from ABAC. These delays caused both frustrations for waiting students and stress for ABAC's staff who were then left to upload delayed recordings in a hurried rush to the ABAC site.
Course evaluation feedback by students was manually collected. Contributing to a disjointed user experience, valuable student webinar feedback was gathered from evaluations accessed via a link provided at the end of a webinar or found via a link they were directed to in the resources section of the website that ABAC used to post its recordings. This caused not only an inconsistent line of communications with students but also opened up the possibility of students not responding to evaluation requests. With student engagement likely falling during the period of time between finishing a course and receiving the evaluation request, ABAC was potentially losing out on important student feedback needed to improve future webinar offerings.
Webinar course certificates could only be manually created and individually emailed to students. Once a course was complete, ABAC staff spent time manually creating course certificates while students waited for their certificates to be emailed to them. This caused not only additional work for ABAC staff, but also resulted in a delay for students who required proof of completing continuing education courses for licensure accreditation bodies.
Suffice it to say that while ABAC made the best of the resources available at its disposal, company capabilities were still limited by the functionality of the tools on hand and this directly impacted the quality of educational experience provided to students.
The Solution
In hopes of learning more about the organization and inquiring if an eLearning platform solution would be beneficial for the company, Academy Of Mine reached out to ABAC in February 2019. Following this, in-depth discussions began with the organization's CEO, Adrienne Fitzer. Academy Of Mine's product managers and developers conferenced with Adrienne several times to review ABAC's business processes and document the essential functions being utilized within all current software programs. ABAC's business requirements were determined, analyzed and then mapped against the core functionalities needed within a new eLearning platform solution to be custom developed to ABAC's exact needs.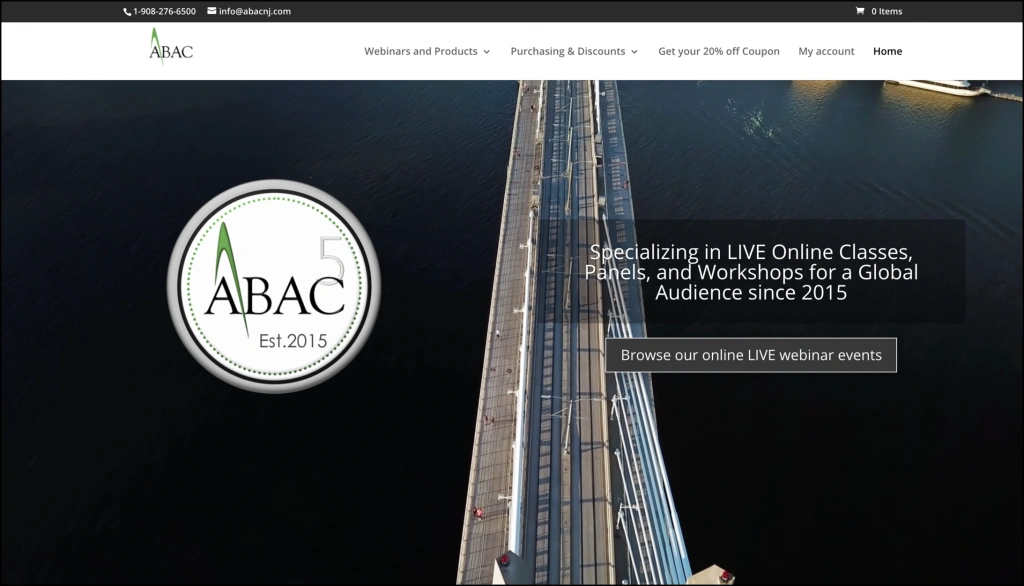 After signing on with AOM, ABAC's website was integrated seamlessly on the same domain as their platform.
To stay ahead of the curve, discussions also focused on the features that ABAC would require to support their current educational content as well as any additional media formats and emerging technologies that may potentially be needed over the long term.
"I have been looking for an LMS solution for quite some time. AOM had most features I needed but not all, but as we grow, they are willing to grow with us. We are working on customizations that meet our needs now and in the future and I am thrilled." – Adrienne Fitzer, CEO
Following a thorough review, it was determined that ABAC would require specific functionalities in a new platform solution in order to fulfill key business requirements. Necessary features included:
A robust webinar solution that was easy for students to use and access. The webinar application would be native to their custom-built platform and integrate seamlessly with the ABAC website.

An in-built course evaluation feature that is prompted to students to be completed within the platform itself following a webinar in the window of time while students are still actively engaged with their course.
The ability to record live webinars and have recordings made available to ABAC within a tight turn-around time of preferably no more than a few hours.
Give students access to courses immediately following a completed purchase as well as the ability to view their purchase history with ABAC, prior courses and also course materials.
**Ability to connect the platform with additional external solutions, allowing for features and functionalities not currently available in the platform to be supplemented with external solutions that integrate seamlessly with the LMS. This allows the platform's core functionalities to expand in response to ABAC's changing needs as well as allows for ABAC's integrated software network to grow. **
With the scope of ABAC's platform requirements determined and the details nailed down and documented, Adrienne was confident in the ability of Academy Of Mine to deliver and decided to move forward with the investment of a new eLearning platform custom-built for her company.
The Results
After coming on board in April 2019, Academy Of Mine developers got to work on custom building ABAC's eLearning platform. Designed with understanding the importance of adaptability over time, ABAC's platform was created with the in-built functionality of being able to add new customizations and system updates in response to ABAC's changing needs.
"My experience up until this point has been with larger companies with terrible communication, disregard for the small business, and no regard for how their product directly impacts my revenue. AOM is completely different." – Adrienne Fitzer, CEO
See below for a more detailed look at the custom features and functionalities built into ABAC's eLearning platform.
Fully integrated eCommerce & instant course access
Instead of waiting for access to their course after purchase and then logging into their webinar on an entirely different website, students are now able to easily pay for and conveniently access their webinar courses on one website that seamlessly integrates with the ABAC platform.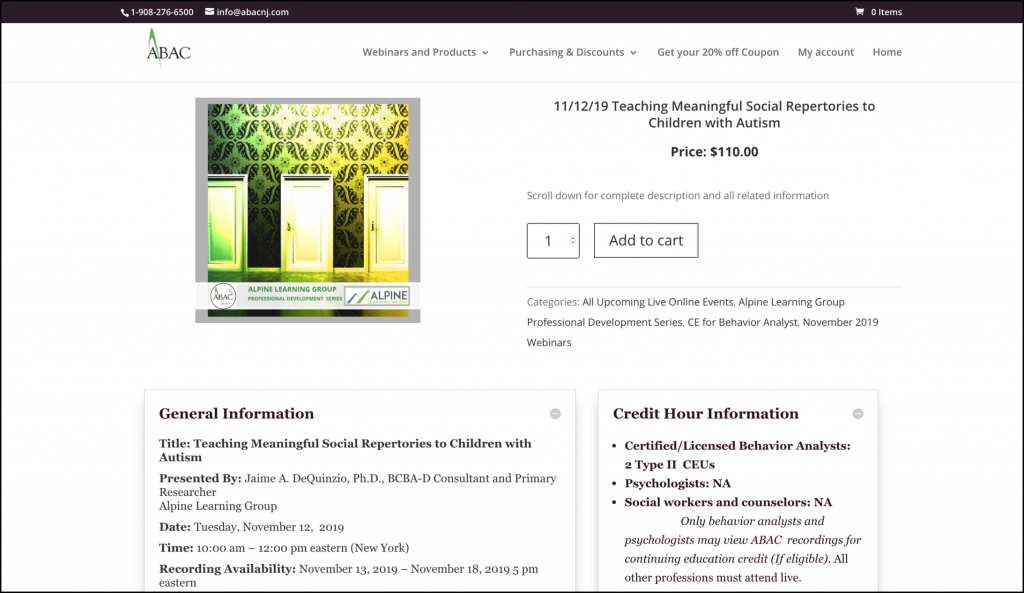 Fully integrated student dashboard
Students benefit from a more efficient user experience by accessing their webinar series and course materials in one cohesive platform. Via their student dashboard, they are able to access prior webinars, course grades, certificates, order history while also easily remaining in contact with webinar instructors and ABAC staff all in one convenient place.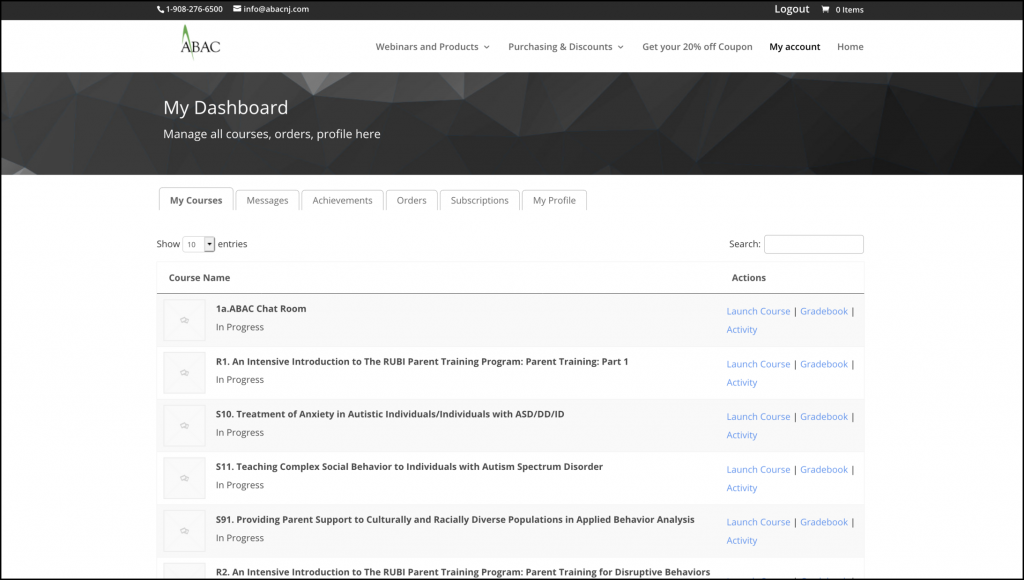 Convenient & dynamic CE certificate generation
Automatic course certificate generation is perhaps one of the most useful automation features available in a platform. ABAC live webinars are often taken by students across multiple professions who each require their course's certificate of completion to meet their occupation's specific continuing education requirements, requiring multiple certificate versions to be available for the same course. Conveniently, ABAC's custom platform's certificate features allows student's professions to be mapped against different certificate templates, enabling the correct certificates to be automatically generated for students in different professions taking the same course.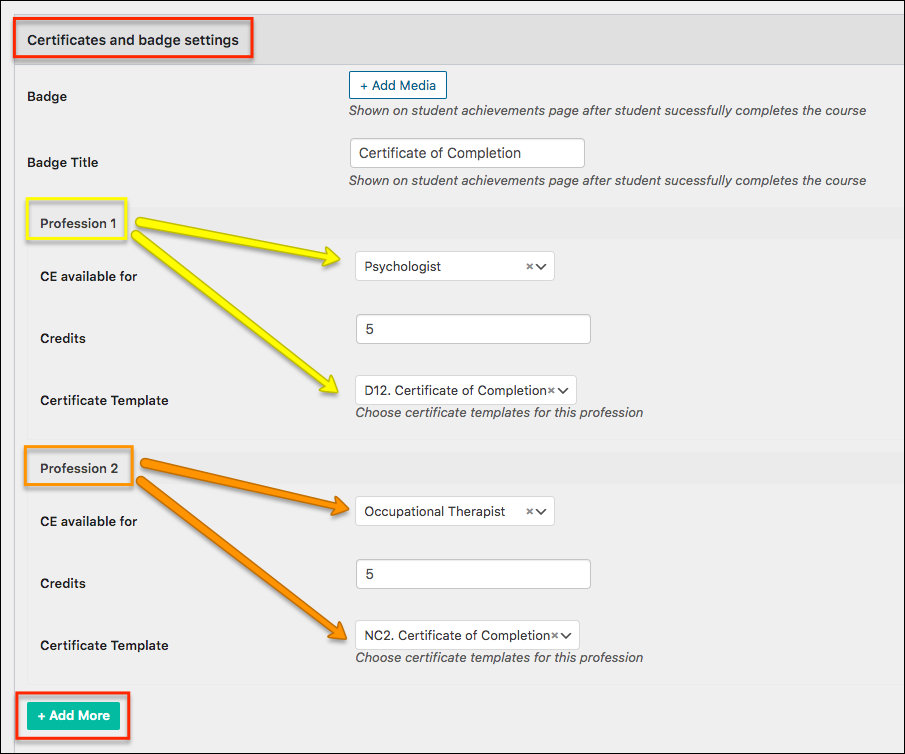 Automatic certificate generation not only saves course instructors time but also gives students instant access to certificates of completion for continuing education credit: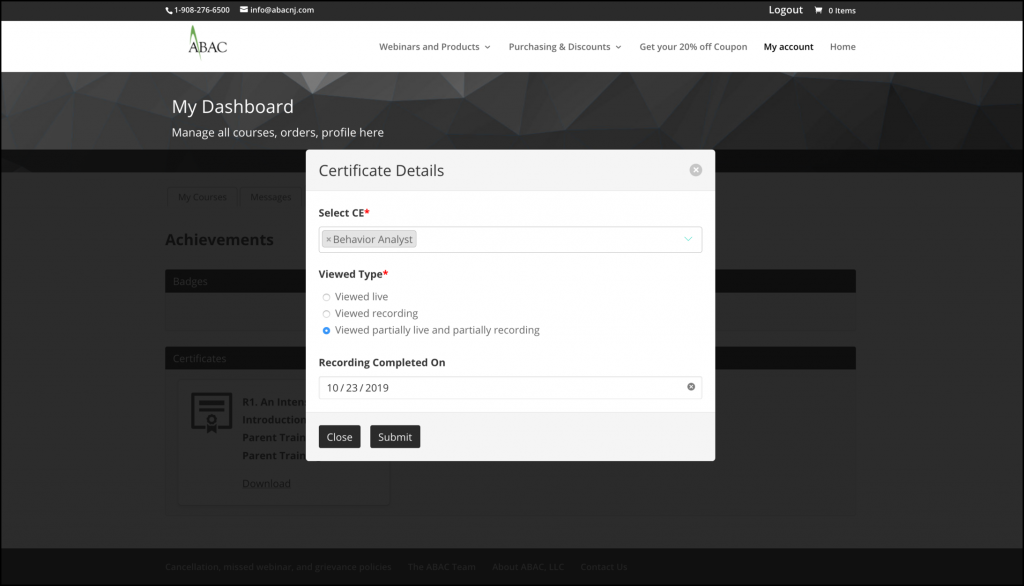 Automatic course certificate generation also empowers students to download their certificates at their own convenience.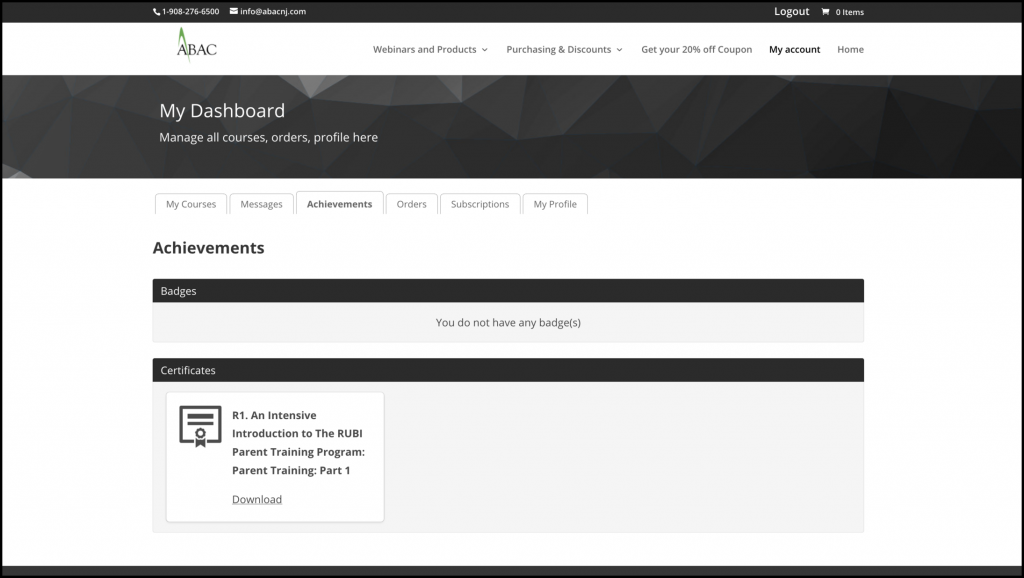 Native live webinar solution
With the most fundamental element of ABAC's business being their live lecture series, it was critical that their new platform's webinar solution be technically reliable and easily accessible for students while also fulfilling all of ABAC's business requirements.
ABAC's custom webinar solution is built on the framework of BigBlueButton and was customized to their specific needs; the finished webinar solution operates seamlessly within ABAC's platform and is easily launched by students through a link embedded in their course within the LMS.
Following a live webinar concluding, the webinar's recording is then generated by the webinar tool, automatically loaded into the course and then made available to students in only a handful of hours (as opposed to 2+ days with the previous provider Webex). This quick availability enables ABAC staff to easily make recorded webinars available on the ABAC site to students who were unable to attend live webinar sessions.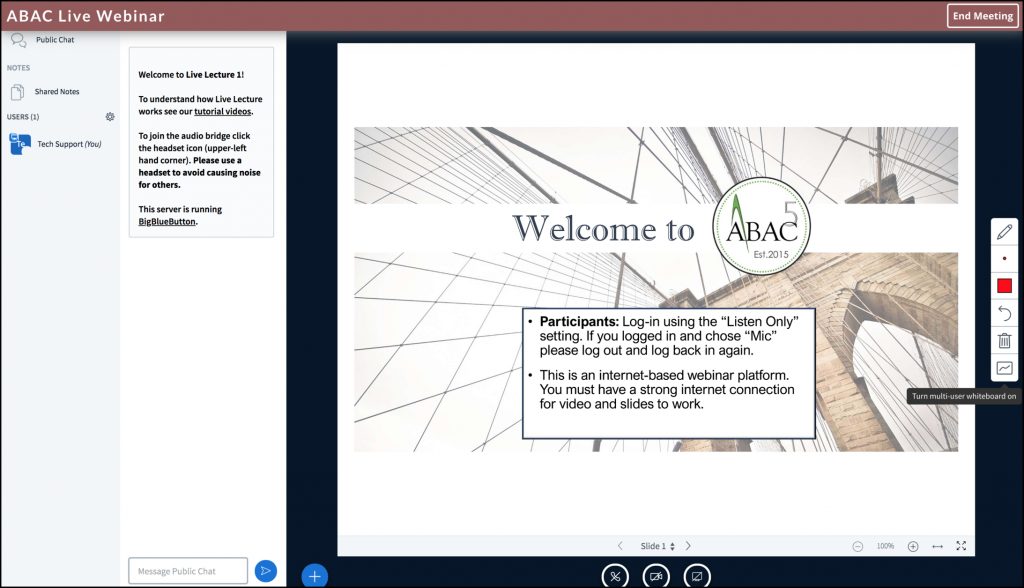 Built-in student course evaluation feature
Developed exclusively for ABAC, the custom-built student course evaluation feature appears on a student's screen upon them clicking "Submit Course" at the end of a completed course. Designed to capitalize on a student's active engagement while they are still within a course, this feature setting requires the student to complete the evaluation questionnaire and provide ABAC with valuable student feedback prior to being able to submit their course as finished and receive their certificate of course completion.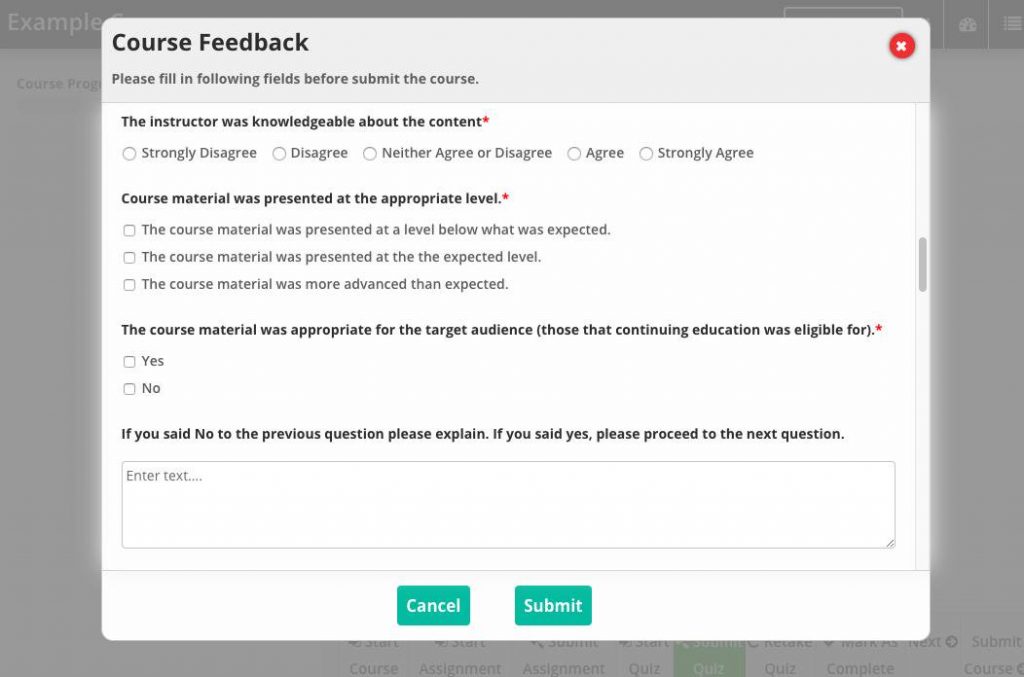 Conclusion
Following the implementation of their eLearning platform, ABAC very quickly saw the benefits of their new custom-built platform solution impacting multiple levels of the company:
Students benefited from an all-around improved user experience. From easier access to their webinar courses to being able to access their certificates and course materials all in one convenient dashboard, ABAC's new platform has streamlined their student's educational experience and enabled them to get more out of their ABAC webinar series.
ABAC has saved both substantial time (and money) following the implementation of their fully integrated platform. From no longer having to manually process recorded webinars to no longer needing to create students' course certificates by hand, ABAC has saved both significant time and money by using an integrated solution that was custom built to their needs.
ABAC's dedicated custom webinar solution has improved both the company's branding as well as its industry reputation. With webinar series being at the core of ABAC's educational offerings, it goes without saying that their webinar solution is at the heart of students' interaction with ABAC staff, instructors and their course content. Since implementing its new and improved fully integrated webinar tool ABAC has received positive feedback from both staff and students commenting on its ease of use as well as its improved capabilities. All-in-all, the improved webinar solution has been a huge win for ABAC at both operational and instructional levels
"The time you put in last week to solve the last piece of the puzzle to make the ABAC AOM site fully functional was immediately life changing for me." – Adrienne F.
Following the successful implementation of its new custom platform, we are thrilled with the improvements that ABAC has seen in both its students' user experience as well its simplified and streamlined business processes. We look forward to working with ABAC over the long term and to continue updating ABAC's custom platform as the company's business needs change over time.