Learning Management System, Professional Training, Safety Training
Essential Features Of An LMS For Safety Training
4 min read
|
Jan 25, 2022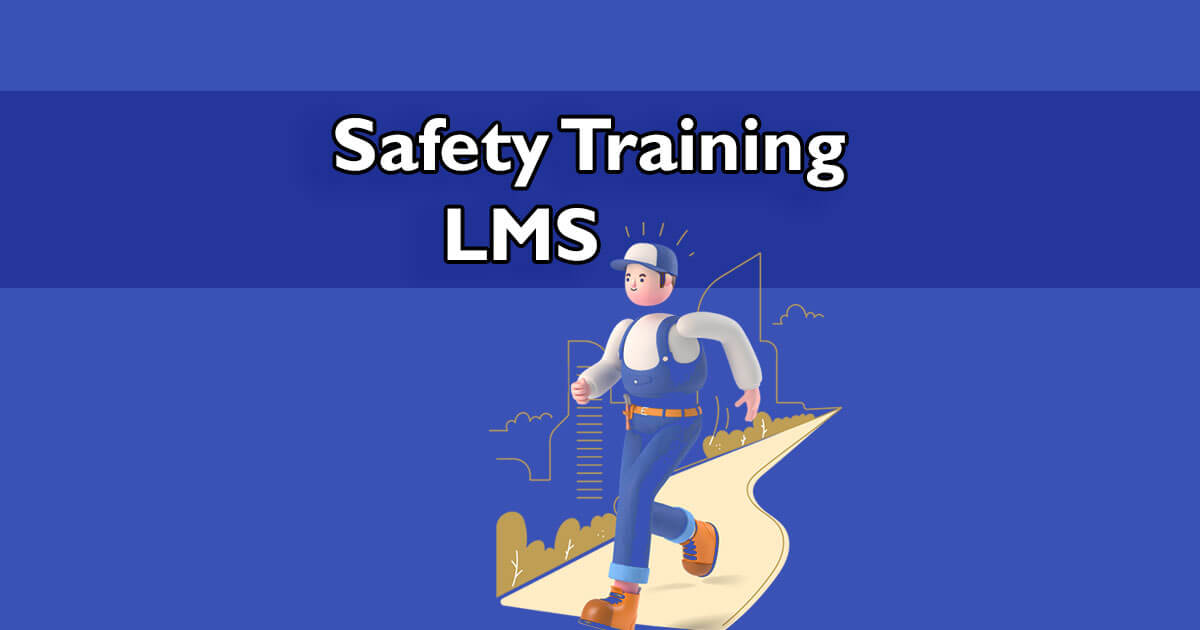 AFL–CIO reports that workplace hazards kill and disable more than 100,000 workers each year. Construction workers, hospitals, industrial cleaning companies, restaurant owners, forklift drivers, electricians–there's no shortage of businesses whose employees are exposed to threats and dangers in the workplace daily.
As important as providing quality safety training in your organization is, it's also expensive. So, how can you deliver this type of training to your employees and customers more efficiently? Learning Management Systems.
If you're not familiar with LMSs, they're a powerful software application that your organization can use to deliver training online and in real-time (webinars) and through on-demand courses that are accessible 24/7. Not every LMS is created equally though–so in this guide, we're going to talk about the specific features your platform should have for it to be effective for safety training!
Reporting tools to track customer progress
Your employees and customers enrolled in safety training should be making progress based on whatever timeline they're following. They also don't need to be spending excessive amounts of time training. The quicker they complete a course and meet safety compliance the quicker your organization can run safely without breaking any OSHA and other safety regulations.
LMSs for safety training should have reporting tools that allow you to closely track the progress of trainees and prevent professionals from skipping ahead in a course. The ideal LMS has built-in reporting tools that allow you to run reports on students and monitor progress in safety training programs without using external software.
Roleplay to improve effectiveness of Safety Training
If you could stop workplace injuries and fatalities beforehand wouldn't you?
Roleplay lets a company see how its staff react to common threats and dangers in the workplace without actually putting anyone at risk. Using roleplay is a great way to improve job safety for all your employees and customers in a hypothetical way. Roleplay can be utilized in your LMS through webinars, multiple-choice tests and quizzes, written responses, and more. The point is your LMS should be flexible enough to roleplay with learners in many different ways.
Blended collaborative learning
Long gone are the days when safety trainees are satisfied with taking an online course without being able to interact with other humans. Not only does including collaboration in your safety training courses make training more interesting, but it can also help knowledge retention by introducing different perspectives to the learning process.
One effective way to incorporate collaborative learning into your LMS is with discussion boards:
Create a discussion board about an example of a common action in your business that has a lot of risks.
Ask learners what they would do in this scenario.
Require each learner to comment on 2 other learners' submissions after submitting their own.
Have instructors grade submissions and assign more training curriculum to learners who answered the question incorrectly or ask them to re-answer the questions after giving them new advice.
Budget-friendly platform that's easy to train in
Roughly 3.7 million workers from private and public sector businesses are injured per year. It's in your business's best interest to prevent workplace injuries (especially serious ones), but you don't want to go bankrupt doing so.
If you aren't utilizing an online system like an LMS to handle the majority of your safety training, that's a great first step! Second, make sure your LMS fits into your budget – all while being convenient for learners to sign in and train with – and straightforward for instructors and L&D managers to deliver training on. We recommend using a system with Single Sign-On so that your customers can begin training securely using their company login credentials.
Customizable Certifications
Even though the completion of a course is tracked and stored automatically in LMSs like Academy Of Mine, being able to award certifications after a user completes a safety and compliance course is important.
We recommend picking a platform that allows you to upload your own certification designs or create them from scratch in the platform with an easy-to-use template. Digital certifications allow institutions and employers to easily check who's certified at any given time. Additionally, they prepare companies for audits by storing safety and compliance records.
Videos of what NOT to do and what to do instead
Not to contradict what we said earlier – but sometimes when teaching your employees and customers the proper ways to approach a situation at work – it's best to demonstrate first. One way to do this is by recording videos of what NOT to do vs. what to do in a certain situation at work.
Videos only have to be recorded once and can be uploaded into an on-demand training course that's accessible globally 24/7. Equally important, your whole organization can benefit from this same video for years to come. In an effective safety and compliance program, you could follow video modules in a course with tests and quizzes, and then maybe role-play on a webinar afterward.
Webinars
Simply put, your LMS needs to be able to seamlessly integrate with a webinar tool so that you can train virtually in real-time using apps like Zoom and Microsoft teams. Webinars don't completely replace the need for on-site training, but they can reduce the amount of in-person training sessions needed, reducing expenses in the process.
Brandability of the platform
Being able to white-label your LMS to look and feel like the rest of your company assets is essential if you're trying to personalize the learning experience. The severity of this feature is up to your organization and its goals, but we wouldn't want our team taking safety training courses on a platform that had somebody else's branding all over it!
White-labeling and other brand customizations allow your company to attach company assets like a logo and theme colors into your LMS to make the cloud-based training system truly yours.
So which provider is right for you?
The specific features your LMS requires for safety training also depend on the industry you're serving, company size, budget, and goals. However, all of the features we talked about today are part of our platform here at Academy Of Mine. We've been in business happily serving customers since 2014 – and our LMS is used by many amazing companies for safety and compliance training daily!
Let's talk about how we can add you to the mix and start personalizing a new safety training solution for you today!