eCourse Growth Strategies, Polls
How Much Traffic Do You Get To Your Online Course Site?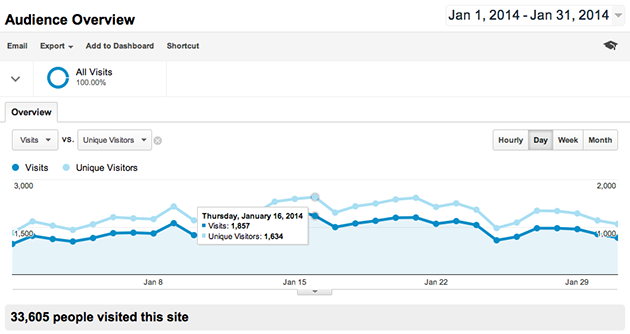 The traffic numbers vary greatly on a course to course basis. Traffic numbers could range from a few dozen to hundreds of thousands of visitors/month. But let's take a look at one of our client's sites and use those numbers to show what's possible.
This particular client of ours received 33,605 unique visits for the month we profiled below. We've taken a screen-capture of their Google Analytics account so you can see how this volume of website traffic looks on a day to day basis. These 33,605 unique visitors average out to about 1084 unique visitors/day which in this case also translated into 188,055 page views for this month. Which is… a lot!
Mind you, this is well above average since this is what we do for our client's sites at Academy Of Mine. We help train our clients, who are running online courses, to ensure they are getting high and sustainable traffic numbers to their websites on a month to month basis.
If you want to learn how to achieve numbers like this you should visit our blog (we publish a lot of helpful free information for our blog readers). Or if you're interested in signing up for Academy Of Mine you can visit our homepage to learn how we can help you sell your course online and work towards getting impressive traffic numbers to your eCourse site once you get it up and running.
AN EXAMPLE OF TRAFFIC TO AN E-COURSE WEBSITE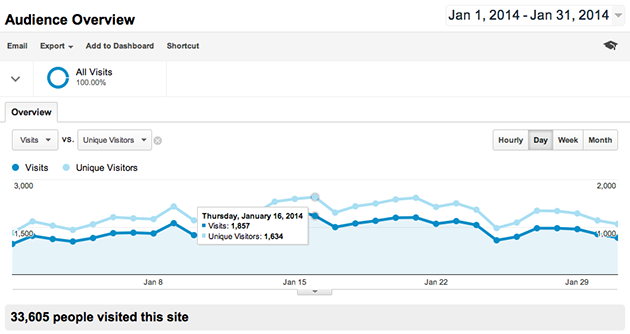 HOW MUCH TRAFFIC DOES YOUR ONLINE COURSE WEBSITE GET?
Now we'd like to ask those of you who are running online courses and selling them from your own website "how much traffic are you getting each month"? Please note to answer using "unique visitors" (not page views or visits). Thanks for participating!