Academy Of Mine As An Alternative
A Better Alternative to EduBrite Learning Management System
7 min read
|
Jul 28, 2022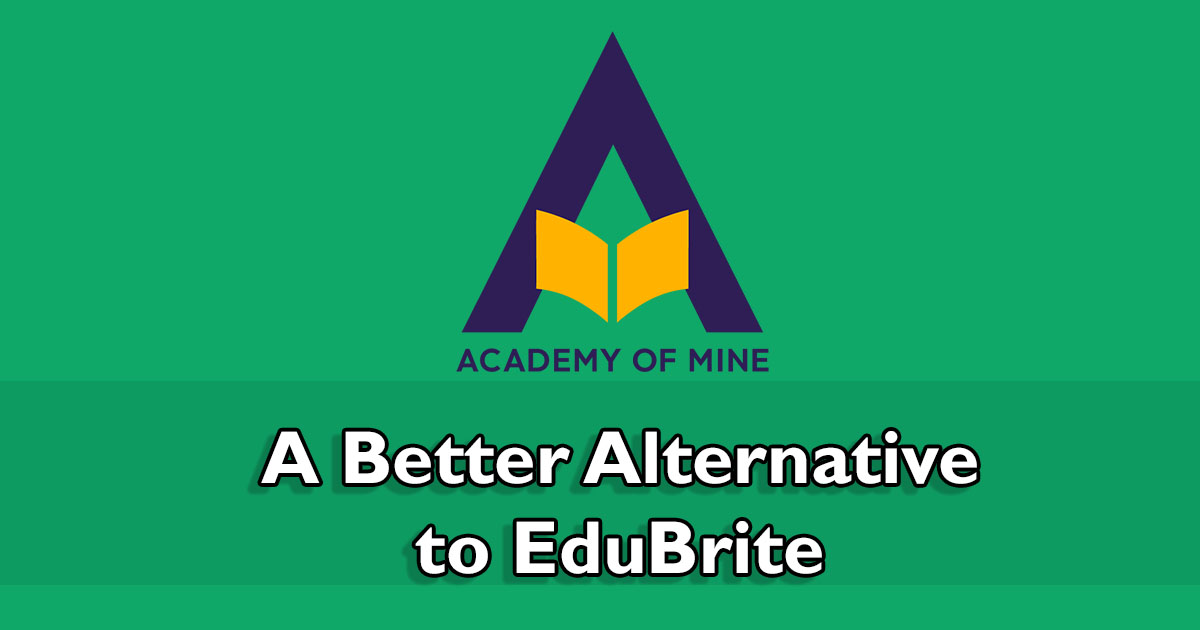 As you know, EduBrite was acquired by LinkedIn in June 2022 and they are no longer supporting their LMS platform. Luckily, there are a lot better Learning Management Systems (LMSs) out there. In this article, we're going to compare EduBrite with the Academy Of Mine LMS – and explain all the reasons why it's a better alternative for professional development and continuing education.
Advantages of EduBrite
Advanced Assessment features
When creating a test or quiz in EduBrite, there are 14 different question types that you can use:
single or multiple responses
fill in the blanks
sequencing
column matching, and more
EduBrite also has a feature called adaptive tests which lets you create assessments that dynamically generate questions for learners in a quiz based on how they answered previous questions. Academy Of Mine has a similar style dynamic quiz, but it's currently not as advanced.
Offers add-on features
In addition to EduBrite's base prices, they offer add-on features that you can purchase, and base prices start at $399 for 100 active users and 25GB of storage. A few of the add-on features EduBrite offers are digital credentialing, getting access to a knowledge base, using subscription pricing to sell courses, and Salesforce integration. Alternatively, all of the add-on features we just mentioned are included in Academy Of Mine LMS, at no additional cost.
EduBrite's add-ons are quite expensive too: each add-one costs a percentage of the base price you're paying, so if you had 250 monthly active users ($699 base price and wanted to use the knowledge base, you'd have to add $175 (25% of base price) to your monthly cost for EduBrite.
Integrations & APIs
EduBrite has a decent amount of integrations out-of-the-box. Unfortunately, EduBrite's software is fairly clunky, so many of the integrations they offer don't integrate seamlessly. According to multiple EduBrite customers we recently talked to, some integrations like Shopify and Salesforce can cause inconveniences for customers purchasing and enrolling in courses.
Here is a list of some integrations that EduBrite offers:
Google for business
Atlassian Confluence / Jira Service Management
Salesforce, Paypal, Authorize.net
Shopify
Zoom, WebEx, Vimeo, and EdCast.
APIs for custom integrations such as HRIS/ERP systems.
Disadvantages of EduBrite
Overwhelming User Experience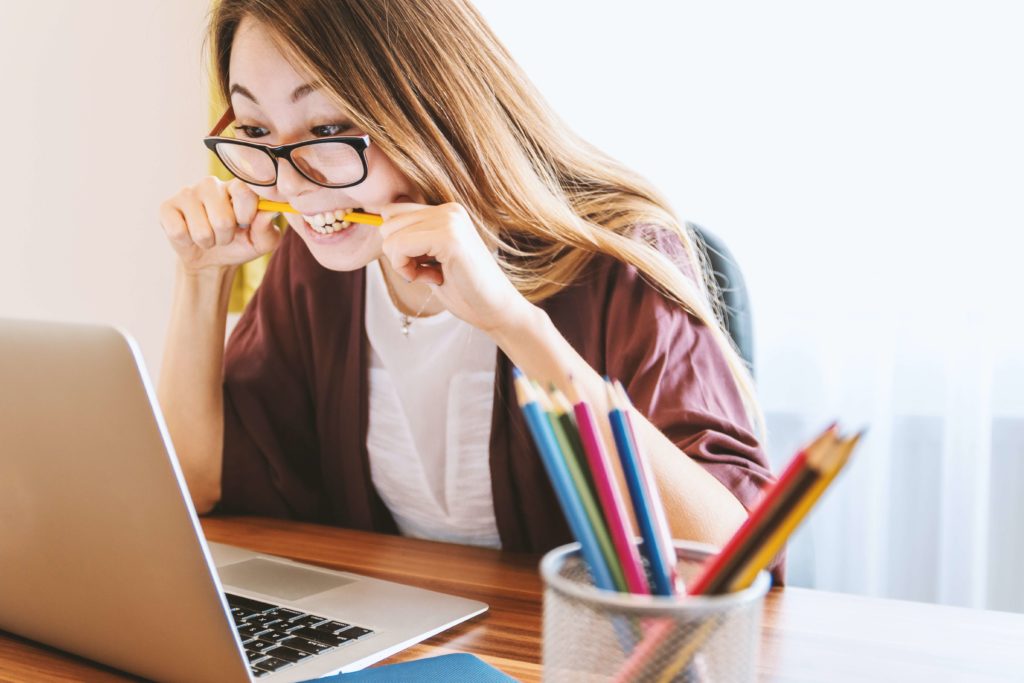 You can test out how the EduBrite software works with a live demo. EduBrite includes most of the common eLearning features by default, but the platform is outdated and overwhelming to use. After testing EduBrite and speaking with a few EduBrite customers, it's clear that their platform is not user-friendly. For example, the EduBrite LMS doesn't allow you to sell courses and webinars directly on the platform – you have to use Shopify to do so. With Academy Of Mine, you can use Shopify to sell training, or you can sell courses directly on the LMS using our customizable storefront.
Can be difficult to Manage
After testing out EduBrite for only a few hours, we found that certain eCommerce and reporting features were difficult to use in the platform. It's not just us that found the platform difficult to manage. Multiple EduBrite customers were frustrated with similar features in their LMS platform before switching to Academy Of Mine.
Based on our tests, even performing simple student reports as an admin in EdBuro seems to be overcomplicated. We're not saying that Academy Of Mine lets you pull the most advanced student reports, but most of our customers don't require more than what our LMS has. Equally important, Academy Of Mine doesn't overcomplicate simple features like enrolling students into a group or selling courses online.
Expensive Pricing
EduBrite has affordable pricing options, but if you're running a scalable platform then you will need to pay at least $1,000 per month (more if you have more than 1,000 monthly active users). In addition to the baseline pricing, EduBrite offers add-ons that you can pay for. Like we said earlier in this post, the majority of EduBrite's add-ons are features that are included in the Academy Of Mine LMS by default – and EdBrite charges a lot for these additional features!
Inconvenient for eCommerce
To sell courses on EduBrite, you are required to integrate with Shopify or a third-party eCommerce platform to host your course catalog. With Academy Of Mine, you can sell courses with Shopify, or you can sell courses directly within LMS without having to manage and coordinate sales with another platform. Another issue we have heard from EduBrite customers is that their group functionality for training customers in different portals causes a lot of problems.
EduBrite is dissolving!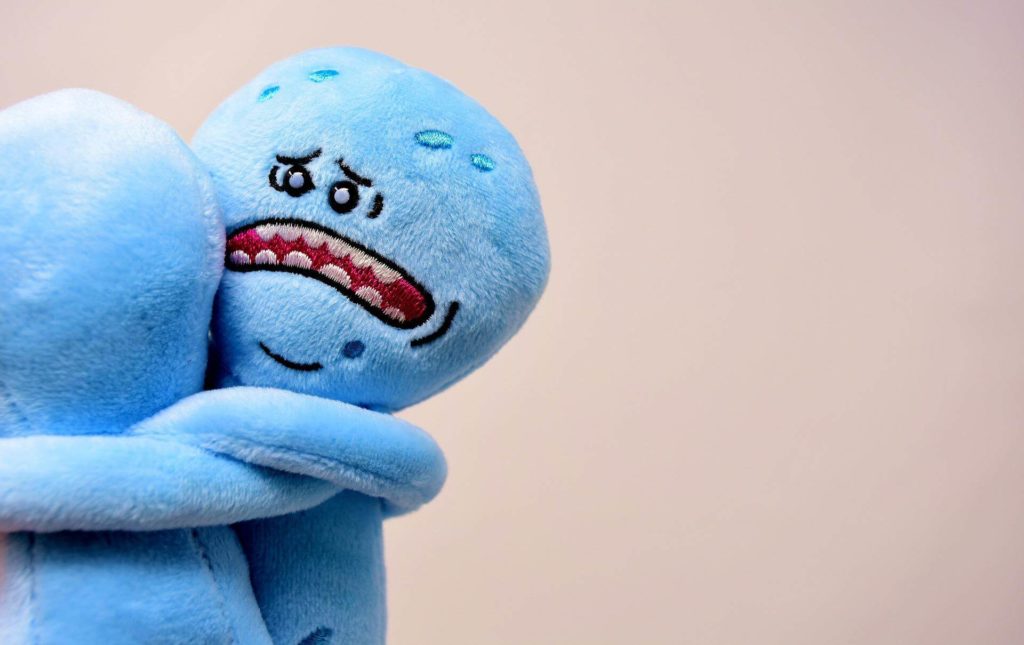 As of June 29, 2022, EduBrite has been acquired by LinkedIn and the platform is going away for good.
Advantages of Academy Of Mine
Intuitive user interface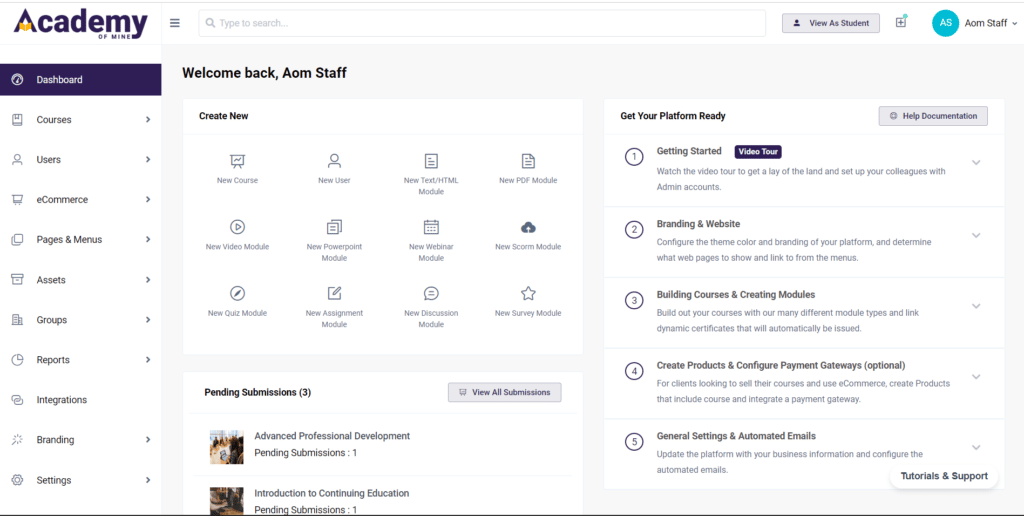 Time and time again, customers compliment us for having an interface that's simple, good-looking, and easy to use; you can watch these Academy Of Mine tutorials too for yourself how simple the Academy Of Mine platform is to use. Additionally, if you ever have questions about our LMS, all Academy Of Mine customers have access to an extensive knowledge base that goes in-depth documentation about how every feature works in our LMS (constantly being updated).
Large amounts of storage (affordable)
Starting at $599/month Academy Of Mine gives you 500GB of storage (up to 75 GB for SCORM), and for $899/month you get 1TB of storage (up to 150GB for SCORM).
White-label platform and LMS portals
With the Academy Of Mine LMS, you can add your company logo, change the site's colors, customize menu texts, and add branded texts like your business name, email address, phone number, and more. A few more branding and marketing features you could take advantage of with Academy Of Mine LMS are visually your emails, uploading your favicon to the website URL, using a custom domain, and more.
You can also use custom styling if you want to customize the platform's visual branding using code. Having our developers customize your platform's visual branding is also an option.
Reliable technical support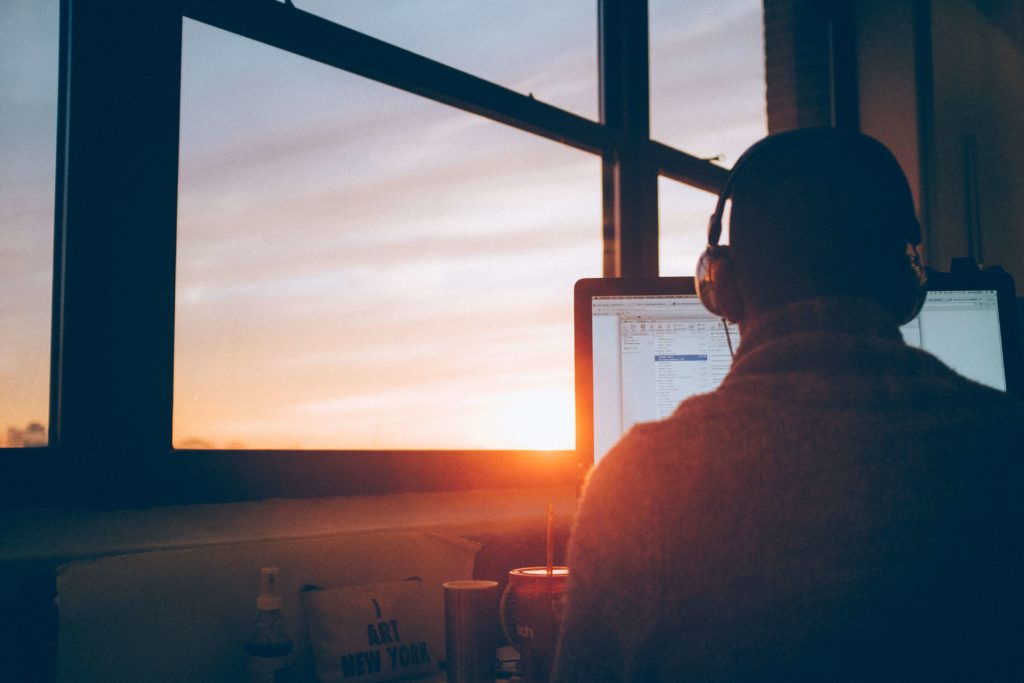 In addition to the knowledge base that all AOM customers have access to, we offer 24/7 customer support. If you're submitting a help ticket or sending us an email from a different state, or you're outside of North America, then you may have to wait a few hours; that said, Academy Of Mine is dedicated to responding quickly to customer tickets and going the distance to resolving any issues.
Customize your platform
One undeniable benefit to using Academy Of Mine is that your LMS is hosted for you (SaaS) and you are able to customize the platform. The majority of SaaS LMSs don't offer custom development, so you're getting the best of both worlds with the AOM Learning Management System. We can't guarantee that all of your customization requests can be done. Either way, if you're a customer with a customization request that's not possible, we will tell you the best possible solution.
Check out AchieveCE's website to see an example of how Academy Of Mine can customize the front-end of your LMS website. Of course, you can also customize your learning platform to provide a personalized user experience to your users enrolled in the platform.
Sell courses online without an eCommerce platform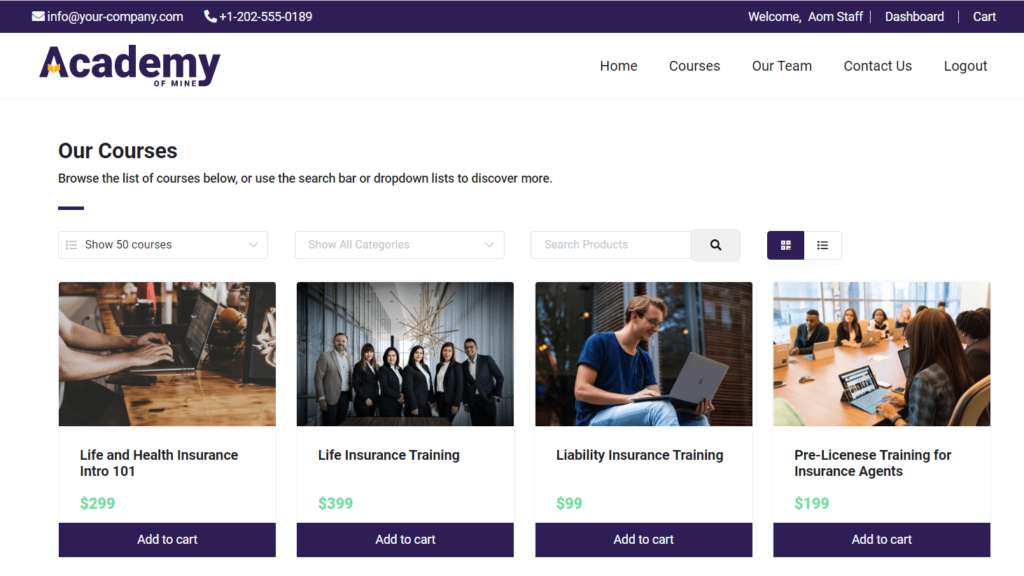 Similar to EduBrite, Academy Of Mine integrates with Shopify by default, but you can also sell courses directly within the LMS (If you don't have a 3rd-party eCommerce site.) Using the page builder feature in AOM, customers can easily create a course catalog and website to sell courses and webinars online; your LMS website can be visually branded and customized a lot, and this feature is included in every price plan that we offer.
By default, you can accept payments from Stripe, Authorize.net, and Braintree by PayPal.
Academy Of Mine LMS also lets you:
Sell courses in bulk to organizations
Create coupon codes to discount orders
Put courses on sale
Create course expiration dates
Create course learning paths
Charge via one-time payments or offer subscription plans
Administer and Manage training like a pro
At Academy Of Mine, we've done our best to create a Learning Management System that's both easy to use and quick to get started on. This means that you can create self-paced courses without design or developer experience, and learners can purchase training, enroll themselves in courses, and maintain certifications and credits conveniently.
Another function that's easy to perform with AOM is student reporting. Whether you're training a few employees or 1,000 active customers, admins can maintain their students' grades and performances in just a few clicks.
Learn more about the features Academy Of Mine has.

Disadvantages of Academy Of Mine
Minimal gamification out of the box
Academy Of Mine has simple gamification:
Share certifications and course completions on LinkedIn
Award learners with badges
Use leaderboards in a course/classroom
If you are looking for a learning platform with more advanced gamification, we don't currently offer that.
Limited language translations
If you want to adjust the language of your LMS platform on-demand, Academy Of Mine by default supports English, Spanish, and French. If you would like to translate your LMS to other languages, then you would have to reach out to us to see what's possible.
Why You Should Choose Academy Of Mine?
If you're looking for an LMS that simplifies course administration and provides a smooth user experience for your students, then look no further. The Academy Of Mine platform is designed for professional development, continuing education, compliance training, and most types of professional training programs (B2B & B2C). Whether you're providing CE to enterprises at scale, or you're selling compliance courses to a few states online, manage everything on the Academy Of Mine LMS.
Book A Call and let's talk about how Academy Of Mine can help you today!