eLearning, eLearning Concepts, eLearning Industry
5 Benefits Of Self-Paced Learning
4 min read
|
Mar 24, 2022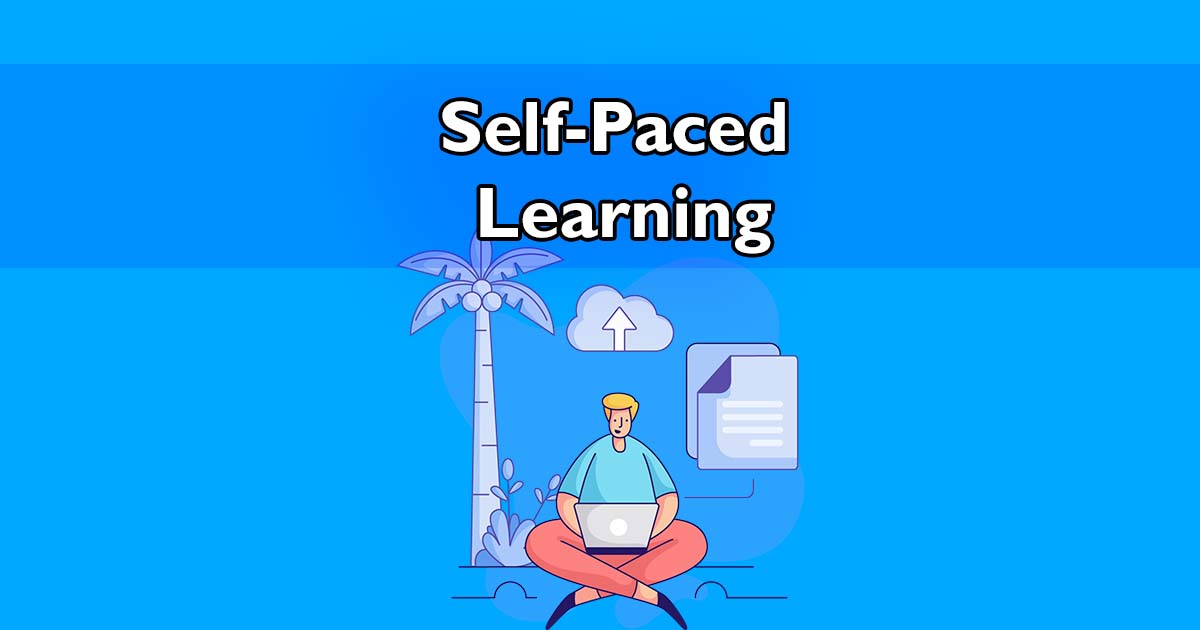 The average working professional is busy Mon-Friday, and for the ones who have a family, second job, or other responsibilities, their schedules are just as jam-packed on the weekend! That's why most people look for convenience when introducing new responsibilities into their life, like taking a training course. Self-paced learning is a type of eLearning that allows users to train in their own time using online courses.
In comparison to traditional training or schooling that happens in person, self-paced learning allows users to learn at their own pace. Since self-paced courses can be accessed on-demand by users, self-paced learning is convenient for companies offering training in different time zones.
Back in 2020, when COVID-19 struck, many companies and schools around the world were forced to start using more self-paced courses for training. However, years later and many of those same companies are still using eLearning after realizing how effective it is. Let's talk about the common use-cases and benefits of self-paced learning!
What is Self-Paced Learning?
A type of training that allows users enrolled in an online course to train and go through learning materials at their own pace.
Is self-paced learning the only type of eLearning? No, live virtual training using webinars is another. Unlike self-paced courses, webinars require an instructor to host the meeting and they happen in real-time, so they're less effective for training users in different time zones.
Common use-cases of Self-Paced Learning
Universities and schools teach online using self-paced courses hosted on an LMS like Canvas or Schoology. Companies use self-paced learning to train and develop their employees. It doesn't stop there: in business, there are endless ways self-paced learning can benefit your company and its customers and partners.
For example, there are HR companies like ApplicantPro that use self-paced learning courses to help customers hire and onboard new employees. Then you have companies like RE/MAX Ultimate Realty that use self-paced learning to train their own real estate agents along with other local RE organizations they're partnered with.
The amount of self-paced learning your company implements depends on your reason for training in the first place. For example, some businesses train other companies as their primary source of income, meanwhile, other companies use self-paced courses to train employees at no cost or they sell training to customers and partners as a small source of income compared to their main revenue source.
Benefits of Self-Paced Learning
1. No set schedule
Just like the freedom that working remotely gives employees – many students want to go to school remotely – and many employees want to train remotely. On-demand training and eLearning make maintaining licenses and skills in your job or learning in school possible for even the busiest of people. Aside from following course deadlines, self-paced learning lets learners decide what times they want to learn and how much learning they have to complete at a time.
2. Less pressure = more knowledge retention
Studies show that learning online in a self-paced course can help users remember more. Going deeper, in-person seminars and training can be a lot more stressful than learning online since there are people surrounding you 24/7. For introverts or employees with more social anxiety, this type of pressure can lead to lower test scores and lower overall performance while training. Beyond that, some people are more productive and focused at night meanwhile others are sharper in the morning; self-paced learning ensures that learners can learn at the times they're going to perform the best
3. Train Users around the world
Self-paced learning is popular for a similar reason to why people love Netflix, you can access it on-demand 24/7. This lends itself very useful to companies training employees internationally and universities offering courses to students in different time zones. On-demand training gives learners the ability to log in to a training portal and access eLearning at any point in the day, regardless of where they live.
4. Train many Users at once
Self-paced eLearning doesn't just simplify training internationally but it also makes training a lot of users at once doable. Much of eLearning courses are made up of content that's reusable:
PDFs
Videos
Interactive SCORM packages
Tests and quizzes with grading that's automated, and more.
Since self-paced courses consist of materials that employees and students can use without the help of a live instructor, it's a wildly scalable solution for businesses interested in growing their training programs.
5. Improve the effectiveness of Webinars & Instructor-Led Training
Webinars and instructor-led training sessions are great for engaging users in real-time, but how are you continuing the learning experience for users after a webinar is complete?
Let's say you are an industrial manufacturer training its employees on how to safely operate heavy machinery. You can create webinars and invite experts to speak about safety training in manufacturing. Then, you can continue training employees outside of the webinar by onboarding them into an on-demand training program.
How to offer Self-Paced Courses
Just like working for a company with poor management, your eLearning materials are only as capable as the system used to manage them. The standard for creating and managing training and eLearning programs is a learning management system (LMS). An LMS is a software application designed to transform learning materials like training videos and more complex and interactive learning activities into well-rounded courses the users can take.
Similar to how marketing companies like MailChimp help businesses with marketing by making it easier to create and manage mass email campaigns – LMSs help businesses and universities train by simplifying the creation, delivery, and reporting of eLearning programs. In addition to making eLearning courses easier to develop and manage, LMSs help with tracking grades and progress users are making in a course/s. Using a cloud-based LMS like Academy Of Mine, your company can monitor learners' grades on assignments, see which courses a user enrolled in training has completed, track how long users are spending in a course, manage certifications, and more!
Is Self-Paced Training worth it?
In a world where more and more solutions are being brought to us online and available on a phone app, every industry is headed in the direction of using self-paced courses in their training. If you want to learn more about how we can help you build and deliver beautiful self-paced courses and on-demand training, see what our platform offers!