Academy Of Mine As An Alternative, Learning Management System
A Better Alternative to LearnDash LMS for Professional Training
10 min read
|
Jun 10, 2022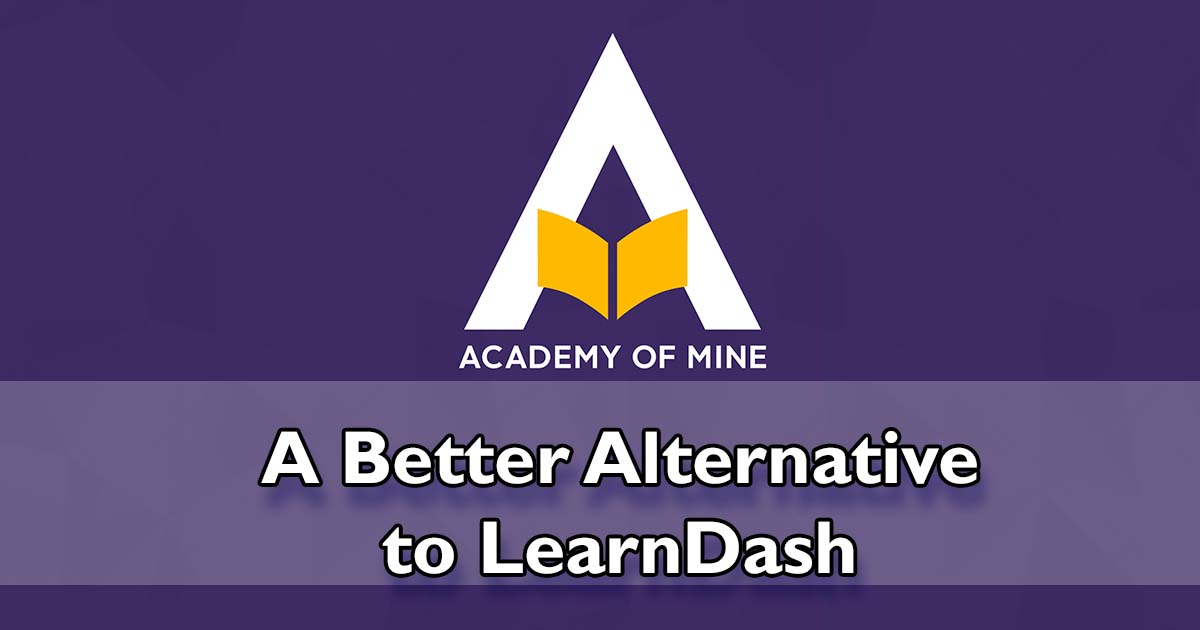 Finding the right LMS can feel like a never-ending mission since there are so many different types to consider: self-hosted, open-source, native SaaS, WordPress LMS…The list goes on, and it's common that your first LMS isn't great. If you're involved in accredited and professional training, then some platforms and their business models make more sense for you. For example, if you're a small business trying to customize a training platform, but you don't have a tech team to help, then Academy Of Mine is going to support you best.
So what are we going to talk about in this article? The advantages and disadvantages of LearnDash, and why the Academy Of Mine LMS is a better alternative for managing eLearning and training online.
Advantages of LearnDash
Unlimited Customizations
One of Learn Dash's strengths is customization. Since LearnDash is a tool that turns your WordPress website into an LMS, you are able to use many WordPress add-ons and themes to customize your system. That said, this is a double-edged sword because only some of these add-ons are free, meanwhile, others are going to cost you. When customizing your LearnDash LMS, you will have to put on your web design and development hat to make these customizations come out decent, heck you may even have to do some HTML coding; if you aren't tech-savvy, then LearnDash can be complicated.
Control
With a WordPress LMS plugin like LearnDash, you have complete control over the platform and users' data inside of it. You can maintain your own security protocol, back up the data, and fully customize your training courses using plugin code. If you don't know how to do all the technical work, you can always hire a WordPress developer to help. However, you have to sacrifice some efficiency and convenience for the excess control with the LearnDash LMS. How inconvenient will LearnDash be for you? That completely depends on how tech-savvy you are, and how prepared you are to build, host, and manage your training programs all by yourself.
User interface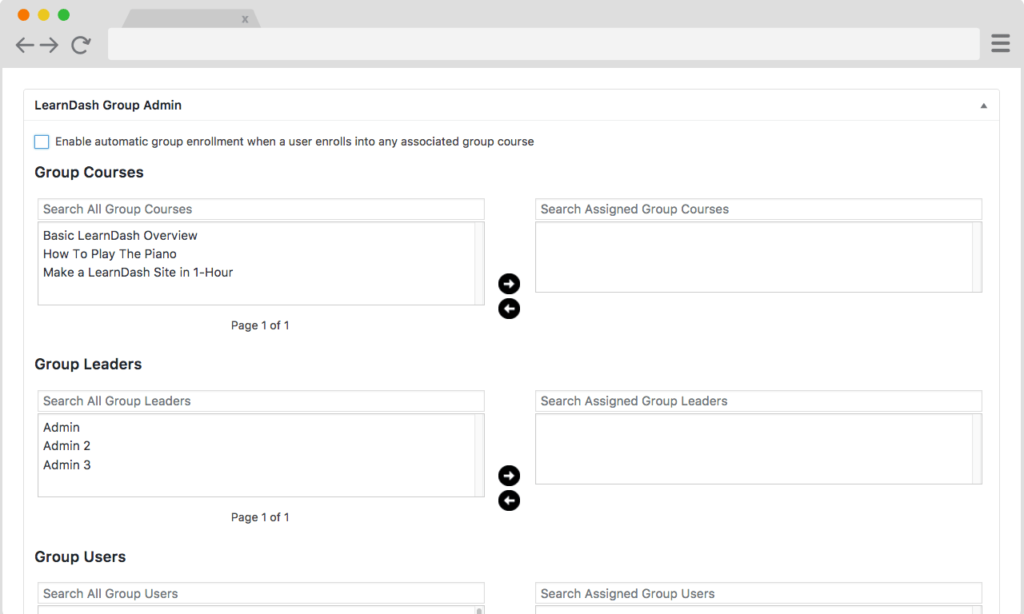 Since WordPress is open-source, you have a lot of flexibility when it comes to changing the appearance, functionality, and overall look of your training system. That said, if you begin to experience incompatibility issues with some of your plugins, it's up to you to attempt to fix it with help from LearnDash's documentation and other resources.
Disadvantages of LearnDash
Pricing
LearnDash offers 3 pricing plans:
Basic for $159
Plus for $189
Pro for $329 and these are all billed annually.
Pricing can be misleading while training with LearnDash though, especially since you have to consider the many other expenses associated with building, maintaining, and self-hosting your LMS using WordPress. Moreover, estimating these costs can vary highly – "The average upfront cost for a WordPress website, though, is $75 to $115,000. Ongoing maintenance costs for WordPress websites range from $75 to $15,000 per year."
Since WordPress LMS plugins seem more affordable than native LMSs at first glance, many companies begin their journey into offering training online using them. Contrary to popular belief though, Learn Dash is only cheaper at the beginning, as your company scales costs will increase. Training at scale with LearnDash is like building a home with YouTube tutorials and Home Depot: you may save a couple of thousand up-front, but once your house begins falling apart you will lose a lot of money.
Another variable to consider is the cost of all the premium WordPress add-ons, extensions, and integrations you're going to pay for in addition to LearnDash's price. You can't forget about the cost of self-hosting, the lack of scalability of a WordPress LMS, and the unpredictable yet never-ending costs associated with designing and developing your training system.
One of our current customers that offers child passenger safety training switched from LearnDash because they were spending too much money and time with it.
Native Features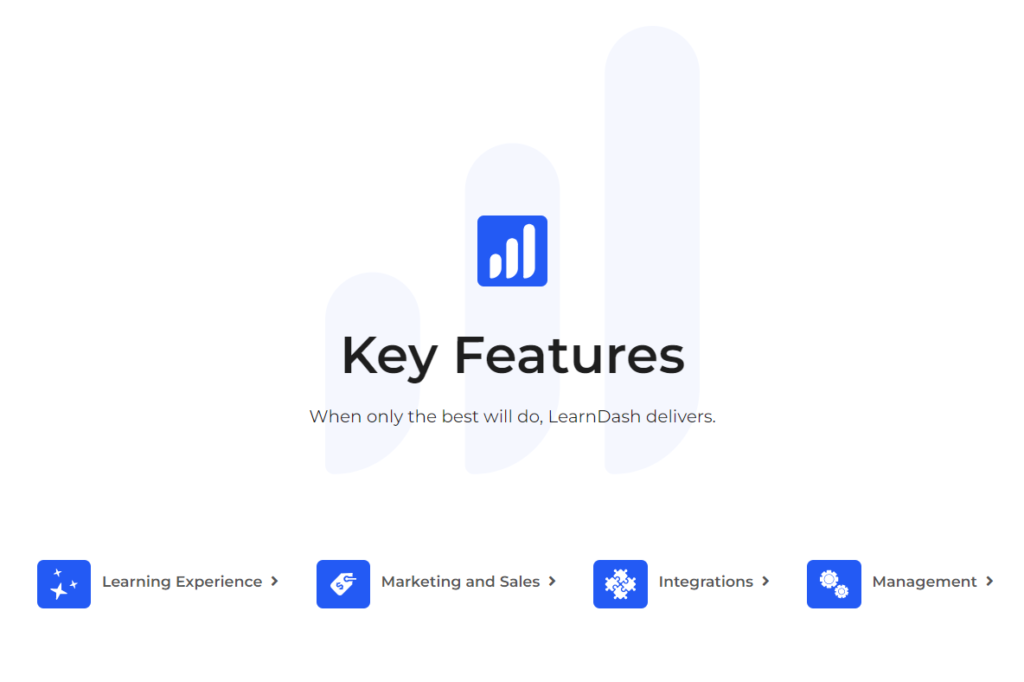 With LearnDash, you can create and sell courses, include different quizzes inside of your courses, award badges and certificates, and much more. To be fair, the features LearnDash offers are pretty standard for most LMSs, but if you're offering CE or any other form of accredited training, LearnDash doesn't offer specific native features that are going to help you with this. One thing for sure is that LearnDash offers a lot of features, but their features aren't specialized. For example, governing bodies may not be satisfied with you offering continuing education courses using their platform.
For example, Learn Dash does not support tracking how much time a learner spends on training activities. LearnDash isn't designed by default with these types of time-based tracking features for managing accredited training, If you're a course creator looking to sell different types of training online – and you don't mind having a more generic feature set – LearnDash is perfect for you.
Support
LearnDash customers have access to a knowledge center that's filled with documentation, a YouTube channel, and a Facebook group for help using their plugin. Alternatively, if you're looking for 1-on-1 support while using LearnDash, the company specifically mentions on their pricing page that they only offer live support for 1 year. Even more, while you have the 1 year of support included in your contract, we know from customers telling us that LearnDashs's tech support doesn't compare to the support we provide our clients here at Academy Of Mine (in terms of both speed & reliability).
Website speed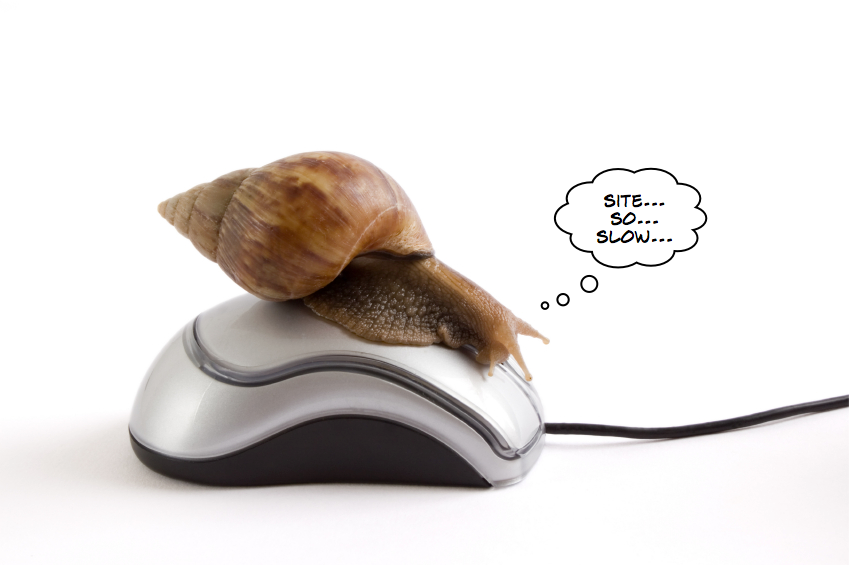 One problem with LearnDash, is you're relying on WordPress plugins to make your eLearning platform function correctly since only the basic features are included. That said, when your WordPress website uses any complex plugins or just too many plugins, backend processing gets busy, and your website will slow down.
As opposed to working with a native LMS provider like Academy Of Mine, there are more risks in "building" your LMS out with LearnDash. Additionally, there's no dedicated tech team to come in and save the day if your website becomes extremely slow or breaks from adding plugins.
Advantages of Academy Of Mine
Pricing
Academy Of Mine offers 3 pricing plans:
Essentials for $600 per month
Professional for $899 per month
And then we offer custom pricing for more complex pricing level plans.
Yes, the up-front cost of managing training using AOM is more expensive than LearnDash. However, when you take into account what we include in this service, the pricing makes sense. We have many customers who used to use platforms like Moodle, Thinkific, and LearnDash who have saved money and time in the long run from switching to Academy Of Mine. Some of those customers include A Teacher CEU Toolbox, FMCTraining, AchieveCE, and Carseateducation.
Since Academy Of Mine is a SaaS LMS provider, you're investing in service from us, not just an LMS product. Elaborating on that, your upfront pricing will be more expensive than LearnDash's, but it includes many luxuries you don't get with LearnDash. For starters, if you're having trouble maintaining and building out your platform and need help, we're one support ticket, email, or call away. You can see on Capterra, Softwareadvice, and eLearningindustry that our average customer satisfaction rating is 90%, and our support is believed to be far greater than the majority of our competitors.
Lastly, our pricing is straightforward and includes all you need to get started managing training programs at scale today. Thankfully, unlike while using LearnDash, you don't need to estimate what other 10+ other add-ons and services you are going to have to pay for while using Academy Of Mine.
Proven effectiveness
Since 2014, Academy Of Mine has been helping companies streamline their professional training and eLearning programs; although you may have fewer options for customizations and adjusting themes using AOM rather than LearnDash, the user experience our platform provides, along with its risk-free effectiveness is incomparable. We recommend you choose your LMS based on how well you can deliver, manage, and scale training, not based on how many unnecessary features it has.
Native Features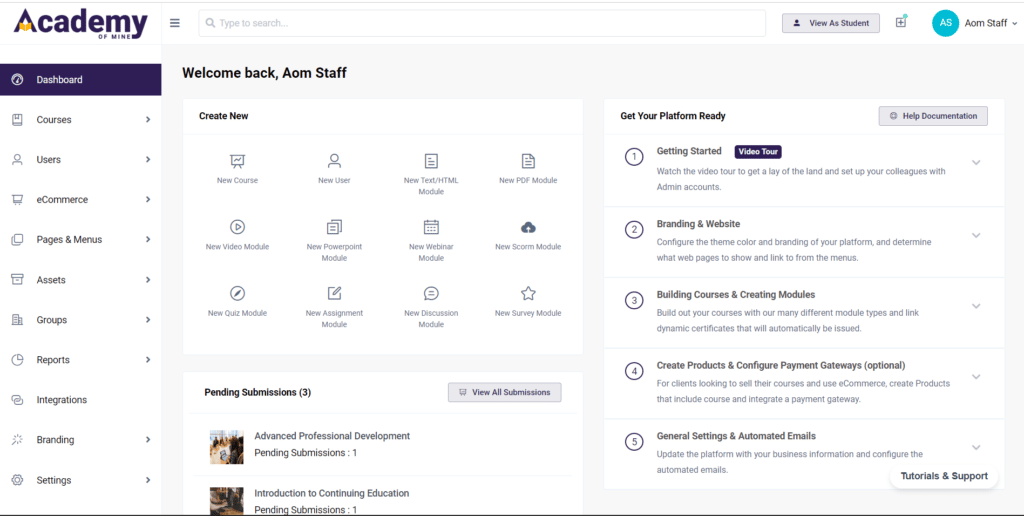 Academy Of Mine is a Software-As-A-Service (SaaS) LMS company that supports your business in training for CE, Certifications, Professional training, and more. Meaning, that the standard training features you need in a platform to help your customers maintain their licenses, acquire new skills, and gain certifications are included in the LMS by default.
Realistically, LearnDash has a lot of the same features we offer, however, if you want to customize your features in Academy Of Mine: that's what our expert team of developers is here to help you do. In addition to native features, the AOM platform is an eLearning and training management tool designed with professional training in mind – so you don't have to worry about your platform being generic.
Customer Success & Support
When you manage training using a native LMS like the platform Academy Of Mine offers, our team is one support ticket, email, or meeting call away from solving issues you can't figure out yourself. You also get 8 free hours of onboarding support and you're assigned a dedicated customer success manager. You also get 8 free hours of onboarding support and you're assigned a dedicated customer success manager.
In addition to 24/7 live support, we have a learning center filled with documentation and video tutorials you can use to answer any questions you may have on-demand. We also post 1 video a week on our YouTube channel, to help you make better use of the LMS.
Custom Development
AAfoodhandler is a client for whom we did some customizations on their LMS website during onboarding. For example, we built drop-down boxes under their training courses that allow customers to select what state they're in before purchasing a course. Additionally, we did some other design and HTML tweaks to make their LMS website look visually on brand.
Unlike most other SaaS LMS providers, we do offer customizations and have done great work for many customers over the years. Even better, customizations from Academy Of Mine are specced out and built with both functionality and sustainability in mind. Just because a feature can be built – doesn't mean it's smart to build – and our team of developers at AOM can provide you with that subject matter expertise.
Hosting and Technical Maintenance
Using AOM, unlike with LearnDash:
you don't need a WordPress website.
you can create an eCommerce website and sell courses with your LMS at no additional cost.
we host, back up, and maintain both the front and back end of your LMS website for you!
Hosting and security may seem inexpensive, but beyond the cost think about you and your team's time; do you have a tech team that's savvy enough to effectively host and keep your customer's data and your training platform running safely? If you don't have a tech team and aren't willing to do it yourself, are you comfortable with paying a freelancer to host and manage your system?
When it comes to hosting, Academy Of Mine uses state-of-the-art servers and software to ensure that you can train at scale safely. The last thing you need to deal with while using an LMS is customer data being lost or stolen, or your system crashing because there are too many learners online. If you have a custom domain that you would like to use for your LMS that's an option, but we also allow you to customize our default LMS URL.
Disadvantages of Academy Of Mine
Control
If you are looking for the DIY approach to building an LMS and highly customizing it yourself, Academy Of Mine doesn't exactly give you that control. Sure, we are flexible in customizing your LMS to meet your needs, but what's included without additional charges has to be realistic, and large customizations may always be possible for budget or practical reasons. If you're looking for a platform that you can customize to the point of not being able to recognize it anymore, and without having to ask for permission from a third party, LearnDash is a better solution for you.
Integrations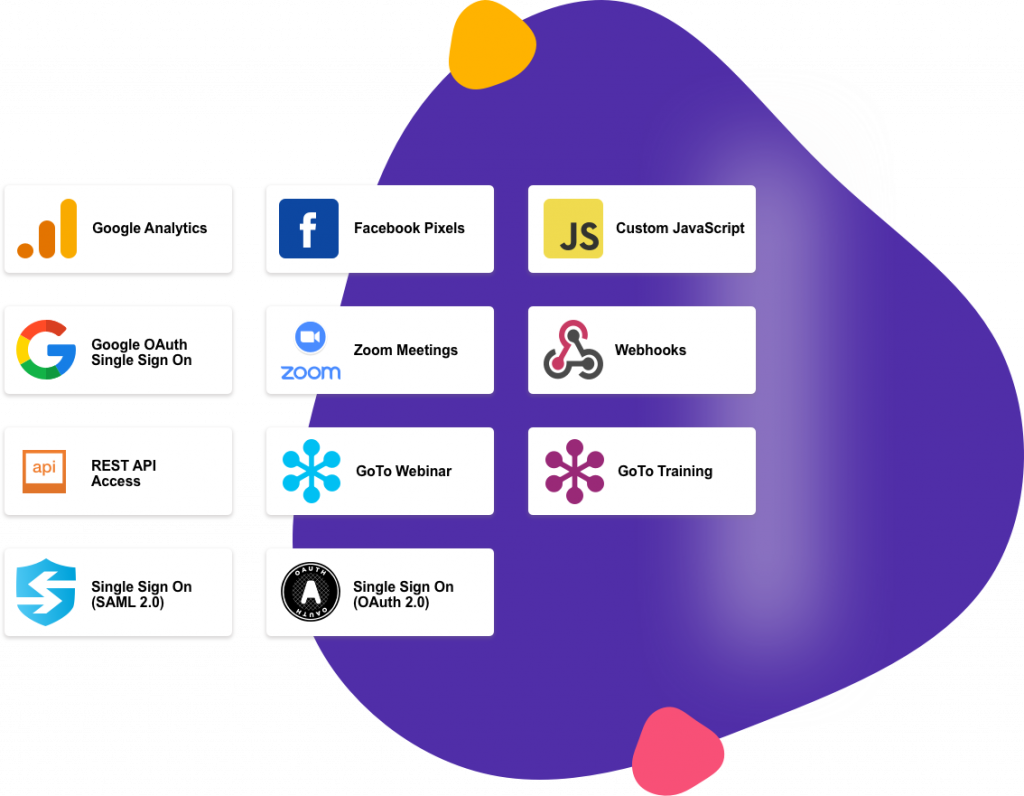 Academy Of Mine offers Integrations that will suit most companies' needs, and if not, we're open to custom integrations. That said, if you're looking for hundreds of integrations to choose from (even though that's impractical) AOM may not be your best fit.
On the bright side, we have a list of integrations (20+) that you can connect your LMS to by default. Our list of integrations is growing all the time, we just don't want to include integrations unless they're in demand by our ideal customers. In other words, if you want to effectively create, deliver, and manage professional training programs, Academy Of Mine's integrations along with our native features should be perfect for you.
Connect with CEbroker and Accredible to keep track of badges, certificates, and credits outside of the LMS.
Connect with Google Analytics.
Connect with Zoom, Microsoft Teams, and other webinar tools.
Connect with WebHooks to customize and automate different notifications to users.
Connect with HubSpot and Shopify to streamline your eCommerce and Marketing.
Why You Should Choose Academy Of Mine?
If you're looking for an LMS that's effective and offered to you by a company that's dedicated to your success, AOM is the obvious best choice. Using Academy Of Mine, you can create immaculate customer, partner, and employee training programs in different industries with ease. Even better, the majority of the technical work involved in building an online training program is taken care of for you, and you have a strategic partner to help you scale as you grow.
We aren't saying it's impossible to create an LMS with LearnDash that's equally as effective as the Academy Of Mine platform. Heck no! It is 100% possible to create a better LMS with LearnDash the AOM, but without a team of developers to build and maintain it for you, good luck. Additionally, who knows how much time and money that will cost you…
Are you ready to see if Academy Of Mine is the customizable learning platform for you? Let's Talk About Your Training Needs Today!