Continuing Education, Continuing Medical Education, Customer Partner Training, Learning Management System, Professional Training
4 Capabilities Of A Continuing Education LMS
5 min read
|
Apr 27, 2022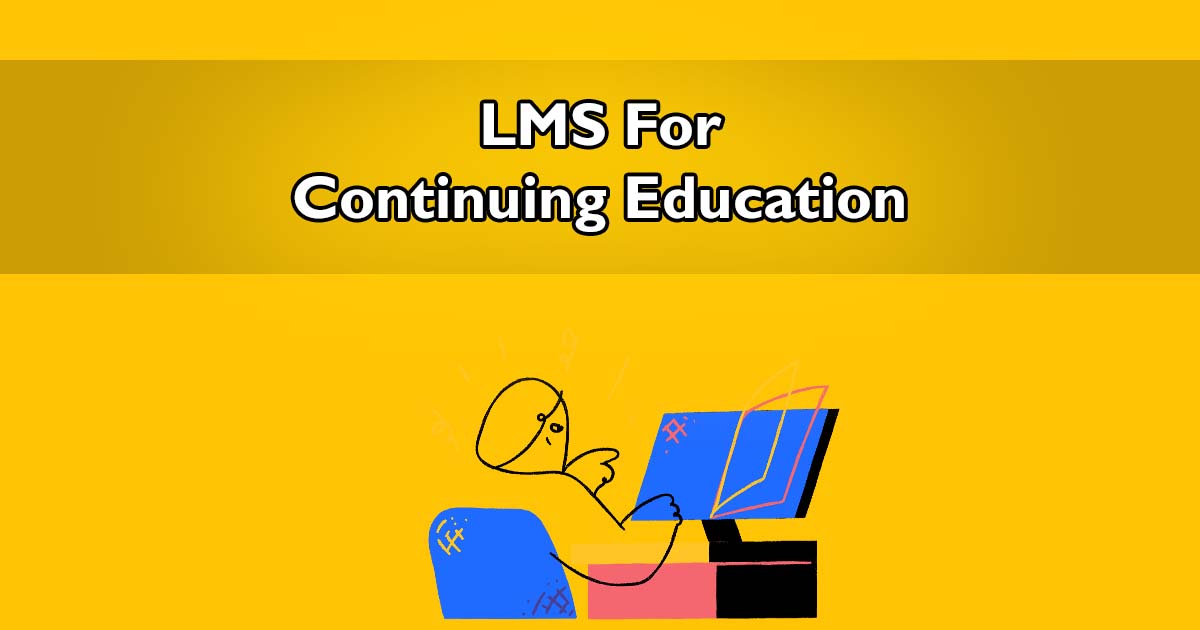 Can you believe that 70% of L&D departments in North America use a Learning Management System (LMS)? It's true. With the increase in demand for hybrid learning, more and more companies have begun using LMSs–the standard tool for managing training and eLearning. Not all LMSs are created equal though! When it comes to managing continuing education and other accredited courses, what does your LMS need to be capable of? Good question. In this article, we're going to talk about the 5 capabilities of an LMS used for continuing education!
1) Quick to get up and running
No matter what industry or profession your CE courses are created for, you need an LMS that's quick to get started on and easy to use. If your LMS takes 6 months to create a few courses and start training your audience–it's worth considering a different LMS that's more efficient and user-friendly.
In case you have never used a learning management system before, the major benefit of using an LMS is to efficiently manage your training programs online. By training programs, we're referring to training employees, offering courses to college students, and everything in between. However, not every LMS is created with the same features and use cases in mind. For example, Blackboard and Canvas are LMS providers notoriously used by universities to manage students' college education. Since you will be using your LMS to help working professionals advance in their careers, your LMS will need to have specific capabilities that some university-focused-LMSs may not have!
Certificate builder
You should look for an LMS that allows you to design certificates in the platform or upload certificate designs. Additionally, you should be able to customize text fields, fonts, and other visual aesthetics of certificates to include required licensing information on your course certifications.
Integrates with CE trackers
To help customers keep records of all their CEUs in the same place, your LMS will need to integrate with different CE trackers and certificate platforms, like CeBroker and Accredible. That way, customers can transfer credits and certifications outside of the LMS once awarded. Additionally, different associations and governing bodies overseeing CE programs can manage their customers using their preferred platform.
Tracking of users in a course
Regardless if you're offering CME credits for healthcare professionals or CLE credits for practicing lawyers and legal associates, your LMS should keep track of how much time users spend inside of a course. Time-based tracking ensures that everybody is earning CEUs fairly. Equally important, your training system should prevent users from skipping ahead in a course.
Speaking of LMS features, here's a guide we wrote that covers the 15 features of an LMS for continuing education.
2) Works for offering online, in-person, or hybrid CEU classes
Traditional in-person training is not going anywhere, but since 2020 we've seen a significant increase in CEUs being offered online to remote learners. Because of this, it's critical that you use an LMS that supports both in-person and remote learning.
Many professions require employees to regularly earn CE credits. Take being a doctor or nurse for example; you are constantly required to train, meanwhile, you also work long and intense hours. Although CEUs are enforced by licensing boards, maintaining credits ultimately comes down to each individual to fulfill. Therefore, your LMS needs to be equipped for delivering accredited courses that users can sign up for and complete in their own time online.
When your LMS is flexible in managing both in-person and online CE courses, your company becomes valuable to more types of professionals interested in accredited training. Additionally, this is going to keep your options open as your continuing education program develops–always keeping customers satisfied.
LMS features for offering CEU courses online:
LMS features for offering in-person CEU courses:
In-person scheduling system.
Downloadable worksheets and physical assets.
Email notifications.
Attendance tracking.
Sidenote: using an LMS like Academy Of Mine, students can transfer their credits to the digital badge and certificate platforms like Accredible.
3) Simplified administration and management of training
On top of providing your clients with an excellent training experience, your LMS should make course administration and managing CE programs simple. For example, using an LMS, you can transform worksheets and other loose training materials into online courses that keep track of students' progress. Equally important, since the majority of LMS grading is automated, professionals taking CE courses can see what grades they score on quizzes and other assignments immediately after submitting (no need to wait for instructors.)
You may be wondering, "will learning management systems completely automate my continuing education programs?"
We would say that although LMSs streamline a lot in a training program, like removing the need to do manual attendance, manual grading, and having to go through a bunch of hoops to host a group webinar; LMSs do not automate your training programs completely. They do simplify course administration and reporting significantly though!
Groups (otherwise known as portals) are absolutely critical for using an LMS for continuing education. Here's why. Groups are isolated training bubbles that you can train customers in. For example, let's say your main clients are healthcare providers and hospitals that need to keep their doctors well-versed in their skills. This could mean anything from refreshing doctors' current patient care and diagnosis skills to educating doctors on industry news. Whatever the curriculum being taught–groups will allow you to train multiple healthcare providers at once. Meanwhile, keeping each client's training portal separate. Additionally, customer portals are managed by the client, so as a result, you have more time and flexibility to scale your CE training programs.
Customer portals are also perfect for offering accredited courses to different groups of customers. Like offering safety training to manufacturers in one portal, and training healthcare providers in the next!
4) Meets CE licensing board requirements
Whether you are using the LMS to train your employees, or for training customers and partners, your platform should be able to satisfy CE licensing board requirements. One feature that's important for CE is being to track all the activities a user is completing in a course before finishing. Another feature would be showing admins how long a student is spending performing a task in a course. Here's one last feature to think about for CE: preventing users from skipping over activities and training assignments in a course.
The Academy Of MIne LMS allows admins to track the completion of all assignments and prevent users from skipping ahead inside of course. You can also prevent users from moving forward in a course before spending a certain amount of time on an activity–and create quizzes that are timed.
When it comes to continuing education, the most important features are ones that allow you to keep a close eye on professionals enrolled in training, to make sure everyone is completing courses before receiving credits and certifications.
Here are a few more features that aren't required but are crucial to include in your continuing education LMS:
Automated and customizable certificates
Recertifications and license renewals
Email notifications that notify users when their credits/certs expire
So What's The Best LMS for Continuing Education?
The LMS we recommend is ours. A large portion of happy customers are currently using the Academy Of Mine LMS, and we continue to develop our software to improve companies' ability to manage continuing education and certification-based courses!
You can schedule a demo HERE! We will be waiting to talk about your CE needs.