How ApplicantPro Effectively Provides Employee Training
ApplicantPro is an HR services company based out of Utah, that provides small and mid-sized employers with cost-effective hiring software. ApplicantPro helps companies manage their entire hiring process, all the way from job distribution to new hire paperwork and everything in between. Before using Academy Of Mine, ApplicantPro was struggling to hire and train new employees without taking 6 months to train one person at a time. Their old LMS was causing a lot of bottlenecks and issues too.
The Challenges
Hiring more employees and scaling the business without losing the personal touch.

HR is spread thin with its current employee training processes.

Unable to train employees and external clients with the current platform.

Delivering online training to employees in a user-friendly way.
The Outcomes
Grew the company from 110 to 240 employees in 1 year.

Scaled the business while maintaining a personal touch in employee training.

Aligned the company with software to support their long-term vision of training both employees and external clients.

Saved HR manager 80 hours a year when it comes to open enrollment.
"I love the support team. I love how easy it is for students to use the platform. We love the ability to customize and white label it. The reports and the grade books are super helpful in seeing people's progress."

Below you can follow along with a conversation we had with Elise Curtis, an HR Specialist at ApplicantPro.
The Need For A User-Friendly LMS That's Also Efficient For Admins
Before using Academy Of Mine, ApplicantPro's 4-person HR team was struggling with training new employees; they told us that training a new hire took 6 months, and this meant 1 support member had to train the new person manually.
ApplicantPro had previously used another LMS that they eventually got rid of it for a few reasons:
Poor user experience for students.
Updating course modules caused an error that prevented users from being able to access the content any longer.
The support team wasn't very responsive.
In fact, the old LMS was so impractical that Elise had to train new hires on how to use the system before they could even begin training. Features That ApplicantPro Needed In Their New LMS Here are what features ApplicantPro was looking for in a new LMS:
Affordable pricing.
An easy-to-use student experience.
Ability to create unlimited courses and upload unlimited users.
A great support team that is responsive and helpful.
Ability to restrict access and give access to different types of Users in the system.
Can create interactive learning experiences for students to interact with instructors.
Aligns with their long-term vision.
"The long-term vision is being able to train internal employees and our external clients, as well as all of the different partners that we have." - Elise C.
We have a feature at Academy Of Mine called Portals, which makes training employees, customers, and multiple audiences at the same time easy.
Creating Employee Training That Promotes Company Culture And Helps You Win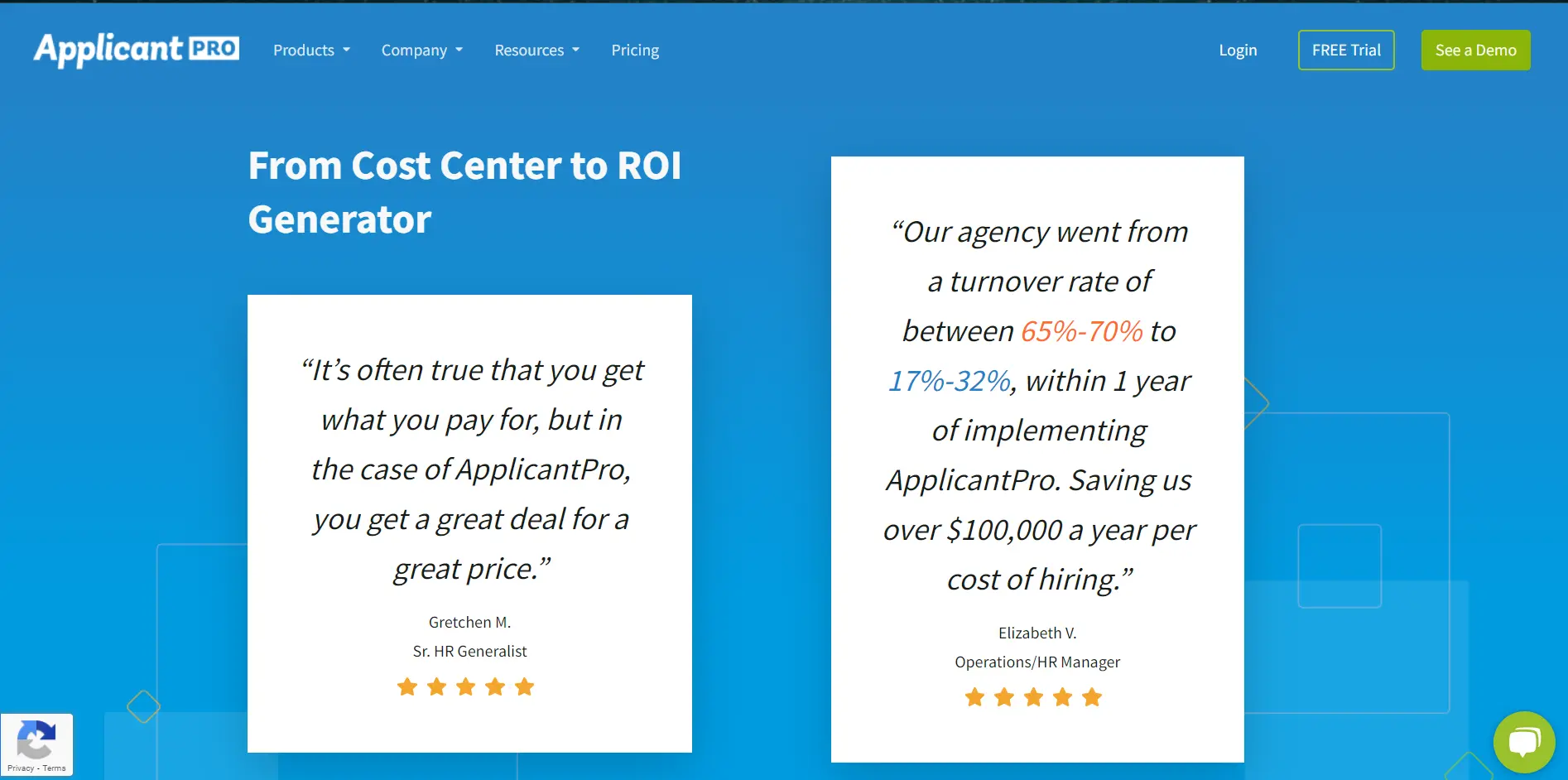 Now that you understand why ApplicantPro's last LMS failed, along with what they needed their new Learning Management System to do, let's talk about ApplicantPro's goals.
Here's what Elise said when we asked her what it means to win as a team:
"We know we're winning when we hire quickly, our turnover is reasonable, it's not overwhelming." - Elise C.
She also mentioned that they're always looking for good feedback from fellow employees about the company culture fitting what ApplicantPro is looking for. So, providing new hires with training that aligns with their culture is important.
In addition to culture and new hire training, ApplicantPro also offers soft-skill training to employees; courses that teach soft skills, help ensure their support team provides excellent service to clients.
"Our support teams get feedback like, 'Hey, we love our support teams' Awesome, we're winning." - Elise C.
The Importance Of Providing Intuitive Course Experiences
One of the many reasons ApplicantPro found success with Academy Of Mine, is because they wanted an LMS with an easy-to-use course experience for students.
Here's how Elise explains what an easy-to-use course experience for students means!
"Being able to just log into the system and it's so simple that I don't need to train them on how to use the system, in order for them to just start their training. Then employees can just hop in and get going." - Elise C.
When speaking with Elise, she also mentioned that AOM significantly helps their team manage training and perform administrative tasks, such as:
Create content and teach others how to create content.
Report on people's progress with grade books.
Learn how to do anything with the system using their tutorials and documentation.
Copy content from one course into another one.
"Being able to copy content into different courses is a time saver, a lifesaver. It's just overall, an experience that I'm not afraid to show my executives and to have them participate in it. It's something that I'm proud of." - Elise C.
Scaling From 110 To 240 Employees Without Losing Personal Touch
As we mentioned a few times already, ApplicantPro was dying to scale its employee training programs, especially for new hires. The fact that it was costing 6 months (of time and money) to train one new employee was slowing down the business!
"It was scaling while keeping the personal touch, meaning, students were still given all of the information that they needed, but we could do it at scale. We could do it for 10 people at a time, or if we needed to, for 300." - Elise C.
In addition to new hire training, ApplicantPro uses the LMS to deliver and manage continuous training. Having a Learning Management System in place makes it easy to keep track of employee progress, and it helps keep employees accountable.
"You're not just trained initially as a new hire, but you're always trained as content comes up because we're always evolving, and we need to make sure that people are actually doing it. That accountability, again, is super key." - Elise C.
When we asked Elise, what's the number one thing you're able to accomplish that you weren't able to before, she said this:
"Double in size as a company, We're just in shock all the time that we were able to do that, without more pain than we had. It was insane." - Elise C.
When we asked her the timeframe this happened in, she told us one year.
"We looked at that from January to January. It was nuts." - Elise C.
When we asked about the revenue change, she wasn't sure of the details, but responded "We at least doubled in revenue, if not tripled." ApplicantPro is a wonderful company to work with, and we're happy we continue helping them scale with a personal touch!
How ApplicantPro Is Using AOM Today
Our LMS has many different use cases; for ApplicantPro, they're using our platform for different types of employee training, but eventually mean to start using it for client-facing training as well.
That said, let's get into the details of how ApplicantPro is currently using Academy Of Mine:
All new hires go through some sort of foundations course in Academy Of Mine.
All employees are expected to regularly check the LMS for soft-skills training, culture training, and product updates.
They also use AOM to guide employees through open enrollment, so employees aren't just overwhelmed with a bunch of medical Jargon.
Elise told us that using our LMS to make announcements about open enrollment is a game-changer.
"It has been wildly helpful in taking that burden off of my HR manager's plate. She used to meet with everyone and have to say the same things over and over and she could not do it, it was driving her nuts. I think she had 80 hours of overtime once. And we're able to transfer all of that open enrollment knowledge into the new hire trading program. It's just like a nice big old cycle that we're able to put content through." - Elise C.
What Does ApplicantPro Love About AOM?
ApplicantPro — like many of our amazing clients — is using our LMS platform to scale their training. For their internal training programs, certain features are important for them to win.
Some of those features include: - White-labeling and being able to customize colors, text, and interfaces in the system. - Creating engaging courses filled with interactive content like assignments and quizzes. - The overall aesthetic and user experience for both instructors and students. - The responsive customer support team. - The reporting and grade books.
"It's just overall, an experience that I'm not afraid to show my executives and to have them participate in it. It's something that I'm proud of." - Elise C.
The Results ApplicantPro Found With Academy Of Mine
ApplicantPro, a Utah-based HR company, was struggling with hiring and training new hires without taking 6 months to train one person at a time. In addition, their old LMS was causing bottlenecks and issues. With Academy Of Mine's help, they were able to grow their company from 110 to 240 employees in one year while maintaining a personal touch in employee training.
To learn if Academy Of Mine is a good fit for your business, let's talk about it on a discovery call!