Case Study, Continuing Education, Continuing Medical Education, Customization, eLearning As A Business, In-Person Courses, Platform Migration
Case Study: Online CME Provider Saves +50% Migrating to Custom LMS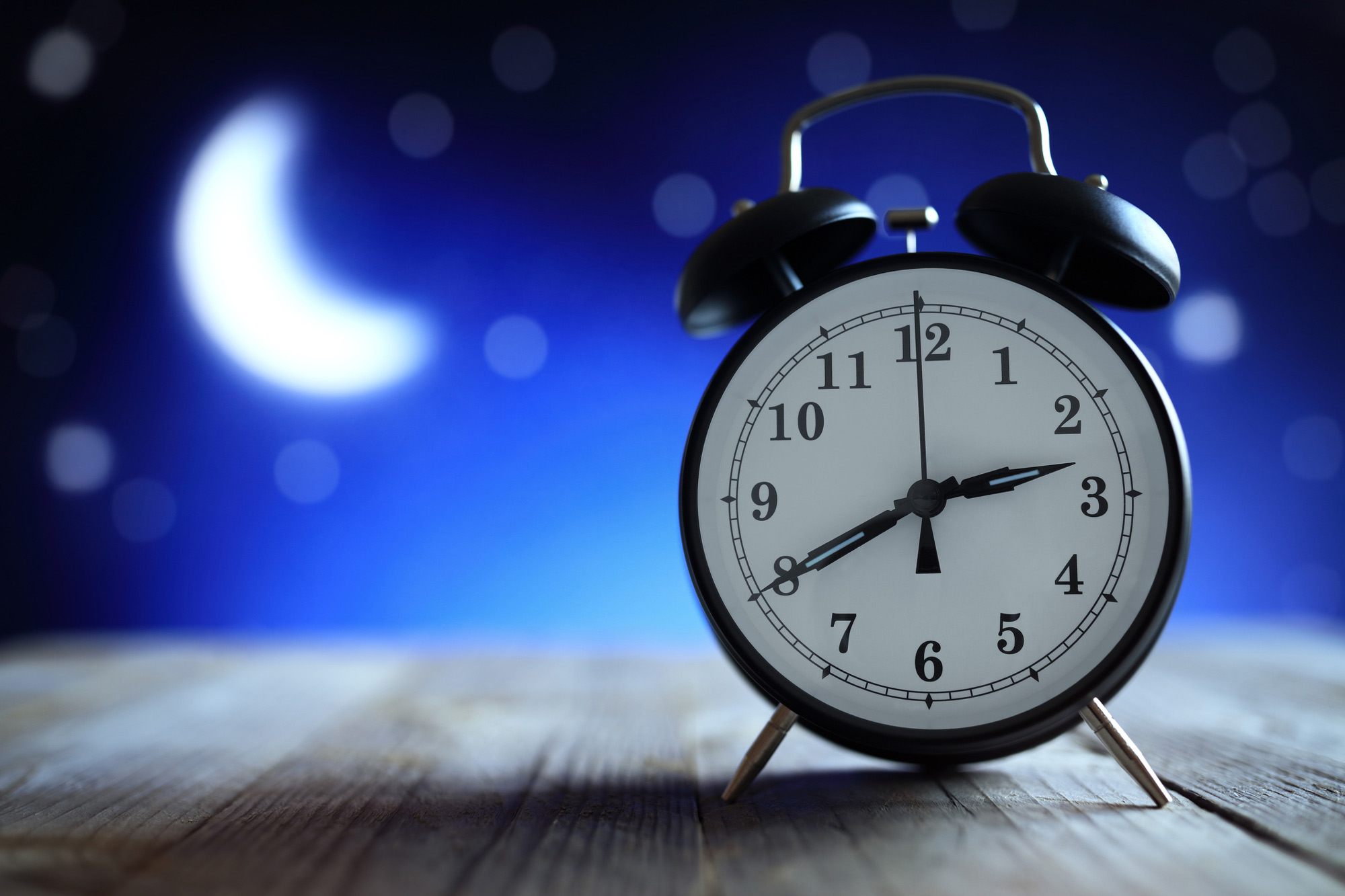 About the Client

Based out of Atlanta, Georgia, the Atlanta School of Sleep Medicine & Technology is a medical training and continuing education provider in the field of sleep medicine. Founded in 1992, the Atlanta School (as it is known in its field) has trained physicians, NPs, PAs, allied health professionals, technologists and other industry professionals enabling them to earn CME credits and attain certifications. To date, they have successfully trained more than 4,000 sleep medicine professionals.
While the majority of its educational services focuses on in-person training locally in Atlanta and other outlying areas, the Atlanta School also provides high quality continuing education and certification courses online as well.
The Challenge
At the end of 2018, the Atlanta School was set to renew its contract with its eLearning platform provider. While not actively looking for a new platform, they were still aware of experiencing some pain points with their LMS. Feeling like a small fish with a big company, the Atlanta School was not satisfied with their platform vendor's level of customer support as well as the platform's limited functionality not being addressed.
Challenges experienced by the Atlanta School with their prior LMS included:
Courses in the mobile app were too large and did not present well visually for students.
As specified by sleep medicine licensing regulations, courses were required to be taken in a predetermined order; this was a function not supported by the platform. To compensate for this and stay compliant, the Atlanta School had to manually update student accounts to ensure students' courses were taken in the required order.
Historical data for students was not tracked adequately by the platform, creating a blind spot for the Atlanta School when needing to review course scores, analyze student behavior and identify purchasing trends.
When accessing the platform students experienced web browser compatibility issues in commonly used browsers, including Safari and Chrome.
Their platform vendor continued to raise the Atlanta School's platform licensing costs year after year.
While their platform fulfilled the organization's basic needs (but only after manual work-arounds done by staff to compensate), the LMS was not performing at the level needed to support the high quality educational experience the Atlanta School aimed to provide its students.
In hopes of learning more about the organization and inquiring if a new eLearning platform solution could benefit them, Academy Of Mine reached out to the Atlanta School in September 2018, with in-depth discussions beginning with the organization's program manager, Kish Woodward. Academy Of Mine's product managers and developers conferenced with Kish several times to review the functionality of the Atlanta School's current platform and analyze the school's requirements going forward in a new solution. To stay ahead of the curve, discussions focused on the features that the Atlanta School would require to support their current educational content as well as any additional media formats and emerging technology that could potentially need to be available over the long term.
In addition to their current platform's limitations, the Atlanta School also faced another challenge related to the time they had left to migrate their course content and student data from one platform to another. After contacting their platform vendor to discuss extending their contract into 2019 on a flexible basis beyond their scheduled renewal date of January 1, 2019, they were told to access their platform into 2019 would require their annual service fee be paid in full.
In order to keep all of their course content files, not delay any online classes already scheduled for students and not be charged for an entire year's worth of platform licensing (that would not be used), the Atlanta School needed to get migrated out of their old platform and fast!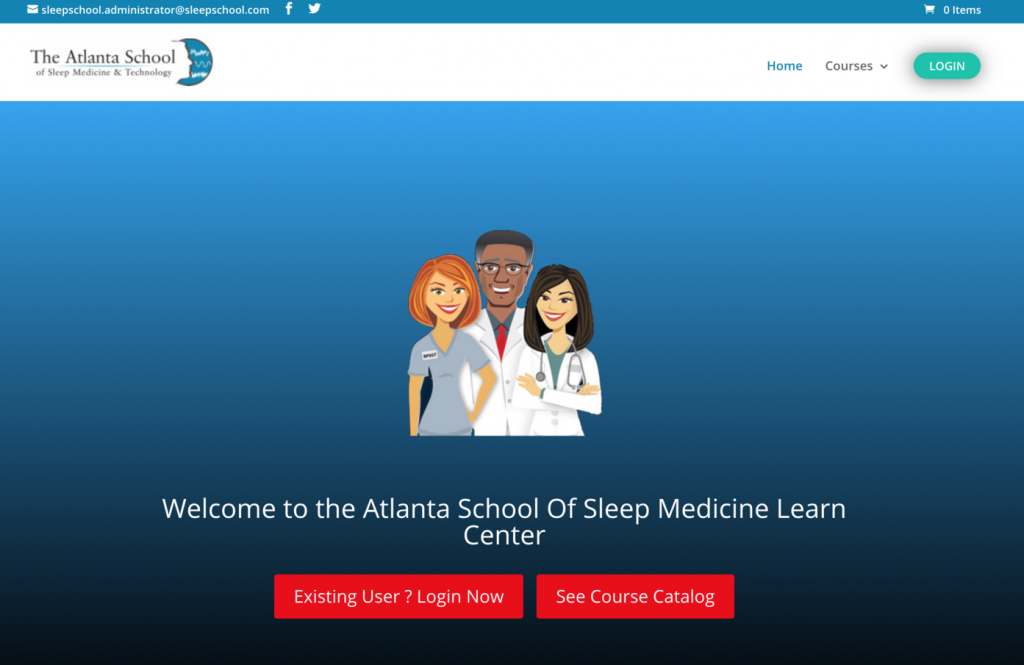 The Atlanta School "Learn Center" platform home page.
The Solution (squeezed into a tight deadline!)
After coming on board with Academy Of Mine in mid-November 2018 as a full-service, Managed Plan customer, the Atlanta School had roughly six weeks to migrate all important data into their new platform before losing complete access to their old LMS. A tight deadline, to be sure!
To ensure that the new platform would be firing on all cylinders on Day 1 of 2019, Academy Of Mine collaborated with the Atlanta School to prioritize which technicals feature, course content and student data needed to be migrated from their old platform prior to losing access to it. The following items were prioritized by the Atlanta School as must-haves prior to going live January 1, 2019:
Migration of important data into new platform.

All pertinent Student Data was migrated into the new platform and configured to be available per the Atlanta School's reporting requirements. Student data included percentage of progress through courses, course completion rates and also scoring for lessons, tests and whole courses.
Course content was migrated for any classes scheduled in the early months of 2019 to ensure it was available to enrolled students; migrated content was comprised primarily of courses built in Articulate Storyline then converted into SCORM 1.2 files.
Transactional data. Historical transactional data containing payment amounts, dates and account balances was also included in the platform migration.

Conversion of SCORM 1.2 files utilizing Flash into HTML5 files. Flash files will no longer be supported by web browsers at the end of 2020. In an effort to be proactive and maintain the relevance of training materials, all the Atlanta School's course content previously packaged as Flash files are in the process of being converted to HTML5 files to ensure their usability going forward.

Customization of new online platform's functionality to work in conjunction with in-person courses. While not available in their previous LMS, a custom feature built for their new platform enabled in-person course instructors to manage their classes conveniently from their computer via the online platform, including registering multiple students at once, accessing in-person courses' student rosters and also bringing up individual student accounts. This customization also provided additional flexibility to students by letting them access course work outside of scheduled in-person classroom hours and also pay and register for their in-person courses online by accessing the platform.

Customized interface to prevent downtime between platforms and verify student data. Across all custom work that was completed, this is likely the most important feature built for the Atlanta School that was crucial to meeting their tight migration deadline prior to losing access to their old platform and all the important data stored in it. Born out of system constraints and a strict time cutoff, this customization served two purposes and allowed the Atlanta School to:

Stay on track and fulfill scheduled classes for enrolled students; the Atlanta School was able to manually process any student data into their new platform that was not able to be migrated over via bulk import.
Start out with their best foot forward in a new platform with clean data, the customized interface also allowed for errors in student data to be easily identified via an audit and then corrected.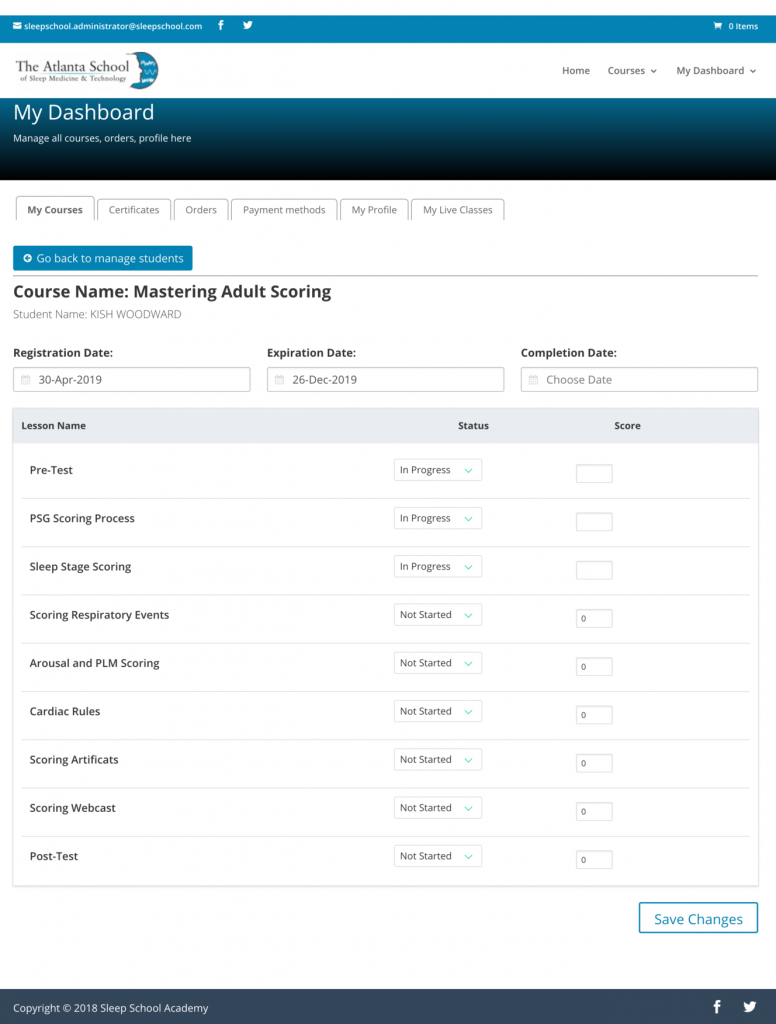 The Atlanta School "Learn Center" customized platform interface allows for easy editing of student data.
Note that this is only a high-level review of the customization work done for the Atlanta School's new platform by Academy Of Mine. Next, let's take a look at the results of the migration to a new platform and how this impacted the Atlanta School as an organization.
The Results
Following their migration into their new platform, the Atlanta School experienced tangible results that positively impacted their business as well as improved students' educational experience when taking their online courses. Some of these improvements included:
Cost savings of +50% with flat fee pricing. With substantially lower licensing costs with Academy Of Mine, the Atlanta School was able to cut their platform licensing spend by well over half. Paying one, predictable price also allowed them to easily estimate overhead and anticipate ongoing costs associated with their online courses. Regardless of the numbers of users they have or their revenue stream, they only ever have to pay one easy, predictable fee for their eLearning platform.

True 24/7 Customer Support. With their new platform the Atlanta School benefits from Academy Of Mine's customer-prioritized Service Level Agreement (SLA). With their previous platform vendor it was not unheard of to wait days at a time for response to a raised ticket, now any technical issues are addressed same-day within minutes to a few hours by the Academy Of Mine support team.

Highly personalized 24/7 Expert Customer Support. With Academy Of Mine, the Atlanta School benefits from a true partner that puts their organization first and will do what it takes to ensure their platform works the way they need it to, when they need it.
Expert support is provided by the same developers who built the platform. Ensuring that the Atlanta School has only the most knowledgeable customer support, the Academy Of Mine help desk is staffed by the same developers who built and continue to improve the platform.

Increased efficiency and time saved. With no longer having to do time-consuming manual work to compensate for functions their old platform did not support, with automated functions their new platform streamlines previously manual processes and allows the Atlanta School to operate more efficiently by spending less time managing their online courses.

By having their LMS with a vendor that will customize their platform to their needs, the Atlanta School has a learning solution that will grow and adapt with them into the future. Having their platform with a vendor that will customize it as their needs change going forward, the likelihood that the Atlanta School will need to migrate to another vendor (and spend a bunch of money!) is low. This brings both peace of mind and cost-savings over the long term.
Conclusion
Being in a niche continuing medical education market, the Atlanta School benefits from working with business partners whose approach is as specialized as their educational content. Academy Of Mine is grateful for the opportunity to assist the Atlanta School with their eLearning platform needs and looks forward to continuing to support them well into the future.
Have questions about anything you read here?
If you would like to know more about the eLearning solutions Academy Of Mine offers** and how we can help you succeed, please send us a message via our Contact Page or email us at hello@academyofmine.com.