eCourse Growth Strategies
They Know About Your eCourse, But How Long Do Students Take To Enroll?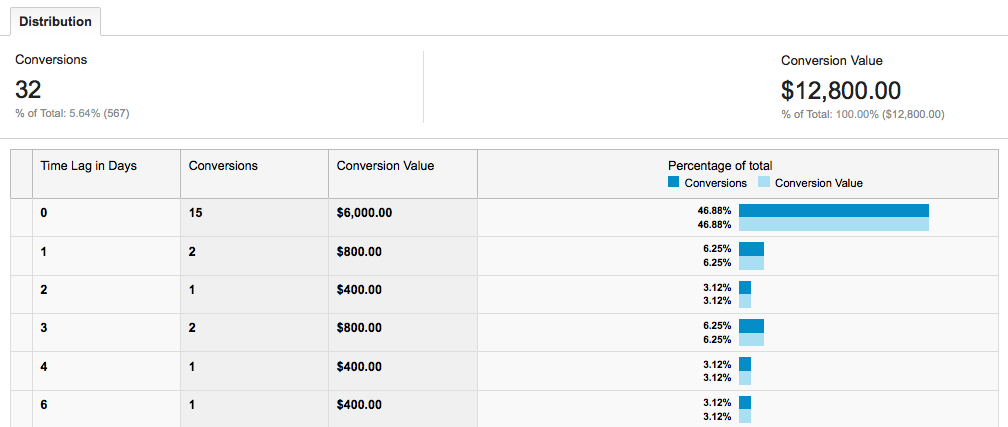 1. Know you
2. Like you
3. Trust you
And then… and only then will they:
4. Buy an online course from you
You'll likely engage and invest in activities like search engine optimization, ad buying and speaking engagements to help drive awareness to your eCourse. However, having a potential student's attention isn't enough. They need to like and trust you before they ever consider paying for one of your courses.
HOW LONG DOES IT TAKE A POTENTIAL STUDENT TO ENROLL IN AN ONLINE COURSE?
The answer to this question varies a great deal on a case to case basis. Course price, trust levels, how long you've been established and your current marketing and advertising activities can all have a big impact on how long it takes a potential student to enroll in your eCourse after they have been made aware that your program exists.
A CASE STUDY
In a recent blog post we analyzed how long it look one of our client's email newsletter subscribers to sign up for their online training program. In this case study we found that it took students 1 – 39 days to enroll in their online course after signing up for their newsletter. The average time span being 19 days. The newsletter in this case was used to build trust with their potential students. Free information, sample classes and other great tools and resources were sent through email so the potential students could become familiar with the quality of content they could expect from this particular course vendor.
But we can take this data a step further.
USING THE TIME LAG TOOL IN GOOGLE ANALYTICS
The metric above was particular to newsletter subscribers. However, what we want to know is how long it takes a regular visitor (not just newsletter subscribers) to sign up for our client's online course. After logging into Google Analytics and creating our client's goals, we were then able to monitor, with more clarity, what the eCourse buying cycle looked like for this particular client. The results surprised them to say the least.
46% OF STUDENT'S PURCHASED WITHIN 24 HOURS!
Before running this test our client assumed that virtually all of their students were intimately familiar with their website, their blog posts and their social media activity before signing up. The client assumed that the trust building process took a long time. They didn't know exactly how long but when we asked them to guess they said "probably around 30 days". However, after setting up their goals and analyzing their sales data for 30 days, we were able to login to Google Analytics and visited the "time lag" page (Home — > Conversions –> Multi-Channel Conversions –> Time Lag).
The time lag page showed us the following distribution of goals over time. This particular client made $12,800 this month with 46.88% of students paying for their online course within 24 hours of finding out about it! This is a dramatically different buying cycle than the "guess" that was presented by the client earlier. Take a look for yourself.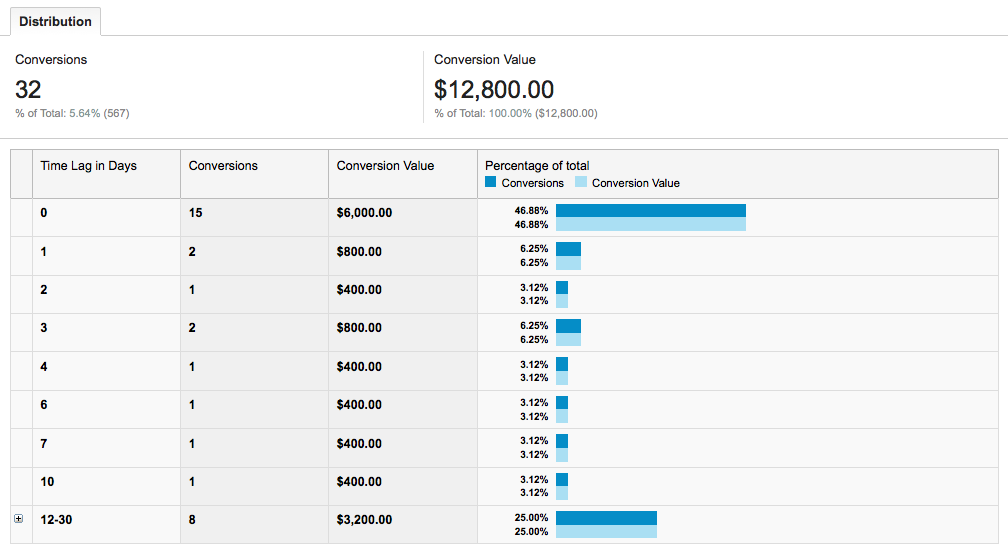 What about you? How long does it take students to enroll in your online course?