eLearning, eLearning Software, Learning Management System
6 Proven Tips to Organize Your eLearning Platform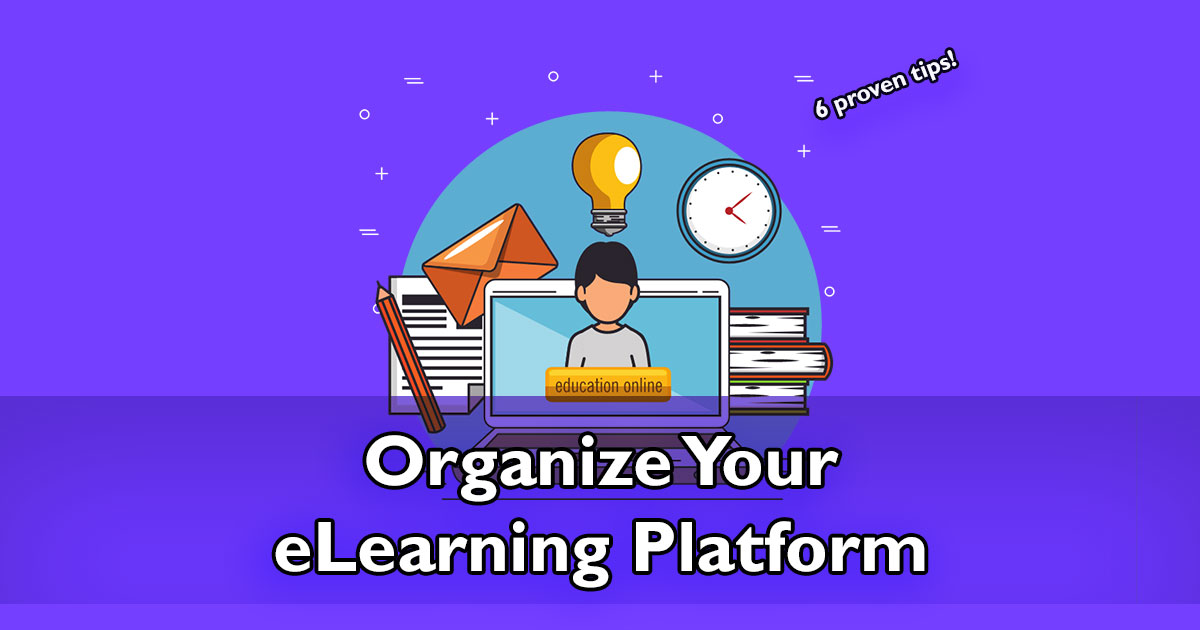 Did you know that using a Learning Management System (LMS) to organize online courses can boost the engagement of your learners by 92%?
LMSs offer a comprehensive experience to both learners enrolled in courses and administrators managing courses. Additionally, eLearning platforms like LMSs usually feature gamification to help keep learners attention.
However, without proper maintenance and management, your eLearning platform can quickly become a cluttered space. Lucky for you, in this article, we're going to show you 6 proven tips for organizing your eLearning platform so that it's clutter-free and efficient for training. These tips are applicable regardless of your company's size, and when applied, can drastically improve the engagement of your active learners.
Table of Contents
1. Make your Course Lessons Visual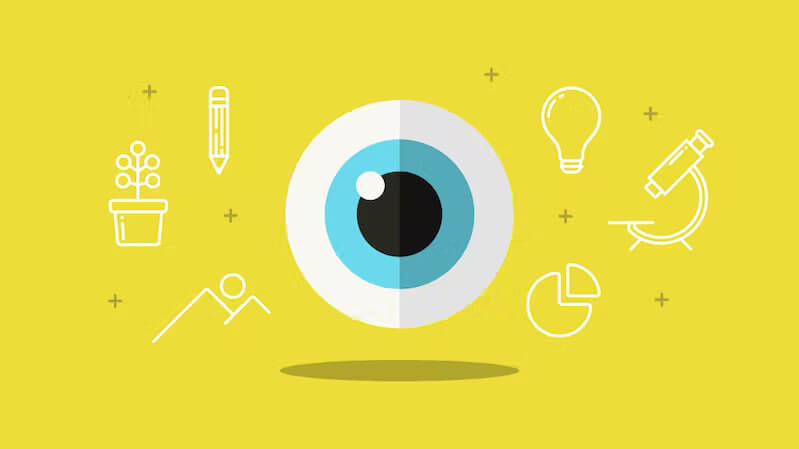 65% of the global population are visual learners, so focusing on structured and relevant visual learning will instantly make your platform more accessible. Here are some tactics you can implement:
Use infographics. Infographics are a perfect way to structure the topics and paragraphs in a course. Infographics provide credibility to what you're teaching, and they serve to help your students retain more information than if they were just shown plain text. Whether a course is designed for k-12 students or business partners in a professional development program, infographics are beneficial.
Add explainer videos instead of text. Short explainer videos are a powerful learning tool, and you can incorporate various educational videos into your course to make them more efficient. Explainer videos help students gain clarity on assignments, and they also increase the overall involvement of your students in courses.
White-label your eLearning platform using a logo and brand colors. Aligning your eLearning platform with your brand's identity helps to ensure that customers get a top-to-bottom view of your business. Plus, it adds some points to your brand's credibility.
2. Organize the Knowledge Base for Learners
The knowledge base in your eLearning platform is a library of resources that your students can use while taking courses. Knowledge bases provide students with self-service help – documentation, explainer screenshots, platform tutorials, etc. You can use internal or external software for your knowledge base, and there are numerous knowledge base examples to fit different needs. If you're using an LMS like Academy Of Mine, admins can easily create a knowledge base with videos, documentation, and other resources to support your learners.
In addition to your knowledge base, make sure that the contents of your courses are organized for students to smoothly navigate around the platform.
There are two main ways to organize learning content in your LMS or other eLearning platforms:
Sequential organization. This helps if you want your students to learn something incrementally, from simple to complex concepts. Examples of sequential learning include problem-solution sequences, content organized by a topic or a category, organizing by levels, etc. Another way you can organize your eLearning platform is with learning paths – these help students understand what courses they should take together.
Non-sequential organization. Organizing your courses non-sequentially would allow learners to skip around in courses and work on topics that are important to them first. If your self-paced courses are non-accredited, then non-sequential organization works since the order in which students complete activities in a course isn't a priority.
When your eLearning platform is organized, customers, students, and employees enrolled in courses will have a better learning/training experience. Equally important, knowledge bases ensure that when questions do come up, learners have a resource center to use before reaching out to instructors for help.
3. Add Interactive Elements to your eLearning Courses
The average adult can concentrate on something for 90 minutes max. Your LMS needs to include elements that will draw the student's attention and keep them focused while learning. For example, using videos and interactive animations in a lesson, instead of just static documents and PDFs.
List of elements to keep students engaged in your eLearning platform:
Tests and quizzes. Assessments like quizzes check the student's understanding of different topics, and including them in a course helps students stay focused. Using Academy Of Mine, admins and students can review assessment performances in one place

Ask for student feedback. Surveys can take 15 seconds or less to fill out, and they help admins get real-time feedback from students on how to improve a course.

Create SCORM courses with authoring tools. SCORM stands for Shareable Content Object Reference Model. SCORM courses are portable from one Learning Management System to another. Equally important, SCORM courses help provide an interactive learning experience to your students.
4. Commit to regular maintenance of your LMS
Training information and industry common practices change quickly. To keep your platform clutter-free – and your courses effective – you need to regularly maintain your Learning Management System.
Here's how to achieve that:
Sort out new tasks and presentations. Make sure your students have access to the updated information in a course at all times.
Clean out virtual clutter. Remove any resources that are no longer relevant: older versions of tasks, outdated presentations, unfinished work, etc. This will help you keep the platform more organized.
Address questions/complaints users are having. Working with students' complaints will help you pinpoint the problems with your course and improve its flow for everyone. Try doing such re-evaluations monthly, or after the course is finished so that you can update it before new users enroll.
Send announcements to users of any last-minute updates. This will help them stay engaged and learn new information to hit their milestones.
5. Offer Newcomers Onboarding Training
Not all of your students will be tech-savvy. That's why, before they jump into your online course, you might want to offer them some training to help to utilize the platform efficiently. Here's how you can approach this:
Offer short demo videos that explain how the eLearning platform works.
Create pop-up prompts to help your students manage their workspace.
Create and maintain a knowledge base that helps students succeed in their courses.
Offer short onboarding sessions with customers.
You will also want to appoint the administrators and instructors responsible for managing the eLearning platform. This way, it will be clear who's responsible for staying in touch with your students, updating courses, enrolling users into the platform, and performing other administrative tasks.
If you're offering courses with Academy Of Mine (AOM), the site admin will be able to assign instructors to courses, who can then enroll users into courses. Managing users with AOM is easy; admins and instructors can perform administrative tasks like grading assignments and managing courses, and students enrolled in the curriculum cannot.
6. Monitor the Progress of your Students
Finally, ensure your students are involved in the learning process by monitoring their progress and sending notifications/emails to inactive users.
Respond to written assignments and provide feedback. Studies show that giving students immediate feedback in a course helps them comprehend information better. So, ensure instructors are responding to your students quickly, or go ahead and organize weekly feedback sessions to recap with students.
Re-engage students who aren't active on the platform. Find ways to re-engage your students by giving them a detailed feedback session 1-on-1 or offering an extension for assignments.
Encourage students for their grades. Using an LMS, admins can closely monitor students' assignments; if you see that a student gets a good grade on an assignment then send them a positive message like "great job on the last quiz", or something along those lines to help them stay motivated!
Summarizing How to Efficiently Offer Courses Online
Whether your courses are designed for employee development, k-12 education, or customer training, having an organized eLearning platform will help your users learn efficiently. To keep your students engaged in courses, make sure you're including interactive activities and gamification in your eLearning platform. Additionally, you will want to regularly update the platform and ask for feedback from students, so that your platform stays up to date.
Now that you're an expert at offering courses online, check out AOM's customizable eLearning platform that's hosted for you!