Learning Management System, Online Training System
How To Effectively Facilitate Online Training
5 min read
|
May 25, 2022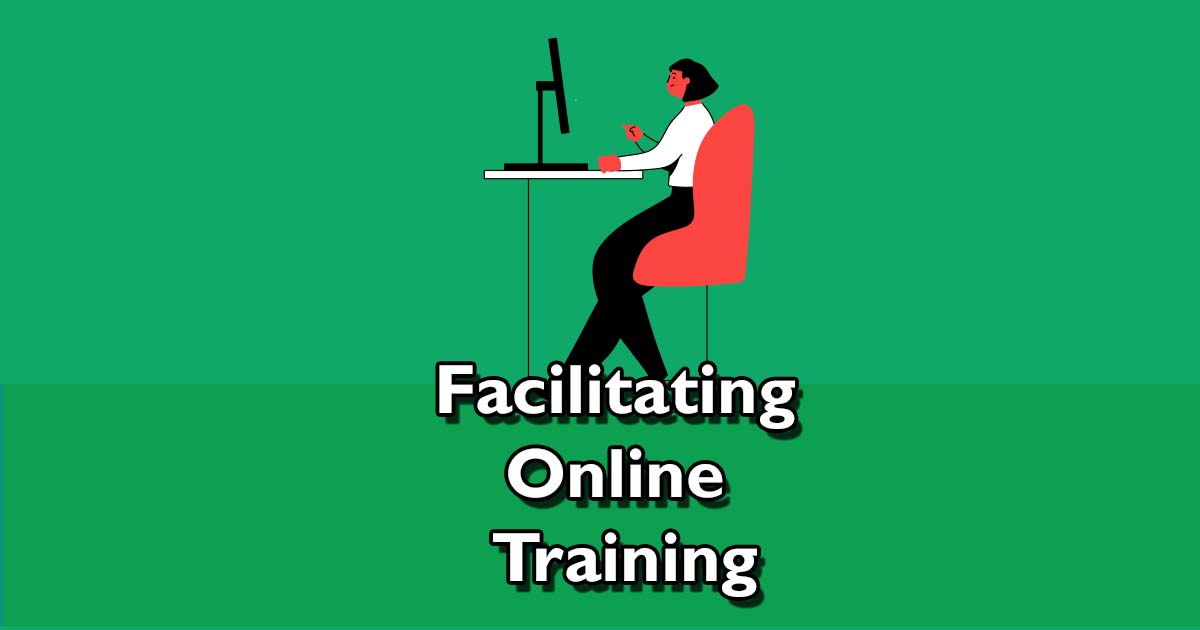 All things considered, whether you're completely new to the online training world, or you're currently in the process of improving your online training system, this article is going to help you effectively facilitate online training in 4 steps.
1) Consider your options for Training Online
There are two main types of online training to consider, self-paced and live virtual training, otherwise known as instructor-led training. Live virtual training is the equivalent of a workshop or seminar that's held online, so students and instructors participate in real-time. On-demand training happens asynchronously, so learners can log in to their training system online remotely, and access courses in their own time.
For a deeper understanding of Instructor-led training vs. self-paced training, check out our in-depth guide.
On-Demand Training (Courses)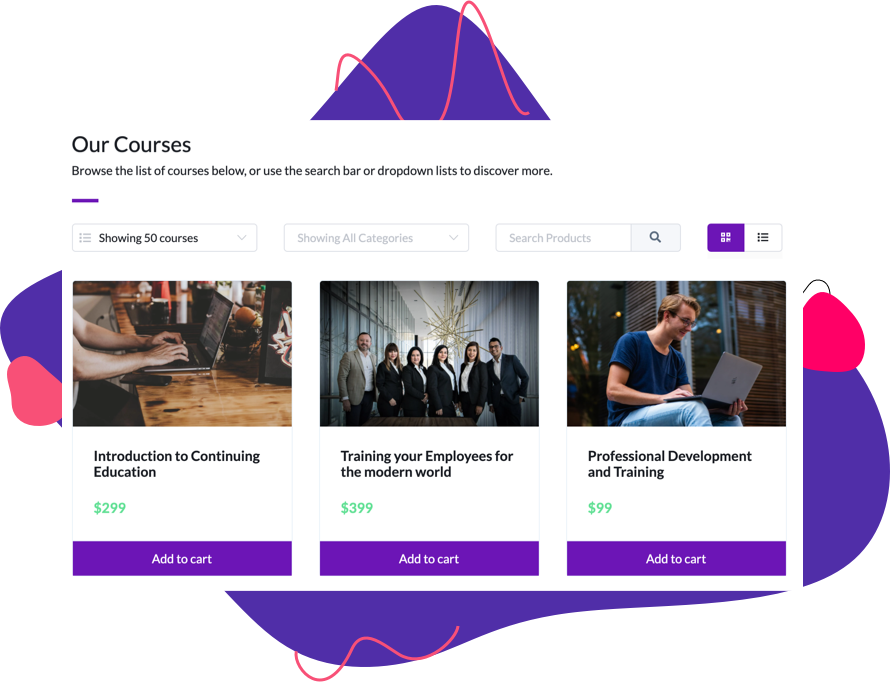 When healthcare workers, real estate agents, salespeople, and other professionals in different industries seek training online, many times, this means taking an on-demand course. The process of training online is pretty simple nowadays; if you're a professional in need of CE credits or just want to leisurely take a professional development course, all you need to do is locate the training course online, purchase the course and begin training.
On-demand courses are convenient for companies offering training and for customers in need of training, especially since customers can complete courses at their own pace. Some common training materials that are included in an online course are digital training worksheets (PDFs), training videos, tests, and more.
Using on-demand courses, learners can earn certificates, credits, and skills they're looking for in their own time using their computer or smart device. Sidenote: in order to create effective on-demand courses, we recommend using a training management system like an LMS, that is designed for delivering and managing training. You can learn more about LMSs in this guide.
Virtual Live Training (Webinars)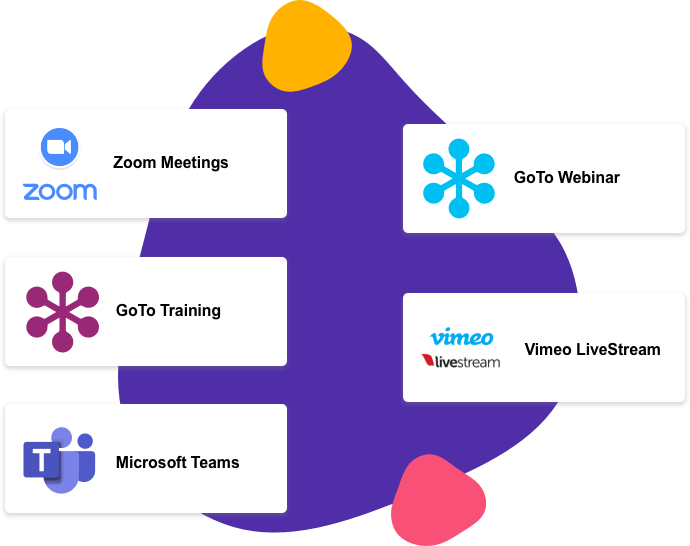 The next format to consider for training customers and partners online is virtual live training, otherwise known as training with webinars. Some common webinar tools you have probably heard of are Zoom and Microsoft Teams. When learners attend a webinar, they are training synchronously with other learners and managers present, that's why this type of training provides a similar experience to traditional in-person learning. Moreover, webinars are just an online alternative to seminars without travel expenses. Let's say your company offers a wide range of Continuing Education and Professional Development courses–you can include webinar training in some of these courses.
Webinars are usually led by an instructor, and training with webinars allows instructors and learners to talk with each other face-to-face. Using web applications like Zoom or Microsoft Teams, you can easily schedule and host webinars without any additional software. However, if you want to schedule and host webinars using the same platform as your on-demand training courses, then you should use a learning management system (LMS). LMSs are the ultimate tool for delivering and managing training online; by connecting your webinars tool with an LMS, you can present PowerPoints and other training materials over a webinar training and then give students access to those same materials afterward.
2) Making Training interactive and engaging
As an LMS company that's been in the training space for nearly 10 years, we understand why some companies believe online training isn't as engaging as in-person training. However, the main reason a company would think that, is because they have never experienced training online in an interactive environment themselves. That or they heard negative reviews from other companies using a poor training system.
You can create effective online training by including these elements in your course:
Discussions at the beginning of a course to help learners get to know their instructor.
Interactive modules with videos, animations, and other engaging content.
Written-response assignments to challenge learners' independent thinking.
Both on-demand content and live virtual training sessions.
Multiple-choice and short-answer quizzes and test knowledge retention.
Collaborative activities to encourage collaboration among learners in a classroom.
If you're using a proven solution for managing training online, like an LMS, then including this kind of stuff inside of your online training program will be easy. One underlying theme for creating interactive training courses is simply making a course's curriculum diverse and engaging. Further, if you have the option to make an assignment or activity in an online training course collaborative, do it!
3) Find a System to Deliver and Manage Training Online

The reality is, whether you are using our platform or a competitor's to manage training online, the demand for receiving training online is only increasing; the time to start training online in business has never been better.
So why are LMSs the superior solution for creating and managing online training programs?
First of all, with the right LMS, you can streamline all types of training, including in-person. An LMS equipped with in-person features might include in-person scheduling tools, attendance tracking, and certification storage.
Going back to why LMSs are the ultimate solution for online training. LMSs allow you to create training courses that help professionals all over the world and in different professions, maintain their licenses, fulfill CE credits, and learn new skills conveniently. You may already have some training videos and worksheets created, but without an LMS, you can't track student progress and attendance, report on results, and seamlessly award credits in one place.
In addition to those LMS features we just mentioned, here are 15 more essential features of an LMS.
Before you get started looking for an LMS, understand that each system is a little different. The Academy Of Mine LMS for example is well known for working with companies offering accredited training (CE), professional development, safety training, and working with industries such as healthcare, insurance, real estate, IT, and more!
4) Work with a Team to Develop your Training Program
Regardless of your experience with developing online training programs, working with eLearning experts will help you be effective. This is especially important if you're starting out from scratch, with 0 experience in offering online training to customers. So who are the exact experts you should be seeking out? We recommend working with an LMS provider that is known for helping customers build their training programs–not just providing them with software before leaving them on their own!
Tech-savvy or not, we like to think of our customers as partners, and that's why we provide you with a dedicated customer success manager and offer up to 8 hours of support during your onboarding process. Additionally, what differentiates us from a lot of other LMS providers is that we offer platform customizations. We understand that state requirements for offering accredited training are constantly changing, and every organization is different; Academy Of Mine is open to discussing software customizations for your training system if this would improve your company.
Your alternative to working with an LMS provider is working with companies like LearnDash that integrate with WordPress or building your own training system and hosting it yourself. The downside to both of these alternatives is training online is only going to be a fraction as effective as traditional in-person training. Even more, the majority of makeshift training systems make training online inconvenient for both learners enrolled in courses, and for instructors/managers administering training.
Start Facilitating Online Training Today!
So if you're ready to start effectively offering training online, schedule a demo so you can get started today!