Continuing Education, Learning Management System, Professional Training
How to Offer Continuing Education Online using an LMS
7 min read
|
Jun 17, 2022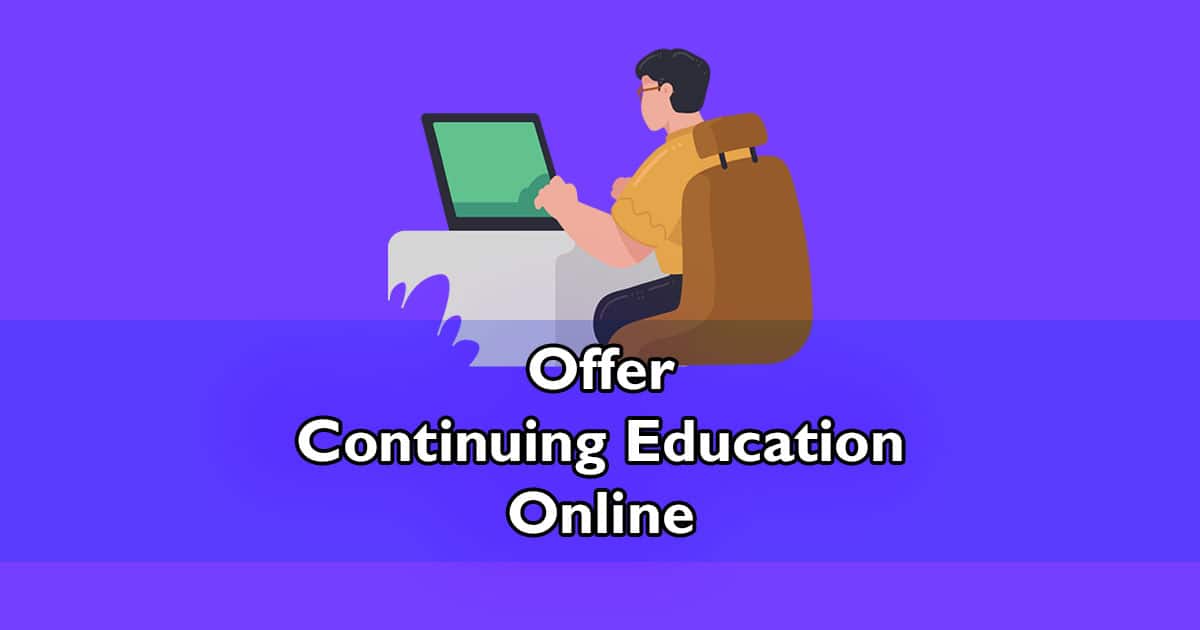 How would you like to help your customers easily maintain continuing education credits (CECs) and certifications online? By managing your continuing education and training programs with a Learning Management System (LMS), you can help your customers maintain credits online and on-demand.
Speaking of LMSs, in this article, we're going to explain how you can effectively offer continuing education and professional development online with an LMS.
Why you should offer CE with an LMS
LMSs streamline a lot of the manual processes involved in training. As a result, managing accredited training programs becomes a breeze. For example, using an LMS you can automatically notify learners when a certification of theirs is about to expire, or when they need to renew a license. Another feature, called learning paths, recommends training to your learners that relate to past courses they've enrolled in or completed.
Just like cars help you get around, LMSs help organizations deliver and manage accredited training online. Even if you're mainly offering Continuing Education workshops and other professional training in person, LMSs can help with event registration and scheduling. Using an LMS, your customers enrolled in courses will be able to manage their performance and certification, and stay up to date on their professional training in one place.
Since LMSs are designed for managing eLearning and training, they have a standard set of features. Some of those features are course creation tools, performance reporting, attendance tracking tools, and more. Additionally, with the click of a button, you can connect LMSs like Academy Of Mine's platform with 3rd party tools like a marketing hub, accreditation software, CRM, and more.
How does an LMS improve delivering and managing CE?
From monitoring how much time a learner is spending on an assignment, to scheduling live virtual training and selling CE courses online, LMSs are the ultimate tool for managing training. Using an LMS, you can create training courses with different sections containing: videos, PowerPoints, PDFs, interactive assignments, and more. Afterward, you can sell the courses online for learners to self-enroll. If you're training other businesses instead of individual employees, you can create training portals for each organization or small business you're training.
If your company prefers offering accredited training in person but wants to slowly begin doing more online, one easy first step is trying some live-virtual training using webinars. Just like an in-person seminar, webinars can be led by a speaker/s, and participants can interact face to face with other people. The only difference is, that webinars are more cost-effective since nobody needs to commute to a physical location to earn their credits.
Webinars are hosted using video applications like Zoom, Microsoft Teams, GoToWebinars, and more. If you're using the Academy Of Mine LMS and want to host live-virtual training with webinars, our platform connects with all those applications and more!
How to take your Continuing Education online with an LMS
Define what type of CE you're offering
There are different types of CE; defining what type of continuing education and professional development you are offering can help you decide on the best LMS. For example, our client Exceed CE offers professional development and CE to real estate professionals. Achieve CE, on the other hand, offers approved Continuing Education for RNs, LPNs, APRNs, and other nursing professionals. And lastly, 20/30 labs, a leading UK laboratory 20/30labs in microbiological environmental testing. They use the LMS to deliver continued professional development in biotechnology research to doctors, nurses, and individuals with a passion for biology.
Don't just figure out what industry you're continuing education is designed for, but dig deep; what specific profession are your courses for? If you're offering CME – what specific profession is your training designed for? Doctors? Dentists? Nurses? This may seem tedious, but putting yourself in your customer's shoes before investing in an LMS will help you understand what features are important to have in your training system. I.e., maybe your customers work for an organization that requires them to share certifications and badges on LinkedIn after completing training.
What if a requirement of your training system is being able to sell courses online? Then you need an LMS that you sell courses with natively, or with your own storefront. Here's a twist, what if when selling training online, your customers need to be able to start training immediately after purchasing a course, without you having to wait for you to manually onboard (self-enrollment). LMSs without eCommerce features and integrations won't allow you to sell training courses online this easily.
What about customizations? Since CE requirements differ per state, and you have to follow the rules of accrediting bodies when training for continuing education, we understand that you may need to customize your LMS. Some accredited training providers choose to build their LMS and then self-host it for this reason.
Most SaaS LMS companies provide you with a platform that you can make small adjustments to using built-in features. However, at Academy Of Mine, if there's a feature or function in the platform that you want to change, you can consult with our team of developers to see if building it makes sense for you.
Regardless of the type of CE you're offering, one feature you will want in your LMS is a certificate builder that allows you to build certificates, and then automate certificate delivery when a learner completes a course. Certificates and badges are nice for learners to show off on LinkedIn.
You can learn more about the 15 features your LMS for continuing education should have in this guide.
Choose what type of LMS is best for you
After defining what type of CE you're offering, it's time to familiarize yourself with the different types of LMS platforms.
Self-hosted
This is a training system that you will have to install on your own server and update manually (probably with forums, not a formal support team). If you have a team of developers, or experience hosting tools on your own server, self-hosting is a good option.
A good example of a self-hosted LMS would be Moodle. Moodle is also open-source, so you download the software and install it on your own computer, then you can customize the platform. Tread carefully though – customizations on an open-source platform can be like your best friend and your worst enemy at the same time. One of our clients, TeacherCEUToolbox, learned this the hard way by spending excess dollars paying a freelancer to host their Moodle LMS.
One thing to remember if you choose to self-host an LMS like Moodle, is, that if your open-source LMS stops working from customizations, finding a solution is on you! Either that or pay a web developer to fix it for you.
If you want to self-host but don't want to purchase open-source software, you can always build your own LMS, but that's the most expensive and time-consuming option. Building a high-quality training system can take years and a 5-6 figure budget if done correctly.
SaaS LMS
The biggest difference between a SaaS LMS and a self-hosted LMS, is you're getting a lot of help beyond just being provided with the training management software. More specifically, if you're working with a SaaS LMS provider like Academy Of Mine, you get 24/7 tech and customer support from your own account manager, your platform's data is backed up for you, and we host your LMS for you. That's why we recommend to any company without a tech team to use a SaaS LMS for managing training (especially if you want to scale training as you grow).
In addition to the usual features that these types of LMSs have, some SaaS providers have CE-specific features built into them, so they're perfect for accredited training.
For example, we understand that accrediting bodies want to make sure learners are completing training in full before being awarded certifications and credits. As a result, if you're managing training with the Academy Of Mine platform, you can track how much time learners spend on assignments, prevent learners from skipping ahead in a video or over modules in a course, and more!
WordPress LMS plugins
If you're looking to turn your WordPress website into an LMS with a plugin, companies like LearnDash or Thinkific are an alternative to native cloud-based LMSs. The benefit of using a WordPress LMS plugin for offering training online would be that you can use other WordPress extensions, integrations, and add-ons in your training system.
Although if you're managing training programs with an LMS plugin, you wouldn't have a dedicated support team; similar to self-hosting an LMS with Moodle or software you built-in house, you have to be more tech-savvy. Why? Because it's riskier than partnering with a SaaS LMS provider like AOM, which is hosting, updating, and backing up your system for you.
Work with an LMS provider that supports you
If you want to effectively create and manage CE and PD training programs online, there is more to consider than the price of an LMS and the features it includes. We're not saying that price and features of an LMS aren't important, but you should also consider how involved the LMS provider is in supporting your company with the strategy, customizations, and help with scaling. The last thing we want to leave you with is this: choose an LMS provider whose customers are already successfully running similar accredited training programs!
Now that you understand how to effectively offer continuing education online with an LMS, let's talk about how our LMS can help you do just that!