eLearning, eLearning Software, Learning Management System, Professional Training
Choosing The Best LMS for Your Small-Medium Business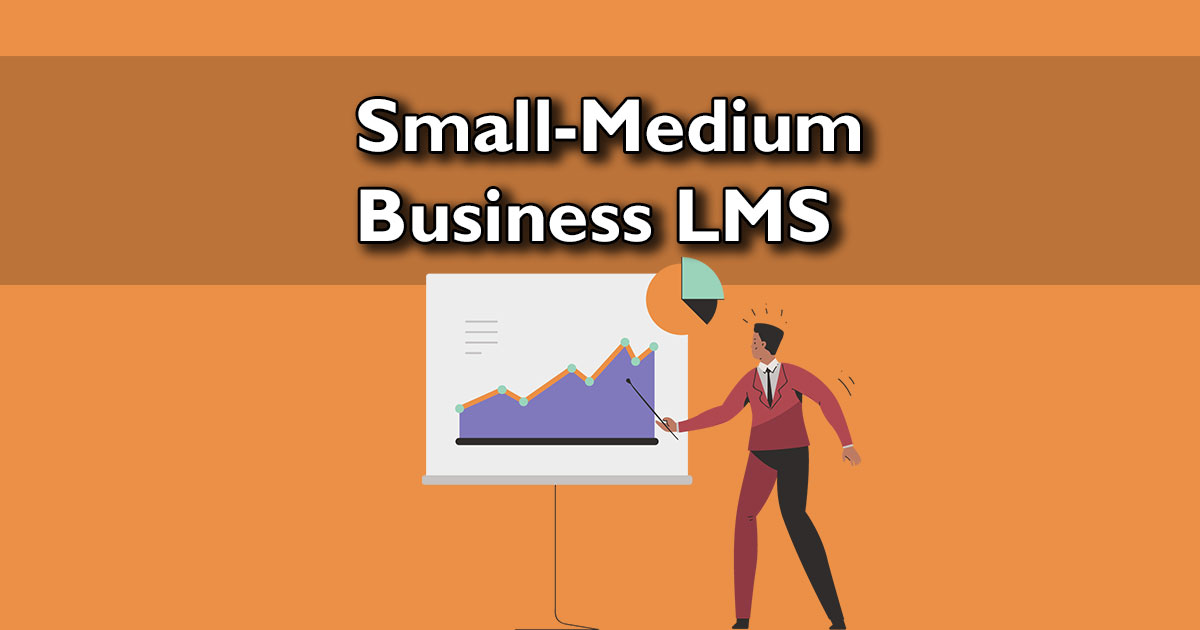 So the time has come, and your organization needs to improve its training and development programs. Your business's bottom line is increasing and training your employees and customers effectively is now a priority. Whatever the exact use case is, a training system that is designed for SMBs is what you need.
Why? Your current make-shift solution for educating and training your audience is not performing. Either that or you don't currently have a real solution for internal and external training – and reading this is part of your first steps in solving that problem. Perfect!
The tool you're looking for is a Learning Management System (LMS). Now, there's quite a bit of research that needs to happen if you want to invest in a great LMS.
For starters, you probably don't have endless capital to spend testing LMS platforms like a larger organization. Time is also probably not at your company's disposal. In this article, we're going to make your life easier by clearing up the confusion and discussing the 5 Steps to Choosing The Best LMS for Your Small-Medium Business:
Course Content Development
Determining which type of content your learning platform will be filled with is a great first step in finding an excellent LMS for your business. Unfortunately, it's easier said than done.
Ask yourself these questions to get started quickly:
-Audience
Are you training employees, customers, partners, or all of them? Ask yourself who's your audience – then what type of content will they expect in the platform?
-Training Style
Do you plan on hosting live training with webinars? Or are on-demand courses that are accessible 24/7 the focus?
-Format
What's the primary format your platform needs to support? PDFs, Videos, SCORM, and so forth.
-Business Model
What is your business model/use-case for the LMS and what industry are you in? Understanding this can automatically point you in the right direction since some LMSs are focused more on B2C and selling courses whereas others are designed for SMBs and corporate training!
Answering these questions will help you understand what content is going to be delivered using your LMS. Bringing us to our next point: features. Let's dive into the components of your platform that enable you to manage and deliver content effectively.
LMS Features
Let's say your company needs an LMS to train other organizations. Additionally, you're really interested in interactive learning and nicely designed courses. In that case, you need a platform that supports SCORM and has a powerful course creation tool. One more thing, your platform requires client portals so that you can create isolated training portals for your customers to train, manage, and report on training programs from.
The specific features you require are:
Flexible course builder, which supports SCORM packages and common eLearning formats.
Groups, more commonly referred to as client portals.
Built-in reporting tools for LMS users and your customers to report L&D progress.
Based on this example – white-labeling would be another good feature so that your customers can train using a branded platform (company colors, logo, messaging, etc).
Aside from industry and use-case-specific features, there are also some features that should be included in your LMS regardless:
Integrations: Connect third-party software apps to create high-quality learning experiences for users.
User management: Onboard users into the platform in bulk, enroll them into courses simultaneously, assign them different permissions based on their responsibilities (e.g. instructors, students, admins), and manage them inside of the platform.
Automated and Customizable Certificates: Start with a template or upload your own design and automatically send it to users after completing a course or program.
I'm just scratching the surface here. Check out our deep dive into the 19 essential features you need to look for in your LMS.
L&D Budget
Your SMB needs to fit inside your budget while meeting your organizations' needs. "A common fee for a cloud-based LMS is $4,000-$7,000".
All things considered, your budget is probably nowhere near a massive enterprise's budget. That's why you need to prioritize which features and functions are required of your platform. So, get together with your team to make a list of which features are a "must", and figure out how much revenue you're willing to for this platform annually/monthly.
If you're looking for an affordable and proven LMS, we might be the perfect solution for you!
Customer Success
How much support does your company need? For example, do you have an internal IT department that's prepared to host the LMS and do server maintenance? If so, an open-source platform would work for you.
On the contrary, If you're looking for something that's more automated and streamlined, SaaS LMSs are hosted and maintained by a third-party provider. Otherwise known as a cloud-based system, these types of LMSs are great because your main responsibility is filling the platform with learning content and onboarding users.
Many companies offer a good, heck, even a great software application, but that's an impartial solution if their customer support team is neglecting clients. We say that speaking from personal experience. Our LMS platform is great for SMBs, and many customers switch to our company and work with us for many years because of how much we prioritize their success and satisfaction while using the platform.
You need to work with a provider whose software is excellent AND their team is focused on supporting clients every step of the way!
Platform Customizability
Getting a customizable LMS is always beneficial to your organization for four main reasons:
You're never going to be tied down to the content, functionality, integrations, and visuals of your platform.
Flexibility to edit content and make changes to training courses or programs 24/7.
Provide brand-specific content and learning experiences to users.
Build custom reports to analyze and measure metrics that are important to your organization.
When we talk about customizability here's something else to consider – how much of the platform can clients customize themselves? And for more complex customizations, does the LMS provider have a team of developers that can do these for you? Academy of Mine is known for customizing clients' LMSs to provide them with a personalized learning platform!
Which LMS Provider Do We Recommend?
You're more prepared than most now, you understand what features are mandatory for your LMS, and you have a good idea about the support and customizations that would benefit your organization.
Let's save you some time looking – Academy Of Mine is a fully customizable platform that's been drastically improving SMBs' training programs in many different industries since 2014. Even better, we're known for prioritizing customer success and support, and our cloud-based LMS is easy to use. Look no further if you're interested in an LMS filled with most if not all of our competitor's features at a fraction of the cost!