Learning Management-System, Self Paced Learning, eLearning
Top 5 LMS Platforms for Blended Learning
8 min read
|
May 31, 2023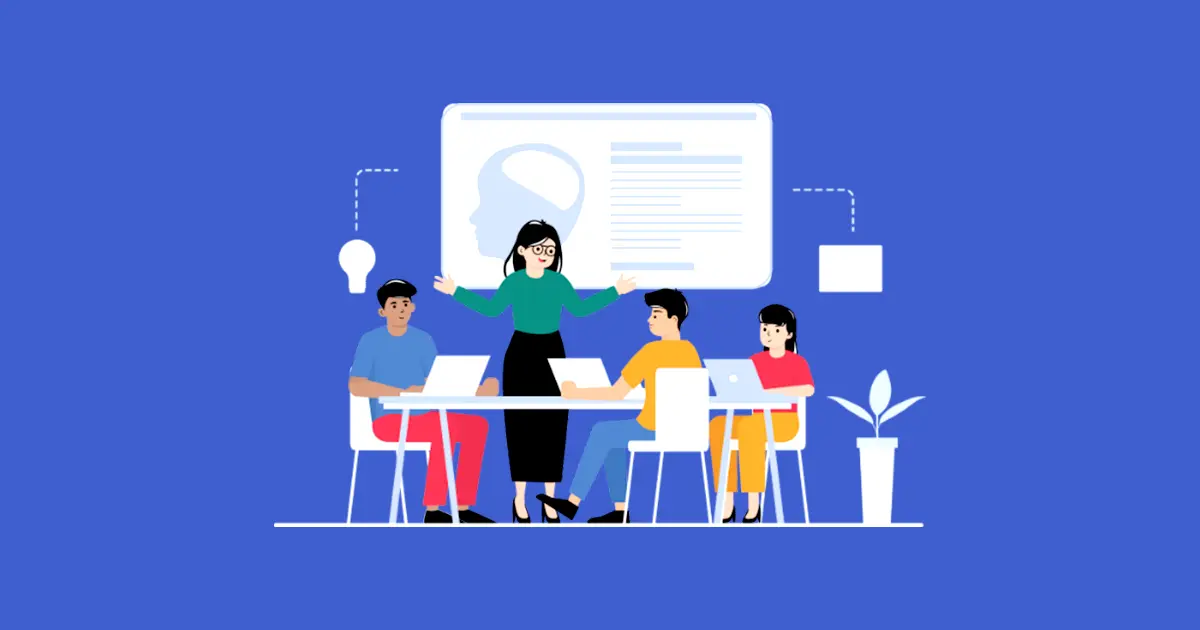 Blended learning is an engaging way for students to learn with a mix of online and face-to-face education. This learning approach is effective since 82% of students prefer a blended learning approach to traditional classroom education. Here's something else to consider, 73% of teachers claim that blended learning increases student engagement.
With blended learning, businesses can streamline their training, onboarding, and certification programs using learning management software (LMS). Then, companies can manage both online and in-person training conveniently from one centralized platform. LMS blended learning is also great for training external customers and partners, otherwise known as B2B training, a training type that Academy Of Mine supports well.
Keep reading to learn about the benefits of blended learning and the top 5 LMS platforms for it.
What is Blended Learning? How Does it Relate to an LMS?
Blended learning is a learning method that combines face-to-face education with online courses and virtual instructor-led training (video classes vs. physical classrooms). An LMS is a software platform that enables users to create, deploy, and manage their learning resources. Let's say you are supporting local businesses with OSHA compliance training. Instead of forcing participants to come in person for the duration of the training, create a course with your LMS, and make some classes take place online and others in person.
Blended learning works because classes that are 100% online can leave learners feeling isolated, regardless if the class is engaging. On the flip side, traditional training that happens in person also has its downsides; for example, participants may feel exhausted after having to commute and be around other people for too many hours. Since everybody has a different learning style, it's impossible to create universally-loved courses, but blended learning helps find a middle ground to creating effective learning programs.
With an LMS like Academy Of Mine, businesses can facilitate blended learning by designing and creating bespoke courses for their employees, partners, and customers. Many LMS platforms come equipped with powerful analytics and quiz builders so businesses can track learner progress. In addition to creating virtual instructor-led courses, LMSs also integrate with webinar tools like Zoom and Microsoft Teams.
Blended Learning Benefits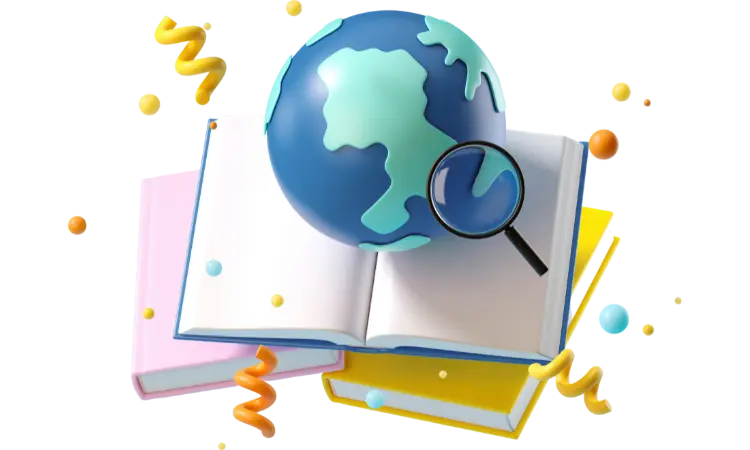 LMSs are comprehensive and feature-rich software designed with learners and educators in mind. Using them to implement LMS blended learning into your training programs can greatly support your training efforts.
Facilitates self-paced learning: LMS blended learning allows learners to move through their online educational materials at their own pace. This removes the pressure that often comes with learning a new skill or studying a new topic. Ultimately, self-paced learning can improve information retention because learners can study at their own pace and take their time to fully absorb information.
Virtual classrooms galore: Virtual classrooms allow students to learn from instructors teaching a class in real-time, without having to commute to a physical classroom. For example, you might schedule a convenient time for a class once a week, where students and the instructor can join a virtual classroom.
Increased collaboration: LMS blended learning doesn't stop with on-demand courses and virtual classrooms. It also encourages learner collaboration through group activities, assignments, and more. By making some assignments incorporate both in-person and online learning, you can make collaboration more interesting. For example, create a group activity online that tells partners to do something in person, then have each group submit a paper online about their experience.
What to Consider with Blended Learning LMS Platforms?
When looking for an LMS platform that supports blended learning, what features should you keep in mind?
User experience: The most important consideration when you're choosing an LMS for blended learning is user experience. This is true because blended learning combines many different learning modalities into one piece of software, so navigating the software should be simple (for both learners and administrators).
Your platform requirements: For an LMS to be effective, it has to meet your requirements. Some requirements could be creating and delivering certificates, customizing the dashboard, tracking how much time somebody spends in a course, being able to schedule in person classes with an online calendar, etc.
Creating and updating content: With any blended learning program, you will have to create online courses that consist of a variety of content-types (videos, presentations, interactive assignments, and more). You also have to be able to update content and make adjustments in your system when things change.
Platform setup and ease-of-use: Consider how easy the platform is to set up and navigate. Many platforms offer free demos, so you can get a feel for the software before committing to it. Ease of use is about the experience your company has creating and managing courses on the platform, not actually taking them.
Flexibility: To understand the flexibility your company requires with an LMS, think about your training needs — are they complex? Do you have a lot of resources or do you need a skilled tech team to support your growth? Another consideration is, what's the outlook of your company? For example, if you're a company with large growth goals, ensure your LMS can grow with you and be customized.
Reporting tools: Reports are important to understand your employee's progress. Whether an assignment happens in person or online, it's important to give feedback to students. Alongside that, LMSs help by providing administrators with access to student grades and assignment submissions in real time. Every LMS has completely different reporting features, so we recommend getting a demo or trial, to understand if a platform is going to work for you.
1) Academy of Mine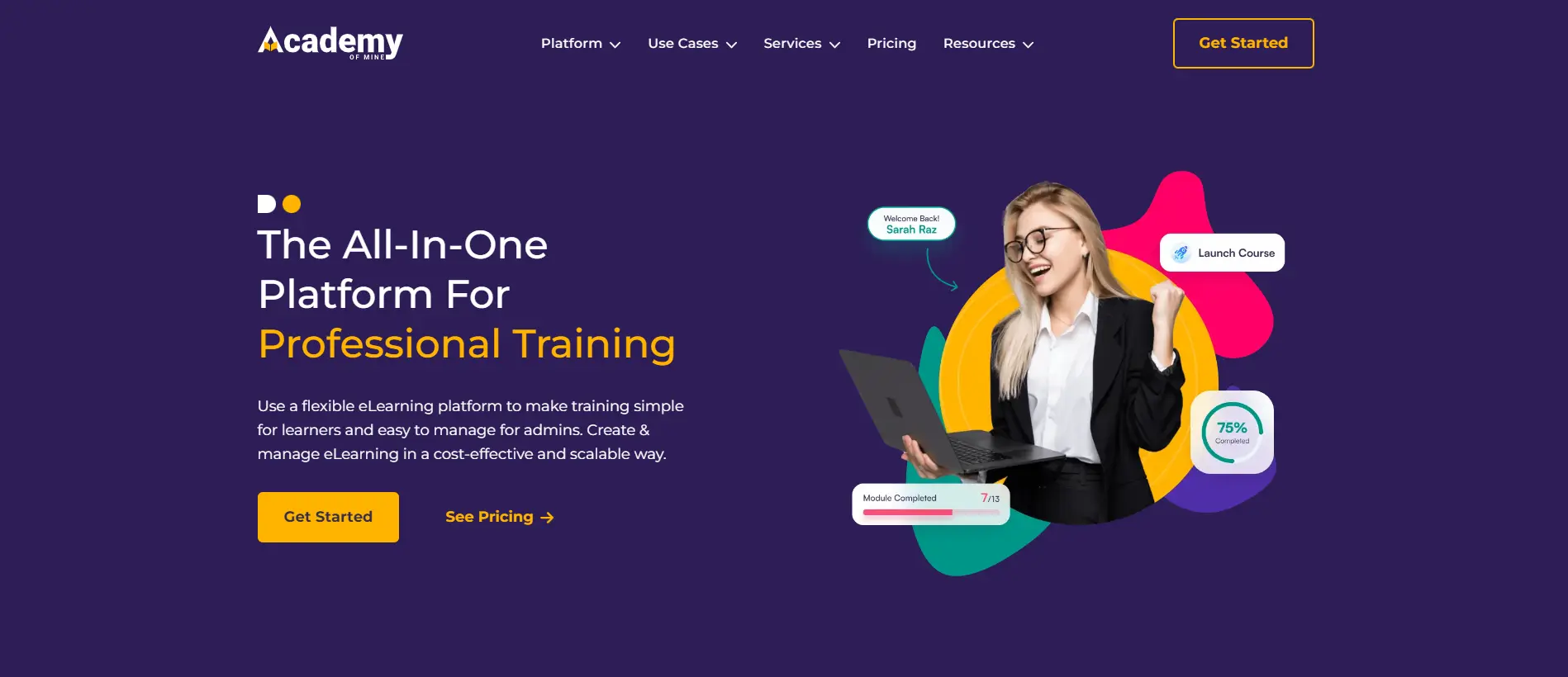 Amplify your learning programs with Academy Of Mine by creating custom courses and training materials that will engage and motivate your employees. Academy of Mine has all the learning features you need for training, including self-paced course-building tools, learner reports, and multi-tenant B2B customer portals. These features make it easy for your company to train different audiences, whether that be your employees or other organizations and partners. With AOM, businesses can also create virtual classrooms to engage learners face-to-face online.
Relevant Features
Build courses that your employees can access 24/7.
Learner reports to show user progress, time-spent in a course, and assignment scores and submissions, etc.
Schedule one-off classes or recurring ones.
Send email reminders to learners from your LMS.
Sell courses directly on the platform or integrate with an eCommerce provider.
Option to customize the software to flex to your LMS needs.
Create multiple-choice tests, interactive assignments, group activities, and more.
Pricing
If you want to get your hands (figuratively speaking) on Academy of Mine, the Essentials plan is a great option for businesses wanting to upskill their workforce. For a flat fee of $599 per month, you can have up to 250 active users, and 25 customer portals, plus get access to the Advanced Activity log for more in-depth insights.
Pros
Everything you need to implement LMS blended learning.
Free 30-day trial.
Ideal for businesses wanting to train both external clients and internal employees with the same system.
Supports blended learning (both online and offline).
Highly-customizable software.
SCORM 1.2 and 2004-compatible.
Self-paced learning and webinar integrations (for instructor-led training).
White-label platform.
Cons
Some people might find there's a bit of a learning curve at first.
2) Talent LMS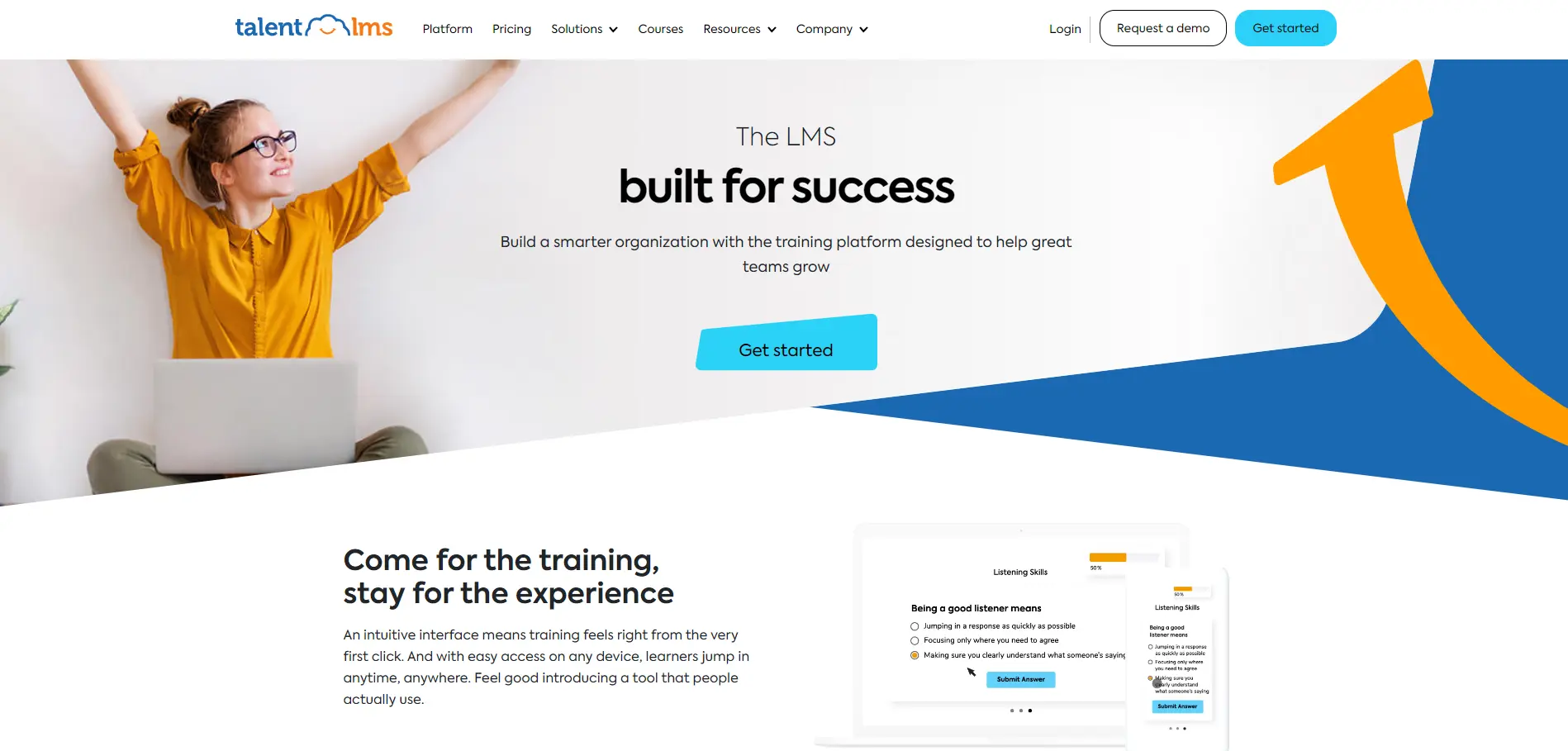 TalentLMS lets businesses create a unified learning experience, both online and offline. This LMS platform has a range of training options for your blended learning programs, including compliance training, onboarding, and sales training. TalentLMS also includes out-of-the-box course templates, and you can customize them however you like for a more personal touch.
Relevant Features
Access to a course library with ready-made courses.
The assessment engine lets you create drag-and-drop tests.
Discussion forums to encourage engagement and debates.
Security measures like enforcing strong password creation and adding watermarks to assets.
Pricing
The most popular TalentLMS plan is the Premium for $569/month. With this plan, you can add up to a whopping 1000 users and 15 independent training portals (AKA branches). You can also build a custom homepage for your learning materials and add a custom domain and SSL. All plans let you create an unlimited number of courses, which is a bonus.
Pros
Unlimited courses on all plans.
Mobile app.
Start for free.
Create courses within a few clicks.
Demo available.
Pricing starts under $100.
Cons
UX can be complicated.
The text editor is a bit clunky.
Can be too "simple" for complex or large training programs.
3) Tovuti LMS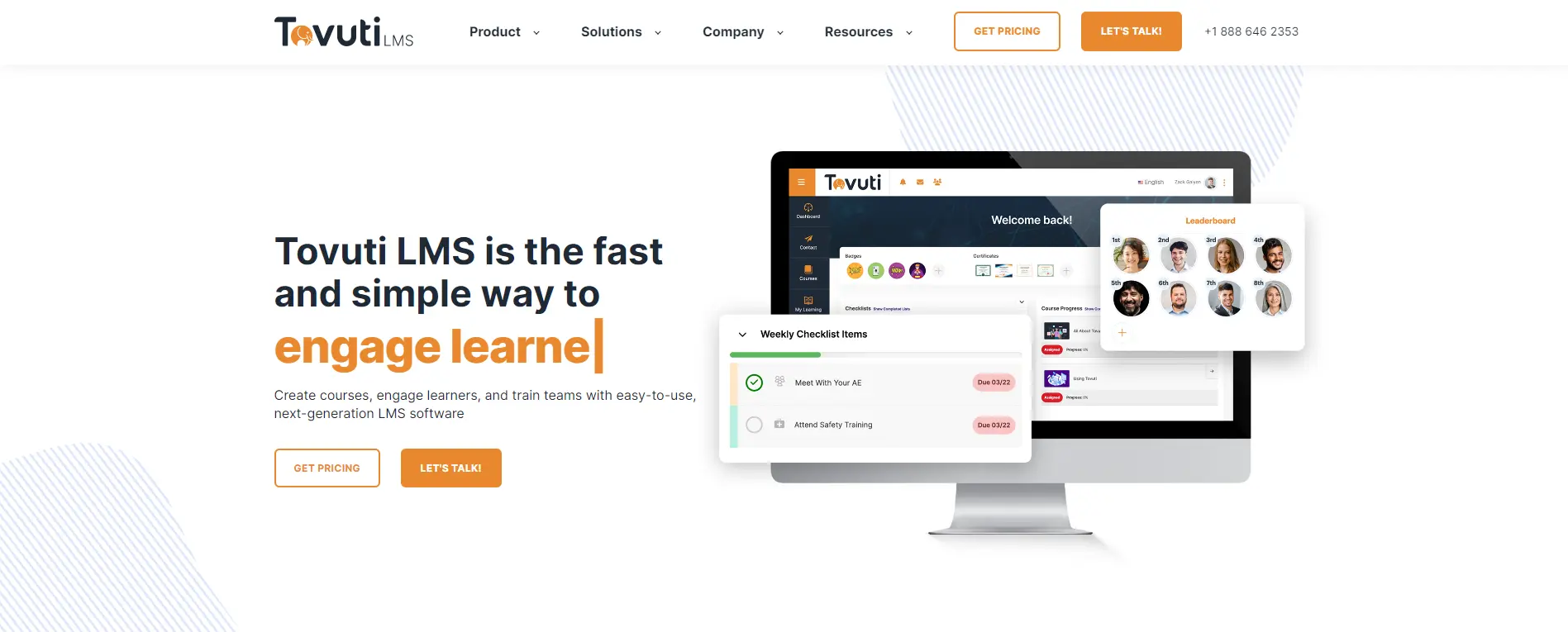 Tovuti LMS has an impressive 30,000+ pre-made courses ready to use. This means you can set up and launch your training programs quickly and easily. Tovuti LMS users also benefit from more than 2,000 third-party integrations.
Relevant Features
Thousands of courses and integrations to choose from.
Collaborative tools like whiteboards and participation controls.
Live learning and video conferencing.
Segment learners into groups to assign different tasks and courses.
Detailed analytics to track user progress.
Pricing
Tovuti LMS doesn't have any information about its prices on its website, nor does it have any details of plans. You have to fill in the short form on their website, where you'll be able to receive a quote.
Pros
Can request a demo.
Mobile app to train employees remotely.
Lots of options for engaging learners.
User-friendly and intuitive LMS.
Known for having good customer service.
Cons
Expensive starting costs.
No pricing plans on the website.
4) 360Learning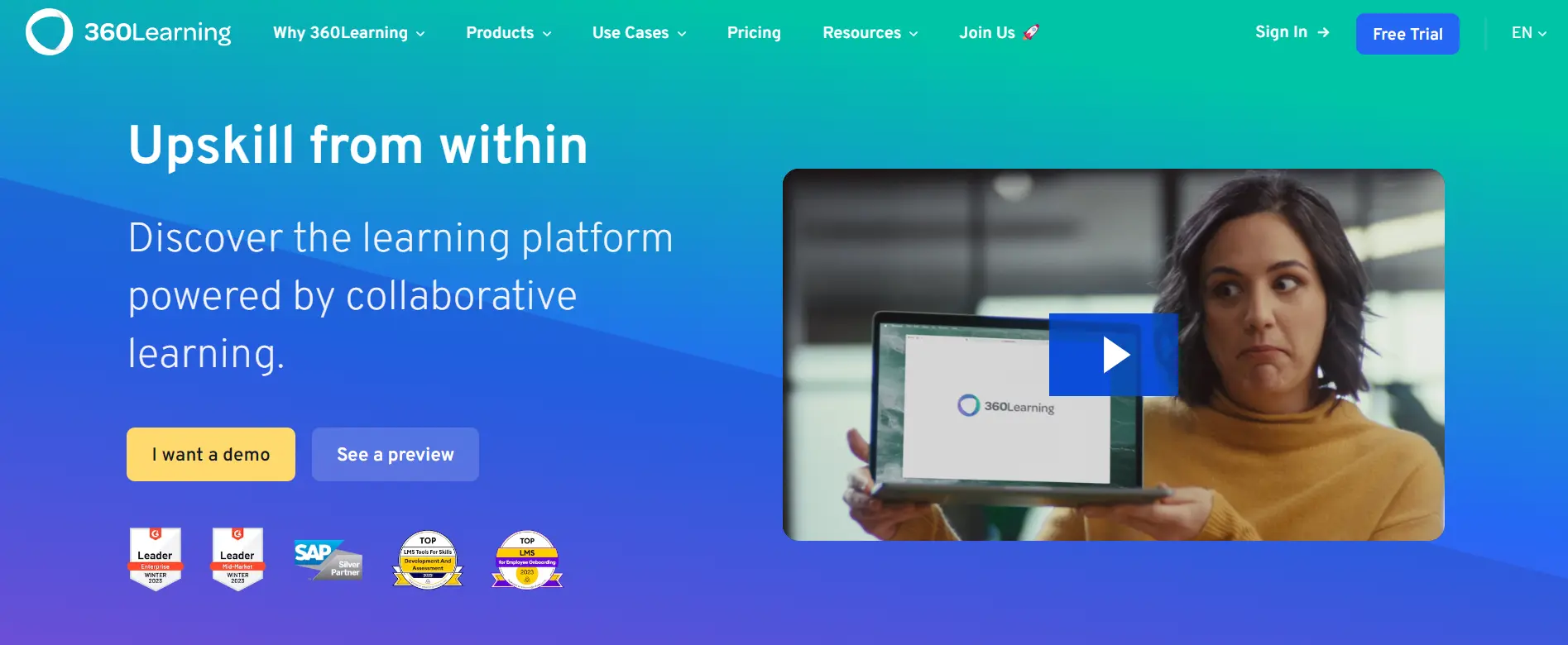 360 Learning is an LMS that emphasizes the importance of collaboration in the learning process. 360's platform has a number of features that make it a good choice for blended learning programs. One thing that makes it stand out is it allows you to set out learning paths for each of your employees, which helps you tailor courses to each individual depending on the skills or knowledge they need support with.
Relevant Features
Mobile app for on-the-go learning.
Learner forum where employees can discuss topics and upvote comments.
Newsfeed where learners can ask questions about their courses.
Smart scheduling for organizing training sessions, both in person and virtual.
Course-creator is quick and easy to use.
Pricing
360Learning offers two pricing plans — one called Team and another called Business. The Team plan costs $8 per user per month and is suitable for up to 100 users. If you need more users in your plan, you'll need the Business plan. While 360Learning doesn't disclose the price of the 'Business' plan, you can request a demo if interested.
Pros
Free trial available.
Lots of integrations available for a complete LMS experience.
Training materials for teaching you how to use the platform.
Plenty of collaboration tools for learners.
Easy-to-use software.
Cons
More complaints about customer support than other LMS providers.
Customers frequently report that courses crash.
5) Learn Upon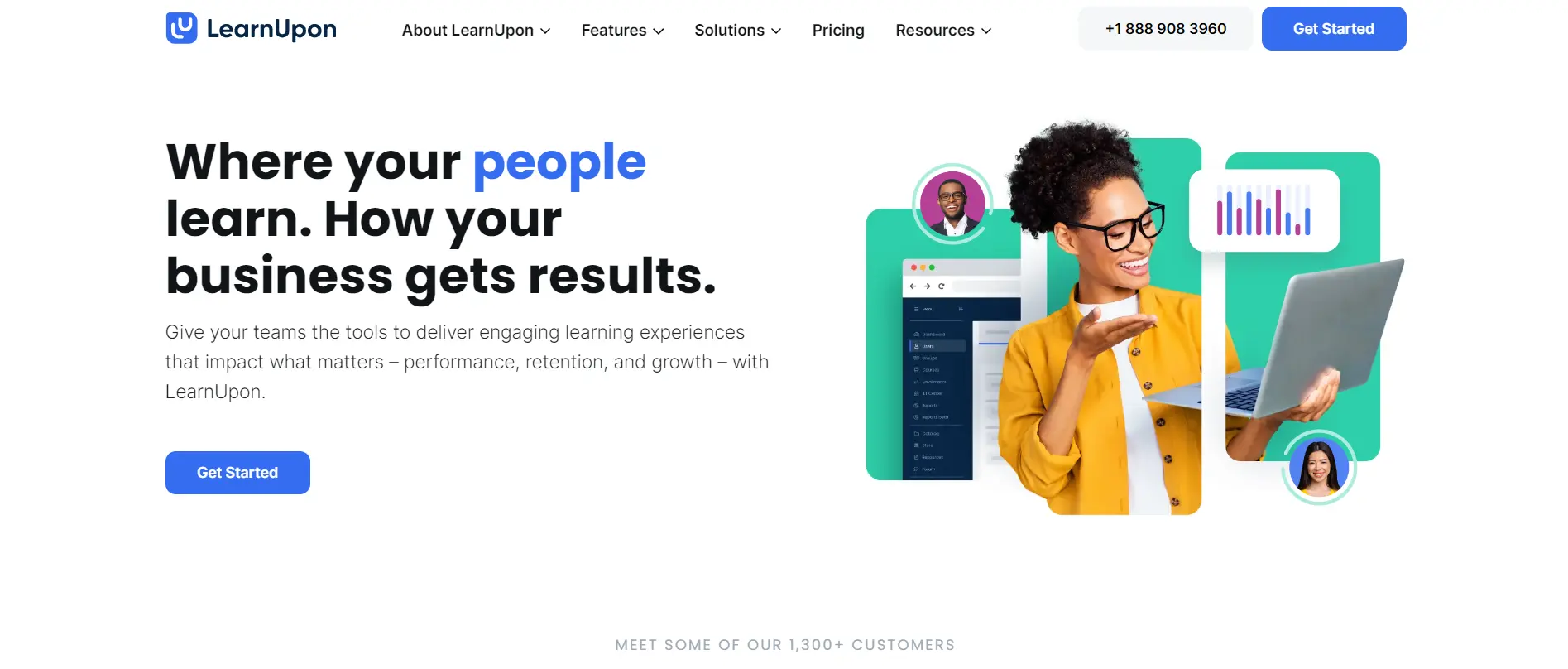 Finally, we have LearnUpon, which is a platform notorious for allowing you to create short micro-courses or in-depth comprehensive ones. With LearnUpon, you can customize your courses with videos, images, and presentations, and manage all your training sessions through one convenient platform.
Relevant Features
Create learning paths for your employees to guide them through their courses.
Manage instructor-led classes through LearnUpon.
Gamify your courses with leader boards.
Certify your learners to motivate them further.
Out-of-the-box reports for tracking progress.
Pricing
Like some others on our list, LearnUpon doesn't offer any indication of the cost of its software. It does, however, give you details of its three plans: Essential, Premium, and Enterprise. If you choose the Premium one, you can educate between 150 and 300 learners through the platform. This gets you two-way API access and enables you to create courses in multiple languages.
Pros
Mobile app available.
Easy and intuitive system.
Supportive team.
Webinars and eBooks to teach you how to create your content.
Cons
Limited customization options.
Plans highly restrict how many users can be in your system.
Which Blended Learning LMS is the Best?
If you want a blended learning LMS that's affordable, customizable, and user-friendly, Academy Of Mine is your best choice. On top of the robust software we provide, customers love working with Academy Of Mine because of the reliable customer support. If you're ready to get take your online learning programs to the next level, let's get started today!