eLearning As A Business, Learning Management System, Professional Training
How to Train Employees Remotely
According to Forbes – 61% of employees prefer being fully remote.
Why is this important? Because with more and more organizations allowing their employees to work from home – more employees need to be trained/retrained online. The internet has been around since the 90's so it's not like remote training is a new practice or anything. However, since Covid-19 the importance of having an excellent remote work infrastructure for your employees has increased. That includes having a remote training system that allows your employees to maintain knowledge, gain new skills, and stay compliant in their positions using a remote solution.
Training your teams remotely means your employees don't have to commute to the office and be in person at a physical location to train. The benefits are self-explanatory, but there are also downsides that your organization may face when training employees fully remote; downsides can be avoided though!
In this article we're going to learn exactly why remote training is so important, and how your organization can go above and beyond the average remote training system to positively impact your employees' performance and knowledge retention in the workforce remotely.
What is Remote Training
As AIHR states, "Remote training is a type of employee training that takes place at a distance". Usually hosted on the cloud, remote training is convenient because it only requires a computer or smart device and the internet. So, are there certain industries and organizations that can benefit from remote training more than others? Yes, but relatively speaking – every organization can benefit from some internal training.
For example, our client, RE/MAX Ultimate Realty Inc. utilizes a remote training system to offer real-estate-focused training to 200+ real estate agents that work under the company umbrella.
On the other hand, our client ApplicantPro trains their employees on general company knowledge and functional responsibilities remotely. ApplicantPro is an easy-to-use hiring software and RE/MAX is a real estate brokerage; Remote training is beneficial to both organizations!
Top 3 Issues Businesses face with Remote Training
– Lack of Engagement and Interaction between Employees and Trainers
It's understandable that if your employees are required to take an online course or program to maintain their license, it's not exactly the most exciting activity. So how does an organization keep employees engaged and excited to learn more and train inside of an online system? By training with a platform that's robust in its features and functionality, and allows your instructors to interact with learners as needed.
Two feature's worth considering to improve engagement and interaction amongst employees in a remote internal training environment are webinars and discussion boards.
– Inability to Measure ROI of Training
If you're requiring sales teams to take some online courses and a week after the courses have been completed your sales teams are closing many more deals – then clearly the training is working. In most cases, measuring the effectiveness of an online training program can be difficult though.
One must-have feature for measuring the ROI of your training courses is using a platform that has reporting and analytics tools baked into the platform. Built-in reporting tools enable your organization to efficiently manage the progress employees are making in a training program!
For example, using our cloud-based platform you can quickly see who has completed a course, or who's been certified in a curriculum. If you want to dive deeper into a learner's performance, you can check out the time students are spending in each module of a course and what grades they're receiving throughout a course!
– Lack of Support and Difficulty Using the Platform
Whether you're retraining long-term employees or onboarding new hires and then training them from the jump online; In order for a remote training system to be effective, it must be easy to use and be filled with support options to help employees that are struggling with a task in the platform.
You don't have to fully automate support in a remote training platform, but ideally, if you can automate and solve the majority of your employees' questions online then you're freeing up a bunch of time.
Creating an Effective Internal Training Program Online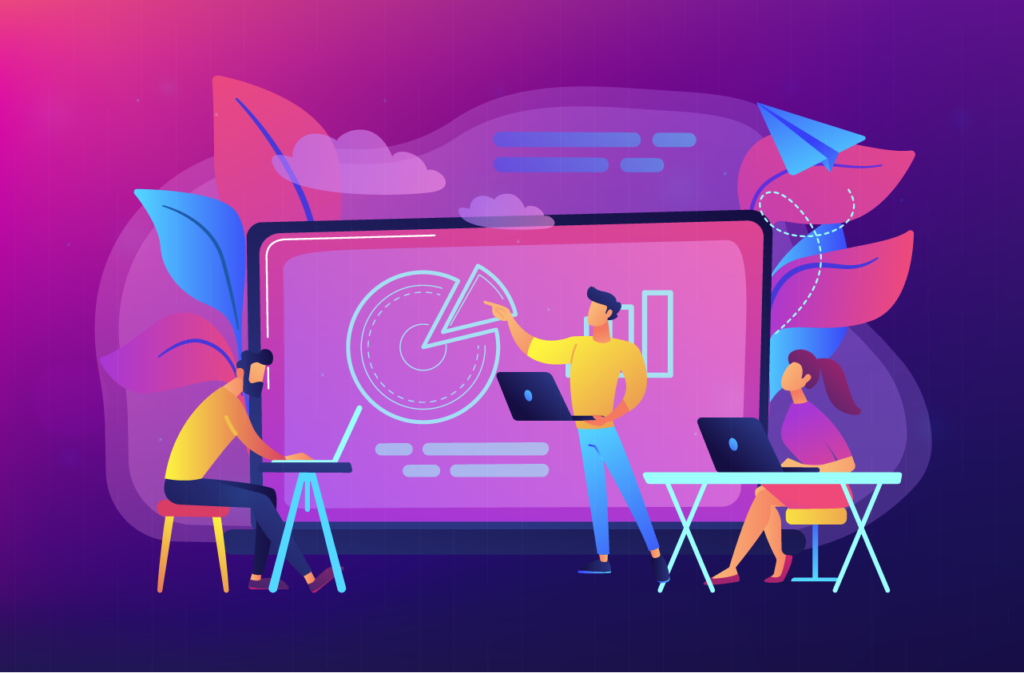 All of the potential downsides to remote training can be resolved in one easy step: using an established training platform that's backed by professionals.
You could try and build one yourself, or at least self-host the platform, but unless you have an established IT team with server experience then we recommend using a SaaS Learning Management System (LMS). Even if you are a large enterprise (1000+ employees) that can afford to spend lots of time and money building an LMS, it's risky. Just ask yourself this: can you afford to spend a year and 50-100k building out a training system from scratch that's not guaranteed to work?
SaaS LMSs are cloud-based and have been tested countless times by clients of all sizes and industries over many years. So all your company has to do is upload content into the platform and enroll your employees into courses.
What to Consider When Choosing an LMS?
Let's keep this simple: do you want your employees to train using courses they can access and take on-demand, or would you prefer employees to train in real-time using webinars and live video calls (Zoom, Microsoft Teams, GoToWebinar, etc.)? There's also a third option that incorporates both, this is called blended learning.
Live training is the closest thing to in-person training without actually being in a physical location, and on-demand training is much more efficient and scalable. That's why we recommend opting for a platform that is set up for blended learning, so your organization can empower employees with high-quality training using both mediums!
Why Academy Of Mine Is An Excellent Option
Our LMS is constantly being upgraded and optimized to go above and beyond our customer's needs! Not only the software application but our customer support as well. Seriously – we don't have 4.9 out of 5 stars with 36 written reviews on Capterra for nothing!
Academy Of Mine is also one of the few LMS providers to offer platform customizations. So, if your LMS has a feature or aspect about it that your organization would like improved out-of-the-box – well customize it for you and build out the software to meet your unique needs!
Book a free consultation today, and start training employees online more effectively!