Continuing Education, Learning Management System, Professional Training, Safety Training
Who Can Benefit From Using An LMS?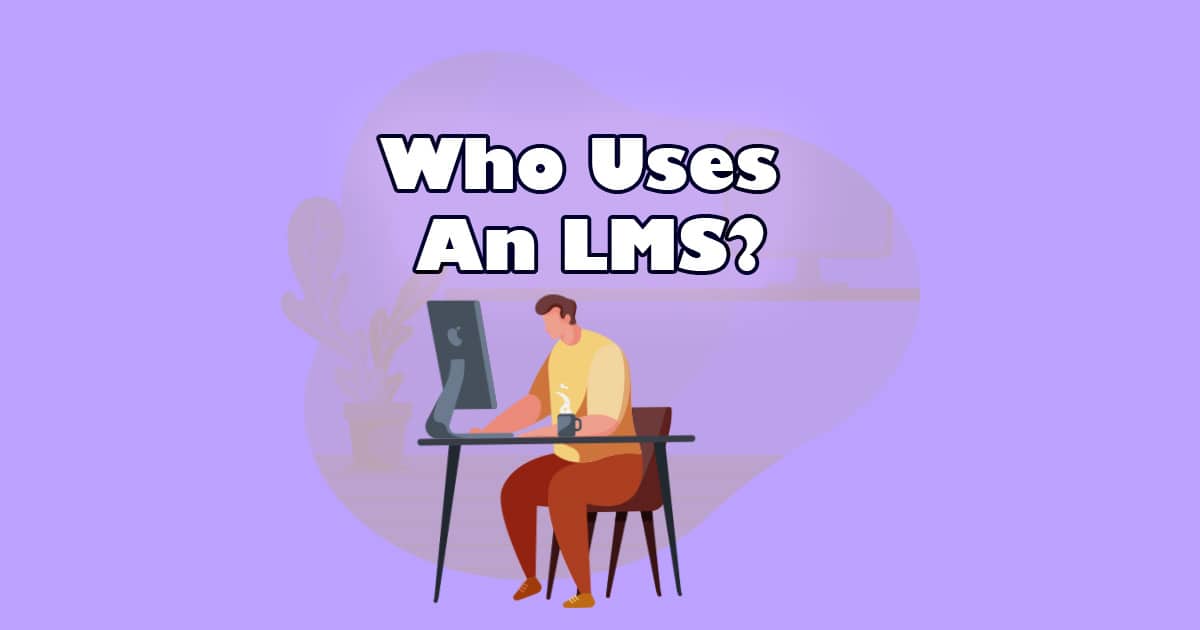 An LMS is a powerful tool used for creating, managing, and reporting online training and eLearning. When it comes to training external and internal customers remotely, anything other than a Learning Management System (LMS) is an inferior choice.
Today, we are here to educate you on the type of organizations and industries that can elevate their business using an LMS, so that your company can decide if using one makes sense!
Your organization could benefit from using an LMS if it offers one of the following types of training:
Continuing education (CE)
Professional development
External customer & partner training
Employee training
HR training
Here are the industries we are going to cover today!
Healthcare
Healthcare professionals have to take continuing medical education courses (CME) many times throughout their careers. The tricky part is that training can be expensive, and when organizations cut corners then health professionals become less competent. A happy medium can be met through the use of LMSs!
Why not offer healthcare employees the chance to train in the comfort of their home – remote training is cost-effective and it's socially distant. More importantly, remote training is very effective through the use of blended learning, where training courses incorporate both real-time (synchronous) learning and self-paced (asynchronous) learning.
For example: let's say your medical organization (500+ employees) wants to improve its patient care, and you want to do this remotely while still utilizing some similar aspects to in-person training. Using an LMS, you could host one or more webinars where your whole organization joins in on a live conference explaining and teaching physicians and other medical professionals how to provide the best patient care.
In addition to training employees, many healthcare companies offer CE and professional development courses to external customers and partners. For example, our client Numotion sells healthcare/medical equipment as their main product offering, then using AOM they train customers and partners on how to use the equipment and get the most value out of their purchase.
Real Estate
According to New Jersey Realtors, real estate agents must complete 12 CE credit hours every two years if they want to keep their license! That's a whole lot of training…
Let's say you are a Real estate Broker that focuses on onboarding and training new agents with little to no experience. Meaning, you consistently have a large portion of new hires that need to study and prepare for their real estate license exam. In that case, it makes no sense to use anything other than an LMS to prepare employees for the real estate license exam – online training is very cost-effective, and by using platforms like Zoom, you can host webinars and other live training sessions alongside self-paced learning, to guarantee results similar to training held in-person.
LMSs are commonly used by real estate companies to simplify CE training and with renewing real estate licenses. Alternatively, if your real estate firm is also responsible for training external customers, an LMS is spectacular for training third-party RE organizations and partners.
Insurance
We won't get into details but for starters: health insurance, car insurance, life insurance, the list goes on…The insurance industry is huge, $1.28 trillion to be exact.
Suppose you are a large car insurance enterprise (1000+ employees) and you need an effective system for training not only your employees but external organizations as well.
There's a feature in our LMS called grouping, which allows you to separate training into different groups so that your customers won't have access to other companies training.
Insurance agencies can utilize an LMS to train insurance reps in bulk, and third-party agencies worldwide, using one system. In addition, by utilizing third-party integrations like Zoom, GoToWebinar, or Microsoft Teams your insurance company can host live webinars and deliver training similar to in-person seminars (since those aren't too popular nowadays).
Compliance Training
In states like California, New York, and Delaware sexual harassment training is legally required for businesses. Another common type of compliance training is diversity training, which just like most compliance training, isn't as easy to teach as safety training but is just as important.
It's in your SMB or enterprise's best interest to take compliance training seriously – it can have a positive impact on your company's culture and long-term growth. Compliance training is commonly outsourced, but the last thing a company wants to do is put its employees through overly complicated compliance training (most won't be happy about training in the first place).
Utilizing an LMS, companies in this industry can deliver compliance training to employees and customers using self-paced learning. This allows users to get trained remotely by reading PDFs, watching videos, taking quizzes, interacting with coworkers and course administrators using discussion boards, and more.
The best part is, self-paced learning doesn't require a live instructor, so employees can get certified outside of the office!
One of our clients, Paragon Compliance, deploys state-of-the-art diversity, anti-harassment, and other types of compliance training to organizations using an LMS.
Safety Training
Certain jobs play a huge role in our everyday lives like construction workers, electricians, and firefighters; the world would be less safe without them in it.
Manual labor and trade jobs aren't only tough on the people's bodies who perform them, but they can also be pretty dangerous. Maintaining proper safety training is a great solution for preventing serious physical accidents and fatalities on the job.
Private and public safety training institutes can use an LMS to offer safety training to external companies and internal employees with continuing education (CE) programs – training can be packaged and sold as individual courses, bundled together as a subscription model where payments are made monthly, or even given away for free.
Sales
Continuous training is more important in sales than in any other department or industry because businesses need to make a profit if they want to stay alive! For salespeople to thrive and stay on top of their leads, they need an effective training system in place; one that makes training "on-the-go" possible.
Sales departments can use an LMS to deploy self-paced learning courses for their agents in the field – so when a salesman is away from the office and needs help with overcoming an objection or rebuilding his confidence after losing a big deal, he can easily use his smartphone or tablet to find a solution (without coming back to headquarters or having to call a co-worker). Self-paced learning will never completely eliminate the need for in-person training and problem solving for salespeople, but it can help!
Is this the only way a sales department or company can use an LMS? Absolutely not!
Sales are all about face-to-face conversations so it would be a shame not to do some sales webinars and live training with an LMS. Lucky for you, LMSs are fully integrated with the capability to host webinars using apps like Zoom, GoToWebinar, or Microsoft Teams.
Human Resources and Internal Training
Properly onboarded and trained employees are underrated for so many reasons. Whether we're talking about an internal HR department, or a Human Resources company that focuses on training external organizations' employees; HR is critical.
LMSs empower HR and any company in need of a brilliant training system, to onboard and train users in bulk from one location to another remotely.
Summer is a big month for hiring interns – large enterprises sometimes hire 100+ interns at a time. In these scenarios, it doesn't make sense for HR to be required to manually onboard every employee into a system (that would take forever!). Using an LMS, you can easily onboard users in bulk and then enroll them into programs containing onboarding info, administrative paperwork, and any other initial training needed to get them started!
Another feature that directly pertains to HR is something we call "locking" which allows course administrators to restrict access to specific modules in a course until the previous ones are completed. In other words, if your company prefers new hires to fill out banking information or I-9s before beginning compliance training, they can do that.
Computer Software
Many established enterprises like HubSpot or Salesforce wouldn't exist if it weren't for the software as a service (SaaS) business model. 59.5 percent of the global population (4.66 billion people) are active internet users. The demand for groundbreaking computer software and mobile apps is through the roof right now, and only increasing daily!
So how can an LMS help grow your computer software company?
Let's take HubSpot for example. Just in case you aren't familiar with the company – "HubSpot is an American developer and marketer of software products for inbound marketing, sales, and customer service."
HubSpot offers a wide variety of free training courses to anybody with access to the internet. On one hand, HubSpot is giving away courses they could be selling, on the other, they're generating qualified leads because some of the people taking their training courses work in startups and could buy into HubSpot's main product offering. Oh, and by the way, HubSpot's main product offering is worth WAY MORE money than all of their courses combined!
One great way for SMBs and enterprises to entice their target audience into purchasing software from them is by offering free training first.
There is no right or wrong way to do this though…
Our client RLDATIX uses AOM as a supplementary educational tool to teach healthcare organizations how to provide the safest and utmost quality care for their patients. Using their LMS, RLDATIX was able to quickly offer customers and partners a series of COVID-19 training courses during the early stages of this pandemic.
Still Not Convinced About LMSs?
Learning Management Systems are the greatest solution for educating and training customers, employees, and partners remotely. Sure, you can try to create and deliver eLearning to your audience by splicing together multiple systems, but it won't in a million years compare to the seamless learning experience that LMSs provide SMBs and enterprises regularly!
Remember: even if we didn't talk specifically about your industry today, that doesn't mean an LMS isn't applicable (we just talked about industries that are close to us).
Still unsure if using an LMS would benefit your company? Here are 5 rock-solid reasons your organization needs an LMS!