Academy Of Mine As An Alternative, Continuing Education, Learning Management System, Professional Training
A Better Alternative To Thought Industries (Academy Of Mine LMS)
11 min read
|
Jan 22, 2023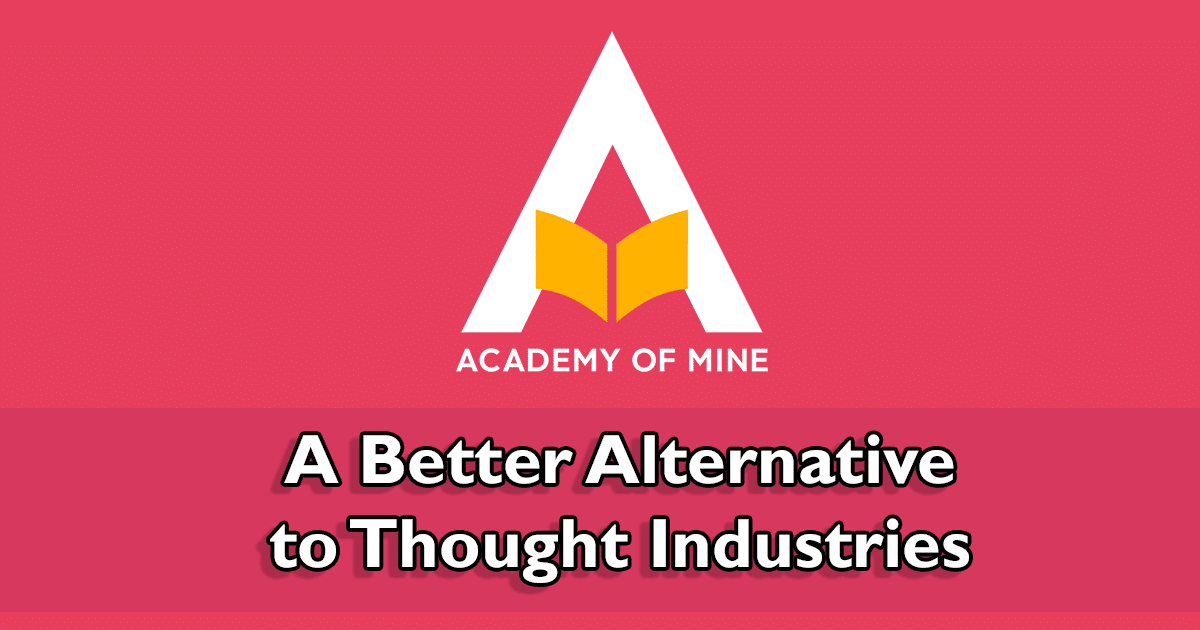 According to a 2018 LinkedIn Learning report, over 90% of companies offer their employees some type of digital learning. This is especially the case nowadays, but using eLearning for corporate and small-business training programs has been happening since Academy Of Mine was first founded in 2014.
In such a saturated market, how does your company pick a reliable eLearning solution that's going to grow with your company? There are a lot of variables your company needs to consider while choosing an LMS, such as budget, LMS features, and much more. That said, in this article, we're going to keep things simple by comparing just two popular eLearning platforms – Academy Of Mine and Thought Industries.
Let's start off by talking about the pros and cons of Thought Industries LMS.
Advantages Of Thought Industries (Ti)
Headless Software
Thought Industries biggest advantage is that they are headless software. In developer-speak, this means the Ti learning platform decouples the front-end presentation layer from the back-end services, so organizations can build their own front-end user experience on top of the foundational LMS software, then extend it out to different channels and devices.
In simple terms, if you have a highly-skilled developer team that wants to customize the LMS, Ti is more customizable than most LMSs which limits you to customizing front-end user experiences following their APIs.
Alternatively: Academy Of Mine gives you access to REST APIs, to customize front-end user experiences within the LMS, but this isn't as flexible as what Ti allows you to do.
Powerful eCommerce And Business Features
Thought Industries has some impressive eCommerce features that are helpful if you're focused on partner education and customer training. For example, Ti helps you connect data in your LMS to business results using in-platform data and standardized business intelligence connectors.
Both Ti and Academy Of Mine have the standard LMS eCommerce features:
Create course catalog pages to sell training and content online
B2B bulk purchasing options
Branded training portals for customers or different groups
Financial reporting, and more.
We weren't able to test Ti's eCommerce firsthand since they don't offer a trial but based on online reviews, conversations we had with current customers, and their website info, Academy Of Mine has similar reporting features. However, when it comes to payment gateways, Thought Industries only integrates with Stripe, whereas Academy Of Mine accepts payments with Stripe, Paypal, Braintree, and more.
Customer Community
Ti has a nice customer community for customers to learn how to use the platform and participate in discussions with other Ti customers. They also have a software developer group in Discord where developers from companies using Thought Industries can get support. The customer community comes in handy if you're a Ti customer that needs help—and their API documentation, help center, and other tutorials aren't solving your problem.
Extensive Help Center & API Documentation
Thought Industries has an extensive help center with troubleshooting articles, platform tips, and explanations about using their LMS. This Boston-based LMS provider also has a section about API documentation that software developers can use to understand the software better and to customize it. Academy Of Mine LMS offers the same type of help center and documentation, but all LMS providers do well in these areas so it's worth mentioning!
One thing Thought Industries offers, which Academy Of Mine does not currently, is an education program. Ti calls this the Academy, and its purpose is for customers to learn more about the LMS through interactive videos and eLearning courses. It's a nice idea because they're giving administrators a chance to take courses on the same platform they're going to be creating courses and managing training. We can't speak on the efficacy of this Ti Academy simply because you have to be a customer to access it.
The closest thing Academy Of Mine offers to this is platform tutorials on YouTube, but these are not organized in a formal training program designed with the LMS.
Disadvantages Of Thought Industries
No Free Trial
Thought Industries does not offer free trials on its software. Ti well-documents their software online—and you can always schedule a demo to see the platform in action—but you won't be able to physically try out the software until you make a purchase. The other big downside is that Ti's pricing starts at $50,000, which is extremely expensive in comparison to other well-established learning platforms such as Academy Of Mine, TalentLMS, and other companies. See how Academy Of Mine compares to TalentLMS.
Price Starts At $50,000
According to Capterra, Thought Industries' pricing starts at $50,000. Based on our research and interviews we've held with current and past Thought Industries customers, it's fairly normal to pay upwards of $75,000-$100,000 for an annual contract. That's not to say that their service isn't worth it, but you could run the risk of spending 6 figures on an annual LMS contract only to be unsatisfied with the software.
In comparison, Academy Of Mine has very similar LMS features, software custom development options, well-documented APIs, and a supportive team; the biggest difference is AOM pricing starts at $7,000 a year, and custom LMS plans start at $20,000.
Designed For Specific Use-Cases
The biggest difference between Thought Industries LMS and Academy Of Mine LMS is that Ti is designed specifically for a few use cases:
Customer Education
Professional Training
Professional Continuing Education
If you look at the Thought Industries website, you will see that they emphasize these use cases throughout their platform's features like eCommerce, Branded Training Instances, and more. If your company is going to use the LMS for a use-case that Ti is advertising, it should work well. However, if offering a different type of training, like employee compliance or safety training, then Thought Industries may be too rigid.
At Academy Of Mine, the software is designed to work well for a lot of use cases. Let's say you're delivering accredited training to individuals or companies. AOM's software includes course timers, to track how much time learners are spending on activities, and there are many restrictions admins can add to the content to prevent learners from skipping ahead in a course. In addition to LMS features for Continuing Education, Academy Of Mine has plenty of other features for use cases that involve selling training, such as course-catalog creation, financial reporting, selling training to individuals or in bulk, and more.
Limited integrations
The Helium partnership that Thought Industries advertises on its website allows software developers and designers to build and deploy virtually any type of learning experience. The thing is if you're looking for already installed integrations, Thought Industries doesn't support as many integrations as Academy Of Mine.
For example, Thought Industries LMS has a Zoom meetings integration for virtual instructor-led training; Academy Of Mine integrates with Zoom, Microsoft Teams, GoToWebinar, GoToMeeting, and more! If you're looking at Ti and prefer Zoom, you could convert your webinars into asynchronous courses, but we don't recommend revamping your whole training program to migrate LMSs.
Here is a list of the integrations that Thought Industries offers out of the box:
API
Single sign-on (SSO)
Webhooks and SFTP Transfers
Zapier
Zoom Meetings
Google Analytics & Tag Manager
Eloqua
Hubspot
Totango
The Thought Industries' headless software and APIs make building on top of the software easy for developers; Academy Of Mine connects with more software out-of-the-box, and the platform is easy for non-technical teams to customize.
Specialized Software May Be Too Rigid For You
Every LMS has pros and cons, but this is not an excuse for a piece of software being too rigid. That's why we always recommend choosing customizable eLearning software so you don't outgrow the platform. Thought Industries is great if you have a large budget along with a technical team willing to write code and redesign the LMS if needed. The software may also work great if your company uses the platform exactly how it was designed; if neither of these scenarios sounds like you, Thought Industries may give you issues.
In comparison, Academy Of Mine is designed to work well for a wide range of customers, and it's designed to be intuitive for admins and learners right out of the gate. Additionally, if your company needs features that Academy Of Mine doesn't include by default, our tech team will do their best to build them for you!
Advantages of the Academy Of Mine LMS
Affordable Pricing Plans For Everyone
At Academy Of Mine, we understand that some customers don't need a complex or highly-customized eLearning platform, and that's why we offer a few different pricing plans:
Essentials – $599
Professional – $999
Enterprise – (custom pricing for highly-customized platforms)
Admittedly, a lot of customers enjoy our LMS and service because of how much our team is able to customize the platform for them. That's not to say that our core product isn't great, because most clients would agree that our software is equally as user-friendly and capable as most LMS competitors' software. Where Academy Of Mine thrives more than other LMS providers, is in custom development needs and bringing a customer's vision to life through customization.
Custom eLearning Software Built For You
If your company is looking to build an eLearning platform but doesn't want to write code and do all of the technical work, Academy Of Mine is perfect for you. Academy Of Mine is unique because our system is clean and powerful out-of-the-box, but you also have the option to ask our developers to customize your system to your user base. For this reason, we have many clients saying things like, "When we found AOM we were pleased to have finally found a platform and team that was as innovative as our concept."
Our approach to custom development starts with our proprietary software—then we customize features and make changes to the platform based on your needs. This is an advantage for most customers because building software from the ground up can take at least 6-12 months and run your pockets dry. Even if you have time and money to blow, building eLearning software requires specialized developers; if you rush through software development on open-source technology, you will create a mediocre eLearning platform that's filled with security risks and bugs.
If you have a team of developers ready to customize your eLearning system with javascript, CSS, and other code, then Thought Industries is more flexible than AOM. On the other hand, if you want to build your dream LMS, without doing any technical work then Academy Of Mine is the best option for you.
SCORM Reporting
In Academy Of Mine, customers can monitor learner performance and engagement with training through a variety of metrics. The Academy Of Mine LMS lets you report on learning-related activities happening in natively-built courses and SCORM courses uploaded into the platform.
Here are some of the learning-related activities you can track with Academy Of Mine:
User course progress
Scores earned by a learner or group of learners
Answers submitted by a learner or group of learners
Certificate history and status
Time spent in a course
Engagement levels
Date and time last logged into the platform, and more
The Academy Of Mine LMS reporting features are very similar to Thought Industries, but our SCORM reporting is more advanced. Unlike Ti, Academy Of Mine currently doesn't offer the option for customers to build custom reports but we're going to bring that into our core product soon.
User-Friendly eCommerce
The eCommerce features in Academy Of Mine are designed to help your company monetize eLearning at an affordable price. With Academy Of Mine, you can sell courses and webinars online with our customizable landing pages, or by connecting them to your own eCommerce site.
Details about Academy of Mine eCommerce pages:
Start from a template or design a course catalog and landing pages from scratch
Integrate with your own eCommerce site instead of using our page builder
100% White labeled
Accept payments using the most popular payment gateways
Offer free courses or free trials
Sell training in bulk (B2B training)
Fully customizable landing pages are included with all pricing plans.
Reliable LMS From A Supportive Team
While we may not have the most powerful LMS to hit the market, we back our platform up with support that guides you through every step of the way and is willing to shape your software for your business. You can look through our customer reviews to see that our clients love the customer support and custom software development options at Academy Of Mine!
An LMS That Grows With You
The last thing your company needs is a learning management system that isn't adaptable and begins causing issues when your organization scales. At Academy Of Mine, we know that most ready-made LMSs are going to cause new issues as your organization grows, and that's why we're flexible with customizing your software as time goes on.
Here are some signs that you've outgrown your LMS:
Maximum users uploaded to the LMS
It's taking too long to load courses for learners
The platform is crashing a lot
Your LMS isn't supporting all of your training and L&D needs anymore
The LMS isn't customizable
We find that many customers prefer working with Academy Of Mine versus other LMSs because our developers can tweak and improve different features as your organization's needs change. Not to mention, we give clients tons of space to upload content and active users in the system.
How much storage and active users do you get at AOM according to different prices?
Essential: 250 active users and 500 GB of storage (up to 25 GB of SCORM).
Professional: 1,000 active users and 1TB of storage (up to 150 GB of SCORM).
Enterprise: Fully customizable!
Disadvantages of the Academy Of Mine LMS
Software Is Not Headless
Unlike at Ti, Academy Of Mine isn't as flexible in terms of customizations being made by your tech team. We do provide you with extensive API documentation to see how our software works under the hood. That said, our software isn't created for developers to be able to completely redesign the platform (at least not without our help). Note: headless software is really only important if you're interested in highly customizing a platform, but you want your tech team to design and write the new code instead of getting help.
No iOS And Android Apps
Although the Academy Of Mine LMS is fully compatible with mobile and tablets in an internet browser, we don't currently have a mobile application. For example, if learners wanted to log in to the LMS with a tablet or phone, they would have to open their internet browser (Google Chrome, Internet Explorer, etc.) and then navigate to the LMS website to log in.
We've made sure that all types of course content, such as PDF browsers, SCORM courses, native-created courses, and other content supported by Academy Of Mine function and display normally on mobile devices. Mobile apps will be coming out soon.
Which LMS Is Best For You?
The two biggest differences between Thought Industries and Academy Of Mine are price and custom development options.
Thought Industries is more customizable if you prefer to have your own development team write the code, but their annual prices start at $50,000. Alternatively, Academy Of Mine plans start at $7,000 annually and the company is well-known for customizing the platform to meet your needs!
If you like our prices at Academy Of Mine and want to learn more about our software and services – let's get to know each other on a call.