eLearning, eLearning As A Business, Learning Management System
Is it Better to Buy or Build Your Own eLearning Platform?
8 min read
|
updated Sep 23, 2022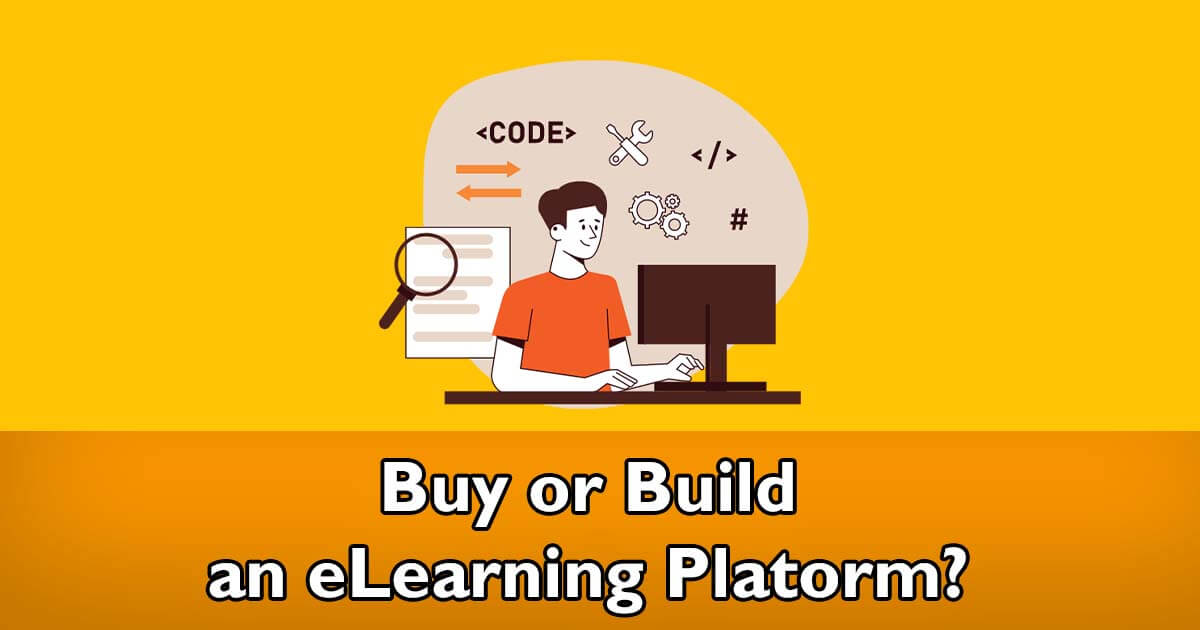 So you've decided that you need an eLearning platform but aren't sure whether to work with an established eLearning provider or to build the platform yourself. Ahh, the pressure! Don't worry, it's great that you're already looking at the differences between building and buying an eLearning platform. Building your own eLearning platform gives you the ability to customize it as much as you'd like, but licensing a platform is much more affordable, quick, and reliable. Ultimately, there are pros and cons to each option.
That's why in this article, we're going to explain all the differences between building an eLearning platform from the ground up and purchasing one.
Should you be building your own eLearning platform?
Developing effective software is time-consuming and costly. One reason you may be considering building your own eLearning platform is that you have specific requirements. However, the level of control and ownership you get from building your own LMS or other eLearning platform is a double-edged sword. Before developing your own eLearning platform from scratch, you should consider how expensive developing software can be.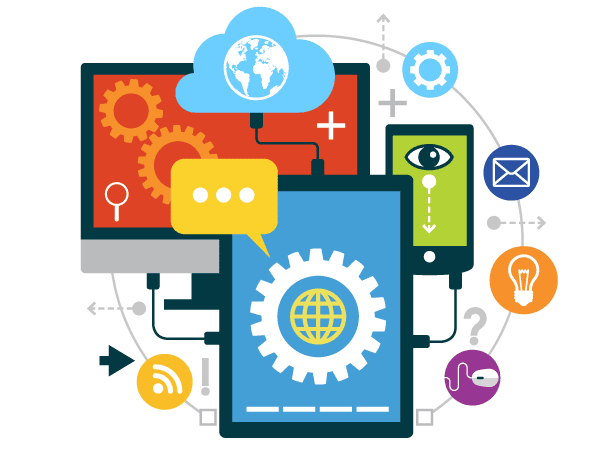 Having your own custom-built eLearning platform does have its benefits. For example, you can customize your eLearning platform as much as you like when you build it yourself. Here's another bonus – when you develop a software platform in-house then you retain 100% control over the platform's features and integrations. All of this freedom comes at a price though: you will need a tech team to develop, maintain and update your eLearning platform. Building a legit Learning Management System (LMS) like Academy Of Mine is going to take you at least 12-18 months, and this timeline assumes that you have an experienced tech team.
Even if you have the money and experience to develop your own custom LMS, there are still some other benefits to avoiding this. For example, working with an established eLearning provider ensures that your training platform is stable and safe from bugs, security threats, and crashes! For all these reasons, we usually recommend that customers purchase an LMS or another eLearning platform from a provider rather than build one themselves.
Now that you know what to think about before developing your own eLearning platform, let's talk about how much it costs.
How much does it cost to build your own eLearning platform?
The initial development phase of building your own eLearning platform can cost anywhere from $30,000 to $120,000. Those price estimates don't include server hosting and ongoing maintenance costs. When you build your own LMS, bugs, crashes, and any other unexpected errors would be your responsibility to fix. Not to mention, that you will have to self-host your platform.; we don't recommend building your own eLearning platform unless you have a dedicated and experienced team of developers, alongside a large budget.
The upfront start-up costs when working with an LMS provider are cheap in comparison to developing the platform yourself. Another benefit to licensing your platform from an eLearning provider is that you can expect to pay the same amount of money monthly/annually after your platform is set up. Not to mention, that platform migration and setup, on average takes 4-6 weeks with an LMS provider. That's in comparison to the average 12-18 months it takes to develop your own Learning Management System. If you're looking for a convenient and cost-effective way to manage eLearning then you should work with an LMS company like Academy Of Mine (AOM).
Essentials plan for $600 per month.
Professional plan for $899 per month.
Enterprise plan for clients that want to build their own LMS and have a dedicated account manager (pricing is customized per client).
Now comes the question: "If I'm building an eLearning platform, do I build it internally or get help from freelancers and an agency?".
Building an eLearning platform internally Vs. hiring freelancers or an agency
If you're leaning towards the side of custom-building a proprietary eLearning platform, you need to decide who's developing the platform. If you have a tech team for it, you can develop the software internally; if you don't have the resources to develop an eLearning platform in-house, you will need to hire an agency or team of freelancers to help!
Let's compare your options for developing an eLearning platform:
Developing the eLearning software internally
If you have a team of developers then building the eLearning platform internally is possible (just make sure they have experience developing ed-tech software). Building an eLearning platform in-house is good if you want to work closely with developers during the job. On the downside, this option can be super expensive, especially since your tech team will have to neglect their old responsibilities to focus their time writing code for the new training platform.
Hiring freelancers to help you build an eLearning platform
If you don't have the budget to hire an agency—and you don't have an internal tech team—hiring freelancers is an option worth considering for developing an eLearning platform. Just remember that you're going to need at least 3-5 software developers (ideally with a lot of experience building ed-tech stuff). Since freelancers usually work alone, this is why we strongly suggest you work with an agency instead. If you work with an Agency, at least you will know that your work is in good hands.
Two big challenges with freelancers are that they're usually in different time zones and are committed to multiple client projects at a time. If you don't have the bandwidth or experience to remotely manage a team of freelancers, then we recommend avoiding this option for developing an eLearning platform. We know multiple customers that used to manage eLearning with open-source software that was developed by freelancers. Every one of these customers is happier now that they're using AOM.
Working with an eLearning agency
The best part about building your eLearning platform with an agency is that they have experience and know what they're doing. Will they cost you a pretty penny? Absolutely! That said, if you're going down the route of developing a Learning Management System (LMS) from scratch, then do yourself a favor and work with an agency.
Cost of maintaining your built eLearning platform
It's important to understand that maintaining your eLearning platform is going to cost you money, in addition to the upfront costs of building it. These costs may include server maintenance, hosting, and troubleshooting of bugs. Of course, custom-built integrations and the cost of third-party tools have to be considered while maintaining an eLearning platform as well. Even just organizing your eLearning platform can take a lot of time.
Another thing to consider before developing your own eLearning software is how quickly technology becomes outdated. This means that once your eLearning platform is built, it's only a matter of time before it needs an update. The beauty of purchasing an eLearning platform is that the updates will be handled for you, so you can focus on the training.
Purchasing an eLearning platform from an LMS provider
Purchasing an LMS from a provider is efficient and cost-effective. If you find the right eLearning provider—a company with excellent support and whose software has most of the features you need—you will be able to thrive at managing eLearning. It's a misconception that your eLearning platform needs to have every single feature you're interested in. At Academy Of Mine, we do custom-develop features for clients, but many times the features that a customer thinks they need are simply not necessary. It's important to work with an eLearning company that listens to your needs and talks you through your options before rushing into custom platform development.
We aren't saying that you should purchase a platform that's missing core functionality related to your business. I.E., if you need a platform with an authoring tool to create courses natively, then there's no way around that. Just be flexible; you could spend ten times the money trying to develop a proprietary eLearning platform rather than purchasing one, only to find out that it doesn't work.
Here are some pros of purchasing an eLearning platform:
A well-maintained and reliable platform
When your eLearning platform is provided to you by a company like Academy Of Mine, then you have a tech team dedicated to maintaining it. We're not going to edit or create courses for you, but we are going to host the LMS on a strong server, backup data on a separate server, and ensure that your platform is running smoothly 24/7. It's easy to take platform maintenance for granted, but until you self-host an eLearning platform yourself, you won't understand how much of a luxury it is to have a SaaS LMS company do this for you.
SaaS eLearning platforms are affordable
Developing your own custom eLearning platform can cost anywhere from $30,000 to $100,000+ and will take at least 12 months to complete. Of course, that's if your team can successfully build an eLearning platform. Alternatively, you could start creating self-paced courses and managing eLearning for $600 a month with Academy Of Mine; the pricing plan we just described is called the Essentials plan and allows you to have 250 active users in the system and you get 500Gb of platform storage.
Manage eLearning is straightforward
Whether your company's new to eLearning or its been using eLearning for a while already, managing courses and training webinars online is simple with a SaaS LMS. At Academy Of Mine, if you're coming from another LMS, we help with platform migration. AOM customers also have a lot of options for support, like live support, extensive help documentation, and video tutorials on how to use the platform.
Get your eLearning platform up and running fast
Working with an eLearning platform provider like Academy Of Mine, you can upload your content, create courses, and onboard users quickly.
Here are the formats that you can upload into AOM to help create courses:
PowerPoints
PDFs
JPEGs, PNGs, and other pictures
Mp3s and Mp4s
SCORM courses
Of course, you can also create a lot of eLearning content natively with Academy Of Mine – such as reading and writing assignments, group discussions, quizzes and tests, and more.
Here are some cons of purchasing an eLearning platform:
Limited to the platform's features and integrations
When you license an eLearning platform, the pre-packaged software you're getting may not have all of the features and integrations that you want. That said, make sure to consider companies like Academy Of Mine and Talent LMS if you want a SaaS platform that's customizable. Truthfully, no LMS or other learning platform is going to be absolutely 'perfect', but some providers will have a better solution for you than others. That's why it's important to work with your team and not rush through the different eLearning options while choosing an eLearning platform.
You are one of many clients
The amount of time it takes for your SaaS provider to answer your customer support questions and provide you with technical solutions varies. For example, you would assume that by working with a bigger company you're going to get responses from customer support quickly, but that isn't always the case. One thing's for sure is that Academy Of Mine's customers appreciate how fast they get effective responses back from the customer support team.
So should I buy or build an eLearning platform?
The answer to this question depends on what you need out of an eLearning platform and what resources your company has. In most cases, only large and funded enterprises will make sense of developing their own proprietary eLearning platform. Meanwhile, the majority of companies offering training online will find that developing their own software is far too expensive, risky, and time-consuming.
The good news is that at companies like Academy Of Mine, you pay an affordable monthly rate to use an eLearning platform that's customizable. The AOM platform has a REST application programming interface (API) that allows you to connect with other apps not already integrated into our system. Additionally, we offer Enterprise plans that are designed for companies that want to go in-depth on customizing how our platform is built by default; essentially, you start with the Academy Of Mine platform and then we build out the other features and functionalities that you need.
To learn more about the Academy Of Mine LMS, check out what our platform gives you.