Academy Of Mine As An Alternative, Learning Management System
A Better Alternative to LearnUpon for Small-Medium Businesses
6 min read
|
Sep 29, 2022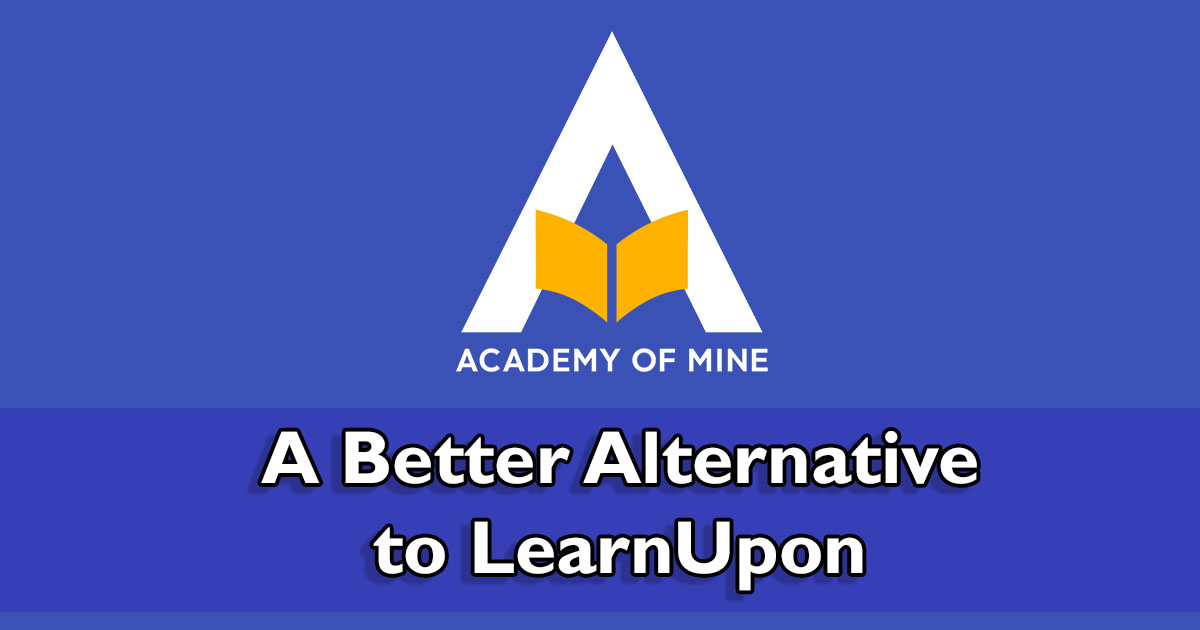 So you're considering a new Learning Management System and LearnUpon seems like the one for you.
There's no denying that learnUpon is a fine LMS, but is it the best LMS for SMBs or those who need to use training portals? There's a better alternative to LearnUpon, and it's called Academy Of Mine (AOM); AOM is a cloud-based LMS that is very similar to LearnUpon, but at a more affordable price, and with more flexibility when it comes to portals and how many active users you can have.
Table of Contents
Advantages of LearnUpon
eCommerce
If you are selling courses online using eCommerce, LearnUpon has a built-in eCommerce solution that you can use to sell training on the platform without integrations. With LearnUpon, admins can create a branded storefront to sell courses and then can track sales inside of the LMS. Not every LMS has an out-of-the-box eCommerce solution like this, but Academy Of Mine does.
In both LearnUpon and AOM, customers have the option to redirect users from their Shopify website instead of using the out-of-box eCommerce solution. With LearnUpon, the payment gateways customers can use to purchase training are PayPal and Stripe. Academy of Mine supports these payment gateways, along with Braintree and others.

Gamification
In LearnUpon, users can earn points and badges for completing different activities and learning achievements. Users in LearnUpon can also compare how they are performing with other learners, using Leaderboards. Academy Of Mine has the same type of gamification, but LearnUpon's gamification is a bit more user-friendly and fun. LearnUpon also offers social sharing on Twitter and LinkedIn. Meanwhile, AOM only supports social sharing on LinkedIn.
Translations
With LearnUpon, you can translate to 20 other languages on-demand. Although Academy Of Mine only lets Admins translate the site to French, Spanish, and English on-demand, you can ask your customer success team to install different languages. For example, Academy Of Mine just translated this customer's LMS site to Swedish.
Mobile app
If having a mobile app is a requirement for your LMS, then LearnUpon or TalentLMS could work for you. Academy Of Mine is completely mobile and tablet responsive, however, it doesn't currently support iOS or Android with a mobile app.
Disadvantages of LearnUpon
Restrive pricing based on User count
The cheaper LearnUpon plans are very restrictive in terms of how many active users you can have on the platform. For example, their lowest plan only lets you onboard "Usually 50 to 150 users" active users. As a comparison, the lowest Academy Of Mines gives you room for 250 active users. LearnUpon doesn't advertise its prices publicly – but we think that the LearnUpon plans start at $1,000 per month. Meanwhile, AOM plans start at $599.
Limited amount of Portals
LearnUpon is very restrictive of how many active users you can have in your LMS – they're even more restrictive of how many portals you get to use with the lower plans. Here are the portal options LearnUpon gives you:
$999 monthly plan: 2-3 portals
$1699 monthly plan: 3 portals
Custom pricing plan: we think this gives you unlimited portals
Regardless if you're using portals for training internal teams or to train customers and partners, LearnUpon's pricing is restrictive in terms of what features you get. As a reference, the Academy Of Mine Essentials plan ($599 per month) gives you 25 portals and room for 250 active users in the main portal. The functionality of LearnUpon portals seems very similar to the portals we offer at Academy Of Mine, just at a more expensive price.
Webinar integrations, SSO, and other features are not included in all plans
LearnUpon prioritizes bigger companies that are spending thousands a month with their LMS. If you're a smaller company looking to host live-virtual training, use SSO, and more, Academy Of Mine's $599 plan is perfect for you.
Here's a list of features that LearnUpon overlooks in their lower plans:
SSO and API access (Starts at $1699 monthly)
Language translations (Starts $1699 monthly)
Webinar integrations (Starts at $1699 monthly)
Salesforce integration (only included in the custom pricing)
White labeling (only included in the custom pricing)
Not a good fit for small on-premise solutions
Here is something that LearnUpon mentions on their Pricing page: "LearnUpon will not be a fit for companies looking for a solution for less than 50 users, an on-premise solution, or those requiring HIPAA compliance to process health and/or sensitive personal data within LearnUpon's LMS". Realistically, this isn't a weakness for LearnUpon since Academy Of Mine isn't HIPAA compliant either; AOM has many healthcare clients, but we mainly just store names and course progress for them (no sensitive data).
Advantages of Academy Of Mine (AOM)
Tons of B2B Portals—no matter the plan
Academy Of Mine customers with the Essentials plan ($599) get 25 portals. AOM portals are branded training environments for your customers to train in, and for them to report on their customers' progress and engagement in training courses.
Other features that are included in AOM portals:
Upload learners into a portal in bulk or individually.
Attach a logo to each Portal.
Portal admins can create a referral code for users to self-enroll in courses.
Track your customers' progress using reports: quiz scores, time spent in a module, engagement levels, etc.
Enroll thousands of users at a time in courses.
Send announcements, manage user certifications, and more!
Start with 250 active users
The Academy Of Mine Essentials plan lets you have 250 active users. Just to remind you, Learn Upon only gives you 50-150 users and 1 portal with their cheapest plan. The Essentials plan at Academy Of Mine also gives you 500GB of storage (up to 75GB for SCORM).
Here's a more in-depth look at how many active users, portals, and storage you get with the Academy Of Mine plans:
$599 plan – 250 active users, 25 portals, and 500GB of storage.
$999 plan – 1,000 active users, unlimited portals, unlimited storage.
Custom development plan
From a small feature and design tweak to a very custom-developed LMS, Academy Of Mine has a reputation for exceeding customers' expectations with custom features. Custom development is important if you want a customized eLearning solution, but you don't want to build and host a platform yourself.
Unless you have at least $30,000 to build your own proprietary LMS then having Academy Of Mine customize our platform for you is the most realistic solution. Sidenote: LearnUpon does offer an enterprise plan, but we don't know much about it.
Highly effective and quick customer support
Customer success and tech support are a given with any SaaS provider. However, not all companies treat their customers the same. We aren't saying that LearnUpon support isn't good. We are however telling you what we know – which is customer support and customer success is one of our strengths at Academy Of Mine support. Seriously, see what our customers have to say!
Support for in-person Instructor-led training
A recent feature that we built at Academy Of Mine is Instructor-Led training (ILT) for in-person classes. This feature allows customers to manage in-person training courses on the cloud-based platform; so how does the feature work?
Here is an overview of the in-person ILT feature at Academy Of Mine:
Create a course and assign an instructor to it.
Define the location of an in-person class.
Advertise the course on your eCommerce site.
Sell tickets to the course (help learners register online).
Keep track of class attendance in the LMS
Assign certifications to learners, and more.
Based on the LearnUpon feature list, they also offer in-person Instructor-Led Training, but we couldn't find enough information on this to explain more.
Disadvantages of Academy Of Mine
Limited Gamification
The Gamification in Academy Of Mine is not as thorough as LearnUpon's Gamification. In AOM, you can automatically award learners points after completing activities, and then learners can compete with others based on how many points they've cumulatively earned, via a leaderboard. With Academy Of Mine, you can also award visual badges to learners after completing an activity or event in a course. All of the Gamification features in AOM are included in LearnUpon, but our feature is currently less game-like and animated than LearnUpon.
Less on-demand language translations
Out-of-the-box, Academy Of Mine only translates from English to Spanish or French on-demand. When we say on-demand, we mean that you can go into the settings of your LMS and click one button to translate your whole platform (which impacts all users on the platform). All things considered—if you want to translate your site to a language that we don't support on-demand—we're happy to custom translate it for you.
For example, https://meritmind.aomlms.com/login just had their site translated to Swedish; Academy Of Mine can translate your site to any language if you provide us with the translation. When we translate your platform to another language, we can make the new language translation a feature you can toggle on and off on-demand.
Why you should choose Academy Of Mine
Academy Of Mine is more affordable and customizable than LearnUpon. Not only that, but we also don't force you to purchase our most expensive plan just to have a decent active user count or be able to use a few portals. Ultimately, which strengths and weaknesses are important, completely depends on you.
If working with a smaller SaaS company with an affordably priced and effective Learning Management System interests you, give us a call!