Learning Management System, Online Training System, Professional Training
How to Convert In-Person Training to Online Training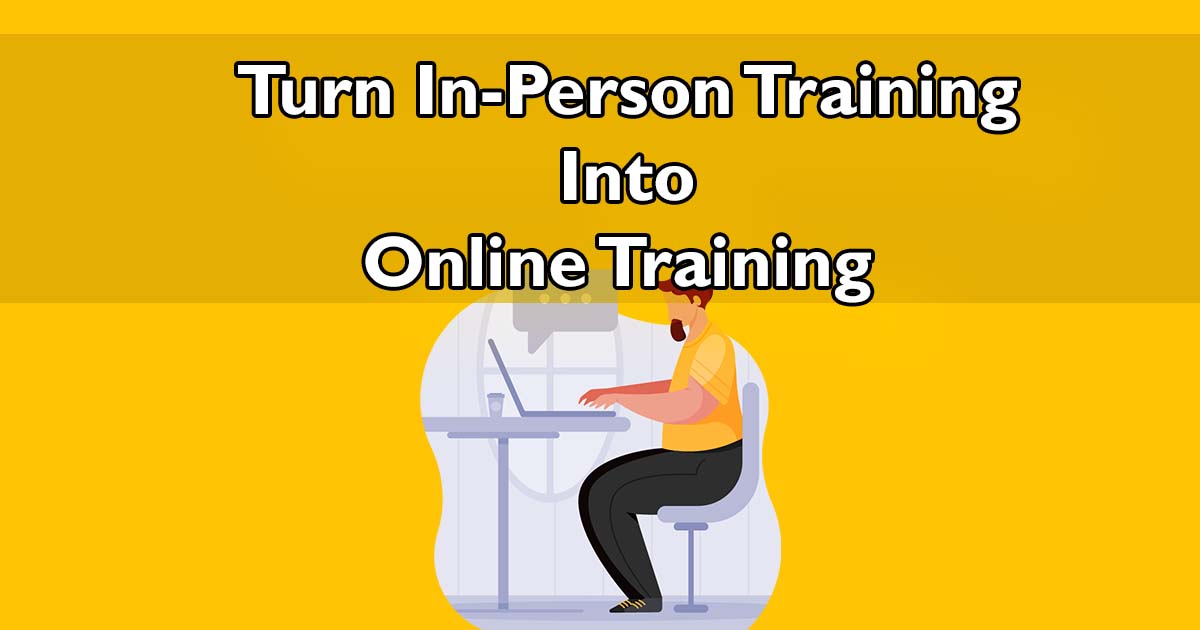 eLearning can help increase the amount of information a student retains up to 82%. This applies to not only students in k-12 schools and universities, but also to adults taking courses for credits, certifications, and to advance their professional skills.
Since online training is both more popular and important than ever right now, it's a good time to consider converting some of your in-person training to online courses. Online training is more cost-effective and scalable than requiring customers, employees, and partners to be present in a physical location for training. This doesn't mean you have to cancel in-person training altogether, but reducing the amount of training held in person will be beneficial to your company.
On the bright side, there's a way for you to easily convert in-person training to online training, and in this article, we're going to show you how to do just that.
Common online training mistakes to avoid
Rushing through the design of your Online Training Course
The last thing you want to do is rush through converting your in-person training session into an online training course that isn't effective. If you don't have instructional designers on your team, or it's just you tasked with the job and you lack project management and instructional design experience, you may want to ask for help from experts.
Online training courses are made of different sections, kind of like chapters in a book. The difference is, that sections in a self-paced training course are made up of different activities like worksheets, videos, and quizzes, as opposed to most books which all have paragraphs of words in each section. While building out a training course, you will need to know how long each section needs to be and what activities and assignments should make up these sections. In addition to working with a company that provides you with training software like Academy Of Mine, it's worth considering working with an instructional designer to help convert your first in-person training to online.
Not understanding the purpose of an online course
There are pros and cons to both in-person training and online training. Before you begin transforming your in-person training program into an online training course–ask yourself: what's the learning objective?
If your main goal is to convert a 2-hour non-accredited workshop into an online training course that runs on its own, then your main focus should be efficiency. Since your workshop isn't accredited, there are fewer loopholes you have to jump through to run it as a course online. Alternatively, since you're looking to automate the majority of training, you will want to make sure the tool you're using to manage and deliver training online has automatic grading and built-in reporting tools that keep track of learners' grades, attendance, and certifications.
There's a lot to be said when it comes to understanding the purpose of an online training course. What's important to remember is why you're converting in-person training to online training in the first place, so you don't get carried away designing the course in your platform.
On a similar point, remember that in-person training and live virtual training (webinars) are not 1 to 1 equals with an on-demand training course. For example, if you just recorded 8 hours of a training seminar and made it available to watch online afterward, that wouldn't be a course, it's just an 8-hour-long recording. For all of these reasons, converting face-to-face training to online training takes time and involves a lot of thought. As we mentioned earlier–consider working with an instructional designer if you're completely new to this.
Trying to make your online training course for too large of an audience
Professional training, continuing education, and all other types of training are going to be more effective if they're specifically designed to cover one topic. Even if a training course is non-accredited, it's important to customers, partners, and other stakeholders enrolled in the training that the course is focused on one topic and really goes in-depth on that.
Imagine being a dentist taking one of your yearly CE courses to maintain your licenses and all of a sudden a section comes up about CPR, that would be ridiculous! We understand this is all probably common sense to you, but the point is, if you're converting a large in-person training event to online training, consider breaking the training up into multiple courses. Alternatively, if you try to squeeze too much information into a training course, you may end up watering down the training experience for every learner taking the course.
Last but not least, if you're selling training courses online, then the expectation for delivering specific and effective training will be even higher! If you're using a reputable online training system to create and deliver training courses like the Academy Of Mine LMS, this is all straightforward.
Four Steps to Converting In-Person Training to Online Training
Now that we have covered what not to do while converting your in-person training to online, let's talk about 3 steps to completing the process correctly.
1. Define the online course's purpose
One of the biggest advantages of an online course versus in-person training or a webinar is that it's accessible indefinitely. Additionally, in comparison to a recorded webinar, it's interactive and has a lot of different activities and assignments for learners to go through. Self-paced training courses can benefit professionals who sign up for them as long as they have access to them. With that said, not all training courses have the same learning criteria.
Let's say your online training course is about sexual harassment. If this is the case, you will most likely want to make your training course as interactive as possible, since the issue you're talking about is sensitive. Additionally, to stimulate the engagement of in-person training online, you can use discussion boards to have conversations with everyone in a classroom, host webinars to talk live virtually, and use interactive assignments that keep learners engaged.
The purpose of a training course is completely up to your organization. For example, you know your customers and other audience members who purchase training from you best. What might seem like generic and non-valuable training for some companies offering courses could actually be amazing for your customers.
2. Include various activities and assignments
What makes an online training course fun and interesting is not just the information within it, but how the information is presented. In other words, is your "online course" just a combination of 10 different documents back to back with a multiple-choice quiz at the end of it, asking learners what they learned? If it is, even if those 10 documents are filled with precious training information, it's going to be super boring to go through. Instead, what if you make your training programs have variety, by using videos, interactive activities that are filled with animations, written response assignments, and more?
The type of activities and assignments you can include in your online training depends on the system you're using to create, deliver, and manage the course. We recommend you invest in an LMS (learning management system) to manage training. If you're using the Academy Of Mine LMS, all the technical work like hosting your training online, backing up customer data, and building features to meet your company's training needs is already done for you. This means, using the AOM platform, you just have to combine your training materials into modules to convert online training into a formal self-paced training course.
Different activities have different strengths and weaknesses in an online training course. For example, multiple-choice quizzes are great for testing what a student has learned. But if you want a student to demonstrate how they arrived at an answer–rather than just clicking on the correct answer from a list of possible choices–a short answer written response quiz makes more sense. Another example would be discussion boards, these are great activities for boosting engagement in a training course by creating a conversation that includes all learners and instructor/s from a course.
3. Engage Learners
Although online training courses can run themselves 24/7, it's still important for instructors of a course to engage with learners as much as possible. This could mean anything from sending a message to learners that have been absent from a course to having automated emails sent to learners whose responses to a written assignment were just graded. How you're engaging customers, partners, and employees in training is less important than the fact that you're engaging with them regularly.
As opposed to in-person workshops and seminars, there's much less face-to-face interaction with online training, so any engagement from instructors goes a long way. When your self-paced courses are engaging, learners are motivated and determined to complete their training successfully.
Discussion boards are a fantastic way to engage learners. Discussion boards allow you to pose a question to all learners enrolled in a course and then require each learner to answer the question on their own publicly.
The value of a discussion board is in creating a conversation that includes everyone in a course. Meaning, employees, students, customers, instructors, and any other users involved. Another way you could engage learners in a course is through platform announcements and email notifications. Sending holiday announcements that learners receive when they login to the platform or weekly tips and tricks emails can significantly increase the effort learners put into a course.
4. Take feedback and make adjustments
This last step is not a time-consuming one but is critical to maintaining a successful online training program. Taking feedback from learners and making adjustments to your course will help your training program stay fresh and up to date for new learners. The easiest way to get feedback on a course is by asking learners who just completed the course about their experience. If you're using the Academy Of Mine LMS, then you can attach surveys throughout a course or at the end of one to ask learners questions.
We recommend managing training online with a system that has built-in surveys, announcements, and email notifications so you can automatically get feedback from learners after completing a course. Worst-case scenario, you can manually ask for feedback and make adjustments to an online training course as curriculum changes and updates are needed!
Now that you're prepared to convert your in-person training to online training, see if our platform has the features you need to get started!