Customer Partner Training, Extended Enterprise Learning, Learning Management System, Professional Training
How To Start A Partner Training Program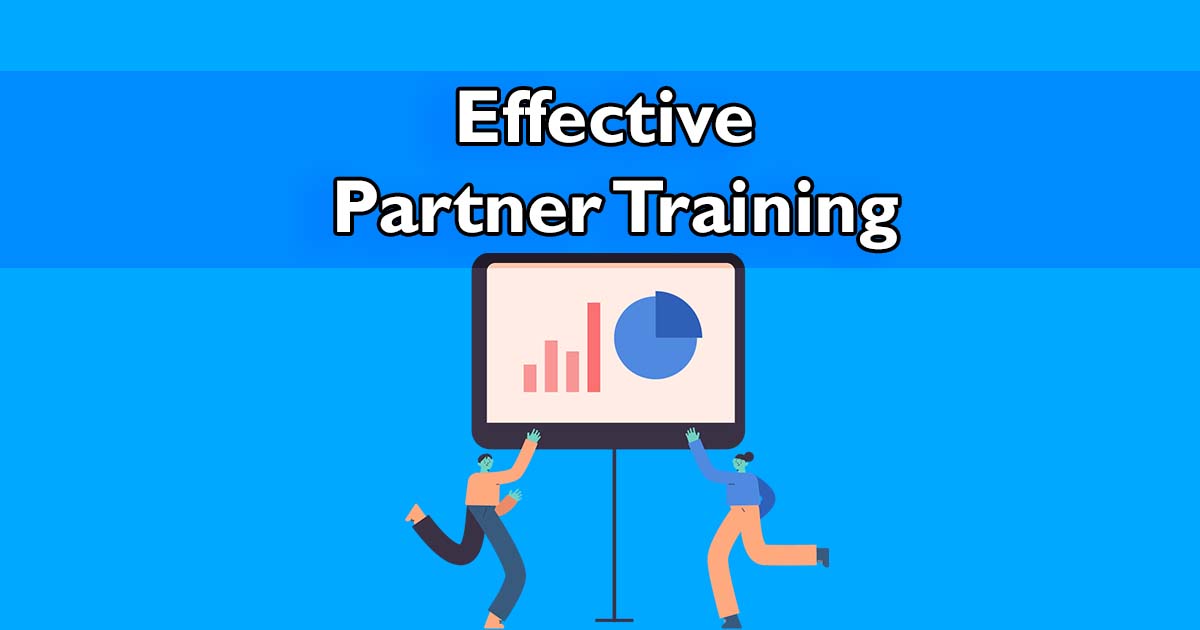 A partnership is like a business marriage, and they're extremely common. So common that 30% of all businesses in the United States are engaged in some form of partnership. Partnerships are created anytime one business owner or company goes into business with another company or individual. Just like any other business relationship, the more parties involved, the more complex maintaining the relationship becomes.
So, how can you maintain relationships with partners and ensure that everyone in business remains happy?
A partner training program!
Lucky for you, in this article we're going to show you why you should start a partner training program, and all the steps you need to take to create and deliver successful training to partners.
What is a Partner Training Program?
A partner training program is a program designed to educate your partners on a product or service they're involved with. For example, if you're in business with a wholesaler, then your partner training program could be focused on sales enablement and product knowledge to help your partner sell your product or service better!
Here's another example. Let's say you're an IT company and you sell employee onboarding software to help SMBs onboard. Instead of selling your software directly to businesses and HR departments, you license the software to a reseller who sells the software for you; in a partnership, your partner needs to be well educated on how your product or service works!
Why Start a Partner Training Program? (Benefits)
Just like long-term customers, you need to be able to communicate and effectively work with your partners for the relationship to last. Using a partner training program is a great way to build trust between partners, increase sales, improve business amongst different teams and departments, and maximize the value of a partnership.
Let's talk about 6 specific benefits you can look forward to while creating your partner training program:
Build Trust
By providing your partners with relevant training courses and activities to engage with, you're showing them that they can rely on you and you want them to succeed. Similarly, it's important to think of your partners' weaknesses and areas in business that need improvement while developing partner training.
Generic training is only going to do more harm than good because you're basically telling partners that you don't value them enough to create a personalized program. Take your time and create something beneficial, and your partners will trust you for a long time.
Create New Revenue Opportunities
Increasing sales and decreasing expenses are two benefits that a great partnership can bring! What if there were other hidden revenue opportunities you could uncover thanks to a partnership though?
For example, let's say you sell online medical training courses to a large healthcare franchise. Instead of stopping there, what if you developed a program so that your main customer (the large healthcare franchise) could resell your training to other healthcare facilities or providers in their network? Of course, commissions would be involved, but just like that, you've created a new and scalable revenue source thanks to a partner channel program!
Increase your Sales
Partner training gives your business partners a better understanding of your products and their use cases. As a result, they can work with or sell your products and services easier. Continuing, partners are going to be more invested in the business and make more purchases from you…it's a win-win.
Here's the proof. Wetland Training said, "AOM has greatly reduced time spent on the "back-end" managing administrative tasks like sales, marketing, and other customer communications."
The curriculum you're following to educate partners can vary based on what skills you're trying to teach (e.g., soft skills vs. practical product knowledge), but the importance of a partner training program remains high, especially if you're trying to increase sales!
Customer Retention
Thanks to advertising, marketing costs, onboarding, and other expenses involved, it costs your business more money to acquire new customers than it does to keep current ones.
Using partner training, you can avoid worrying about always converting new customers by doubling down on important customers and partners already in business with you! You don't have to reinvent the wheel with partner programs either.
Let's say you're hosting a partner webinar on Zoom, instead of hosting the event one time and calling it quits, record the session and then hire a professional to chop the recording up into different instructional materials (text modules, pdfs, short videos, tests, etc.) This methodology allows you to convert a webinar that happens only one time into a self-paced eLearning course that can be accessed by your partners indefinitely.
6 Steps to Train Partners Effectively
Understand Partner Needs
Since your program is all about your partners' success, you need to first understand what their needs are. A wholesaler, for example, might require sales training that teaches how to overcome objections from large clients. However, this type of training wouldn't apply if you're working with retailers.
Here are some ways to familiarize yourself with a partner's needs:
Schedule a call with training managers
Send out a survey to partners asking them what they would like in a program
Ask your customer success manager and employees that work closely with partners about what could improve in the partnership.
Once you understand what your partner is struggling with, only then can you accurately solve their problem.
Define Goals with KPIs
Key Performance Indicators (KPIs) are the metrics your company can use to see if a training program is working. For example, if your partner program is about product knowledge, then you could compare test results that employees are receiving on a product knowledge quiz before and after completing a training program. In addition to considering test scores, you could monitor how much time partners are taking to complete a quiz. Both of these KPIs would give your company a good understanding of whether your partners are improving their product knowledge or not!
The KPIs mentioned above are easiest to measure using an online training system, but you can also keep track of these during in-person training.
Invest in a Learning Management System
There are a variety of options when it comes to how you're going to deliver partner training. If you are only training a handful of partners then there's always the option of training partners in a classroom/office with worksheets and physical materials and instructors.
Then again, if you have a lot of partners and are looking for an international solution – Learning Management Systems (LMSs) are the only option.
LMSs are built for creating, delivering, and managing eLearning and training and development programs online. We recommend going with a SaaS LMS provider so that your platform is hosted, backed up, and maintained by professional developers. Additionally, since your LMS is based on the cloud with this type of provider, none of your partners or admins managing training have to install or store anything on their computer's hard drive.
If you are unfamiliar with LMSs, we made this article for you – to explain all the benefits and features of an LMS!
Design Instructional Materials and Build The Program
Now comes the fun part: It's time to use your LMS to create training materials and courses.
Whether your team is creating training materials from scratch or you are outsourcing to an instructional designer, keep your partners' goals and the KPIs used to reach these goals in mind.
What type of curriculum are you going to use for your partner training program?
Multiple-choice tests and quizzes
In-person training seminars
Interactive eLearning modules (SCORM)
Videos
The curriculum and different content formats your training program consists of should align with a partner's needs and preferred KPIs.
Measure Results and Make Adjustments
Training your partners should be an ongoing initiative just like training employees or any other audience. In addition, once you onboard partners into a program, they can begin training in the LMS immediately. Even better, if you're using self-paced eLearning courses, partners can work through training by themselves with just a computer or smart device connected to the internet.
After partners have begun training and results are starting to come in, do these: look at the KPIs, take note of any issues you're noticing, give partners who've completed a program a survey asking for feedback, and then make the adjustments necessary.
In Conclusion
Conducting great business is all about finding the right people – this includes employees, customers, AND partners! With that in mind, take your time while building a partner training program and make sure if necessary, you work with professionals outside of your organization to put the pieces together.
If you're ready to create a phenomenal partner training program, let's get started today and talk about how our LMS can help you!