eLearning Software, Extended Enterprise Learning, Learning Management System
LMS vs. eLearning Platform – What's the big difference?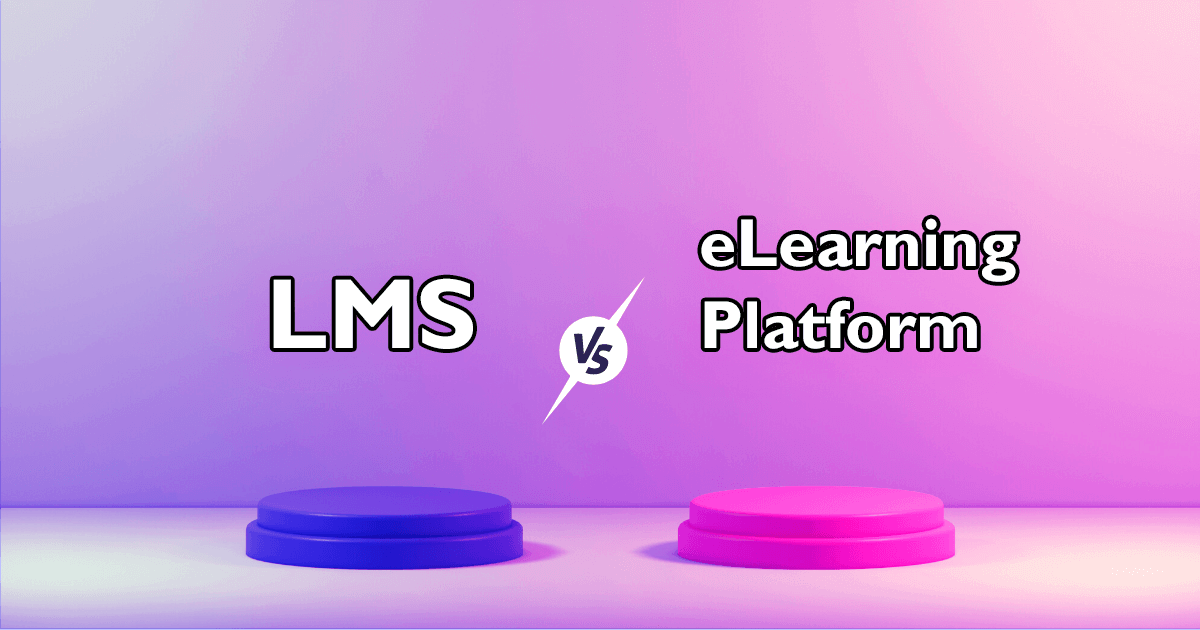 There are many ways to help employees train their skills and learn about company culture, but eLearning is the most efficient of them all. To deliver and manage eLearning, you need an eLearning platform.
There are different types of eLearning platforms: some are great for selling courses online, and others are designed to deliver corporate training at scale. In this article, we're going to explain the difference between a basic eLearning platform and a more advanced one such as a learning management system.
Table of contents
What Is An eLearning Platform?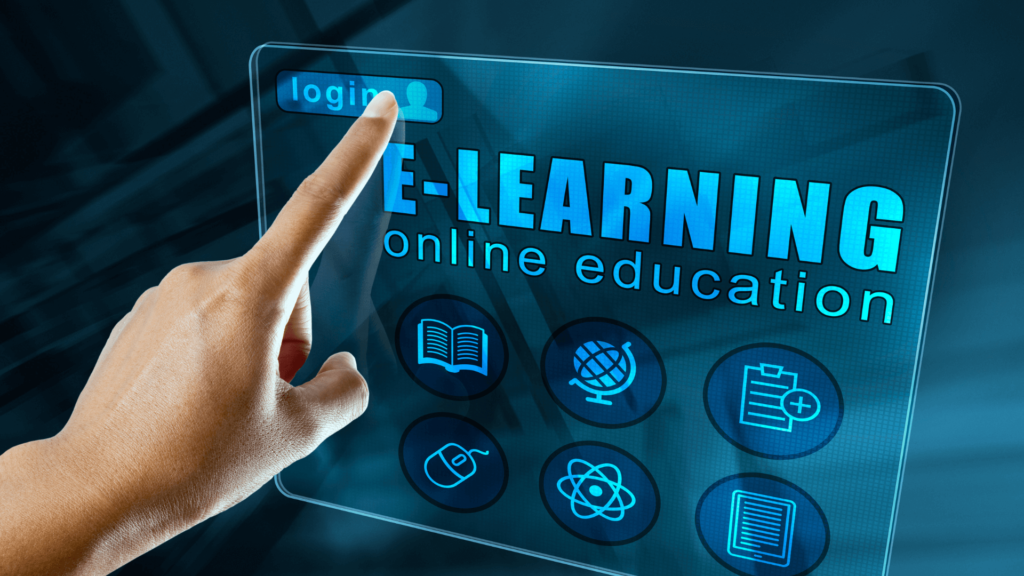 An eLearning platform (also called an eLearning portal) is a base for users to access various resources and learning activities online. The goal of eLearning is to help people train or earn some type of education online That said eLearning can happen in a variety of ways:
Regardless of how the learning curriculum is being taught, you will need an eLearning platform. There are many different types of eLearning platforms, and all of them have different features and capabilities.
Here's a list of features that a basic eLearning platform has:
Course creation
Upload video, PDF, and other digital content to a course
eCommerce (sell courses online)
Use a custom domain
Integrations (limited)
eCommerce Reporting
Store user information and data on the cloud
There is no universal definition for eLearning portals, but the general consensus is that these types of platforms are a base for online learning. However, for training multiple audiences, managing complex training for a growing business, and tracking user progress, a learning management system (LMS) is the specific type of eLearning platform you need. Speaking of LMSs, let's talk about those next.
Learning Management Systems (LMS) vs. eLearning Portals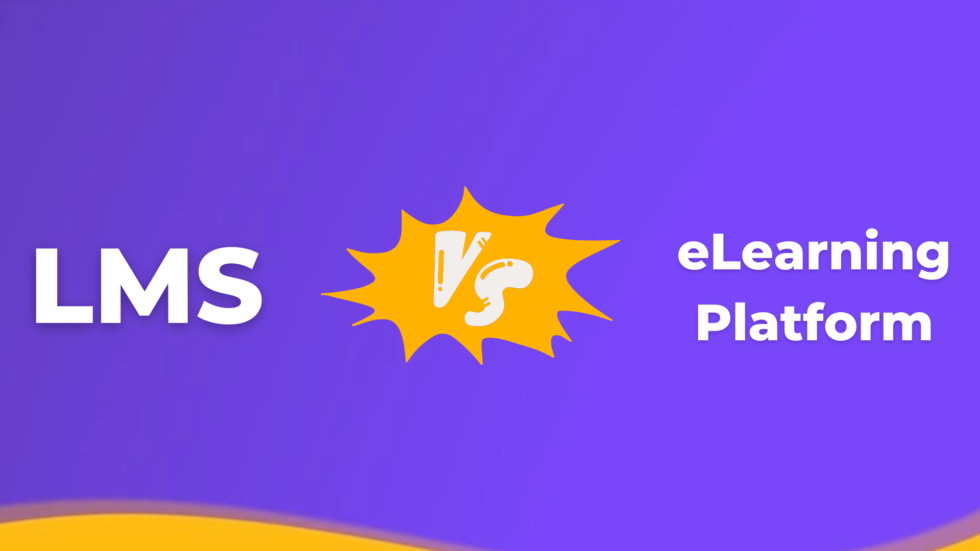 The biggest difference between an LMS and a low-priced eLearning portal is how learning programs can be administered, delivered, and tracked. An LMS is a specific type of eLearning portal with comprehensive features, but not all eLearning portals can be considered an LMS.
To explain the differences between the two, let's first talk about a low-priced eLearning platform called Teachable.
This platform is designed to help creators or small businesses monetize their knowledge (by selling courses). Teachable is the perfect solution if you're a creator that wants to pack your knowledge in an online course for individuals to take in their free time. But would an eLearning portal like Teachable be good for tracking the progress of Learners enrolled in your courses? Probably not – your reporting features are going to be very limited. On top of that, using commodity eLearning portals to manage large training programs is usually not sufficient. At Academy Of Mine, we have migrated plenty of customers from low-priced eLearning platforms because they outgrew their current solution or were never satisfied, to begin with.
Now, let's talk about learning management systems. Otherwise known as an LMS, this tool is not just great for creating courses and selling them but also for training multiple audiences at the same time, and tracking platform usage with learning-related metrics.
With an LMS, admins can report on these metrics:
Quiz and test scores.
The number of active or enrolled users.
The last time a user logged in.
How much time do users spend on specific learning modules
Written or uploaded assignment submissions.
Certifications, and more.
Although low-priced eLearning platforms may offer some type of reporting, they certainly don't cover as much ground as LMSs. When you're training multiple audiences in one platform, this is easy with an LMS but not possible with most low-priced eLearning portals. Simple eLearning portals are great for creating and selling courses online, but not managing complex training programs in business.
Functionality And Features
Let's say you are a successful business owner that wants to create a course that helps beginner entrepreneurs. With a low-priced eLearning portal such as Teachable or Kajabi, it would be easy for you to create a course and sell it to entrepreneurs to take on their own time; these types of customers probably wouldn't be completing a course for certification or accreditation, nor would they be interacting much with other customers or training managers reporting on user progress. In this case, budget eLearning platforms are perfect because not many features or integrations are required.
If you want to train different businesses or groups of customers using one eLearning platform, you need an LMS. This is partly due to a feature called portals, also sometimes called groups. With LMS portals, you can onboard and train multiple organizations simultaneously. This way if you were delivering food safety training to McDonald's, Wendy's, and Dasani, you enroll all of them into eLearning programs at the same time (using one LMS). With Academy Of Mine, portals are white-labeled and each portal has its own administrator or multiple to report on learning. Last but not least, LMSs compared to commodity eLearning platforms give you more flexibility when reporting on user progress.
Pricing
Typically, learning management systems are going to be much more expensive than a simple eLearning platform. This is the case since LMSs have more advanced features and integrations, and are usually designed specifically for managing complex training.
Another good reason to purchase an LMS is to connect multiple various business tools with one central learning platform. For example, connecting your HR software to communicate data to your eLearning platform or integrating with a CRM like Salesforce or a marketing tool like HubSpot. If your LMS provider offers custom development like Academy Of Mine, there's a possibility you can integrate with virtually any piece of software.
Here are a few integrations that Academy Of Mine LMS includes:
Google Analytics
Custom Javascript
Single Sign-On
Zoom Meetings and MS Teams
HubSpot and Salesforce
Woocommerce, Paypal, Stripe, and more.
Every LMS is priced differently; some companies do a la carte style pricing, where you can pick a pricing plan and then pick and choose different features to add on top for fixed fees. Other eLearning companies like Academy Of Mine (AOM) offer multiple pricing plans. More expensive AOM plans offer more storage, features, API access, options for software customization, and 24/7 dedicated customer support.
Software Customization
If you're looking for a learning platform to grow with your company, the key is customizable software—that way your company can tweak the platform as you scale. It's possible for you to customize your own LMS, but this can be expensive and risky (even if you're programming with open-source software). Alternatively, there are LMS providers such as LearnDash whose product is a WordPress extension that turns your site into an LMS. That said, LearnDash requires tons of manual installation of plugins and developer knowledge to create anything decent.
See how LearnDash compares to our LMS.
The safest & most reliable option for customizing your learning management system is working with us at Academy Of Mine. Our software is ready-to-go if you need an LMS today, and you can request customizations from our team to build for you. Unlike working with freelancers or building software in-house, you get dedicated customer support from us. Custom development at AOM is also completed by our experienced tech team, so you don't have to worry about software customizations going sour.
Do You Need An LMS? Or A Budget eLearning Platform?
An LMS is a specific type of eLearning platform with comprehensive business features, but not all eLearning platforms can be called an LMS. There are also multiple types of LMSs available – we recommend working with a SaaS LMS provider if you're interested in 24/7 dedicated customer and tech support alongside your eLearning software.
Reasons to choose a learning management system (LMS)
You require a custom eLearning solution
You are training multiple audiences
You need software to create, deliver, and manage SMB or corporate eLearning
You have outgrown your eLearning platform or failed with in-house built software
You have SCORM courses to upload to an eLearning platform
You need to track platform usage and user progress in eLearning
Do you want to train using self-paced courses and webinars or in-person training
To learn more about LMSs, check out 19 of their essential features.