Learning Management-System
The 5 Best Cloud Learning Management Systems
9 min read
|
May 31, 2023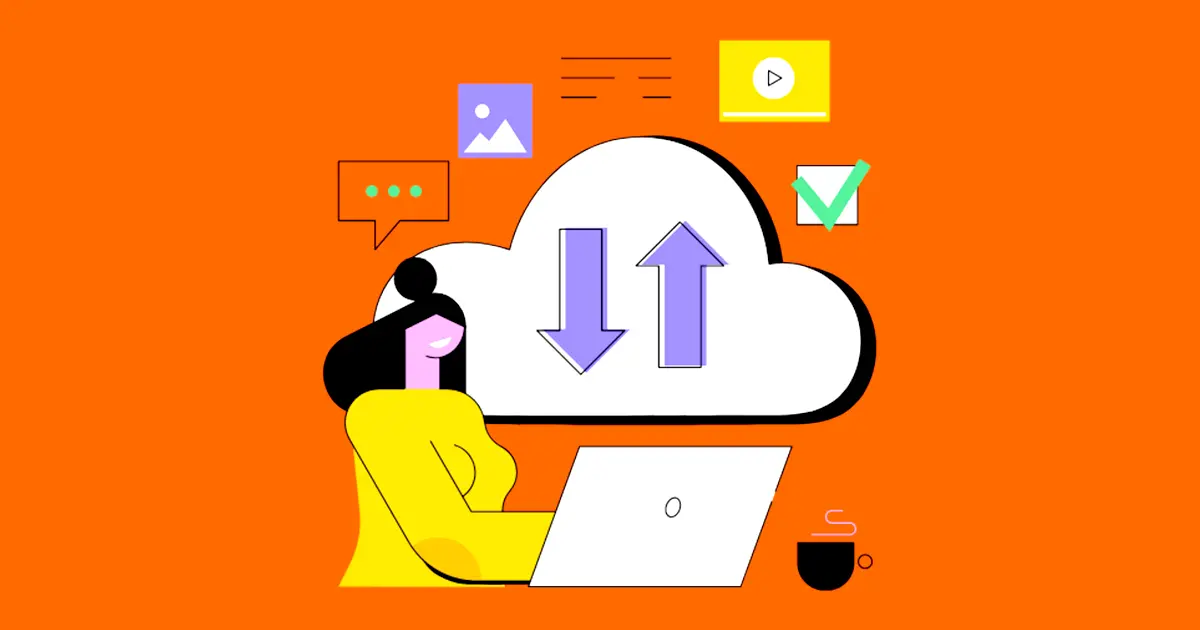 If you're keen to educate a group of users online, a cloud learning management system might be just the thing for you. A cloud learning management system, or cloud LMS for short, is a platform used to administer courses and learning programs online. One benefit to your LMS being cloud-based is that learners can access your training materials from anywhere in the world.
A cloud-based LMS like Academy Of Mine is great for professional development because of its convenience and accessibility. Rather than businesses hiring software developers to build their own LMS, they can just subscribe to a cloud-based LMS to make use of the software.
Before we talk about the top 5 cloud-based learning management systems, let's first double down on what a cloud LMS is!
What is a Cloud Learning Management System?
First off, what is an LMS? A system that educators can use to create eLearning materials, such as online courses, which learners can complete to learn skills, upskill, and maintain certifications.
On top of creating courses, learning management systems make onboarding and managing training programs easy for organizations of all sizes. One reason that's true is because of a popular LMS feature known as learner reports, which keeps track of attendance, user engagement, quiz scores, and more. When an LMS resides in the cloud instead of being installed locally on an employee's work computer, learners can access their training from any device they choose (using the internet).
The best way to get access to a cloud LMS is by partnering with a SaaS LMS provider that gives you access to their software. The alternative to purchasing your LMS through a SaaS provider is building your own software with open-source tools, but this process has a lot of risks and requires technical knowledge. At Academy Of Mine, we have quite a few customers that had built an LMS before migrating to our system, and they're now more successful and happy.
Four Benefits of a Cloud Learning Management System
Before we provide our recommendations for the best cloud learning management systems, let's examine why they're so beneficial in the first place.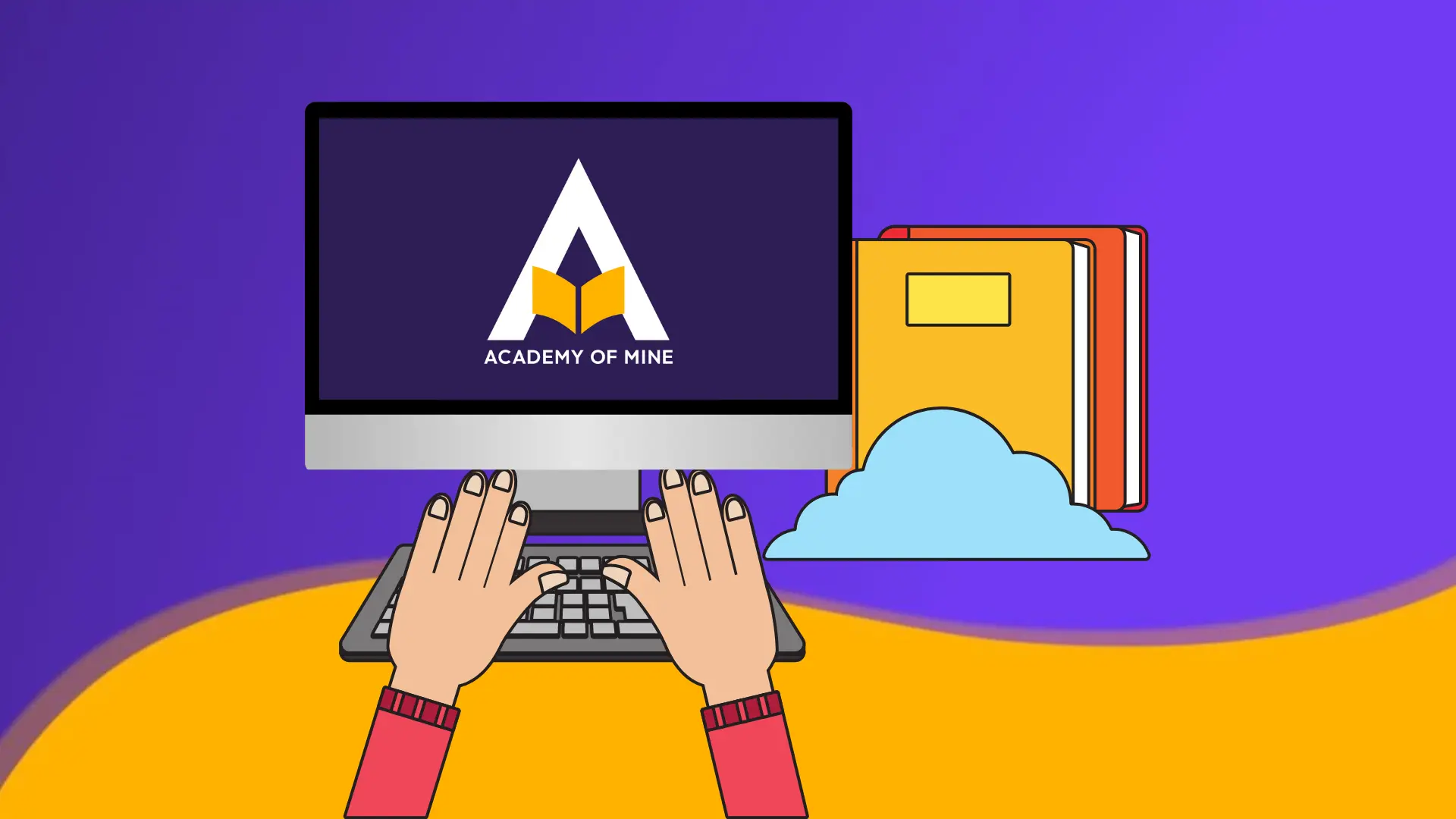 Quick & Easy to Install
When you opt for a cloud-based LMS over a downloadable one, getting it up and running is quick and easy. You can completely avoid the time-consuming installation steps of setting up your own servers. Instead, you can create courses and register users shortly after initial onboarding. When licensing a cloud LMS from a vendor online, most platforms include course-building tools, templates, and tutorials to get started quickly.
Secure Environment
Working with an LMS at risk for security breaches could ruin your business's reputation and employee's learning experiences. When you're working with established LMS providers, servers on the cloud are secure and all the data is encrypted. When searching for cloud LMSs online, just make sure to look for some of these security features.
Affordable Learning Management
Cloud-based LMSs can usually be purchased through a monthly or annual subscription, with multiple plans to choose from based on your needs.
For example, Academy Of Mine's pricing plans vary depending on the number of users that will be in your system, and the accessibility, storage, and features you require. AOM also offers a plan titled "Enterprise" that grants you access to custom develop features.
Low Maintenance
A cloud-based LMS is a low-maintenance learning solution because your vendor takes care of the technical maintenance. If you install an on-premise LMS onto your systems, you would need a technical support team to maintain the software. Additionally, any software updates, server installations, and other improvements made to the proprietary platform are taken care of for you. Unless you're looking forward to developing software and writing code, the low maintenance that comes along with a cloud-based LMS is key!
Criteria to Consider When Choosing a Cloud Learning Management System
With so many LMSs on the market, it can be difficult choosing the right solution for your business. Below, we've included some helpful criteria to help you pick the best cloud LMS.
Features
To understand what features your LMS needs, think about the types of content that your learners would expect in a training course. For example, if your audience needs courses that can be completed around the clock remotely, then you need an LMS with self-paced courses. Essential LMS features include self-paced courses, live webinars, interactive assignments, reports, and more. A robust LMS will help you provide engaging learning experiences by creating online courses with a variety of content-types.
User-Friendly Interface
Your chosen cloud LMS interface should be user-friendly. In other words, it should be easy for learners to find their way around the platform and for administrators to perform tasks. When considering which cloud LMS to choose, customizability is another factor that influences user-experience. For example, does your company want to change the platform's colors, attatch a logo, and tweak visual aesthetics? If so, make sure these requirements are written down.
Learner Reporting
Reporting and tracking tools provide your company with data about learners' grades, quiz scores, and so on. Reporting tools not only help your company know if a program is successful, they also help organizations monitor learners in their day-to-day. If there's a specific metric that your company needs to keep track of — such as how much time a student spends in a course — provide these requirements to the LMS providers you're considering. Some LMS reports to look out for are course completion rates, assignment scores, enrollment dates, learner feedback, and time spent learning. That said, the learner reports that are important to you, vary a ton…Here are 10 popular LMS learner reports.
Budget
Budget must always be factored into any business decision, and deciding which cloud LMS to go for is no exception. As well as the LMS's monthly and annual costs, check if there are any extra fees for add-ons. Additional costs might include monthly costs for integrations, instructional-design services, course-authoring expenses, and any freelancers you're working with to keep your LMS running!
Now let's talk about the top 5 cloud learning management systems on the market.
1) Academy of Mine (AOM)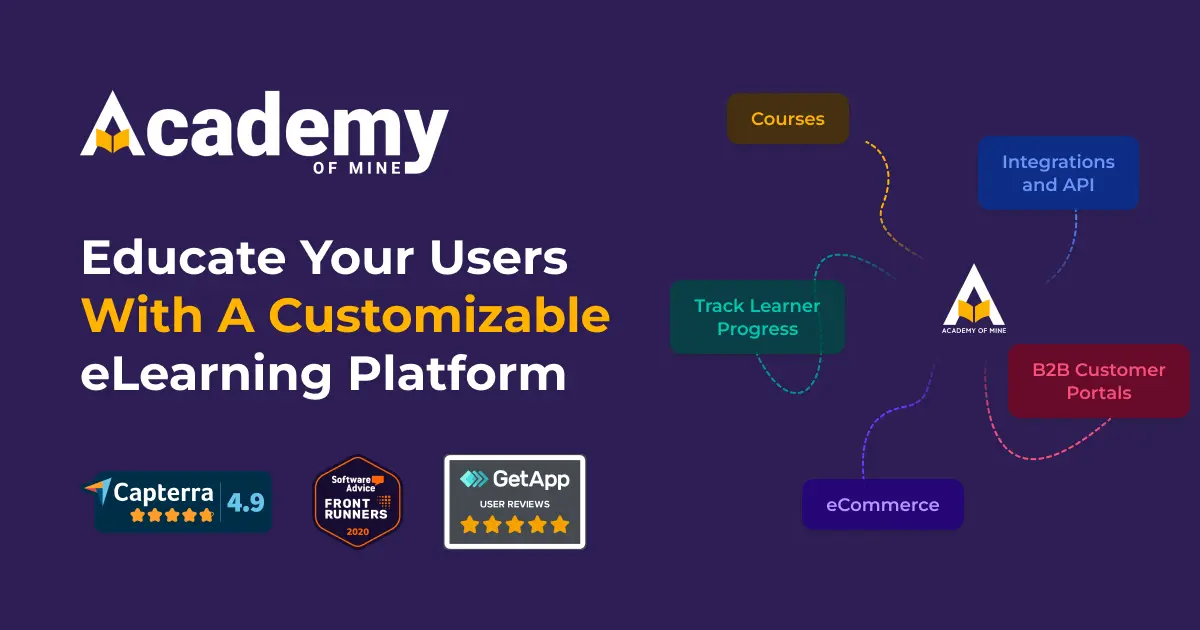 Academy Of Mine is a cloud learning management system that gives businesses plenty of flexibility to design and launch learning programs. From boosting HR processes to selling professional development and ensuring compliance, and more, Academy Of Mine is effective for many companies. Some strengths of Academy Of Mine include the easy-to-use platform, B2B portals for training customer groups simultaneously, excellent customer support, and more. AOM also stands out from the competition because the platform is highly customizable; customers can either tweak the platform themselves or reach out to the tech team to request custom features and integrations.
Like most platforms, Academy Of Mine has got you covered with the basics: creating engaging courses, reporting on learner progress, selling courses, hosting instructor-led classes, and more. AOM also has a variety of different quiz and assignment types, for companies to challenge learners interactively during their online programs.
Features
Create engaging self-paced courses and instructor-led classrooms.
Sell your courses directly on the LMS or integrate with an eCommerce site.
Upload SCORM courses.
Create and award certificates.
Track each learner's progress from start to finish.
Prevent learners from skipping ahead.
Variety of quizzes, assignments, and group activities to use.
20+ native integrations to connect with outside business tools.
Pricing
Academy Of Mine has three main pricing plans. The mid-tier plan costs $599/month, and this includes all third-party integrations, 25 customer portals, 250 monthly active users, and SCORM compatibility. If your business isn't quite ready for the Essentials plan, you can choose Startup instead. This plan only costs $299/month and still includes plenty of features, such as self-paced courses, certificates, 100 monthly active users, learner reports, and more. If you're training a ton of users and need unlimited customer portals, plus multi-lingual support, then Professional is your best option.
If you need unlimited users, migration and onboarding support, and custom features, Academy Of Mine has a plan for that as well.
Pros
Round-the-clock support.
Highly-customizable platform and courses.
Plans to suit all business sizes.
Amazing customer service.
Unlimited courses and content in all plans.
30-day free trial.
User-friendly software.
Extensive documentation on how to use the platform.
Cons
New users might need some time to learn all the ins and outs.
2) Docebo

Docebo is a cloud-based LMS where businesses can measure the impact of their educational programs. The platform's analytical tools dig deep into user experience and present data that enable businesses to make better educational decisions. Furthermore, you can connect Docebo to more than 400 third-party applications, both free and paid. Similar to Academy Of Mine, you can also enhance your cloud LMS experience with apps like HubSpot and Google Analytics.
Features
A tailored, AI-powered educational experience.
400+ integrations are available to boost LMS functionalities.
Generate custom user reports and report on eCommerce ROI.
Import a wide range of content from Docebo's content library, from micro-courses to more comprehensive ones.
Learners can ask questions, share ideas, and discuss topics in real-time.
Pricing
There's no pricing information on the Docebo website. You have to fill in a form to request a quote.
Pros
All-in-one learning suite.
AI-powered.
Lots of integrations.
An established company that serves Fortune 500 companies.
Comprehensive reporting.
The mobile app is available.
Access a Docebo demo before buying.
Cons
Pretty expensive compared to alternatives.
The software can be too rigid for businesses with different requirements.
3) Absorb LMS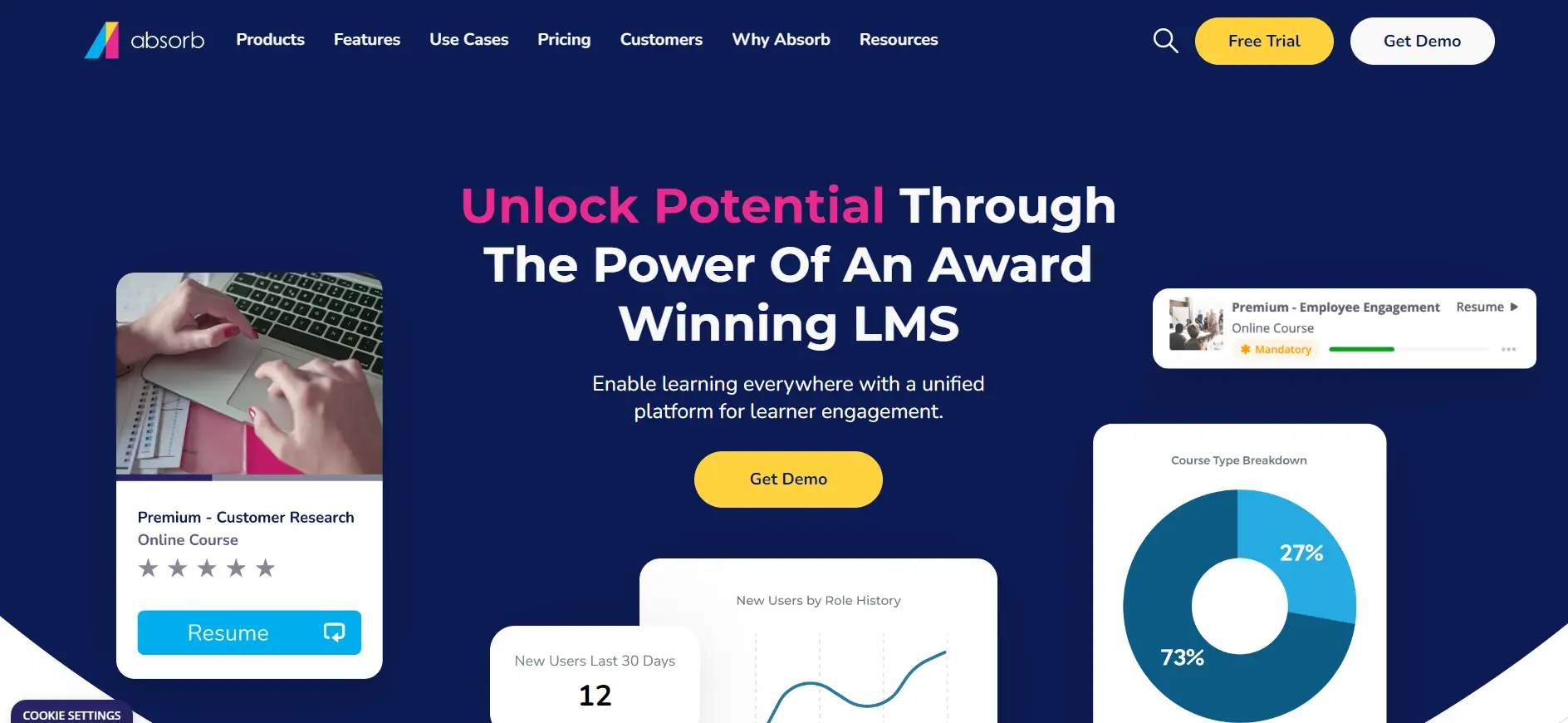 Absorb LMS is a cloud-based solution that's highly scalable and flexible. The LMS uses AI to recommend courses based on user interest to keep the momentum going, even when courses are finished. Intelligent Assist is another AI-based perk of Absorb. With Intelligent Assist, your admin team can request the system pull up reports, pages, or data for quick and easy access to needed information.
Features
Customize dashboards to display the most useful data and reports.
Social profiles for learners where they can interact with others and rate courses.
Thousands of LMS courses to choose from and customize.
LMS e-signatures allow learners to sign as confirmation they've learned the required skills.
A built-in observation checklist to help you meet your company's compliance goals.
Pricing
To learn how much Absorb costs, you must select the number of learners and how you plan on using the LMS. You must then input your name and email address on the form, where you'll then be provided a price.
Pros
Comprehensive platform with customization and automation features.
Good customer service.
Ongoing support.
A mobile app is available.
Free trial and demo are available.
Cons
No prices are displayed on the website.
The platform has a steep learning curve when getting started.
4) iSpring Learn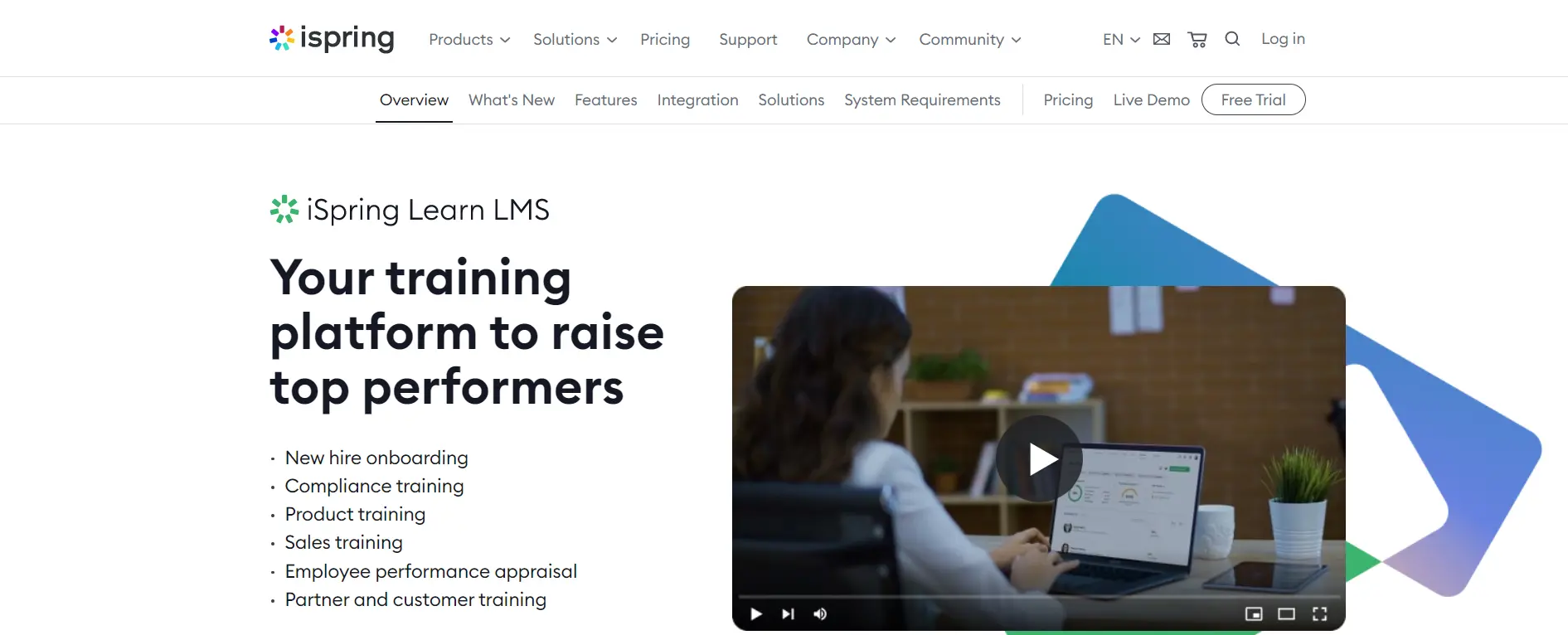 iSpring Learn is a cloud LMS designed to help businesses train their employees and improve their workflows. Gain a complete overview of employee progress through the Logistics page and make better business decisions based on learner progress. To further boost your workflows, iSpring Learn connects with your HR management system to keep your learning records current.
Features
The content management system lets you keep all your content under one roof.
Smart course assignment allows users to automatically assign courses based on criteria like job role and department.
Gamification options like leader-boards, points, and badges make learning more fun and engaging.
Create courses with iSpring's authoring tool or use ready-made ones.
The intuitive portal allows learners to contact the course creator with questions about the content.
Pricing
iSpring's most popular plan costs $3.14/user/month for 300 users. This plan includes the eLearning authoring kit, a corporate portal, detailed analytics, and 24/7 support. iSpring's prices adjust according to the number of users you choose. For example, if you select 1000 users for the Business plan, as opposed to 300, it will cost you $2.55/user/month.
Pros
24/7 support.
A mobile app is available.
A demo and free trial are available.
Huge course library.
Tailored towards onboarding and training employees.
Cons
Course authoring tools can be tricky to use.
iSpring is known for its authoring tool, so its LMS isn't as established as others.
5) D2L Brightspace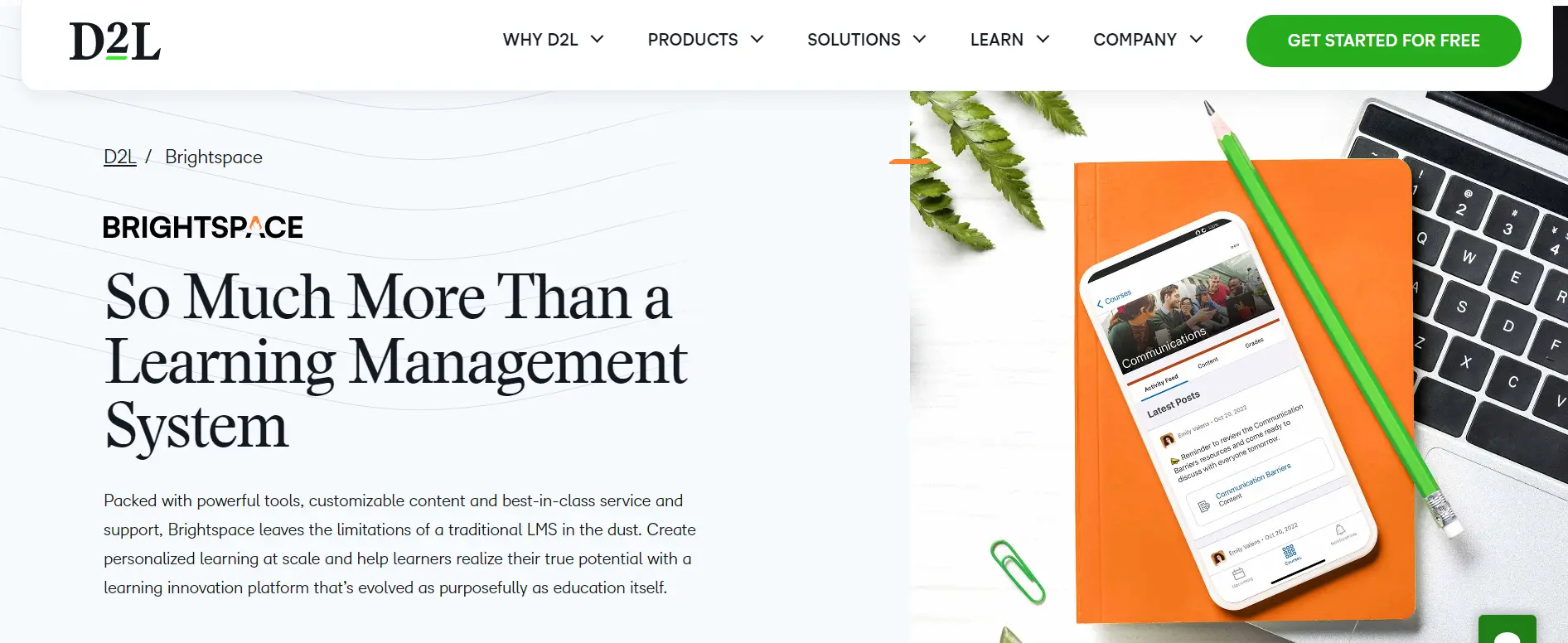 D2L Brightspace is a cloud-based LMS that features a mobile-first design. It intuitively adapts to different devices so learners can have a powerful learning experience, no matter how they access their courses. Accessibility is a core component of D2L as it adapts to user needs with features like Accessibility Checker and quiz accommodations.
Features
Hundreds of integrations are available.
Learners can be notified of upcoming assignments and quizzes through the app.
Works on any device as it adapts to screen size so that you can train employees remotely.
The development team can build and customize your learning environment for you.
Insightful data and analytics.
Create online classrooms where you can share screens and host live lessons
Pricing
Although no prices are available on the D2L website, you can request a demo or try the LMS for free.
Pros
The mobile app adjusts to any screen size.
Free trial and demo are available.
Regular contact with the Customer Success team.
Intuitive interface.
Flexible and scalable solution.
Cons
No price information on the website.
Less well-known than companies such as Docebo, Academy Of Mine, and Absorb.
Picking the Best Cloud LMS
Opting for a cloud-based LMS offers significantly more flexibility than in-house LMSs since employees don't have to be on-site to access their learning materials. On top of that, cloud LMSs offered by vendors will include platform and server maintenance. So, whether you're creating your courses or getting content created for you, a cloud LMS can help you deliver and manage the training with ease.
If you're ready to partner with a cloud LMS that's been serving customers since 2014, we'd be happy to discuss your needs over a call.