eLearning Software, Learning Management System, Online Training System, Professional Training
LMS vs. LXP – Which eLearning Platform Is Better For You?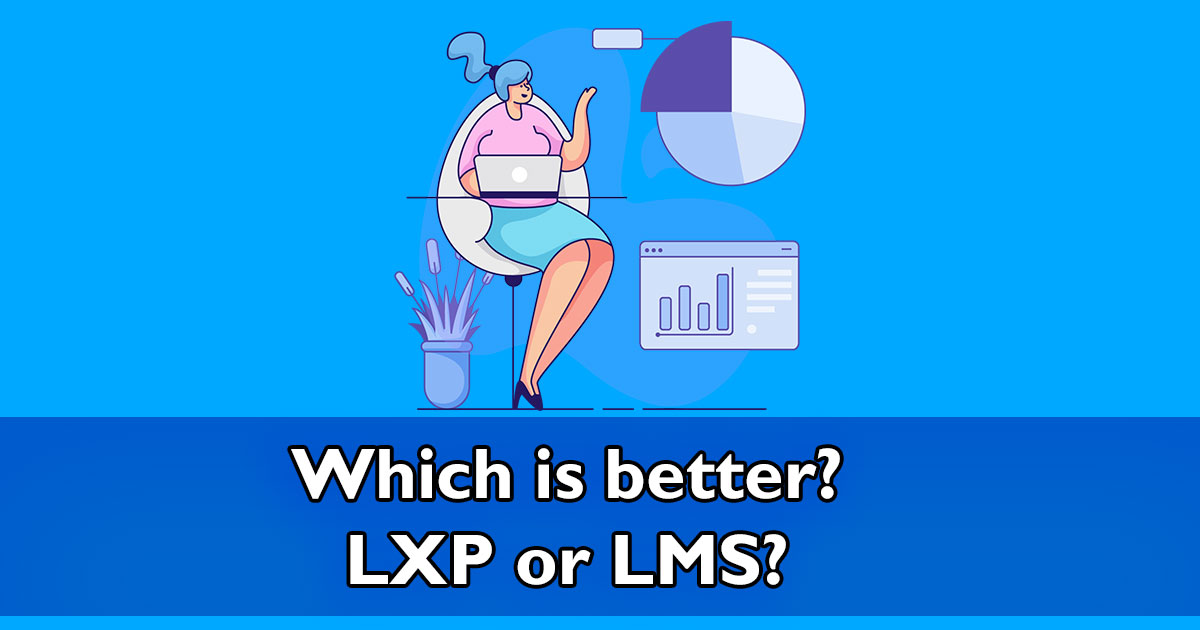 The online learning industry is growing faster than a starving cheetah on the hunt; In 2021, the eLearning market was worth 215 billion, and now it's expected to triple in value by 2030. This is why it's important for organizations to make their accredited training and professional courses accessible online using eLearning software.
If you're not already familiar with learning experience platforms (LXP) and learning management systems (LMS), then listen up. Both platforms are designed to create online learning environments for users to learn skills and get educated online. From small businesses training employees to trade associations delivering accredited training to other organizations, creating and delivering training is streamlined using LMSs and LXPs.
The problem is, what exactly is the difference between an LMS and an LXP? In this post, we make it easy for you to understand the difference between an LXP and LMS – to help you understand which eLearning platform is best for you!
Learning Management Systems Vs. Learning Experience Platforms
While both of these eLearning platforms share a common goal, they are pretty different.
From a 10,000 ft overview, learning management systems focus on the administrative side of eLearning. For example, administrators can upload content and create content natively to make up courses. Additionally, admins can use an eLearning platform like an LMS to report on learner progress and platform usage. One big difference between LXPs and LMSs is that LXSps are more focused on providing a unique learning experience to users, rather than being able to manage training at scale.
You can think of LXPs like Netflix or Spotify for eLearning: they're great for users that want to just tune in leisurely, and get course recommendations. If your employees were required to take some type of compliance training, it wouldn't make sense to recommend them a bunch of options though. Instead, in formal employee or B2B professional training, it makes more sense to just have learners assigned to the exact course that they need to take.
Now that you understand the basic differences between an LMS and an LXP, we're going to go all-in on what makes each platform unique.
What Is An LMS?
LMS, which stands for learning management system, is a business tool used to create and manage training courses and eLearning at scale. The most popular LMSs are cloud-based, so admins and learners log in to the platform online.
Using an LMS, you can upload prepared content like PPTs and videos, and create activities for learners to take in a self-paced course. In addition to creating courses (course authoring) in the LMS, you can also upload SCORM courses directly. SCORM courses are just eLearning materials put together following the correct protocol to work with LMSs. One last characteristic of LMSs – is being able to report on learner progress and engagement.
LMSs have a variety of different features, but here are five essential features that make them up:
Each LMS provider, and the proprietary software platform they offer, have different strengths and weaknesses. That's why it's important to do your research on LMSs before making a purchase, regardless of whether the LMS is SaaS or self-hosted.
LMS Use-Cases
From managing online courses at a university to creating and managing B2B continuing education or safety and compliance programs, LMSs are the tool of choice. Anytime you want to manage training courses and live-virtual training efficiently, learning management systems have your back. If you don't know what live-virtual training sessions are, they're classes that happen over the internet and in real-time using video conference apps like Zoom or Microsoft teams. LMSs like Academy Of Mine integrate with Zoom, MS Teams, GoToTraining, and other apps for you to host live-virtual training seamlessly.
Here are a few LMS Use-Cases:
Deliver compliance training to your employees
Sell sales enablement training courses to partners
Internal product training
Provide professional development to external organizations at scale.
Sell safety training direct to consumers: for solopreneurs and small businesses to support their teams.
You can learn more about LMS use cases in this article.
What Is An LXP?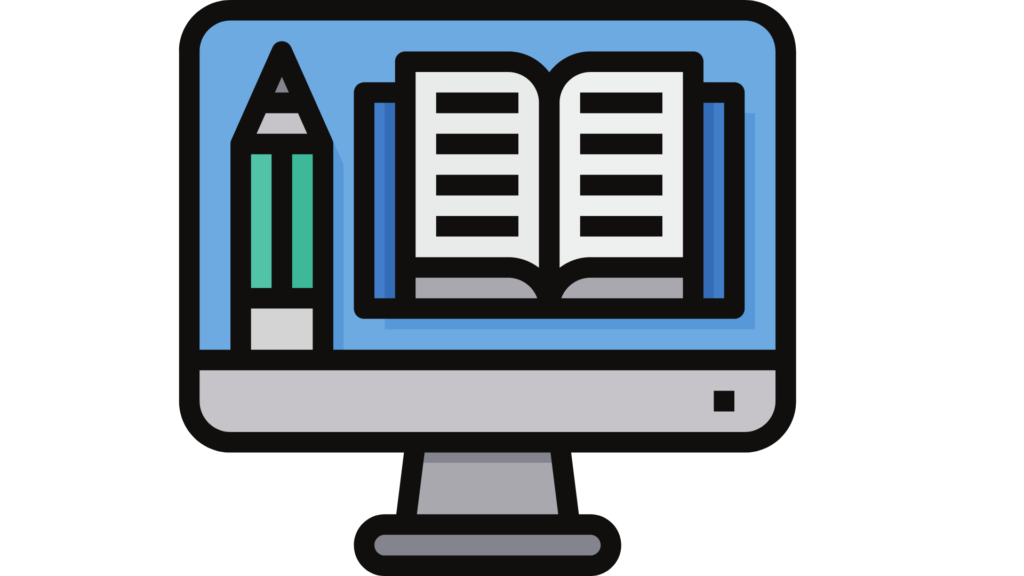 An LXP, otherwise known as a learning experience platform, is an eLearning platform that focuses on helping users discover new learning opportunities through a personalized learning experience. The difference between an LXP and an LMS is in how eLearning content is given. With an LMS, administrators create and manage courses that learners enrolled in a platform can take. LXPs are much less formal, and they're designed to provide each learner with a completely different learning experience based on course history. Logging into an LXP can be compared to logging into Netflix or a music streaming platform, only instead of movies and music, you're looking for self-paced courses.
LXPs personalize the learner experience by combining content from multiple sources and then recommending it to learners with artificial intelligence (AI); the LXP scans the internet and then pulls different courses, webinars, and other online content 'relevant' to the learner, into the platform. Then, learners in the LXP can choose what courses they want to pursue.
The personalization aspect of LXPs isn't the right platform for every training program though, especially not formal professional development. Let's say your employees are required to take sexual harassment training. More specifically, to meet state accreditation requirements, there are multiple courses your employees need to take. In this case, you don't want your employees to get distracted by different recommendations, you just need them to log in and train accordingly. Afterward, you need to be able to track that employees have completed their required courses. If you need to run a tight ship when it comes to managing training programs, then LMSs are much more effective.
Most LXPs do have reporting capabilities but they're not to the same standard as LMSs like Academy Of Mine.
LXP Use-Cases
The biggest advantage to LXPs is that they're learner-centric compared to LMSs, which are considered business or admin-centric. The core objective of an LXP is to make sure that users don't have to shuffle from one resource while maintaining skills and learning new ones online. For this reason, LXPs are usually better suited for eLearning course creators looking to develop extracurricular types of training. For example, let's say that you want to learn how to play an instrument or cook in your free time; an LXP would be the perfect platform for a company to offer this type of non-accredited adult education. On the flip side, LMSs are better for deploying professional development to employees, customers, and partners at scale.
If you want to report and manage training with an LMS but you'd also like to personalize learner experiences—lucky for you—there are a few options! Using an LMS like Academy Of Mine, you can customize different pages and menus that learners have access to when they log in. For example, you could create a resource page for learners to have access to different videos and articles related to training. If you want to make each user's learning experience different, you could create learning paths: a section in the AOM platform that recommends learners different courses, otherwise known as a learning path, based on what courses they're enrolled in!
Here are some LXP use cases:
Giving employees access to a training portal (best for less formal training)
Selling monthly or annual subscriptions to adults interested in new hobbies. Think of a website like Masterclass.
Integrating a social media platform with a learning center—like LinkedIn Learning
Three Solid Reasons To Use An LMS Over An LXP
There are not as many use cases for LXPs as there are for LMSs (at least for professional development). Beyond that, there are a lot of reasons to use an LMS over an LXP, and we're going to cover three of those reasons below.
1. Manage A Formal Training Program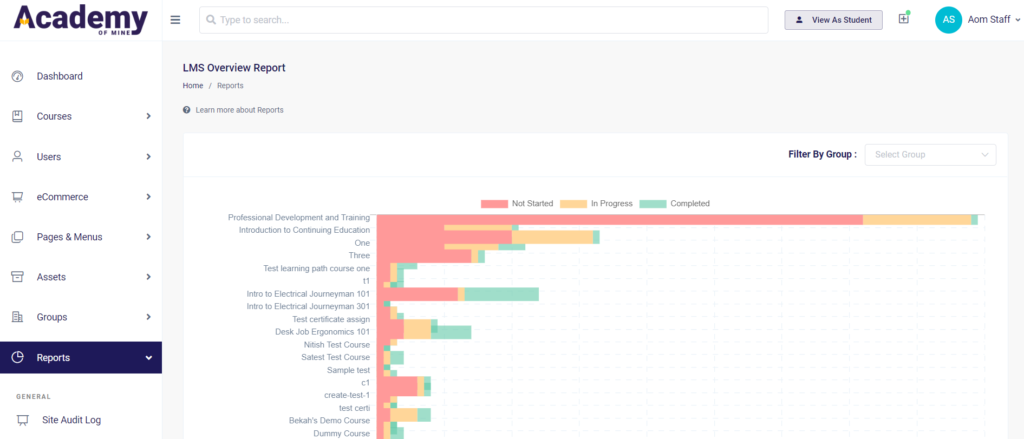 Our company offers a learning management system, not an LXP. That said, our LMS does have customizable and personalized features that you can take advantage of. All things considered, when you're developing a scalable training program—regardless of the sector that you're educating—generating reports and managing performances is superior in an LMS.
Academy Of Mine reporting features:
Automatically award certificates of completion after a learner completes a course/s.
Review learners' assignments and give feedback.
Monitor attendance, course engagement, assessment scores, certification statuses, and more.
2. Integrate With Your Favorite Tools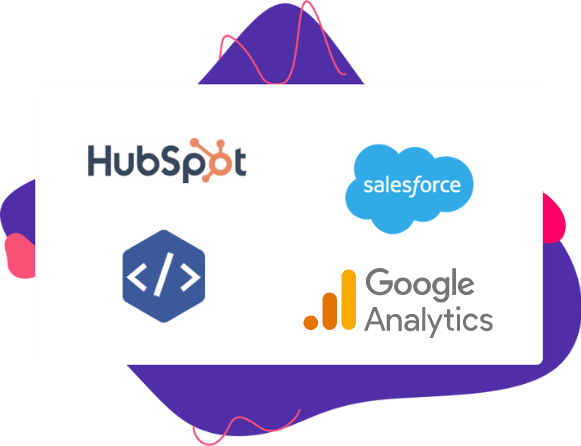 LMSs integrate with different 3rd party tools so that you can train your audience more effectively.
At Academy Of Mine, you can connect with:
Webinar tools like Zoom, MS Teams, and more.
A CRM like HubSpot, Salesforce, and more.
Your Shopify store to sell training courses.
Accredible or CeBroker to store badges and credentials off-site.
Webhooks: send automated notifications to other apps when something happens.
Google Single Sign On and other instances of SSO.
3. Scale Customer And B2B Training With Portals
If you want to deliver training B2B, to other organizations or groups of customers at scale, portals are what you need. LMS Portals let you, onboard customers and partners, into their own branded training environments, to manage and train in an organized way. Each portal has an assigned group admin (somebody from your customer's organization) who is in charge of managing user activity with their own dashboard. In addition to training B2B, portals can also be used if you want to separate your company's internal training programs by the department.
Is Academy Of Mine LMS The Choice For You?
Only you can truly understand if an LMS or an LXP is better for you. If you choose to use an LMS, you should consider using Academy Of Mine. From companies selling continuing education to doctors and nurses to IT and real estate companies training their teams on best sales and software practices — Academy Of Mine is the ultimate platform for creating and managing professional development.
Learn more about what features our all-in-one LMS has.